Defamation Lawsuit Over $2.5B Times Square Project Pits Billion-Dollar EB-5 Fund Against 2 Feisty Critics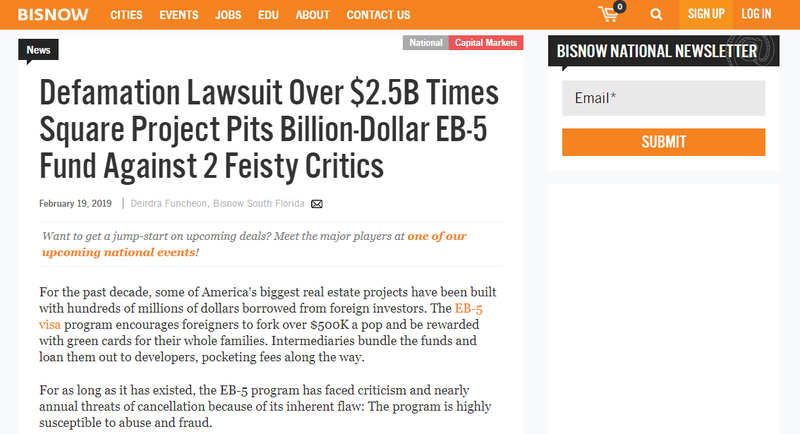 For the past decade, some of America's biggest real estate projects have been built with hundreds of millions of dollars borrowed from foreign investors. The EB-5 visa program encourages foreigners to fork over $500K a pop and be rewarded with green cards for their whole families. Intermediaries bundle the funds and loan them out to developers, pocketing fees along the way.
For as long as it has existed, the EB-5 program has faced criticism and nearly annual threats of cancellation because of its inherent flaw: The program is highly susceptible to abuse and fraud.

"Fraud risks in the EB-5 program are constantly evolving," the Government Accountability Office wrote in a 2015 report on the program. Two years earlier, the Securities and Exchange Commission had to take emergency action to curtail fraud in the program. U.S. Citizens and Immigration Services officials "continually identify new fraud schemes," according to the GAO.

Last year, one of the biggest money-raisers in the business, the U.S. Immigration Fund, alleged that a "desperate, bankrupt" Chicago attorney named Doug Litowitz and a Chinese-American woman named Zoe Ma, engaged in "wonton [sic] fraudulent behavior," defaming USIF's projects and scaring off potential investors in order to earn legal fees. USIF is suing them for $23M.

Litowitz and Ma contend that USIF is the fraudulent one. They told Bisnow the case illuminates how Wall Street players exploit unsophisticated foreigners for profit, and that USIF is using the courts to bully and embarrass them. The two are fighting back in a legal saga that winds from Hong Kong to Chicago, right through two multibillion-dollar developments in Times Square.

The case is tied to New York's 20 Times Square — a project that includes a 452-room Marriott Edition hotel, 76K SF of retail and an 18K SF LED billboard — and TSX Broadway, a 46-story tower that encompasses the Palace Theater, 669 hotel rooms, 75K SF of retail and another 18K SF LED sign.

"They are sewer people," Litowitz said of USIF. He has asked the Manhattan Supreme Court to dismiss the lawsuit.

"[USIF] just sued the wrong person, because I have a lot of evidence," she told Bisnow.

USIF says that it has operated legally and that the EB-5 program has been a success.

"[USIF] is the unquestioned leader in immigrant investor programs," said Richard Haddad, USIF's attorney. "Every one of its projects has complied with the immigration regulations, tens of thousands of American jobs were created, and thousands of investors are achieving their immigration dreams."

Ma wrote in court documents that the lawsuit portrays "USIF as Santa Clause [sic] while in fact USIF is Mafia with iron fist."

The EB-5 Program
The EB-5 Immigrant Investor Program began in 1990, and lets qualified foreign investors obtain U.S. green cards and eventually citizenship — for themselves, their spouses and their single children younger than 21 — if they invest $1M in a new commercial enterprise that creates at least 10 jobs. The investment amount drops to $500K in certain "targeted employment areas," or TEAs, defined as rural areas or places where the unemployment rate is at least 150% of the national average.

The EB-5 program, administered through U.S. Citizenship and Immigration Services, was intended as a win-win-win: Businesses could borrow capital more easily and cheaply than from a bank. Regular Americans would get jobs. Foreigners could get citizenship legally and, ideally, get their funds back plus interest.

Stephen Yale-Loehr, a professor of immigration law at Cornell Law School, explained that it was established as a part of a bigger overhaul of legal immigration in the early 1990s, "in part because Australia and Canada had similar programs." It was enacted as a pilot program, and still needs to be periodically reauthorized.

The process from investment to green card takes years. An investor files a petition to be deemed an alien entrepreneur and waits for approval, then asks for conditional permanent residency (CPR) and waits for that to be approved.

The investor can live in the U.S. for 21 to 24 months conditionally, after which time she would file a petition proving she had created jobs and kept funds at risk, and ask for the conditions to be removed and get permanent residency in the form of a green card. About five years after that, she could apply for citizenship.

Architects of the program, conscious of being seen as offering visas for sale to the rich (a criticism that persisted anyway), built in a requirement that stipulates the project's funds remain "at risk" while the immigrant investor goes through the two years of CPR in the U.S. Typically, deals would be structured for the foreign investors to get their money back in five to seven years.

All over the world, people moved to make the most of the program. In the U.S., privately run "regional centers" like USIF formed to pool investors' capital, sometimes from hundreds of people, and facilitate the loans. Maps were gerrymandered so that even affluent areas qualified as TEAs. Regulators were generous and let EB-5 regional centers count jobs that had been created both directly and indirectly toward applicants' visas.

Abroad, new industries sprang up to connect investors with U.S. projects. Developers would fly to China to promote their projects at networking events. Videos on YouTube show drummers firing up the crowd at a 2013 summit in Shanghai.

At a 2016 event, USIF founder Nicholas Mastroianni was joined by former New York Gov. George Pataki, who offered "calming messages" to the Chinese worried about changing visa rules as Donald Trump assumed office as president.

Chinese law allows citizens to move only $50K out of the country at a time, according to Bloomberg, so investors enlist friends, family and even strangers to make a series of transfers to invest the required $500K. Deals that match Chinese investors with American projects are massaged by intermediaries called "migration agents" who earn five-figure fees for every investor who signs on (or "subscribes"), plus a percentage of the interest earned on each investment.

Fraud has dogged the EB-5 program. Sometimes developers would mislead foreign investors with confusing documents or omissions, or take the money and simply never build the project they'd advertised. In 2013, the SEC warned that fraudsters may use layers of shell companies managed by the same individuals to control all aspects of a project, which can lead to conflicts of interest.

In the May 2015 GAO report, USCIS had told the watchdog group that it was preparing a new system to better track fraud, but the GAO found "the system is nearly four years delayed."

"In the meantime, USCIS does not have a strategy for collecting additional information, including some information on businesses supported by EB-5 Program investments, that officials noted could help mitigate fraud," the GAO report found.

In 2016, USCIS Immigrant Investor Program Chief Nick Colucci told EB-5 stakeholders in Miami that "due diligence, monitoring and oversight are the obligations of the designated regional center entity," such as USIF. Colucci said when USCIS is made aware of regional center violations, it may issue a termination notice.

"The bad news about improprieties in the EB-5 Program can overshadow good news about creating jobs and putting capital into our communities that really need it," Colucci said in 2016. "And that's not just a shame, in some of these cases, it's a crime."
Courtesy of Doug Litowitz
Problems plagued high-profile projects like an SLS Hotel in Las Vegas and the planned New York Wheel. In the biggest EB-5 fraud to date, developers who planned to expand the Jay Peak ski resort in Vermont commingled investor funds in what investigators say amounted to a Ponzi scheme. Litowitz outlined such flaws in an article titled "The EB-5 Program Is Legally Defective And Has Become A Scam."

The EB-5 program started off quietly, but boomed in popularity following the 2008 housing crisis, when banks tightened lending. Now, the U.S. gives out the program's allotted 10,000 visas every year, and because the allotment is divvied up among countries, the wait for Chinese investors, who account for about 85% of applicants, to receive their visas is now about 15 years.

Some groups of investors, dismayed by both the fraud and the wait times, are suing to get out of deals. With critics on multiple sides calling for reform, the EB-5 program has limped along, continually getting reauthorized by Congress for months at a time and leaving uncertainty as to its future. It was most recently extended until Sept. 30 as part of the broader spending bill President Donald Trump signed last week.

Despite the program's flaws, titans such as Bill Gates and Warren Buffett support it. An industry trade group called IIUSA, which stands for "Invest In the USA," says the program resulted in more than $37B contributed to the U.S. gross domestic product between 2010 and 2015, creating 276,000 jobs during that time.

The Rogue Lawyer During the eight years he taught at various law schools, Litowitz wrote a book about why lawyers are miserable and dashed off the occasional article, such as "Are Corporations Evil?" and "Investing: A Pretentious Word for Gambling?"

Despite the anti-capitalist bent, in 2005, Litowitz found himself needing more money than a visiting professor's salary allowed, so he went to work as in-house counsel for his brother's $14B Chicago-based hedge fund, Magnetar Capital. He told a newspaper reporter that the career move was "a contradiction that I hope to be able to resolve someday."

A decade later, a cousin recruited him to work in Hong Kong, Litowitz said. Litowitz's wife is Taiwanese, and he had learned to speak Mandarin at an intermediate level.

"I had never heard of EB-5," said Litowitz, now 55. "I thought, 'This is nice. People get their green cards.'"
https://www.bisnow.com/national/news/capital-markets/eb5-mastroianni-usif-brook-lenfest-doug-litowitz-defamation-lawsuit-chinese-97342
Mentions
States
---
Securities Disclaimer
This website is for informational purposes only and does not constitute an offer or solicitation to sell shares or securities. Any such offer or solicitation will be made only by means of an investment's confidential Offering Memorandum and in accordance with the terms of all applicable securities and other laws. This website does not constitute or form part of, and should not be construed as, any offer for sale or subscription of, or any invitation to offer to buy or subscribe for, any securities, nor should it or any part of it form the basis of, or be relied on in any connection with, any contract or commitment whatsoever. EB5Projects.com LLC and its affiliates expressly disclaim any and all responsibility for any direct or consequential loss or damage of any kind whatsoever arising directly or indirectly from: (i) reliance on any information contained in the website, (ii) any error, omission or inaccuracy in any such information or (iii) any action resulting therefrom.