Attorney for EB-5 investors gets OK to depose key Jay Peak insider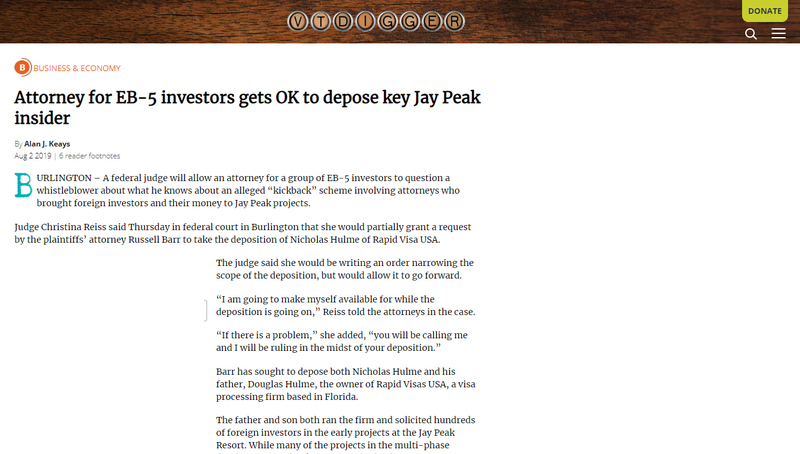 A federal judge will allow an attorney for a group of EB-5 investors to question a whistleblower about what he knows about an alleged "kickback" scheme involving attorneys who brought foreign investors and their money to Jay Peak projects.
Judge Christina Reiss said Thursday in federal court in Burlington that she would partially grant a request by the plaintiffs' attorney Russell Barr to take the deposition of Nicholas Hulme of Rapid Visa USA.
The judge said she would be writing an order narrowing the scope of the deposition but would allow it to go forward.
"I am going to make myself available for while the deposition is going on," Reiss told the attorneys in the case.
"If there is a problem," she added, "you will be calling me and I will be ruling in the midst of your deposition."
Barr has sought to depose both Nicholas Hulme and his father, Douglas Hulme, the owner of Rapid Visas USA, a visa processing firm based in Florida.
The father and son both ran the firm and solicited hundreds of foreign investors in the early projects at the Jay Peak Resort. While many of the projects in the multi-phase development at the ski area were built, the immigrants in the EB-5 program who invested in the Jay Peak were defrauded in the Ponzi scheme. The developers, former CEO Bill Stenger, and former owner Ariel Quiros commingled and misused the money from investors.
Quiros and Stenger were charged with 52 counts of securities fraud for the misuse of $200 million in investor funds. In May, the two men were indicted and federal prosecutors in Vermont brought criminal charges against the two men and two of associates, in May.
In 2012, Nicholas and Douglas Hulme blew the whistle on the Ponzi scheme in 2012, alerting 100 immigrant attorneys that Jay Peak's financials were not sound.
Both Hulmes has rebuffed subpoenas from Barr over the past 18 months. When Douglas Hulme "dodged" a subpoena, Barr went ahead with Nicholas Hulme, who also worked at the firm.
"We're moving forward in our discovery to get to the truth," Barr said after the hearing Thursday.
Rapid USAs Visas CEO Douglas Hulme (left), a representative of Shen law firm (center) and Jay Peak CEO Bill Stenger (right).
Phillipa Lilienthal, an attorney for Nicholas Hulme, had sought to "quash" the subpoena and deposition, contending, in part, that Hulme wasn't a party to Barr's lawsuit. She also expressed concerns for Hulme's safety should he testify in a deposition.
Barr's lawsuit is filed on behalf of a group of Chineses investors against Shen Jianming, an immigration attorney. The lawsuit alleged Shen took $1.25 million in kickbacks in return for bringing foreign investors to the Jay Peak projects.
At the time, according to the lawsuit, Shen did not tell immigrant investors he was getting a pay off from Stenger in addition to legal fees from foreigners for help with immigration paperwork.
The judge had earlier denied a bid by Barr to make the lawsuit a class-action to include more investors who put money into Jay Peak projects.
The hearing Thursday was set for 1 p.m. but was delayed for about 10 minutes as Barr did not initially appear. The judge went ahead despite his absence, asking pointed questions to Lilienthal about why the subpoena for Nicholas Hulme should be quashed.
Barr makes it to the courtroom a little before 2 p.m. He apologized to the judge and told her he had thought the hearing had been set an hour later than it was.
Lilienthal at the start of the hearing told the judge that her client had little "relevant" information related to the alleged "kickback" scheme raised in the lawsuit.
"This is not a case where there is an evaluation of all the details and elements of what went on behind the scenes at Jay Peak," Lilienthal said, adding, "It's about what Professor Shen knew and when."
Lilienthal referred to her client as simply a "third-party vendor," who wasn't even a defendant in this lawsuit.
At one point during the hearing, Reiss questioned whether Rapid Visa was simply a "third-party vendor" to Jay Peak. She cited a deposition by Stenger with the U.S. Securities and Exchange Commission.
"(Stenger) testified that Rapid Visa, your client's company, made north of $15 million in three years as an agent for Jay Peak," the judge said to Lilienthal. "How could you make $15 million as a third-party vendor?"
The judge later added the Barr should able to question Hulme about what he knew about the fees charged by the immigration attorneys.
The judge said the deposition should be limited to the specific claims of this case, "which has to do with a referral system by attorney Shen and it's not putting the Jay Peak projects on trial."
Barr contends that Hulme was intimately involved in the Jay Peak EB-5 financed projects until he broke with the developers in 2012. Hulme, Barr told the judge, has information about the alleged "kickback" scheme that will help prove his case.
Lilienthal had earlier in the hearing raised a concern about her client's safety should he be required to provide testimony, citing an article from VTDigger in 2016 regarding deposition Quiros gave to the SEC in the fall of 2015.
In a deposition, Quiros said he was angry with Douglas Hulme for publicly rebuking his business practices and making it difficult to raise additional funds from foreign investors.
Quiros called Hulme a thug, tyrant and a bully.
"It's terrible what that son of a bitch did," Quiros added of Douglas Hulme. "I will — when this SEC gets over with, I'm going to go over after that man, I promise you. I will kill that man for what he did."
Lilienthal on Thursday said she would ask for a protective order for her client's deposition, which means the testimony will not be available to the public.
The judge said she would draft an order setting the scope of the deposition, the amount of time for it, who can be present, and if an "appropriate" protective order is requested as Hulme's attorney said they would, she would grant it.
Ongoing dispute
Barr has been battling since filing the case nearly three years ago to depose witnesses.
Lawyers from the Vermont Attorney General's Office and Barr sparred over his efforts to depose top state officials in the case at a hearing last November.
Reiss ruled that Barr must first take the deposition of Shen. And, depending on what Shen said, the judge said she may allow the depositions of other state officials.
Barr has since deposed Shen and has argued that other depositions should move forward.
Shen said he had "multiple interactions" with the witnesses Barr is now seeking to depose, including traveling to China to translate the speeches and lectures of some of them, specifically naming Lawrence Miller, the former secretary of the Agency of Commerce and Community Development.
The Vermont Attorney General's office has contended that in seeking to depose state officials, Barr was making an "end-run" around a previous decision to dismiss a separate lawsuit he brought against the state regarding the EB-5 regional center.
Barr filed a separate case in state court on behalf of another group of EB-5 investors in the Jay Peak project.
In that case, Barr accused state officials of being complicit, at worst, and negligent, at best, in overseeing the Jay Peak EB-5 projects from 2008 to 2016, allowing the developers, Stenger and Quiros, the opportunity to bilk more than 800 investors.
Vermont Judge Thomas Carlson threw that case out before allowing any depositions to go forward. Barr is appealing that ruling to the Vermont Supreme Court.
During the hearing Thursday, Reiss suggested Barr wouldn't be able to depose those state officials as part of the "kickback" lawsuit.
"They haven't been able to depose them in this court and we're not going to do a work-around," the judge said.
One state official Barr has deposed in the case is Brent Raymond, the former Vermont EB-5 Regional Center director.
Raymond testified in a deposition taken last August that he asked his superiors in 2012 to press Quiros and Stenger for an audit. That request, which was ignored, came four years before the SEC leveled 52 counts of civil securities fraud against Stenger and Quiros in 2016.
Stenger and Quiros have since reached a monetary settlement in those civil cases. However, they each still face federal criminal charges related to a proposed EB-5 funded biomedical research center in Newport that never got off the ground.
Barr said Thursday he is trying to complete that deposition of Raymond, which ended early so Raymond could attend to a personal matter and it has never started back up.
Hulmes not done yet
Barr told the judge Thursday that he was also likely to seek the deposition of the Hulmes in another lawsuit currently working its way through the federal court in Vermont.
In that case, Barr represents more than 20 EB-5 investors who invested a total of over $10 million in a hotel project at Jay Peak.
The lawsuit alleges that Edward Carroll and Mark Scribner, formerly of Carroll & Scribner, represented both the foreign investors and Jay Peak resort.
In addition to the conflict of interest claims, the lawsuit also alleges Carroll & Scribner failed to alert investors of potential red flags that would have indicated that the developers of the resort were engaged in a massive fraud involving hundreds of EB-5 investors.
Carroll and Scribner, in court filings, denied wrongdoing.
Reiss said that case is nothing she was going to act on since it is pending in another judge's courtroom.
"I think it's good that you gave a heads up to your opponent that it's coming," Reiss did tell Barr.
CORRECTION: The developers, former CEO Bill Stenger, and former owner Ariel Quiros commingled and misused the money from investors. Quiros stole $50 million from the EB-5 program.
https://vtdigger.org/2019/08/02/attorney-for-eb-5-investors-gets-ok-to-depose-key-jay-peak-insider/
Mentions
Litigation Cases
States
---
Securities Disclaimer
This website is for informational purposes only and does not constitute an offer or solicitation to sell shares or securities. Any such offer or solicitation will be made only by means of an investment's confidential Offering Memorandum and in accordance with the terms of all applicable securities and other laws. This website does not constitute or form part of, and should not be construed as, any offer for sale or subscription of, or any invitation to offer to buy or subscribe for, any securities, nor should it or any part of it form the basis of, or be relied on in any connection with, any contract or commitment whatsoever. EB5Projects.com LLC and its affiliates expressly disclaim any and all responsibility for any direct or consequential loss or damage of any kind whatsoever arising directly or indirectly from: (i) reliance on any information contained in the website, (ii) any error, omission or inaccuracy in any such information or (iii) any action resulting therefrom.