Shumlin, in court filing, rebuts 'dirty hands' claim in Jay Peak case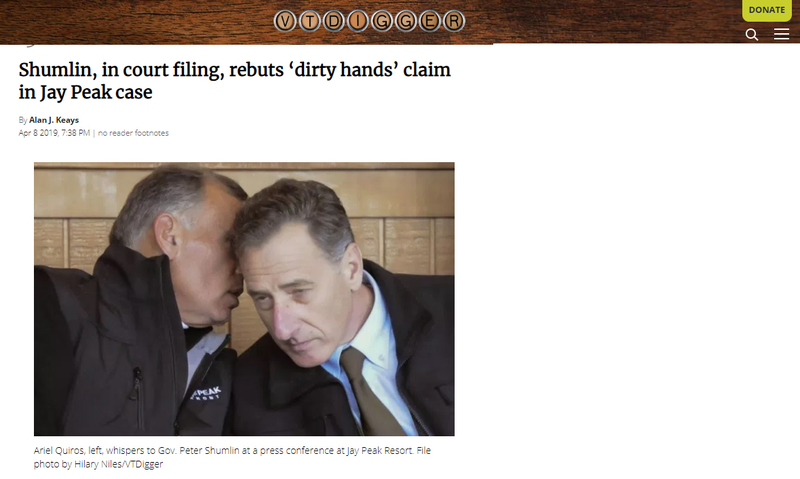 Ariel Quiros, left, whispers to Gov. Peter Shumlin at a press conference at Jay Peak Resort.
Former Gov. Peter Shumlin, who is among a handful of a state officials resisting being grilled by attorneys for EB-investors, has submitted a court filing claiming he had no knowledge of a kickback scheme for Jay Peak projects, or the lawyer who allegedly profited from it.
Shumlin also said in the filing that he never made misrepresentations to Shen Jianming, an attorney who promoted Jay Peak to Chinese investors and allegedly took kickbacks, regarding the scandal-plagued state-run EB-5 regional center.
The former governor said he also never made misrepresentations about the project, despite appearing in a 2013 promotional video, which was translated into Chinese, in which he later admitted to falsely claiming that the projects were audited by the state.
After the federal regulators brought the securities fraud allegations against the developers in 2016, Shumlin claimed he misspoke in that video.
"I am not aware of making any representations to the Shen Defendants nor am I aware of such representations made by any State officials to the Shen Defendants," Shumlin wrote in the filing seeking to keep from testifying in the kickback case .
Shumlin, who left office in January 2017, has since been silent on the EB-5 fraud scandal and his role in it outside of his filing in this case.
Shen's law firm is among several facing allegations that they took money from the developers to bring investors and their money into the projects.
Russell Barr, Stowe attorney for a group of EB-5 investors is pressing on in his bid to grill top state officials—including Shumlin—about their lack of oversight of the state-run EB-5 regional center. But, the state is still blocking him.
Barr, who brought suit on behalf of a handful of investors from China, has exchanged testy court filings with lawyers from the Vermont Attorney General's Office over records in the $200 million Jay Peak Resort fraud case. The attorney general has also rebuffed his attempts to depose state officials linked to the Vermont EB-5 Regional Center.
The AG's office has intervened in a lawsuit alleging that several immigration attorneys who represented the investors got millions of dollars in kickbacks.
Shen is accused of taking $1.25 million in fees from developers as a reward for bringing in new investors. Most of his clients invested in a proposed biomedical facility in Newport that federal regulators said was "nearly a complete fraud."
Shumlin actively promoted Jay Peak in China in 2013 and reversed a commerce agency decision to suspend the AnC Bio Vermont and Q Burke projects in 2015, allowing the developers to continue to solicit investors right up until the Securities and Exchange Commission filed a fraud complaint in U.S. District Court in April 2016.
Gov. Peter Shumlin, Jay Peak CEO Bill Stenger, Ariel Quiros, the owner of Jay Peak, and his son Ary Quiros at a ribbon cutting.
The state also brought suit against Ariel Quiros, the former owner of Jay Peak, and Bill Stenger, the resort's former president and CEO.
The governor, in a filing seeking to block his deposition in Barr's lawsuit, wrote that he had "no prior or contemporaneous knowledge" of any alleged "kickback agreements" involving immigration attorneys and the developers.
Shumilin wrote that he doesn't remember ever "meeting or communicating" with Shen.
"I am not aware," the former governor wrote, "of any communications or statements by the State or any State official that could be construed to reflect awareness of any of the alleged acts or omissions of the Shen Defendants or that any State official ever condoned, excused or endorsed any such conduct by the Shen Defendants."
In recently released documents, the former CFO of Jay Peak said the EB-5 projects were never audited by the company. Nor were the financials reviewed by the state. The Shumlin administration, which was responsible for overseeing the state's EB-5 program, did not require an audit of the projects.
Shen's attorney Andy Montroll has used an "unclean hands" argument, claiming that Shumlin and state EB-5 officials openly endorsed the projects, which were later found to be in violation of federal securities laws.
The Vermont Attorney General's office has intervened to keep Shumlin and other top state officials from testifying in the federal case.
Barr says the state should be fined $1,000 for blocking discovery in the federal case. In addition, Barr is seeking an undisclosed amount to cover his cost and fees associated with the state's "interference."
Attorney Russell Barr speaks at a news conference in 2017.
"(T)he Plaintiffs have been stonewalled by the State of Vermont, who acts as counsel for third-party witnesses possessing information and/or testimony relevant to the claims and defenses of this action," Barr wrote in a recent filing.
Assistant Attorney General Jon Alexander disputes that claim.
"The Court emphasized," Alexander wrote, "that Plaintiffs cannot use their subpoena power over non-parties to embark on 'a kind of fishing expedition as to other claims' they may have in other courts against the State and State officials arising out of the Jay Peak EB-5 projects."
The parties sparred over deposing top state officials at a hearing in Barr's "kickback" case last November in federal court in Burlington.
Federal Judge Christina Reiss ruled that Barr must first take the deposition of Shen. And, depending on what Shen said, the judge said she may allow the depositions of other state officials. Barr deposed Shen in January and he is now arguing that other depositions should move forward.
Shen said he had "multiple interactions" with the witnesses Barr is now seeking to depose, including traveling to China to translate the speeches and lectures of some of them, specifically naming Lawrence Miller, the former secretary of the Agency of Commerce and Community Development.
While in China promoting the Jay Peak projects, Shen also "interacted" with then-Gov. Shumlin, Sens. Patrick Leahy, D-Vt., and Bernie Sanders, I-Vt., Congressman Peter Welch, D-Vt., and Brent Raymond, the former VRC executive director, the filing stated.
Shen was an interpreter for the governor and the congressional delegation who gave speeches to potential Chinese investors in Beijing, Shanghai and Ho Chi Minh City in Vietnam, Barr wrote.
Sen. Patrick Leahy and Rep. Peter Welch appear at a public hearing in Rutland in 2014.
"Defendant Shen admitted," Barr added, "that interpreting statements for the State of Vermont representatives and the presence of prominent politicians added credibility to the marketing materials that the VRC and Jay Peak Projects disseminated to investors; providing Defendant Shen the comfort needed to keep placing his clients in the Jay Peak Projects."
Alexander, in seeking to block the questioning of state officials, wrote that Shen, in his deposition, "repeatedly indicated that he did not have any private substantive conversations or direct written communications with any State officials" at any point.
Barr is asking the judge to "compel" the depositions of several former state officials, including Shumlin, Miller and James Candido, former director of the Vermont EB-5 Regional Center, and Patricia Moulton.
Miller served as the head of commerce from 2011 to 2014. Candido was the executive director of the Vermont EB-5 Regional Center from 2004 into 2012. Moulton followed Miller as the secretary of ACCD. She is currently the president of Vermont Technical College.
Barr has also stated in court filings that he has attempted to take depositions of both Quiros and Stenger, but has been told by their attorneys that they intend to invoke their Fifth Amendment rights against self-incrimination.
Civil lawsuits brought by state and federal regulators against the two men have reached settlements, while the U.S. Attorney's Office has an ongoing federal criminal probe.
Barr is also seeking to continue the late August deposition of Raymond, whose agreed-upon seven hours of testimony was cut short by about an hour.
He testified in a deposition taken in August that he asked his superiors in 2012 to press Quiros and Stenger for an audit.
Melissa Visconti, an attorney from Miami representing Ariel Quiros, the former owner of Jay Peak Resort.
However, that request was ignored and four years later in April 2016 the U.S. Securities and Exchange Commission leveled a civil investor fraud lawsuit against Stenger and Quiros.
In addition, Barr wants access to documents from Quiros, through his attorneys, the Florida-based law firm, Damian & Valori LLP (D&V). He is seeking "investigative transcripts" related to actions by state and federal regulators, among other records.
Barr wants the state sanctioned for interfering in his subpoena for records, which were subject to a confidentiality agreement between the state and Quiros.
Alexander responded that Quiros and his attorneys have received 2.2 million pages of documents related to the investor fraud case brought by state regulators.
A "protective order" that remains in place in that state case despite its pending settlement with the parties remains in effect, Alexander said, and the documents cannot be released without the redaction of "PPI," or personally identifying information.
The filing argues that Vermont courts would have to decide on a motion to break the confidentiality agreement, but that no such motion has been filed.
It's not clear when the federal judge will rule on the disputed matters in the kickback lawsuit, or if she will order another hearing an allow the attorneys to present further argument.
Charity Clark, Vermont Attorney General TJ Donovan's chief of staff, declined further comment on the case Monday. "We are going to let the filed papers speak for themselves," she said.
TJ Donovan is sworn in as attorney general.
Barr said Monday that the Attorney General's Office has refused to have a "simple discussion" with him regarding the discovery disputes.
"Rather, they have decided to waste the court's time, and taxpayer dollars, over something that can be resolved with a simple phone call," Barr said. "It is now abundantly clear that the Attorney General's office is doing whatever it can to prevent the truth from coming out."
Barr has argued that state officials were negligent, and even complicit, in a $200 million investment fraud led by Jay Peak developers Ariel Quiros, the former owner of the resort, and Bill Stenger, the former CEO.
In total, Stenger and Quiros solicited more than $450 million in EB-5 monies from foreign investors through the state-run investment program, which the state commerce agency managed and oversaw over the eight-year span of the Northeast Kingdom projects.
At a hearing in November, Reiss declined to make it a class action. But, the judge did give him 30 days to refile his complaint with more specific allegations before outright rejecting that request.
Barr has since filed an "amended complaint," naming additional law firms as defendants as well as adding racketeering claims against the parties. The judge has yet to rule on whether those claims fulfill the standard needed to make the lawsuit a class-action.
State attorneys at that hearing in November had alleged that Barr is seeking to make an "end-run" from a previous ruling to dismiss a separate lawsuit he brought against the state as well as former and past officials regarding the EB-5 regional center.
In that case, filed in state court in Lamoille County on behalf of another group of EB-5 investor, Barr also made the argument that the state was negligent, at best, and in cahoots with the developers, at worst, in overseeing the Jay Peak projects, allowing those developers the opportunity to bilk more than 800 foreign investors.
State attorney have contended the Vermont officials acted in "good faith," and the state is immune from such legal actions.
Barr is appealing that case, with arguments set to take place next week before the Vermont Supreme Court.
https://vtdigger.org/2019/04/08/shumlin-court-filing-rebuts-dirty-hands-claim-jay-peak-case/
Mentions
Litigation Cases
States
---
Securities Disclaimer
This website is for informational purposes only and does not constitute an offer or solicitation to sell shares or securities. Any such offer or solicitation will be made only by means of an investment's confidential Offering Memorandum and in accordance with the terms of all applicable securities and other laws. This website does not constitute or form part of, and should not be construed as, any offer for sale or subscription of, or any invitation to offer to buy or subscribe for, any securities, nor should it or any part of it form the basis of, or be relied on in any connection with, any contract or commitment whatsoever. EB5Projects.com LLC and its affiliates expressly disclaim any and all responsibility for any direct or consequential loss or damage of any kind whatsoever arising directly or indirectly from: (i) reliance on any information contained in the website, (ii) any error, omission or inaccuracy in any such information or (iii) any action resulting therefrom.