Federal judge blocks questioning of top state EB-5 officials, for now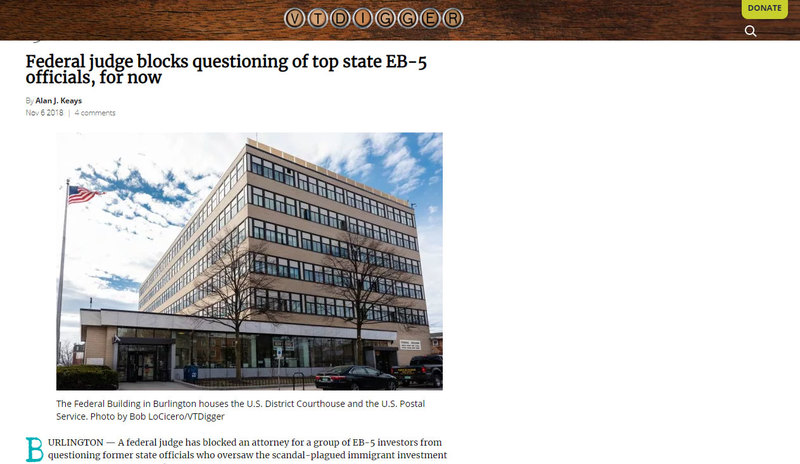 The Federal Building in Burlington houses the U.S. District Courthouse and the U.S. Postal Service.
A federal judge has blocked an attorney for a group of EB-5 investors from questioning former state officials who oversaw the scandal-plagued immigrant investment program in Vermont — at least for now.
Judge Christina Reiss said Russell Barr, the Stowe lawyer who brought suit on behalf of a handful of investors from China, must first take the deposition of Shen Jianming, an immigration attorney accused of taking advantage of foreign investors in a kickback scheme.
Shen is accused of taking $1.25 million in kickbacks in return for bringing foreign investors to the Jay Peak projects.
U.S. District Judge Christina Reiss
Depending on what Shen says in his deposition, the judge may allow Barr to depose former state officials.
Barr has argued those officials were negligent, or even complicit, in a $200 million investment fraud perpetrated by Jay Peak developers Ariel Quiros, the former owner of the resort, and Bill Stenger, the former CEO. Stenger and Quiros solicited more than $450 million in EB-5 monies through the state-run investment program.
The investors were told Jay Peak had the state commerce agency's seal of approval and cite endorsements from U.S. Sen. Patrick Leahy and former Gov. Peter Shumlin as the principle reason for buying into the Northeast Kingdom projects.
The fraud occurred over an eight-year period while state commerce agency officials were responsible for overseeing the projects. Brent Raymond, the former Vermont EB-5 Regional Center director, testified in a deposition taken in August that he asked his superiors in 2012 to press Quiros and Stenger for an audit. That request, which was ignored, came four years before the Securities and Exchange Commission charged the developers of Jay Peak with 52 counts of securities fraud.
Barr alleges that Shen was paid by the Jay Peak developers to bring in more foreign investors as part of a kickback scheme. At the time, Shen did not tell immigrant investors he was getting a pay off from Stenger — in addition to legal fees from foreignors for help with immigration paperwork.
In a ruling from the bench, Judge Reiss is requiring Barr Law Group to depose Shen before she decides whether testimony from state officials is relevant.
"Why isn't it the place to start with attorney Shen?" Reiss asked attorney Chandler Matson, Barr's co-counsel in the case.
"Scheduling issues," Matson replied. "I can't say it anymore elaborately than a scheduling issue."
Reiss also ruled against a bid by Barr to make his lawsuit a class action, but gave him 30 days to refile his complaint with more specific allegations before closing the door on the request.
"I am granting them an opportunity to try again," the judge said of Barr and Matson.
The hearing Monday provided the latest twist in a long-running legal battle between Barr and the Vermont Attorney General's Office, which has played out over two separate lawsuits regarding the state's role in the investor fraud scandal at Jay Peak.
The Vermont Attorney General's office has been assiduously seeking to block Barr's attempt to question high-ranking state officials who were involved in the operation of the Vermont EB-5 Regional Center, which oversaw the state program soliciting foreign investment for local projects.
In court Monday, Assistant Attorney General Jon Alexander, whose office is representing the state officials Barr wants to depose in the Shen case, referred to Barr's push to questions those state officials as a "fishing expedition," borrowing the term the judge used earlier in the hearing.
Russell Barr of Barr Law Group of Stowe.
Barr countered that he was just looking for answers for investors bilked out of green cards and money. More than 400 investors have lost their money and are not eligible for permanent residency because of the fraud.
"They came here for the rule of law," Barr said of his clients. "They are looking for justice."
Judge Reiss said the lawsuit before the court was not brought against the state or state officials.
Before allowing Barr to push ahead and question former employees of the regional center, she said it was important to find out what officials told Shen, if anything.
Later in the hearing, Alexander, who earlier had contended that the state was not party to the action, asked that if Shen is deposed the state be given notice and be allowed to attend.
"I don't see, for the same reasons as I just ruled, that there is any affirmative reason why you should be there. You can ask for a copy of the the transcript if you want," the judge said.
"If the parties don't mind, I don't mind," Reiss added. "Otherwise, I don't see a reason for the presence of the state of Vermont."
Barr has wanted to depose the state officials as he presses forward in a lawsuit he filed in September 2017 against Shen.
Attorneys for Shen, as part of his defense, have blamed state officials for not properly monitoring the EB-5 projects. According to Barr, that opens the door for him to question the state officials involved in the operation of the EB-5 program at the time of the alleged kickback scheme.
Those officials he is seeking to depose include Lawrence Miller and Patricia Moulton, both former secretaries of the Agency of Commerce and Community Development, and James Candido, a past executive director of the state-run regional center.
Barr also points to a deposition he did take in August of Brent Raymond, who became head of the regional center after Candido left the post in 2012 and served in that position until July 2015.
In addition, the state has been seeking to prevent Barr from deposing John Kessler, who has been involved with the state EB-5 regional center since its inception in 1997, serving in roles as the principal administrator and general counsel.
According to a transcript of Raymond deposition from August, he testified that in May 2012 he asked Miller, then head of the commerce agency, to order an independent financial review of the EB-5 funded Jay Peak-related projects.
Brent Raymond appears in a promotional video for Dreamlife Investments in 2013.
"I recommended forensic audits. I was told no," Raymond said, according to a transcript of his deposition. "I had asked for various documents. I was always told no."
In court Monday, attorney Andrew Montroll, representing Shen, also referenced Raymond's deposition and the state's role in the alleged investment fraud, and his calls for the state to take action to stop the fraud that went unheeded.
"It was Stenger, it was Quiros, and it was the state," Montroll said of those responsible for the alleged fraud scheme. "None of those are in this case."
Montroll offered no opinion on whether the state officials should be deposed in the case.
The attorney general's office has said Miller, Moulton and Candido know nothing about an alleged kickback scheme. The state's lawyers contend Barr's continued push to question them is harassment.
"When the apparent irrelevance of prospective deponent's testimony is combined with a probability that the deponent will be subjected to harassing questioning, an order barring the deposition is particularly appropriate," Alexander wrote.
The attorney general's office included "declarations" from Miller, Moulton and Candido in the filings stating they had no information relevant to the Shen case.
The attorney general's office also argued that Barr has failed to substantiate claims he made when litigating a separate lawsuit he brought by a different group of EB-5 investors against the state.
Barr filed that case in state court in Lamoille County, accusing state officials of essentially acting in cahoots with the Jay Peak developers in overseeing the Jay Peak projects from 2008 to 2016, allowing the developers an opportunity to bilk more than 800 investors.
Vermont Judge Thomas Carlson threw that case out before allowing any depositions to go forward. Barr is appealing that ruling to the Vermont Supreme Court.
Outside of court following a hearing in that lawsuit, Barr alleged that he had "solid information" about an unnamed official from the Vermont EB-5 Regional Center who was arrested for sex with a minor during an official visit to China in 2013 or 2014 "and then it was apparently covered up."
Barr said he would include that information in a filing, but never did. Barr, in his recent filing in the kickback case, wrote he's tried to provide information to the state, but they haven't been interested in seeing it.
"Plaintiffs' counsel uncovered independent support for the allegation," he wrote in the filing, adding that he offered to reveal "the investigative findings multiple times" to Donovan and Michael Pieciak, commissioner of the Vermont Department of Financial Regulation.
However, he wrote, he never received a response for either.
"Now," Barr wrote, "in irony too thick for words, the Vermont Attorney General's office uses the purportedly unsubstantiated China arrest allegations as a basis for the 'potential harassment' of the Subpoena Respondents if they are deposed."
The Stowe attorney also wrote he intended to file documents relevant to that claim under seal on Monday, because they involve sensitive subject matter and "attorney work product."
However, the judge said in court Monday that if she looked at the filing it would become public. At that point, Matson he would withdraw the document.
Barr also wrote in his recent filing that he wanted to depose Stenger and Douglas Hulme, the owner of a visa processing firm who worked as a consultant for Stenger and Quiros from 2006 through 2011.
Hulme, in that role, solicited investors for the Jay Peak projects headed by the two developers. In February 2012, he broke off his relationship with Quiros and Stenger and publicly announced that he no longer had faith in the financials at Jay Peak.
In his latest filing, Barr wrote that he has been told by the attorneys for the two men that they both intend to "plead their Fifth Amendment right against self-incrimination during their properly noticed depositions."
As a result, according to Barr, that makes the need to depose the state officials all that more important.
While Stenger and Quiros have resolved civil claims brought against them by state and federal regulators, a criminal probe headed by the U.S. Attorney's Office in Vermont is ongoing.
Federal prosecutors have been tight-lipped about that investigation. However, both Gov. Phil Scott and Donovan, Vermont's attorney general, have said such a criminal probe is underway.
Earlier in the hearing Monday, Montroll representing Shen, had argued against allowing the case to proceed as a class action, saying that different immigrant investors put money into different projects and were represented by different immigration attorneys.
"There is no commonality, there is no typicalality because they are all different," he said.
Barr countered the developers commingled money from the various projects in a Ponzi-scheme that left investors out more than $5 million as well as, in some cases, the green cards they were seeking through the EB-5 visa program.
"This was one massive fund used by the attorneys and the developers," Barr said.
Asked after hearing what he thought of the judge's rulings regarding the class action issue and deposing state officials, Montroll, Shen's attorney, responded, "I would expect we will be moving forward with the deposition of my client sometime in the not too distant future."
https://vtdigger.org/2018/11/06/federal-judge-blocks-questioning-top-state-eb-5-officials-now/
Mentions
Litigation Cases
States
---
Securities Disclaimer
This website is for informational purposes only and does not constitute an offer or solicitation to sell shares or securities. Any such offer or solicitation will be made only by means of an investment's confidential Offering Memorandum and in accordance with the terms of all applicable securities and other laws. This website does not constitute or form part of, and should not be construed as, any offer for sale or subscription of, or any invitation to offer to buy or subscribe for, any securities, nor should it or any part of it form the basis of, or be relied on in any connection with, any contract or commitment whatsoever. EB5Projects.com LLC and its affiliates expressly disclaim any and all responsibility for any direct or consequential loss or damage of any kind whatsoever arising directly or indirectly from: (i) reliance on any information contained in the website, (ii) any error, omission or inaccuracy in any such information or (iii) any action resulting therefrom.