State blocking questioning of top EB-5 officials over role in scandal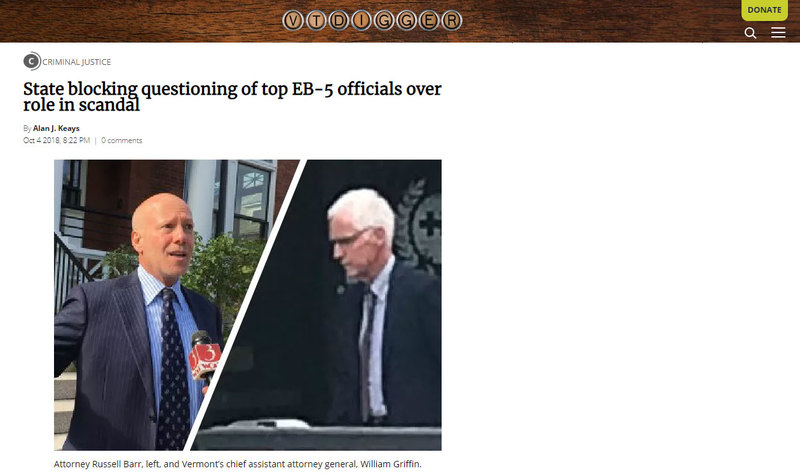 Attorney Russell Barr, left, and Vermont's chief assistant attorney general, William Griffin.
The Vermont attorney general's office has stalled the questioning of one former state official and has moved to quash the subpoena of another in a case that has brought focus on the government's role in the fraud at Jay Peak ski resort.
Chief Assistant Attorney General William Griffin argues that attorney Russell Barr, in seeking to depose those officials, is making an "end-run" around a previous decision to toss a separate lawsuit brought against the state.
Brent Raymond, the former director of the Vermont EB-5 Regional Center, has testified that he repeatedly called for an audit of a massive expansion of the resort as early as 2012, but was rebuffed by members of the Shumlin administration. The state took no action until 2014 — two years after a whistleblower came to the state with information about financial improprieties.
State officials were responsible for managing and overseeing the Jay Peak projects under the state-run EB-5 program over an eight-year period in which the developers, Ariel Quiros, the resort's former owner, and Bill Stenger, the former CEO, misused $200 million of investor funds. The Securities and Exchange Commission halted the fraud scheme and brought 52 counts of securities fraud against the developers in April 2016.
Raymond was deposed in late August as part of a federal lawsuit brought by Jay Peak EB-5 investors against Shen Jianming, an immigration attorney who is accused of taking $1.25 million in kickbacks in return for bringing foreign investors to the Jay Peak projects. In his defense, Shen has pointed the finger at state officials.
The deposition was not completed. Griffin, the chief assistant Vermont attorney general, who is representing Raymond, is using delay tactics to block his final hour of the agreed-upon seven hours of testimony.
Griffin also wants the federal court to throw out the subpoena of John Kessler, who has been involved with the state EB-5 regional center since its inception in 1997, serving in roles as the principal administrator and general counsel.
Brent Raymond appears in a promotional video for Dreamlife Investments in 2013.
The Vermont attorney general's office has blocked Barr, a Stowe attorney who represents the three Chinese plaintiffs suing Shen, from questioning Raymond further until U.S. District Court Judge Christina Reiss rules on the motion to quash Kessler's subpoena.
"My suggestion is that we await a ruling from the Court on the pending motion to quash the John Kessler subpoena notice," Griffin wrote in a letter to Barr seeking to delay a continuation of Raymond's deposition.
"It is likely," Griffin added, "that the court will give us some guidance on the proper scope of these third-party depositions."
Barr responded to Griffin in a letter on Sept. 25, but said he has yet to hear back.
"We agreed that Mr. Raymond's deposition would continue, and by your own suggestion, would regroup at an agreed time," Barr wrote to Griffin in that letter. "I am willing to reach such an agreement if you would kindly respond to my requests to do so."
Barr has been pushing to depose state officials to determine whether they were complicit in the fraud, negligent or otherwise failed to provide proper oversight in the financing of the Jay Peak projects. He has filed a motion opposing Griffin's bid to block Kessler's deposition. Judge Reiss has yet to rule on the matter.
In his sworn deposition in August, Raymond said that in May 2012 he asked Lawrence Miller, then head of the Agency of Commerce of Community Development, to order an independent financial review of the Jay Peak-related project. That request was denied.
"I recommended forensic audits. I was told no," Raymond said, according to a transcript of his deposition. "I had asked for various documents. I was always told no."
Raymond told his higher-ups at the commerce agency that they ought to investigate red flags at Jay Peak after Douglas Hulme, a former business partner on the project, warned the state about problems with the way money was being used at the resort. Raymond's suggestion was ignored by Miller and others in the administration of then-Gov. Peter Shumlin.
His testimony is the first insight into what state officials knew about the fraud when, and what they did — or didn't — do about it.
Barr said in an interview Thursday that Raymond had to leave his August deposition early for "his own reasons," and all parties knew it had not been completed.
"So the deposition is still ongoing and he is still subject to the federal court subpoena," Barr said of Raymond. "It looks as though, now, changing course, Deputy Attorney General Griffin is looking to block the completion of Mr. Raymond's deposition, including the defendant's right to examine him."
Gov. Peter Shumlin, center, with Ariel Quiros, left, and his son, Ary, at a groundbreaking ceremony.
Barr said that, in his opinion, the state's delaying tactics are an obstruction of justice.
Griffin says the subpoena seeking to now depose Kessler in the case should be tossed because the commerce agency attorney has no knowledge of an alleged kickback scheme involving Shen or other immigration lawyers.
"Other than what he has recently read in Plaintiffs' pleadings in this action and the Sutton case, Mr. Kessler has no knowledge of such alleged 'Kickback Agreements,'" Griffin wrote in his motion to throw out the subpoena.
Griffin, who has worked more than three decades in the attorney general's office, is known by some as "Dr. No," for his propensity to find ways to block requests for documents from news organizations and advocacy groups.
He also contends state EB-5 reports, filed over the years with the federal government over the operation of the state-run regional center, should not be released, saying that the records are exempt due to ongoing litigation involving the state. The governor's office has pushed for their release, but for now is following Griffin's advice.
The Sutton case
Barr has brought two lawsuits involving the EB-5 fraud — the Shen case, in federal court, and a class action lawsuit alleging state negligence, on behalf of another group of EB-5 investors, including Tony Sutton of London. In the Sutton lawsuit, brought in Lamoille County Superior Court, Barr names as defendants several current and past state officials and employees as well as government agencies.
The Sutton case accuses state officials of negligence, failing to properly oversee the EB-5 regional center, and actions that gave the Jay Peak developers an opening to bilk more than 800 investors from 2008 to 2016.
Earlier this year, Judge Thomas Carlson dismissed the case, citing the state's absolute immunity from third party civil claims. The Vermont attorney general's office argued that state agencies, officials and employees had acted in "good faith." Barr has since appealed the case to the Vermont Supreme Court, where it remains pending.
In the Sutton case, Judge Carlson threw out a request by Barr seeking to depose Kessler as well as other state officials. The judge said it would be premature to take depositions in light of the state's arguments to dismiss the case.
Sen. Patrick Leahy and Jay Peak developer Bill Stenger.
Griffin says Barr is using the Shen case as an "end-run" around the Sutton rulings and to "seek evidence with the hope of reviving the dismissed claims against Mr. Kessler and the State by intruding upon their attorney-client relationship."
"Plaintiffs seek to depose Mr. Kessler about matters that have no relevance to the distinct claims, defenses and factual allegations in this malpractice action against Mr. Shen and his law firm," Griffin added, "including allegations that they accepted referral fees (or 'kickbacks' in Plaintiffs' parlance) from Quiros, Stenger and/or their Jay Peak entities."
Griffin could not be reached Thursday for comment.
Charity Clark, the attorney general office's chief of staff, said in response to an email seeking comment from Griffin that the office's staff was away for the day at a retreat.
She then reiterated the argument raised by Griffin in his filings, saying that the state is not a party to litigation, and Kessler had "no information relevant to any claim or defense in this malpractice lawsuit."
Barr, in his reply to the request to quash Kessler's subpoena, disputed that assertion. The filing, he said, is based on Shen's defense, which "implicates the actions, inactions, and representations" of the Vermont Regional Center.
"The defense claims that it relied on state representations of audit functions and oversight duties to protect against exactly what happened in this case," Barr said Thursday. "So, understanding Attorney Shen's defense, the promised oversight, and the arrangement between Shen and those state actors is pivotal to preparing our client's case for trial."
According to Barr, the "kickback" agreements were "distributed at promotional events with Regional Center officials, in their full view," citing an affidavit of Michael Gibson.
"Indeed," Barr added, "Michael Gibson, a registered broker-dealer who works within the EB-5 industry, informed Kessler that payment to unregistered agents constituted federal securities violations; in direct contradiction to Kessler's declaration."
Barr also pointed to statements from Raymond in his earlier deposition about Kessler's role in the Vermont Regional Center.
"Specifically, Mr. Raymond explained that Kessler was responsible, and had control over, the monitoring of the Jay Peak Projects and the representations emanating from the VRC," Barr wrote. "As Principal Administrator, Kessler determined that the VRC was under no obligation to acquire the quarterly reports, contrary to the representations contained in the memoranda of
understanding between the ACCD and the various Jay Peak Projects."
This summer, the U.S. Citizenship and Immigration Services terminated the state-run EB-5 center, saying that the state did not act to prevent the fraud. The state is appealing that decision.
https://vtdigger.org/2018/10/04/state-blocking-questioning-top-eb-5-officials-role-scandal/
Mentions
Litigation Cases
States
---
Securities Disclaimer
This website is for informational purposes only and does not constitute an offer or solicitation to sell shares or securities. Any such offer or solicitation will be made only by means of an investment's confidential Offering Memorandum and in accordance with the terms of all applicable securities and other laws. This website does not constitute or form part of, and should not be construed as, any offer for sale or subscription of, or any invitation to offer to buy or subscribe for, any securities, nor should it or any part of it form the basis of, or be relied on in any connection with, any contract or commitment whatsoever. EB5Projects.com LLC and its affiliates expressly disclaim any and all responsibility for any direct or consequential loss or damage of any kind whatsoever arising directly or indirectly from: (i) reliance on any information contained in the website, (ii) any error, omission or inaccuracy in any such information or (iii) any action resulting therefrom.