Gulf investors urged to pursue U.S. EB-5 Investor Program and help create employment in America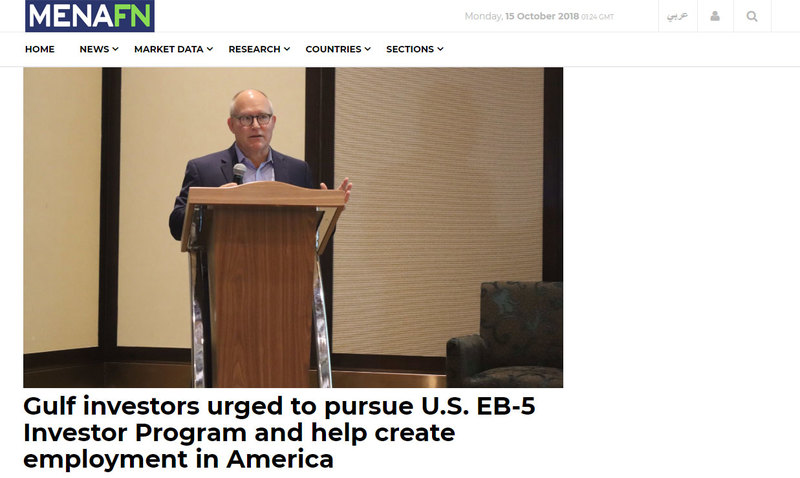 The United States Congress has recently passed a reauthorization of Employment-Based (EB-5) Investor Immigration Program recently, that extend the popular immigration through investment program and help the US create more jobs, a top official said.

"The US Congress passed a reauthorization of the EB-5 program until December this year that will help the residents of the UAE and the Gulf to avail Green Cards without the delays facing investors from other countries ," Stephen Strnisha, a Board Officer of Invest in the USA (IIUSA), the EB-5 industry trade association, and Chief Executive Officer of Cleveland International Fund (CIF), said.

"EB-5 program has become more popular in countries where the number of immigrants has historically been low-such as the Gulf countries.

"The extension comes with the expectation that the current EB-5 investment required from each investor may soon be increased either as part of the next extension by the U.S. Congress or through regulations already proposed by the Trump Administration that have yet to be finalized."

The EB5 Program, launched in 1990 to boost US employment through immigration, allows foreigners to obtain a US Green Card after investing US$500,000 in projects that help create a minimum of 10 jobs. After maturity, the investor gets his Green Card and the total investment back, but with low or no interest.

With increased demand and a set limit of available visas per year the current result is a program with a line of investors waiting to get their Green Card upon initial approval by USCIS of investors I-526 application. Because of how the program's visas are allocated, however, 'retrogression', as it is called, currently only affects applicants from Vietnam and China, the country generating the vast majority of investor demand to date.

The length of this wait for Chinese investors has now reduced demand from that country which has in turn caused regional centres to spend more time and effort actively soliciting investors from other parts of the world.

"This is a positive development for all interested individuals in the Middle East, where there is no retrogression and experienced regional centres like CIF providing strong offerings with some of the best economic terms available for investor consideration," Stephen Strnisha, who addressed potential investors in Dubai this weekend, says.

The move will help increased investment inflow into the US where the Trump administration is focussing on creating new jobs for US citizens. Instead of job-seeking immigrants, the EB-5 focuses on attracting job-creating immigrants and therefore falls in line with both President Trump's immigration policy but also holds wide support from both Republicans and Democrats in the U.S. Congress. .

US Government offers up to 10,000 Green Cards per year under the EB-5 Investor Immigration Program to investors who inject US$500,000 into job-creating projects through designated 'Regional Centres'.

Under the program, an investor typically receives an economic return in the form of interest or profit -- with current offerings providing increasingly better terms in this regard-plus receives the benefit of first conditional residency and ultimately permanent residency in the United States along with the intended repayment of their invested capital in 4-5 years. The condition for the investment program is that the project receiving the EB-5 funds will have to generate at least 10 jobs per investor from the project receiving this financing.

With a potential 10,000 number of visas, the annual EB-5 program could generate US$5 billion and over 100,000 jobs for Americans per year.

GCC investors, who have taken advantage of the EB-5 program in a big way, can now look at greater opportunities once the new reforms are passed by the US Congress, he says.

EB-5 allows for investors to be eligible to receive their investment back after completion of their sustainment period. Based on current United States Citizenship and Immigration Services (USCIS) processing times that period is approximately 4-5 years for investors from countries not impacted by retrogression.

Since 2010 Cleveland Investment Fund (CIF) has raised over $240 million for ten different development projects ranging from various branded hotel types to over 1,000 new units of housing and finally to developments that retained and expanded major corporate headquarters in Cleveland, Ohio such as Ernst and Young and American Greetings Corporation.

These projects have in turn created over 14,000 new jobs. While never a majority of the funding for any one project EB-5 funds secured and deployed by CiF have most often been the key to turning the vision of a development into reality.

"This track record, achieved in less than eight years, has made CIF a critical player in advancing economic development in Northeast Ohio, so much so that our regional Chamber of Commerce sought an ownership interest in our enterprise," Stephen Strnisha says.

"Our success has also led us to expand our focus to two other States and six other metropolitan areas resulting in CiF now serving a significant portion of the U.S. Midwest between Chicago and New York, comprising a population of over 13 million people."

CIF is in the process of developing a new group of funds which will be available to EB-5 investors who have repaid. These funds will be investing in similar types of projects as CIF's current portfolio.

These funds will be expected to yield a return to investors of between 7-14 per cent depending on their investment focus (e.g. Debt vs Equity funds) and produce that return along with a return of an investors' capital within a 3-5 year period. The choice on whether to invest in such a fund will be solely the choice of the EB-5 investor once they are repaid, Strnisha says.

EB-5 Investor Immigration Program
The EB-5 visa is a way to get U.S. green card and permanent residency through an investment in a qualifying enterprise. It enables foreign nationals who make a qualifying investment in a U.S. business to obtain a conditional green card, and if the EB-5 visa requirements are met, to potentially become lawful permanent residents, and eventual citizens, of the United States. The EB-5 visa program is authorised by the USCIS.

EB-5 Visa requirements include US$1 million capital investment or US$500,000 investment in a Targeted Employment Area (TEA). The investment must be made in a for-profit U.S. commercial entity and the investment must create 10 new full-time jobs for U.S. workers for two years.

Based on current USCIS processing times and for individuals from countries not impacted by retrogression the estimated time for receiving a conditional green card is approximately 2-3 years from funding and filing. The estimated time to achieve permanent residency (upon approval of the I-829) for the same group of investors is 5-6 years. The variance in this number and largest factor driving it is the time it takes USCIS to process applications.
About Cleveland International Fund
Cleveland International Fund (CIF) has a strong track record of achieving success for its investors in terms of obtaining green cards. Of the 443 processed I-526 applications seeking conditional residency (1st step in the EB-5 immigration process) adjudicated by USCIS all but one has been approved, an unprecedented 99.8 percent approval rate, well in excess of the industry average of less than 80 percent.

In terms of I-829 applications which seek to remove conditional status and make residency permanent (the final step in the EB-5 immigration process) 201 applications from CIF investors have been adjudicated by USCIS with every single one approved, a 100 percent approval rate!

CIF has an equally strong record of repaying its investors. Of the $104.5 million in CIF loans maturing up to this point, the full amount has been repaid and in turn disbursed back to the individual investors. The performance of its current portfolio also gives it confidence that remaining loan balances will be repaid by CIF in a timely manner over the next several years, allowing those investors to also be paid back their original capital.

CIF only provides financing to the projects it carefully selects on a loan basis. This provides for a clearer exit strategy since loans have maturity dates and a more secure position given the higher priority debt has over equity in any capital structure.

CIF's experience in real estate finance also results in selectivity in terms of the projects it chooses to finance. It also means that CIF has the ability to give critical attention to crafting security provisions with its borrowers that provide the best opportunity for repayment and should issues arise provides CIF the remedies needed to pursue repayment on behalf of its investors.

CIF focuses on EB-5 and market rate investment opportunities that stem from those projects and developers.
https://menafn.com/1097563521/Gulf-investors-urged-to-pursue-US-EB5-Investor-Program-and-help-create-employment-in-America
Mentions
States
---
Securities Disclaimer
This website is for informational purposes only and does not constitute an offer or solicitation to sell shares or securities. Any such offer or solicitation will be made only by means of an investment's confidential Offering Memorandum and in accordance with the terms of all applicable securities and other laws. This website does not constitute or form part of, and should not be construed as, any offer for sale or subscription of, or any invitation to offer to buy or subscribe for, any securities, nor should it or any part of it form the basis of, or be relied on in any connection with, any contract or commitment whatsoever. EB5Projects.com LLC and its affiliates expressly disclaim any and all responsibility for any direct or consequential loss or damage of any kind whatsoever arising directly or indirectly from: (i) reliance on any information contained in the website, (ii) any error, omission or inaccuracy in any such information or (iii) any action resulting therefrom.