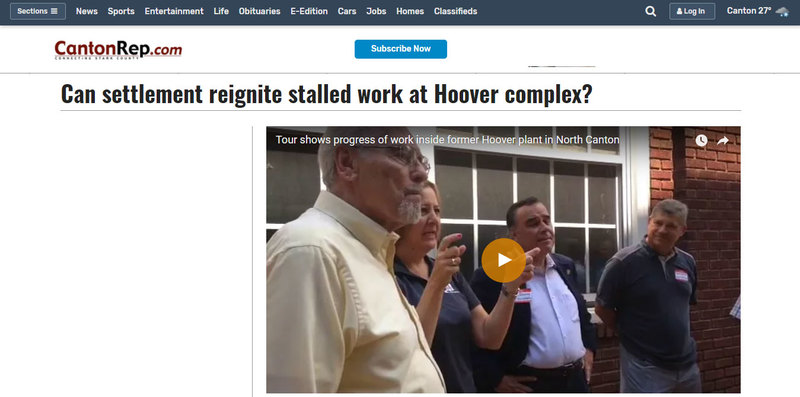 Securing funding within coming months would end lawsuit between developers.
NORTH CANTON Areas of the former headquarters of the Hoover Co. largely sit empty.
Maple Street Commerce acquired the property, which sits along North Main and East Maple streets, in late 2007. Though much of the complex now holds offices, industrial space and other business, work on the expansive western portion of the 400,000-square-foot factory has stalled.
The yard facing City Hall, where the community used to gather for rallies and Christmas tree-lighting celebrations, features a temporary plastic fence and a sign advertising office and retail space for lease. Some windows are new, but others remain covered by plywood.
Legal movement in the past week, however, could change that idleness.
Since late 2016, developers have been involved in a federal lawsuit over funding for the project. In court filings, they say the lawsuit has caused other financing sources to fall through, causing the slowdown.
The parties reached a settlement agreement Jan. 8, according to court filings. On Friday, they filed a motion to stay the lawsuit temporarily.
Maple Street and owner Stuart Lichter now have 60 days to secure an unaffiliated commercial loan to pay for a portion of the settlement. (The financial terms are not indicated in the filed paperwork.)
Once funding is secured, Maple Street has an additional 90 days to close the loan and obtain the funds.
Maple Street Commerce is a partnership that includes Industrial Realty Group. Christopher Semarjian and Lichter own Maple Street Commerce. IRG and Lichter also are involved in the Hall of Fame Village project in Canton.
Maple Street announced plans to revamp the factory into a mixed-use development with retail, restaurants and housing in 2013. The project was initially slated to be finished in late 2015. That date was pushed back to 2016 and again to 2017.
During a public tour in August, developers said work on the $50 million project, which includes at least 130 market-rate apartments, would wrap-up in late 2018 or early 2019.
Questions
In a letter from the city's building officer in October, North Canton officials asked what they could do to assist developers in jump-starting work, saying they wanted to help complete a project that would "bring a tremendous benefit to the community."
The first phase of the Hoover project has been successful, Mayor David J. Held said. "It's been a win. It's been a great, great win for the city."
Currently, 12 companies occupy space in the complex — from manufacturer Myers Controlled Power to the Ohio Bureau of Workers' Compensation — bringing the city about 1,100 new jobs and nearly $400,000 in income tax revenue, he said.
Held said, however, that it's clear funds are not in place to complete the second phase. He said the project shows the good, the bad and the ugly of economic development.
The Hoover Co. leaving North Canton was bad, obviously. The opportunity to redevelop the complex and bring new life to the area are good.
The ugly?
"When you drive along Main Street and look at the plywood windows and look at the dirt along Main Street... (it's obvious) the second phase is not complete," he said.
Lawsuit
An affiliate of CMB Regional Centers, an investment firm that connects developers with EB-5 funding, filed a federal lawsuit in November 2016.
The complaint names Maple Street as well as a group of individual investors. It alleges that Maple Street is in default of a $36 million loan by misusing EB-5 funds specifically intended for the Hoover project. Maple Street has denied those claims or any wrongdoing.
The EB-5 Immigrant Investor Visa Program is administered by U.S. Citizenship and Immigration Services. It enables foreign investors to obtain a green card by investing at least $500,000 in a U.S. business that will create or preserve at least 10 jobs. The vast majority of people seeking EB-5 visas are from China, according to a 2014 study from the Brookings Institute.
Regional centers, such as CMB, are authorized to pool EB-5 funds and make investments. On its website, CMB cites its work connecting IRG with EB-5 funds for the Goodyear World Headquarters project in Akron and the Hoover project.
As a regional center, CMB must follow rules outlined by the government. In court filings, it says the funds were "earmarked by law" for the Hoover Project.
CMB initially alleged that $25 million of funds intended for Hoover were used to complete the Goodyear project.
In an updated complaint filed in August, CMB accused Maple Street of fraud. They claim developers and others "brazenly pocketed" $36 million and tried to cover it up by transmitting false financial reports, creating phony paper trails, making intentional omissions and denying CMB access to records.
Maple Street has not filed an updated response to that complaint.
In a written response to questions from CMB's attorneys, Lichter's legal team wrote that CMB's CEO and founder, Patrick Hogan, told him the EB-5 funds could be used "for other projects, as long as the money was eventually returned to the Hoover Project."
The two parties have been in settlement negotiations since September, according to court filings. On Wednesday, the parties had a joint telephone conference with U.S. District Judge Sara Lioi.
Attorneys representing CMB have declined to comment, citing pending litigation. Attorneys representing Maple Street did not respond to requests last week for comment. A message Friday seeking comment from Lichter was not returned.
The details
In May 2012, CMB and Maple Street entered into a loan agreement for $36 million in EB-5 funds for the Hoover project. Maple Street told CMB the project would cost about $70 million and be completed in late 2015.
Maple Street received those funds in October 2013.
In court filings, Lichter's attorneys said the funds immediately were loaned to two entities: $19.8 million to S.L. Properties (SLP) Inc. (solely owned by Lichter) and $16.2 million to Industrial Commerce Ltd. (solely owned by Semarjian).
Under the direction of those companies, the money then was transferred into six bank accounts: $15.65 million to an account Lichter and his wife, Claire, owned; $3.6 million to an account IRG Master Holdings owned; $15.65 million to an account for ICL; and the remaining between an account of the Kaplan Family Trust and two accounts involving Bruce Haas and the Haas Family Trust.
Because the money was "commingled with unrelated funds" in those accounts, Lichter's attorneys wrote he was unable to account for how the specific loan dollars might have been used.
Lichter has said the companies repaid Maple Street "as needed." At the end of 2016, S.L. Properities owed Maple Street about $8.7 million and ICL about $6.6 million.
The filling indicates Maple Street received funds through mortgage loans from two banks and an Ohio grant program.
The federal lawsuit has caused other funding sources to fall through, according to court filings.
"Maple Street Commerce had received preliminary approval for federal and state historic tax credits for the Hoover Project, and was in the process of securing additional loans to monetize those tax credits, but Maple Street Commerce was unable to finalize those transactions after CMB filed this lawsuit," according to the filings.
Transparency
At a Strengthening Stark forum for elected officials Tuesday, during a conversation about work at the Hall of Fame Village, Held cautioned that a lack of transparency from developers can lead to whispers in the community.
He said residents ask him if the EB-5 funds intended for Hoover have been used to pay for Tom Benson Hall of Fame Stadium.
Those funds were intended for North Canton but were not spent in North Canton, Held said Thursday. "I know for certain that not all of those funds were put into the Hoover District Project ... I'd go as far to say that none of those funds were put in."
Held wants answers. If those EB-5 funds went to other IRG projects, the public deserves to know, he added.
Developers using public money must be transparent about funding sources and how money is spent, Held said. "If you're not open ... (The) project will start to flounder, and you'll fail," he said.
Maple Street Commerce developers could not be reached to address Held's contentions.
Despite the setbacks, Held still backs the project.
"I strongly believe in public-private programs for economic development, but it has to be conducted in an open, honest manner," he said.
Held said he's hopeful for the future of both Hoover and the Hall of Fame developments.
"I'm very optimistic about both projects, but I'm also realistic," he said. "We have to be optimistic in our expectations but realistic in our approach."
http://www.cantonrep.com/news/20180114/can-settlement-reignite-stalled-work-at-hoover-complex
Mentions
Litigation Cases
States
---
Securities Disclaimer
This website is for informational purposes only and does not constitute an offer or solicitation to sell shares or securities. Any such offer or solicitation will be made only by means of an investment's confidential Offering Memorandum and in accordance with the terms of all applicable securities and other laws. This website does not constitute or form part of, and should not be construed as, any offer for sale or subscription of, or any invitation to offer to buy or subscribe for, any securities, nor should it or any part of it form the basis of, or be relied on in any connection with, any contract or commitment whatsoever. EB5Projects.com LLC and its affiliates expressly disclaim any and all responsibility for any direct or consequential loss or damage of any kind whatsoever arising directly or indirectly from: (i) reliance on any information contained in the website, (ii) any error, omission or inaccuracy in any such information or (iii) any action resulting therefrom.