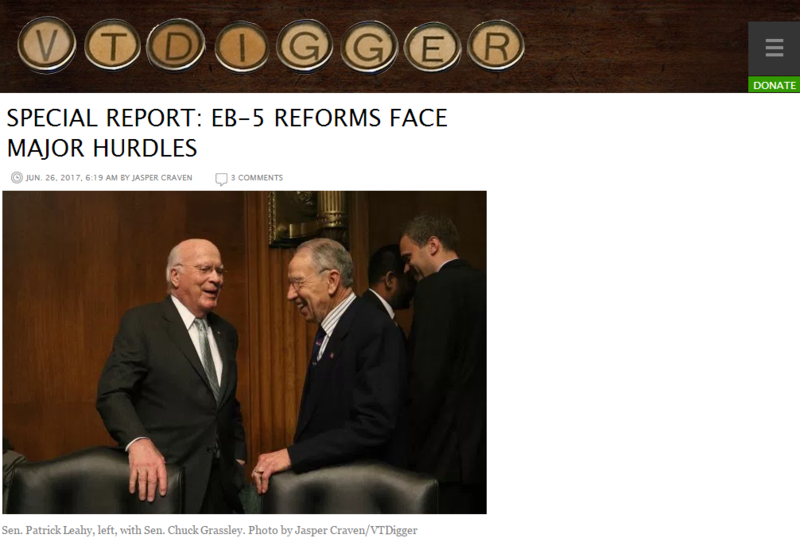 In early March, the two elder statesman of the Senate Judiciary Committee ventured across the Capitol to the House of Representatives.
They were there testify about the many problems with the EB-5 immigrant investor visa program, which has been exploited by developers from the sunny streets of Beverly Hills to Manhattan and the northern mountains of Vermont.
Sens. Patrick Leahy and Charles Grassley have been fighting to reform the EB-5 program for years now. Leahy, Vermont's senior senator, and Grassley, the senior Republican from Iowa, have long shared a friendship and a willingness to work together.
And in testimony before the House Judiciary Committee in March, the two shared the same message with House members: Change the EB-5 program, or let it die.
The immigrant investor visa program grants permanent residency to foreigners who invest $500,000 in U.S. businesses in economically distressed rural areas (the minimum investment for urban areas is $1 million). Each investment must create 10 jobs.
Fraud in the EB-5 program has been rampant, and Leahy has been critical of a lack of federal oversight.
Leahy's own state is home to the largest fraud in the history of the national program. Last year federal regulators charged the developers of Jay Peak with 52 counts of securities fraud and the misuse of $200 million. More than 800 investors from 74 countries were allegedly defrauded.
The senior senator promoted the projects overseas for Bill Stenger, a close associate and the CEO of Jay Peak, and when news of the Securities and Exchange Commission charges came out, Leahy said he felt "betrayed."
The Jay Peak projects were supposed to be managed and monitored by the state, but the Vermont EB-5 Regional Center did not protect investors from the fraud.
Nationally, there is little federal oversight of the program.
Some projects in Vermont have been successful, such as a condo project at Sugarbush Resort, while others, including Jay Peak and the now-defunct Seldon Technologies in Windsor have seen allegations of financial mismanagement.
"In my home state of Vermont, EB-5 has been used in areas that otherwise would be unable to attract significant investment," Leahy said in March. "But even in Vermont, experience has clearly showed a need for reform."
In the hearing, the two senators ticked off the program's problematic provisions that had allowed, as Grassley put it, "rampant waste, fraud and abuse."
Among the problems with the program: the jobs created from foreign investments are not always direct or verifiable, investment funds are not adequately vetted, regional centers may be established without any real federal oversight, Targeted Employment Areas (TEAs) can be economically gerrymandered, and base investment levels, set in the 1990s, are too low.
"The EB-5 program I once championed seems like a distant memory," Leahy said. "That program was designed to bring jobs to underserved rural and urban communities, and for some time, it did just that. But the program has strayed from these goals and it's a magnet for fraud."
Despite bipartisan efforts to reform the program, reform has been elusive. A straight reauthorization of the program was tucked into the recently passed 1,665-page budget deal, where Leahy served as a top negotiator. The bill, passed in early May, keeps the government lights on — and the EB-5 program whirring — until the end of the 2017 fiscal year, on September 30.
While Leahy has said he will attempt to pass a provision to help defrauded investors, like the immigrants at Jay Peak, get their green cards, no progress has been made.
THE HISTORY OF EB-5
The EB-5 immigration program was created in 1990 with the passage of the Immigration Act, a bipartisan bill that broadly rejiggered the country's immigration laws. The legislation was championed by former Massachusetts Sen. Edward Kennedy, and it received broad bipartisan support, including from Leahy and Vermont's other senator at the time, Jim Jeffords.
"American citizenship has historically been a cherished goal of most arriving immigrants," Kennedy said in a 1989 Judiciary hearing focused on the Immigration Act. "It is one of the most precious rights we can confer."
While the program allows for up to 10,000 visas to be issued annually, the EB-5 program saw little use in its first couple years, and the requirements were loosened in 1993.
Specifically, Congress created a pilot project of EB-5 Regional Centers in the 1993 appropriations bill. These privately run centers, which still exist today, are allowed to meet less stringent job creation guidelines. Regional center projects are allowed to count indirect and induced jobs, as well as direct jobs, for the investor requirement of ten jobs. Since 2007, the majority of EB-5 projects have been directed through regional centers, and there are currently more than 400 regional centers in all 50 states, according to an analysis by the Brookings Institution.
The creation of the regional centers brought in more foreign investors, and the EB-5 program saw a spike in interest between 1996 and 1998. But the program was temporarily suspended in 1998 amid suspicions of fraud.
Vermont's EB-5 program was authorized in 1997. The Jay Peak projects were the first to be approved by the state, and Stenger began soliciting investors in 2006.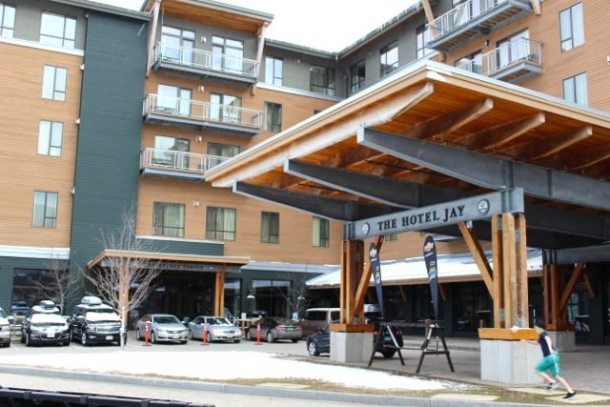 The Hotel Jay is the signature project of the Jay Peak Resort expansion. The developers used EB-5 immigrant investor money to build the five-story hotel. An investor alleges that the fifth floor was double-sold to two sets of investors.
David Martin, who then served as the general counsel for the now defunct U.S. Immigration and Naturalization Service, flagged the EB-5 investments as potentially illegal. To Martin and other INS officials, the pledged investments looked more like promissory notes, with little actual money forked over by foreign investors. Some foreigners were given green cards for much less than the required $500,000 investment, and Martin issued a scathing 1997 memo pointing out the frequent use of complicated financing plans that pushed the boundaries of the EB-5 requirements.
"Some things were looking really strange," Martin told VTDigger in a recent interview. "These were really very tenuous investments, and we did not believe they were in keeping with the intent of the overall statute."
Martin's 1997 memo resulted in a freeze of the EB-5 program, and 170 pending visas were rejected. When the program restarted in 1998, a series of statutory changes required investors to show all the money up front and present "comprehensive and credible" plans to create American jobs.
The number of EB-5 visas dipped after the 1997 scandal, but slowly began ticking back up in the early 2000s. The program's popularity again swelled after the 2008 financial crash, as capital became harder to come by.
In 2009, as interest increased, U.S. Citizenship and Immigration Services liberalized its job creation requirements to include non-permanent construction jobs. (Leahy asked the secretary of the Department of Homeland Security to allow developers to count indirect and direct jobs.) Between 2011 and 2014, the number of annual EB-5 visas increased threefold — from 3,000 to 9,000 annually, according to the U.S. State Department.
But as activity ramped up, so did fraud.
According to a 2013 complaint from the Securities and Exchange Commission, a couple solicited foreign money with the promise of investing in a green energy company, only to use the funds to purchase cars for themselves and invest in a restaurant. In 2013, the developer of an EB-5 funded convention center project in Chicago was charged with stealing $8.8 million from investors and in February was sentenced to three years of jail time.
In November 2013, U.S. Citizenship and Immigration Services established a fraud specialist unit for the EB-5 program. As of May 2015, more than half of the 59 open EB-5 investigations tracked by the USCIS involved securities fraud.
The Government Accountability Office has produced three reports over the last two years pointing to deep flaws in accountability efforts for EB-5 projects. The reports offered a series of recommendations, which have been largely ignored.
While a September 2016 report found that U.S. Citizenship and Immigration Services had taken some steps to identify fraud, it also noted large hurdles for oversight, including that the agency doesn't have the authority to shut down troublesome regional centers unless it can prove that it is failing to promote economic growth. A regional center continued to operate, for example, after its leader had been indicted for wire fraud and was in custody in a foreign country.
And while USCIS receives 14 million pages of documents from applications annually, few are digitized or easily searchable. The agency's online information system is nearly four years delayed.
"USCIS does not consistently enter some information it collects on participants in its information systems, such as name and date of birth, a fact that presents barriers to conducting basic electronic searches that could be analyzed for potential fraud," an August 2015 GAO report says.
In recent years, USCIS has created an "EB-5 University" to educate employees on topics related to fraud, and it has created a Fraud Detection and National Security EB-5 Division in the Immigrant Investor Program Office. This unit coordinates background checks and oversight with the U.S. Immigration and Customs Enforcement, the FBI, the Securities and Exchange Commission, the State Department and U.S. Attorney's offices.
And while there is work to improve consistency in EB-5 adjudications, a 2016 GAO report found no overarching set of guidelines to detect and prevent fraud.
"Instead, USCIS's risk assessments, spanning multiple years, were developed as separate documents and reports, and there is not a unifying document that consolidates and systematically prioritizes these findings," the GAO report says.
A February 2014 report from The Brookings Institution found additional problems with the EB-5 program, including insufficient data on the economic impacts of EB-5 investments. The report recommended the Department of Commerce collect and analyze economic data from regional centers, as well as for the agency to oversee USCIS' actions on EB-5.
"USCIS is not an agency designed to do the sort of business and economic analysis that it's tasked to do," said Audrey Singer, a co-author of the Brookings paper. "Why are we leaving this economic modeling up to USCIS, an agency that is tasked with admitting immigrants."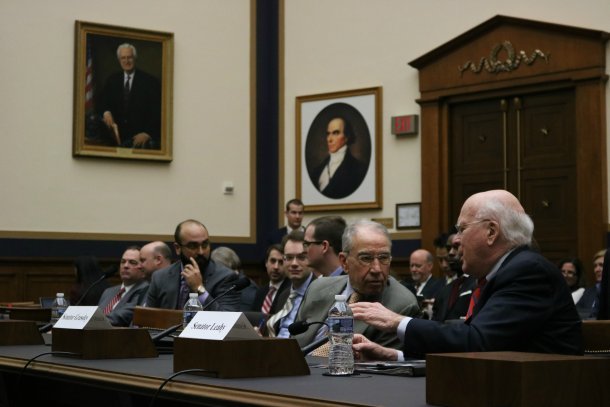 Sen. Patrick Leahy, right, with Sen. Chuck Grassley.
PROPOSED REFORMS
In 2013, Leahy slipped EB-5 reform language into the Senate's comprehensive immigration legislation, which, despite initial momentum, never made it to the finish line.
Two years later, Leahy and Grassley introduced The American Job Creation and Investment Promotion Reform Act. That bill, which never made it out of the Senate Judiciary Committee, would have provided new oversight authority to the Department of Homeland Security to deny or terminate projects based on public safety or fraud concerns. (Leahy plans to reintroduce his reform bill this session, before the August recess, according to an aide.)
The Leahy legislation would create an "EB-5 Integrity Fund," in which regional centers would pay an annual fee to support federal audits and site visits to help detect and mitigate fraud. Background checks for project developers and regional center administrators would become mandatory, and foreign investors would be given more information regarding the financial risks of the program.
One of Leahy's chief complaints about EB-5 in its current form is that it has has been exploited by developers to build luxury properties in upscale areas. According to a recent audit by the Government Accountability Office, only 3 percent of EB-5 investments in 2015 occurred in rural areas, while less than 10 percent of the money was directed to high unemployment areas.
Only one percent of 2015 EB-5 projects were not claimed to be in a Targeted Employment Area (TEA), a designation that allows for a lower investment threshold of $500,000. But through economic gerrymandering, developers have been able to string together census tracts in order to create TEAs in some of the most wealthy parts of the country. This allows developers to qualify for the lower investment levels enjoyed by developers in rural and poor areas, where capital is harder to come by.
"The country folks are being outmaneuvered by the city slickers," said David North, a policy analyst at the Center for Immigration Studies.
To encourage more investment in rural areas, like Vermont, the Leahy legislation would tweak the formula for TEAs, redefining them as specific bundled tracts with an unemployment rate at least 150 percent of the national average.
The Leahy legislation would also raise the threshold for investment in rural areas to $800,000 and $1.2 million for projects in urban areas.
A June report from New York University's Stern School of Business found the program incentivizes investments in urban, wealthy areas because they are often less risky investments.
"Given a choice between investing the same amount of money offering the same minimal investment return in projects located in the most affluent parts of Manhattan (New York City) versus Manhattan, Kansas or rural Idaho or downtown Detroit, the investors select the project in New York City because they perceive it is most likely to result in the visa approval in the shortest period of time," the report says.
After Leahy's bill stalled in Congress, he sent a letter with House and Senate Judiciary Committee leaders to Jeh Johnson, the Department of Homeland Security secretary under President Barack Obama, urging reform through agency rulemaking.
Johnson drafted a series of rule changes to reform EB-5, including a number of provisions contained in Leahy's legislation. Unlike the congressional bill, however, the DHS proposed rules do not contain crucial anti-fraud reforms.
The proposed DHS rules would reassign oversight powers of regional centers to the federal government, not the states. They would also institute more stringent TEA guidelines in order to ensure only rural and poor areas receive the sought after status. The rules also provide protections for foreign investors aimed at reducing the long wait times to obtain green cards, which can take years.
The most contentious provision of the proposed rule changes would increase investment amounts in rural areas from $500,000 to $1.35 million and from $1 million to $1.8 million in urban areas.
To overhaul the EB-5 program, congressional action is needed. Only Congress, for example, could give the authority to the Department of Homeland Security to terminate regional centers over national security or fraud concerns.
The DHS rules received more than 290 public comments, many of which came from business interests opposed to reform.
The National Association of Realtors called the proposed rules a "shock," contending that increased investment levels could be "detrimental to the future viability of the EB-5 program." The New York City Metro Regional Center raised concerns over proposed formula changes for targeted employment areas, which are supposed to encompass poorer, rural parts of the country. By gerrymandering the areas, cities like New York have been able to attract foreign EB-5 investments, and the city's regional center said the TEA changes are "without a sound basis," and would result the "loss of major economic projects, investments, and potential job creation."
In its public comment, Mount Snow took issue with the proposed increase in investment levels.
"Our plans for future job creating development via the EB-5 visa program are now in jeopardy because the investment increases will render the program uncompetitive," wrote Richard Deutsch, the vice president of real estate development at Mount Snow. "These changes will put our country at a serious disadvantage in the highly competitive global investment visa marketplace."
In addition to business interests, a flurry of comments from foreign investors poured in. Many were frustrated by the long wait times for green card approval.
Zaijun Wu said they had waited for more than eight years while Christine Huang said her family had been waiting for temporary visas for more than two years.
"We might have to wait until the year of 2019 or even 2020 due to the long waiting list," Huang wrote. "I understand there are various reasons, but we, who earned the money legally and invested the project in US legally, are not the reasons who created the delays, and shall not become the one who has to bear the responsibilities and take the negative consequences."
After the open comment period ended on April 11, the proposed rules were sent to the White House's Offices of Management and Budget and Information and Regulatory Affairs for final review and approval.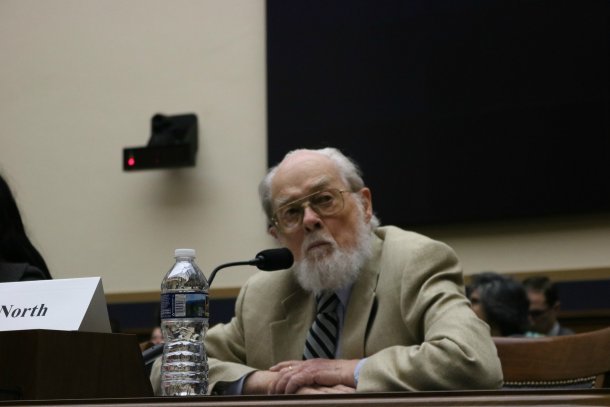 David North an expert on EB-5 with the Center for Immigration Studies.
ROADBLOCKS TO REFORM
President Donald Trump will have the final decision whether to implement the DHS rule changes, which, if approved, could be implemented within 30 days of the White House authorization.
But the White House could also reject the rules, or ask the Department of Homeland Security to further study the issue and propose new regulations.
"If the administration stalls or kills the proposed EB-5 rules, Senator Leahy and others would view that as a serious conflict of interest," said a top Leahy aide. "President Trump's businesses and family have benefited from the status quo, and he has very close connections to the real estate industry, which for years has worked to block reforms."
In addition to Trump's ties to powerful business interests in New York City and beyond, his son-in-law and top adviser, Jared Kushner, is involved in EB-5 projects. Kushner Companies built a Trump-branded tower in New Jersey supported by $50 million in EB-5 dollars from Chinese investors.
The NYU Stern report found that the Jersey City project involved economic gerrymandering of TEAs in order to meet lower investment requirements.
And in early May, Kushner Companies pitched a redevelopment of 666 Fifth Avenue to wealthy investors in a Beijing ballroom. That project would be funded by $850 million in EB-5 dollars, the largest single EB-5 investment in the history of the program, according to Bloomberg News.
Leahy and U.S. Sens. Dianne Feinstein, D-California, and Mazie Hirono, D-Hawaii, wrote to White House Counsel Donald F. McGahn in May requesting information regarding Trump administration officials' ties to EB-5 projects.
"Many of the projects funded by the EB-5 Regional Center program are large real estate developments—the cornerstone of both the Trump and Kushner business empires," Feinstein wrote. "As public reporting indicates, the potential for conflict is real."
The White House has not responded to the letter, according to a top Leahy aide.
Lobbying on EB-5 issues in recent months has been frenzied, with big players pouring in millions of dollars, often in efforts to defang or delay any reforms. They range from the AFL-CIO's building and construction trades department to cities that have full-heartedly embraced EB-5 projects, like Las Vegas.
In an unusual turn of events, Grassley and Leahy issued a letter in mid-March accusing the U.S. Chamber of Commerce and the Real Estate Roundtable of coordinating a "secretive, backroom 'deal' that undercuts the many good-faith efforts we have made during the past two years."
"From what we have been told, this so-called 'deal' does not advance Congress's goals for this program and instead is merely aimed at pre-empting the new rules," Leahy and Grassley wrote. "It should go without saying that Congress is not bound by any deal that industry officials may have made. Our interests are preserving the integrity of our immigration system and the well-being of the American people. We will reject out of hand any window-dressing reforms that attempt to preserve the status quo."
The most powerful political alliance against EB-5 reform in Congress is an odd couple: Senate Minority Leader Charles Schumer, D-N.Y., and Senate Majority Whip John Cornyn, R-Texas. Schumer's constituents include wealthy New York City real estate developers who like the EB-5 program the way it is.
According to the Real Deal, a real estate news publication, Schumer has received more than $1 million in campaign donations since 2011 from real estate interests.
"Fragomen, a law firm that has a prominent EB-5 practice, was his fourth-largest donor and has donated $82,200 to his campaign committee," the Real Deal reported in February 2016.
Texas has also been the beneficiary of a number of EB-5 projects, many spearheaded by the Dallas-based Civitas Capital Group. Civitas has been accused of economic gerrymandering in a lawsuit filed over a Laredo hotel project.
According to Inside Sources, G. Brint Ryan, who is a business partner of Civitas CEO Daniel Healy "held a fundraiser for Cornyn in his Dallas home" in March 2016.
In 2015, Cornyn and Schumer, along with U.S. Sen. Jeff Flake, R-Ariz., introduced the EB-5 Integrity Act, a bill that would reform the program and meet the demands of big developers.
There is draft legislation currently circulating the halls of Congress from Cornyn that is expected to be similar in scope to the EB-5 Integrity Act.
According to the June NYU report, Cornyn's legislation would do away with economic gerrymandering through TEAs, but would set up investment levels for TEA and non-TEA projects that would not incentivize investment in poor areas.
While the investment spread between TEA and non-TEA in the Leahy legislation, for example, is $400,000, Cornyn's bill is expected to propose a thin spread of only $125,000.
"If the TEA discount is not sufficiently wide to incentivize investment in the areas intended to be benefitted, TEA status would become merely a label and not provide the meaningful incentive for immigrants to invest in these undercapitalized areas," the NYU report reads. "Thus, one form of TEA abuse would be eliminated, but another form of TEA abuse would thereby be created.
There have also been EB-5 interests who have donated thousands to Leahy and Grassley, the two most aggressive senators seeking reform.
In addition, former Leahy and Grassley staffers have gone on to lobby on EB-5 issues. They include Edward Pagano, a former Leahy chief of staff and White House liaison for the Senate, who began working for the lobbying firm Akin Gump Strauss Hauer and Feld in March 2014.
At the firm, Pagano has lobbied on EB-5 reform efforts for Invest In The USA (IIUSA), an EB-5 trade association, as recently as April. John McMickle, a former Grassley aide, has also lobbied on EB-5 reform issues for IIUSA. Bill Stenger, the CEO of Jay Peak, was an IIUSA board member until 2016 when he was accused of defrauding investors.
Martin, who flagged fraud in the 1990s, said there "were warning signs early on, and Congress should have acted then on EB-5."
North, who testified at the House hearing in March, also believes the EB-5 program is riddled with problems and should be allowed to die.
"Unfortunately, big money usually wins these issue, and Trump's White House is clearly not terribly concerned with what other people might consider conflicts of interests," North said. "There are deeply immersed special interests in this program who have have lots of money, lots of smarts, and Senator Schumer and Senator Cornyn on their side."
Martin and North argued that the EB-5 program brings negligible economic benefit to the country, a claim backed up by the Brookings Institution, which found that the program has created 85,500 direct full-time jobs and attracted approximately $5 billion in direct investments over its decades in existence. (Initial congressional projects expected nearly $50 billion in foreign investment.)
"The indications of actual significant contributions in the way of increased employment are very wild claims, based on preliminary methodology," Martin said. "There are not serious studies that have shown major contribution to job creation. There's not a good public policy case for retaining this program."
https://vtdigger.org/2017/06/26/special-report-eb-5-reforms-face-major-hurdles/
Mentions
Litigation Cases
States
---
Securities Disclaimer
This website is for informational purposes only and does not constitute an offer or solicitation to sell shares or securities. Any such offer or solicitation will be made only by means of an investment's confidential Offering Memorandum and in accordance with the terms of all applicable securities and other laws. This website does not constitute or form part of, and should not be construed as, any offer for sale or subscription of, or any invitation to offer to buy or subscribe for, any securities, nor should it or any part of it form the basis of, or be relied on in any connection with, any contract or commitment whatsoever. EB5Projects.com LLC and its affiliates expressly disclaim any and all responsibility for any direct or consequential loss or damage of any kind whatsoever arising directly or indirectly from: (i) reliance on any information contained in the website, (ii) any error, omission or inaccuracy in any such information or (iii) any action resulting therefrom.