Political connections taint EB-5 criminal case, defense attorney says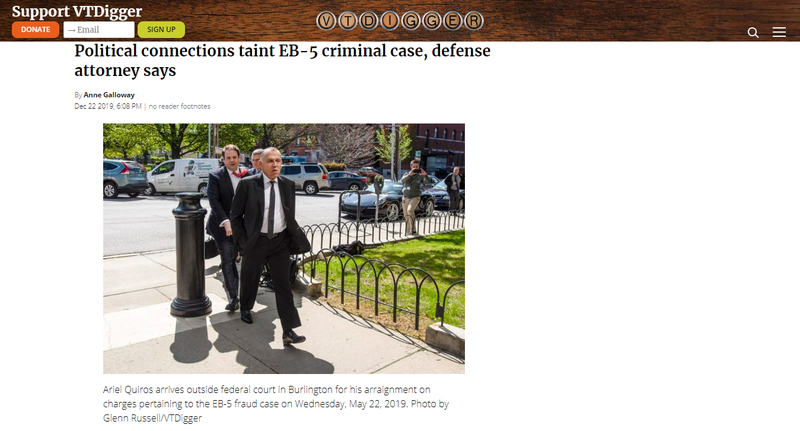 Ariel Quiros arrives outside federal court in Burlington for his arraignment on charges pertaining to the EB-5 fraud case on Wednesday, May 22, 2019.
Lawyers for the developers of AnC Bio Vermont, a $110 million biomedical center in Newport, say federal prosecutors had a political ax to grind when they investigated and indicted four men associated with the project.
Seth Levine, defense counsel for Ariel Quiros, the former owner of the Newport property, says his client can't get a fair trial in Vermont because there is no proof that a former U.S. attorney recused himself from the probe.
In a hearing Friday in U.S. District Court, Levine said he wants to move the case to the Southern District of New York state, far away from political conflicts and years of publicity.
Levine says the prosecution is tainted by small world Vermont connections. The defense attorney claims the investigation was shaped to fit a particular narrative in order to scapegoat his client, Quiros, and let powerful state politicians, including two governors and the congressional delegation, off the hook for endorsing and promoting the project. Levine spoke on behalf of three other defendants in the case.
The prosecution did not subpeona high profile politicians in the case until after charges were filed, Levine says, even though they were critical players in the fraud. U.S. Sen. Patrick Leahy, a booster of the AnC Bio project, has not been interviewed. The senator was a champion of the national EB-5 program.
"Don't you want to know the truth?" Levine said the senator was the greatest proponent of Jay Peak and he should be interviewed by the prosecution. "Don't you want to ask him, 'what was your motivation, what did you know?' What are they so afraid of? Why are they afraid of the facts?"
Levine accused the U.S. attorney's office of failing to "take steps needed" to protect the case from political influence. He says prosecutors have taken little interest in investigating the destruction of documents from a former state official who ran the Vermont EB-5 Regional Center.
The U.S. attorney's office says prosecutors don't have to be disinterested parties in the same way judges must be and adequate steps were taken to prevent conflicts of interest from tainting the case.
Paul Van de Graaf, assistant U.S. attorney, told Judge Geoffrey Crawford that the defense is using claims of a lack of transparency to obtain information that they aren't entitled to including four years of discovery from the investigation, such as prosecutorial emails and depositions of prosecutors. "He wants to put Assistant U.S. Attorney [Nicole] Cate and me on the stand," Van de Graaf said.
"This kind of digging into government discovery is extraordinary," Van de Graaf said. "It's about getting into our business."
Van de Graaf said former U.S. Attorney Eric Miller who had ties to both Shumlin and Leahy, recused himself from the investigation and current U.S. Attorney Christina Nolan has no relationship with either the U.S. senator or the former governor.
Former U.S. Attorney for the District of Vermont Eric Miller.
Furthermore, Van de Graaf said due process does not prohibit a prosecutor from having personal relationships with individuals in a case, such as Eric Miller's wife, Liz Miller, even if that person might be a witness. Liz Miller was chief of staff for Shumlin when allegations of fraud at AnC Bio surfaced.
"It's a crime for a federal prosecutor to participate if we have a financial stake," Van de Graaf said. The Department of Justice issues guidance for policing personal contacts, he said, and Eric Miller followed those rules.
"The defendant has the burden of making a substantial showing that there was improper action," he continued.
Levine countered that the U.S. attorney has not provided evidence that Miller recused himself.
"Everyone has the right to be prosecuted by disinterested prosecutors," Levine said. "This is about raw political power. It is not our tradition. Whatever you think about Mr. Quiros, the man deserves basic fairness."
Quiros has been indicted for money laundering and wire fraud related to the AnC Bio project. Three other men who were involved in developing the project, including Bill Stenger, the former CEO of Jay Peak, Bill Kelly, a former advisor to Quiros, and Alex Choi, a relative of Quiros' who was previously prosecuted by the South Korean government. A trial in the case is scheduled for October 2020.
AnC Bio Vermont never really got off the ground despite raising more than $80 million from 169 foreign investors through the federal EB-5 immigrant investor program. The government has accused the developers of misusing those funds.
The U.S. attorney's office charged the four men in May. They have all pled not guilty. The federal case is limited in scope, focusing only on the last project proposed by the Jay Peak developers.
The Securities and Exchange Commission previously charged Quiros and Stenger with 52 counts of securities fraud involving six projects in the Northeast Kingdom. Both men pled no contest. Quiros surrendered $84 million worth of assets, and the case was closed last year.
The fraud occurred over a 10-year period, under the noses of state officials who ran the Vermont EB-5 Regional Center. The U.S. Citizenship and Immigration Service terminated the state center in 2018, citing the failure of state officials to stop the fraud and misrepresentations made by state officials. The state has appealed, twice.
A political nexus?
Defense attorney Levine argued before Judge Geoffrey Crawford that the most powerful people in the state, particularly U.S. Sen. Patrick Leahy and Gov. Peter Shumlin, were deeply involved in helping to make the fraudulent Jay Peak projects a success and had close connections with U.S. Attorney Eric Miller who was the federal prosecutor from May 2015 to February 2017.
Both Leahy and Shumlin embraced the biomedical center project and wrote letters of support featured in the first pages of offering documents to foreign investors. The senior senator promoted the Jay Peak projects overseas, invited Stenger to speak to the Senate and held his 50th wedding anniversary at Jay Peak.
Rep. Peter Welch, Bill Stenger, Sen. Patrick Leahy, Sen. Bernie Sanders, Gov. Peter Shumlin, Ariel Quiros and Bill Kelly.
Even before Shumlin stepped into the office, he was an enthusiastic supporter of the foreign investor EB-5 program — and an especial booster of the Jay Peak Resort projects in the state's poorest region. He worked with Leahy to plug the economic development program in his 2011 inaugural speech.
Eric Miller was nominated for the post by Leahy. Shortly after he took the job as U.S. attorney, his wife, Liz Miller, held a fundraiser for Leahy at the couple's home. Liz Miller had just left the Shumlin administration where she served as chief of staff from January 2013 to March 2015.
While Liz Miller was chief of staff, Shumlin promoted AnC Bio and Jay Peak projects to investors in Vietnam and China and appeared in a video claiming that the state audited all of the Jay Peak projects. The Jay Peak EB-5 projects were never audited — by the state, or anyone else.
When questions were raised about allegations of financial improprieties at Jay Peak in 2014, the Shumlin administration defended the developers, casting aspersions on investors and VTDigger, which first reported allegations of fraud.
After news reports about financial improprieties broke in the summer of 2014, Liz Miller was instrumental in transferring oversight of the projects from the commerce agency to the Department of Financial Regulation.
Gov. Peter Shumlin announced that Liz Miller would be his new chief of staff in 2012.
Shumlin was especially focused on the AnC Bio project, which had been suspended by the commerce agency in the summer of 2014. The governor personally ensured Quiros the biomedical center proposal would be reinstated after VTDigger published an expose about self-dealing by the developers. In a March 2015 email exchange, Shumlin told Quiros he would issue a press release "correcting" the account in VTDigger.
Liz Miller left her post later that month.
She could be called as a witness in the U.S. attorney's criminal case against Quiros, Stenger, Kelly and Choi.
The nature of the probe
Typically, fraud cases involve simultaneous civil and criminal investigations, and civil charges are soon followed by indictments. But in the Jay Peak matter, it was three years before the Vermont U.S. attorney brought charges.
Eric Miller didn't launch a probe until after the SEC brought charges in April 2016 in the Southern District of Florida.
At the time, Eric Miller told Seven Days that the U.S. attorney's office would be "doing this by the book."
"Under clear Department of Justice rules, I have not and will not play any role in decisions that relate to the governor's administration — including decisions on the scope of the federal investigation as it could relate to state agency actions," Miller said.
In that same report, Liz Miller told Seven Days that she had nominal involvement in EB-5 and as chief of staff was only responsible for high-level decision-making in the governors' office.
After Eric Miller's departure from the U.S. attorney's office, the seat remained vacant for more than a year. In the interim, the case was picked up by Assistant U.S. Attorney Nicole Cate.
In 2018, Christina Nolan was named U.S. attorney and Paul Van de Graaf, assistant U.S. attorney, was brought into the investigation.
Years of bad publicity
Levine also argued that Quiros would not get a fair trial because the jury pool would be skewed by years of negative publicity that culminated in the U.S. attorney's press conference at an abandoned construction site in downtown Newport known as "the hole." The site has been empty since the spring of 2015 when Stenger had most of a block of old housing and retail stock was torn down. While Stenger had hoped to construct an office building on the site, that project was never sold to EB-5 investors. The AnC Bio Vermont site is located a mile or so from Newport proper.
In May, Nolan held a press conference in the Newport hole about the indictment and told reporters that the developers had harmed Vermonters.
U.S. Attorney for Vermont Christina Nolan discusses the criminal charges surrounding the AnC Vermont project at the site where the facility was supposed to be built.
"Vermonters are trusting people," Nolan said. "They were understandably enthusiastic about the defendants' promised job creation in this part of the state, but the defendants engaged in deception and promises broken… We thought it was important to do this in the place in Vermont that was … most affected by this fraud."
While more than 800 foreign investors were harmed, Levine said, Vermonters were not directly impacted. The Jay Peak projects created more than 1,000 jobs and poured more than $400 million into the Northeast Kingdom economy.
The press conference location and Nolan's emphasis on harm to Vermonters was purposely misleading, Levine said. He described it as political grandstanding designed "to excite people to get their pitchforks out." The Newport hole had "nothing to do with the fraud. There was no investment there."
"We know Vermonters aren't victims," Levine said. "She is accusing a man of committing a horrible crime and she isn't sticking to the indictment. It's pure venom."
And he said his client, who grew up in New York City and whose parents were Puerto Rican and Venezualan, is being targeted as an outsider. And the "entire Vermont government," which previously embraced Quiros as the savior of the Northeast Kingdom is now arrayed against him.
"They want to tell a story that stirs up conflict and make him the 'other.' I can hear the dog whistle and so can everyone else. This is the worst kind of scapegoating."
Judge Crawford asked if there is a constitutional issue with keeping the case in the state. Levine said moving the case to the Southern District of New York would give Quiros and the other defendants a better shot at a fair trial because it would eliminate the problem with local coverage prejudicing the jury.
Levine says the press conference and hundreds of stories about the fraud would prejudice a jury — even if the jurors were from Southern Vermont.
Jessee Alexander, an assistant U.S. attorney, argued that the jury selection process would be a "sufficient safeguard."
"It's not an issue of what jurors heard about the case, it's whether the juror might be able to put aside prior impressions in order to perform constitutional duties," Alexander said.
Quiros and the defendants are faced with a high bar in proving that pre-trial publicity was so inflammatory that jurors would not be able to put aside preconcieved ideas, Alexander said.
Furthermore, the news coverage has been factual, not salacious, she said. Over the past few years, media coverage of the matter has diminished. In addition, Southern Vermont residents have been exposed to less coverage than the rest of the state. The Rutland Herald, the largest local newspaper in the region has been nominal and market penetration by VTDigger and other news outlets is insufficient to taint a jury pool drawn from residents who live south of Route 4.
https://vtdigger.org/2019/12/22/political-connections-taint-eb-5-criminal-case-defense-attorney-says/
Mentions
Litigation Cases
States
---
Securities Disclaimer
This website is for informational purposes only and does not constitute an offer or solicitation to sell shares or securities. Any such offer or solicitation will be made only by means of an investment's confidential Offering Memorandum and in accordance with the terms of all applicable securities and other laws. This website does not constitute or form part of, and should not be construed as, any offer for sale or subscription of, or any invitation to offer to buy or subscribe for, any securities, nor should it or any part of it form the basis of, or be relied on in any connection with, any contract or commitment whatsoever. EB5Projects.com LLC and its affiliates expressly disclaim any and all responsibility for any direct or consequential loss or damage of any kind whatsoever arising directly or indirectly from: (i) reliance on any information contained in the website, (ii) any error, omission or inaccuracy in any such information or (iii) any action resulting therefrom.