Investigation of Management at Jay Peak Resort and AnC Biomedical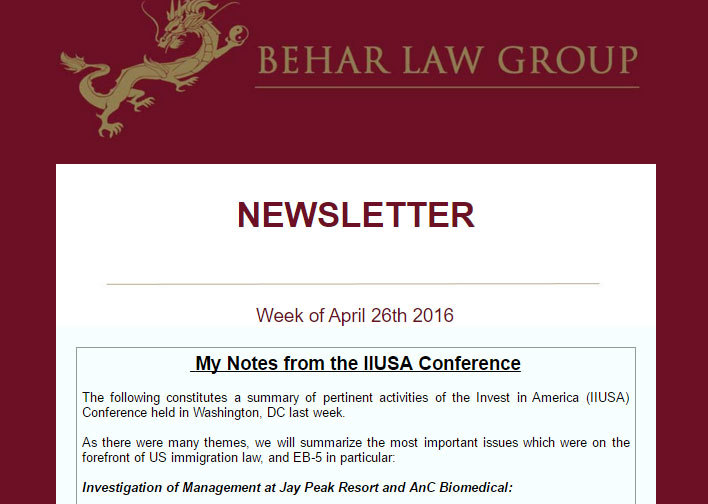 The following constitutes a summary of pertinent activities of the Invest in America (IIUSA) Conference held in Washington, DC last week.

As there were many themes, we will summarize the most important issues which were on the forefront of US immigration law, and EB-5 in particular:

Investigation of Management at Jay Peak Resort and AnC Biomedical:
It was evident that the shocking investigation by the Securities and Exchange Commission (SEC) of Ariel Quiros and William Stenger caught everyone by surprise except for the very few. From the Governor on down, the collapse of the structure by the alleged fraud did not escape any one.
In an attempt to harness more constructive information, the following is the very preliminary information which we were able to garner:

Eugene Fullam is the newly appointed Director of the State of Vermont EB-5 program. He is also the 'point person' for investors who have been potentially affected by the problems at Jay Peak.

Investors who have or may potentially be affected by the investigation should register with the 'Receiver - Mr. Michael Goldberg' of Fort Lauderdale. Mr. Goldberg was appointed due to the residency of Mr. Quiros in Key Biscayne, FL.

William Stenger is cooperating with the SEC to unscramble the litany of companies and interconnections along with the potentially illicit transfers of investor funds from one entity to another.

The State of Vermont is looking at financial alternatives to restructure the entire resort, although this is early and premature. Clearly, there are extensive assets so the 'Receiver' will need to assess the damage and take the appropriate action from there.

The State is looking to rehire the staff of jay Peak which are knowledgeable as to the transfers of funds.

The State of Vermont has also hired NES Financial to oversee its financial EB-5 affairs going forward. While this may not undo the damage already done, it provides a valid transparent platform for funds transfers, escrow and controls, as the State attempts to redo its image on the international platform.

Solicitation of third party providers for restructuring is now on going. It appears that while complex, the 'Ponzi' scheme is a typical process used before and the process is known well by the SEC.

To mitigate damage, the operations of the resort will continue.

A receivership website has been established www.jaypeakreceivership.com

Many Investors who are awaiting the I-829 filing dates may look to the economic 'expenditure' model which is often used in EB-5 constructs; expect no sympathy from CIS as the potential downfall of Jay Peak.

The Vermont Regional Center has NOT been terminated; remains active and the State is in the process of selecting a new Governor.

The key issue with I-829 investors is whether the investment has been sustained.

STATISTICS:
Since 2010, the EB-5 program has been responsible in attracting $9.6Billion, 29,300 US jobs have been created and $2.09Billion in taxes. As the attraction to international investor grows, these numbers should increase.

MEDIA:
A new IIUSA media toolkit is not available on its website along with a new Public Relations presentation to educate members. Legislative talking points have been summarized.

SECURITIES:
FINRA is the federal agency which controls the registration and activities of Brokers/ Dealers. It regulates the securities industry in the US. There are State and Federal regulations depending on the offerings. EB-5 offerings are indeed a 'security' by definition and, while not requiring registration, it is no different than any other offering as it is a form of investment with an expectation of a dual return, the investment and the immigration benefits. The SEC is after promoters who are "lying, cheating or stealing". Professional advice should be sought to distinguish 'exclusions' from 'exemptions', even though the terms may sound similar, they are not.
State SEC regulators gain their authority to regulate conduct from funds that are going 'into or from within the state', i.e. there is an inbound nexus. Regulators are becoming more skilled at coordinating today with foreign regulators to prevent unlawful transfers of funds.
CITIZENSHIP AND IMMIGRATION SERVICE (CIS)
Julia Harrison, Deputy Chief of USCIS in the Immigrant Investor Program appeared and gave the following report:
Any changes in a regional center structure or management needs to be reported to CIS;

A better choice for such changes is the filing of the new I-924 Amendment;

Regional centers or EB-5 projects are not authorized to use the Seal of the United States Government and must be in active status with the Secretary of State of the State in which it was developed;

The name of the State must be stated in the I-924 filing;

Upon filing of an I-924a, a receipt notice will be generated within three(3) weeks of receipt; if no receipt is received then a request needs to be made to the email box;

NOTE: if a Notice of Intent to Terminate is sent to the Regional Center the response must be sent to the California Service Center in Laguna Niguel;

If management no longer wishes to continue its Regional Center it must notify CIS of its closure and receive an acknowledgement letter

CIS is still adverse to electronic filing of I-526 matters although the issue is not under discussion

Waiting/Processing times : I-526 - 16.3 months; I-829 - 17.5 months; I-924 is 9-12 months.

Staff hiring is currently rising from 125 persons to approximately 171 by end of fiscal year of 2016.

An Internal policy memo is scheduled to be issued in draft form by the end of this month for posting and comment period.

CIS in its regulations are contemplating the core issues: amount of investment, targeted employment areas, regional center designation process, exemplars, geographic scope of the Regional Center, and indirect job creation methodology.

From an internal CIS perspective, it appears that the approval of an Exemplar is very important, even though CIS is not obligated to approve a matter merely due to the approved Exemplar.

CIS also located 2,000 cases which had been misplaced in the transition to Washington, DC and is not almost complete as to their review. This has delayed the cases which had been inputted.
REGULATIONS AND POLICY GUIDANCE:
The EB-5 legal structure force of law is based on : the US Constitution>> the EB-5 Statute>> existing Regulations (after Notice and Comment periods)>> Policy Guidance>> Policy Manual>> Stakeholder meetings>> Trend lines>> Precedent Decisions>> Memos only based on no stakeholder consultations>> Litigation>> Forms and Revision.
The issue of 'material change' to a business plan is central to the approval of conditional and lifting conditional residency. If such material change occurs before or after the I-526 adjustment, it may lead to possible revocation.

Note that a Policy Memo does not have force of law.

There was significant discussion as to a Minor (less than 21 for EB-5 purposes) being a investor/petitioner. It appears that it is not a CIS issue, but rather the source of funds and the ability of a minor to formulate comprehension of the investment itself, i.e. can a child be an accredited investor. Due to some significant Chinese retrogression, some Chinese parents are cooperating with their minor children to confirm the content of the security offering and becoming a co-accredited investor with the child, even if the child is the primary investor for EB-5 purposes. Many authorities recommend a Guardian Ad Litem for such applicants as the contracts may be voidable if the parents do not co-sign.

DEPARTMENT OF STATE:
Charles Oppenheim, head of the Visa Office at the Department of State appeared to report:

Immigrant visas annually are at 750,000 issued;

The numerical limits per country may change in the next fiscal year;

Main EB-5 countries for this fiscal year (October to October) are in order : China, South Korea, Vietnam, Taiwan, Venezuela and Rest of the World;

The denial rates in individual investor cases is higher due to the lace of information / knowledge of applicants. such applicants can expect an RFE after delay of 16 months if qualified legal counsel was not engaged from inception;

Of the 10,000 visas issued last year, 33.3% were issued to principals and 66.7% to dependents;

To date, 5,213 visas have been used in this fiscal year;

If the Pilot Program closes for whatever political reason, the individual applications at $1Million and $500,000 in a TEA will remain valid;

It is interesting to note that the Employment Authorization Card does not automatically trigger a US tax Status (I-766); it may however allow for in state tuition benefits for beneficiaries;

Applicants with long waiting periods are encouraged to finalize their Adjustment of Status (AOS) if in the US to reduce waiting times.
CHINA WATCH:
Knowledge of the long waiting/ processing times for Chinese nationals is low amongst investors.
The August 10, 2015 CIS Memorandum of the Draft policy for I-829 jobs count is that the subject jobs do not need to EXIST but had been CREATED in the two year time period.
Advisors note that child/investors may want to be contemplated for China as of the age of 16, to allow for the long waiting period. The issue remains as to the rescission rights on the contract if the child is less than 21. Parent participation and acknowledgement (we recommend also a third party advisor) to engage with the recognition of the age of the child/investor.
Caution: the funds for EB-5 purposes must be transferred to the child which must then become irrevocable before the transfer to the EB-5 investment.

POLITICS:
The champion of the EB-5 community, Senator Patrick Leahy, has been severely wounded by the issues surrounding Jay Peak. We have no information on the position of Senator Bernard Sanders, aside from the fact that he was also a supporter of development in the Northeast Kingdom.
Due to US national elections taking place in November, there is a strong chance that no changes can take place before the inauguration in January 2017, and serious changes may not occur until the Spring of 2017.
Senator Dianne Feinstein of California is advocating termination of the EB-5 program.
Our political advisors at IIUSA have recommended that any updates or changes to the existing legislation, in particular its extension and/or modifications, need to be attached to a proposed bill which would surely pass (yet to be determined). We are entering an era of EB-5 political negotiation. Managers of EB-5 regional center and / or projects are encouraged to create a video gallery of successful investors whose lives have changed and benefited from the program.
STRATEGY:
For clients who have a long waiting period in EB-5 applications, we often recommend an E-2 investor visa as an interim measure if the client needs to depart their country quickly. We have also come to understand recently that US consuls will look favorably upon an E-2 nonimmigrant visa application even if the submission is made AFTER the filing of an EB-5 application due to the extraordinary waiting period of the latter. Many applicants also often use the F-1 student visa and thus, if the application is properly prepared and transparent, there is a good likelihood that the temporary visa which would allow lawful time in the US along with option of the adjustment of status will be granted.

Many nationals are also acquiring passports from countries which are treaty friendly with the US merely to gain the ability to apply for E-2 nonimmigrant status. This must be reviewed on a case by case basis.

CONCLUSION:
The above is merely a thin report of what transpired at the Convention. We also lost one of our esteemed colleagues, Julie Ferguson, of Miami, a very fine, ethical and outstanding attorney due to an accident while at the Convention. It puts much into perspective.
To the investors of Jay Peak and AnC Biomedical , more precise and complete bulletins will be forthcoming in the weeks ahead.
Mentions
Litigation Cases
States
---
Securities Disclaimer
This website is for informational purposes only and does not constitute an offer or solicitation to sell shares or securities. Any such offer or solicitation will be made only by means of an investment's confidential Offering Memorandum and in accordance with the terms of all applicable securities and other laws. This website does not constitute or form part of, and should not be construed as, any offer for sale or subscription of, or any invitation to offer to buy or subscribe for, any securities, nor should it or any part of it form the basis of, or be relied on in any connection with, any contract or commitment whatsoever. EB5Projects.com LLC and its affiliates expressly disclaim any and all responsibility for any direct or consequential loss or damage of any kind whatsoever arising directly or indirectly from: (i) reliance on any information contained in the website, (ii) any error, omission or inaccuracy in any such information or (iii) any action resulting therefrom.