Quiros, cooperating with prosecutors, expects to plead guilty in EB-5 fraud case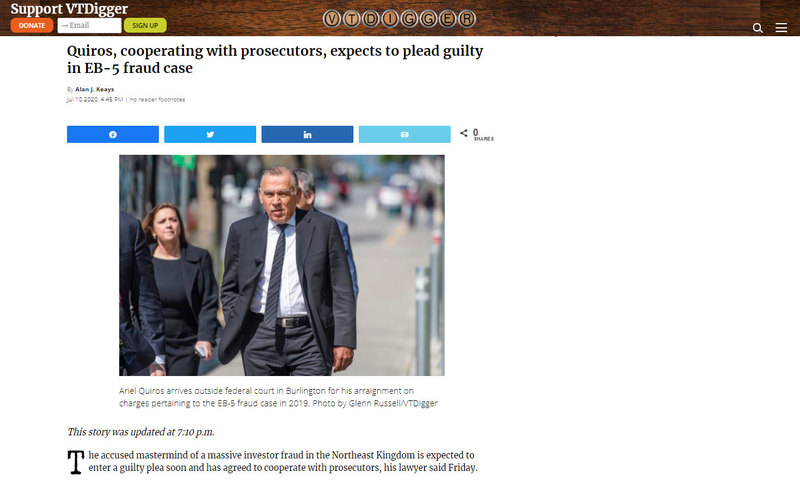 Ariel Quiros arrives outside federal court in Burlington for his arraignment on charges pertaining to the EB-5 fraud case in 2019.
The accused mastermind of a massive investor fraud in the Northeast Kingdom is expected to enter a guilty plea soon and has agreed to cooperate with prosecutors, his lawyer said Friday.
Neil Taylor, a Florida lawyer representing Ariel Quiros, made the revelation at the start of a video hearing in the criminal case against his client and two of his client's former business partners stemming from a failed project, AnC Bio Vermont, that had been planned for Newport.
AnC Bio was one of a series of projects in the area that authorities said amounted to a "Ponzi-like" scheme.
Quiros, former Jay Peak owner, and the other defendants, Bill Stenger, Jay Peak's past CEO and president, and Bill Kelly, an adviser to Quiros, were indicted in May 2019 charging them with fraud and making false statements to the government tied to the more than $110 million development.
Taylor, the first attorney to speak at Friday's hearing, told Judge Geoffrey Crawford that he would be a "passive observer" in the proceeding.
"We have been cooperating with the government and we anticipate disposing of his responsibility in this case by plea in the immediate future," Taylor said to the judge.
Quiros, attending the hearing via video, did not speak during the proceeding and appeared to show little reaction as his attorney spoke.
Neither Taylor nor any of the prosecutors taking part in the hearing revealed any details of how the case against Quiros would resolve, and what the terms of any plea deal may be.
The charges pending against Quiros carry a total maximum penalty of well over 100 years behind bars. However, it's unlikely that he would ultimately face the maximum penalties for the charges against him.
As part of the indictment against him, Quiros is also accused of knowingly using illegally obtained funds to pay a $6 million bill to the Internal Revenue Service. In addition, the Miami businessman is charged with using unlawful funds of $46,465 from a business account to buy a Jeep Rubicon.
Brooks McArthur, a Vermont attorney representing Stenger, said after the hearing Friday he had been unaware prior to the proceeding of Quiros' intentions to cooperate with prosecutors.
"That was the first we learned of it today," McArthur said. "We're trying to figure out kind of what is happening right now. Has he really entered into a cooperation agreement with the government? Is he just going to plead out?"
He then added, "The evidence as it relates to his guilt is overwhelming, and it makes sense from his perspective to accept responsibility and hope for the best at sentencing."
McArthur said he didn't see Quiros' cooperation as damaging to his client. Instead, he said, now he will seek to ensure that Quiros testifies at any trial for Stenger.
"We're prepared to either cross-examine him or call him ourselves," he said. "If he testifies truthfully it will help my client, Bill Stenger."
McArthur has argued that Quiros had left his client in the dark about any illegal activity.
"He's obviously trying to put himself in a position where when he gets sentenced it's as favorable a sentence possible," McArthur said of Quiros. "If he entered into a cooperation agreement, he is willing to say and do anything he believes is his best interest."
Asked if Stenger has been offered a plea deal or a cooperation agreement from prosecutors, McArthur replied, "My client from day one said he'll never plead to anything because he didn't do anything wrong."
Robert Goldstein, a Boston lawyer representing Kelly, declined comment Friday after the hearing.
A fourth defendant in the case, Alex Choi, a relative of Quiros, did not attend the hearing Friday and hasn't been present for any of the court proceedings since the indictment was returned more than a year ago.
Prosecutors have only said that Choi, who is from South Korea, remains at large.
The developers had pitched the Newport project as being modeled after a South Korean development, AnC Bio Korea. Choi was convicted in South Korea in 2016 of financial fraud associated with that project.
U.S. Attorney for Vermont Christina Nolan and Assistant U.S. Attorney Paul van de Graaf, who is prosecuting the case, through a spokesperson, both declined comment following Friday's hearing.
Nolan, speaking a press conference in Newport when the charges were filed more than a year ago, talked of the lure of jobs and economic development that the project brought to the Northeast Kingdom.
"But the defendants lied and they cheated, according to the grand jury's indictment," Nolan said.
"The AnC Vermont project was not in fact designed to create a number of jobs or the amount of revenue for the Northeast Kingdom that the defendants claimed," she added. "Rather, the project was designed to siphon millions of dollars to the control of Quiros and Choi, who were secretly business partners and in charge of the project."
Taylor had taken up representation of Quiros last month. Prior to that, Seth Levine, a lawyer with Levine Lee LLP based in New York City, had been representing Quiros throughout the criminal proceedings.
Levine withdrew as Quiros's attorney when, according to court records, Quiros became "significantly in arrears" in his payments to the lawyer. Levine, while representing Quiros, had aggressively asserted his client's innocence and contested the charges.
Before leaving the case, Levine had filed a motion to dismiss all the charges against his client. Judge Crawford last month rejected that motion.
More than 160 EB-5 investors poured over $80 million into the AnC Bio Vermont project headed by Quiros and the other two business partners, though little work was done in the development later termed by federal regulators as "nearly a complete fraud."
Federal and state regulators brought civil enforcement actions against both Quiros and Stenger in April 2016 connected a series of EB-5 projects the two men headed in Vermont's Northeast Kingdom, including massive upgrades at Jay Peak ski resort.
More than 800 immigrants put at least $500,000 into the projects through the federal EB-5 visa program in an effort to obtain permanent U.S. residency if their investments meant American job creation requirements.
The actions in the spring of 2016 brought by regulators, including the U.S. Securities and Exchange Commission, accused Stenger and Quiros of misusing $200 million of the over $400 million they raised for the developments in northern Vermont over several years.
Both Stenger and Quiros later resolved those civil actions through monetary settlements, with Quiros alone agreeing to surrender an estimated $81 million in property and other assets to the federal government. Those properties include Jay Peak and Burke Mountain ski resorts.
Criminal charges were brought in connection with the biomedical research facility in Newport came in the spring 2019, more than three years after the state and federal regulators filed their civil actions.
A trial in the criminal cases against all three defendants. Quiros, Stenger and Kelly, had been set for January 2021.
Jessica Burke, a criminal defense attorney in Vermont who practices in both state and federal courts, said Friday that while she didn't know the specifics of the Quiros case, generally when there are multiple defendants the person pleading out and cooperating first can expect a better deal.
"When it's a race to the courthouse to flip, it's generally beneficial to be the first one in that prisoner's dilemma to be the flipper," she said.
"On the other hand," Burke added, "it could signify that there was so much evidence against this person they wanted to get out of it what they could."
Robert Sand, a professor at Vermont Law School and a former Windsor County state's attorney, also speaking generally and not about this specific EB-5 case, offered a similar assessment.
"I did not have too many multiple defendant cases," he said, "but it is not an uncommon phenomenon in the context of multiple defendant cases that there is a race, if you will, to become the first person to cooperate with the government because that person typically gets favorable treatment.'
Sand added that the race to cooperate is not the same as who is the most culpable among multiple defendants.
"It's not inconceivable," he said, "that you would get a more blameworthy party reaching an agreement to cooperate, receiving a more lenient outcome, and providing evidence against a less blameworthy party who ultimately ends up with a worse outcome."
https://vtdigger.org/2020/07/10/quiros-cooperating-with-prosecutors-expects-to-plead-guilty-in-eb-5-fraud-case/
Mentions
Litigation Cases
States
---
Securities Disclaimer
This website is for informational purposes only and does not constitute an offer or solicitation to sell shares or securities. Any such offer or solicitation will be made only by means of an investment's confidential Offering Memorandum and in accordance with the terms of all applicable securities and other laws. This website does not constitute or form part of, and should not be construed as, any offer for sale or subscription of, or any invitation to offer to buy or subscribe for, any securities, nor should it or any part of it form the basis of, or be relied on in any connection with, any contract or commitment whatsoever. EB5Projects.com LLC and its affiliates expressly disclaim any and all responsibility for any direct or consequential loss or damage of any kind whatsoever arising directly or indirectly from: (i) reliance on any information contained in the website, (ii) any error, omission or inaccuracy in any such information or (iii) any action resulting therefrom.