Bill Kelly — Ariel Quiros' behind-the-scenes man in the EB-5 fraud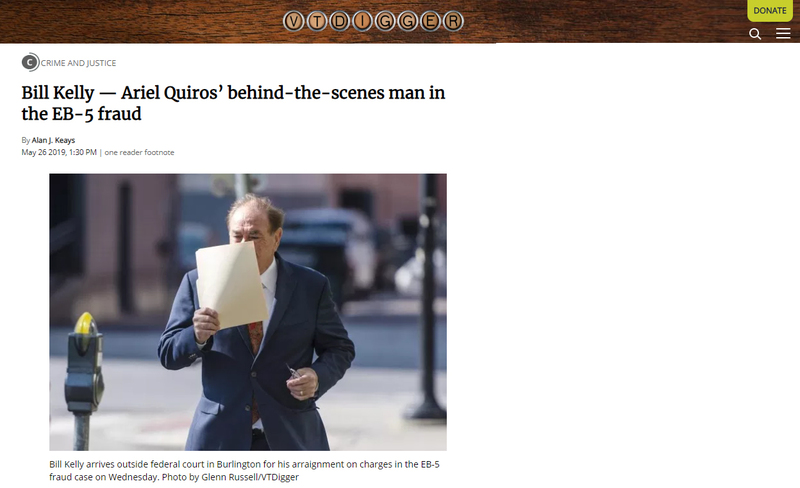 Bill Kelly arrives outside federal court in Burlington for his arraignment on charges in the EB-5 fraud case on Wednesday.
When Ariel Quiros and Bill Stenger arrived late Wednesday morning at the federal courthouse in Burlington, the media swarmed — seeking reaction to the filing of criminal charges against the two prominent public faces of the largest fraud case in the state's history.
A couple hours earlier, William Kelly, described by the prosecutors in the indictment unsealed this week as Quiros' "key advisor and assistant in executing decisions" who later "took the lead" in developing the criminal scheme, arrived for his arraignment.
Kelly got a much more toned down greeting from the press.
The tanned, 70-year-old Florida man, walked confidently up the concrete sidewalk heading straight toward the reporters staking out the courthouse doors.
As he got closer, a journalist who finally recognized Kelly asked if he had any comment on the charges he was about to face.
Kelly didn't answer that question.
He raised a manilla folder he was carrying in his hand to his face in an apparent attempt to shield himself from the cameras that had moved toward him.
Kelly then said two words to the press before heading into the courthouse: "Good morning."
Kelly's low-key arrival at court seemed fitting for a man who has been in the background of a scandal that has played out in the remote Northeast Kingdom of Vermont, far from his home in the Sunshine State.
Stenger and Quiros had been at the forefront of the EB-5 funded projects at the center of the criminal case filed last week, focusing mainly on a failed biomedical research center, AnC Bio Vermont, and the allegations of making false claims to investors and siphoning off project funds.
The criminal charges came more three years after federal and state regulators leveled civil actions against Stenger and Quiros, bringing a halt to the AnC Bio project before it ever really got off the ground despite raising more than $80 million from 169 foreign investors.
As Quiros, Jay Peak's former owner, and Stenger, the resort's past president and CEO, emerged from the courthouse last week after pleading not guilty to the charges against them, their attorneys stopped briefly to make statements to the media.
The legal teams professed their client's innocence, stating each looked forward to their vindication.
Bill Kelly arrives at the federal courthouse in Burlington on Wednesday.
Kelly and his attorney declined comment to reporters following his brief arraignment on 12 federal charges, including wire fraud and making false statements to the government about the AnC Bio project.
He pleaded not guilty to the offenses, was released on a $100,000 appearance bond, and was ordered to surrender his passport.
The indictment laid out the various roles each of those charged played, with Quiros described as the "ultimate decision maker," and Kelly termed his "key advisor and assistant in executing decisions."
Stenger's role was in the "marketing" the projects to investors and others, according to the indictment.
The fourth person indicted, Jong Weon (Alex) Choi, the operator of AnC Bio Korea, did not appear in court this week and remains "at large," according to prosecutors. He is described in the filing as a "hidden partner," formulating the business plan for the Vermont facility.
According to the charging document, in mid-2012 Kelly "took the lead in developing the details for the fraudulent business plans," which became parts of the information provided to potential foreign investors.
"The plan was fraudulent in various ways," the indictment stated, "including two major deceits: 1) secret embezzlement of investor funds; and 2) deceptions about the number of jobs to be created by the project."
Kelly has been involved with Quiros in business for nearly three decades.
Bill Kelly, left, and Alex Choi at a ribbon cutting for ANC Bio in 2015.
"He's made some hard decisions that sometimes those of us around him have a hard time following," Kelly said of Quiros in a 2014 interview with VTDigger.
"But he makes good decisions, and we do follow them because we know at the end of the day they're the right decisions," Kelly added. "We've all been around long enough to know they're the right decisions."
In 2015, it was Kelly running interference between Quiros and then Gov. Peter Shumlin in a series of emails over whether the state should move forward with AnC Bio.
At that time, Shumlin told the state Department of Financial Regulation to allow for partial approval of the project, permitting the developers to continue to solicit investors.
This is not the first time Kelly has faced legal trouble for his work in projects associated with Quiros, including AnC Bio.
In the civil lawsuits brought by state and federal regulators against Quiros and Stenger in April 2016, Kelly is mentioned, but not named as a defendant.
The lawsuits included claims that a company owned by Kelly, North East Contract Services LLC, was paid $7.9 million by Quiros "for construction supervision services that do not align temporally with, and far exceed, the value of payments made to contracted suppliers."
Also, the civil actions alleges, NECS' "practice" was to keep 32% of that money, with 68% going "to various entities owned or controlled by Quiros."
The U.S. Securities and Exchange Commission, in its lawsuit against Stenger and Quiros, termed AnC Bio Vermont "nearly a complete fraud."
In November 2017, Michael Goldberg, the court-appointed receiver now overseeing the Quiros properties at the center of the fraud case, including the one in Newport that had been proposed as the site for AnC Bio Vermont, sued Kelly on behalf of the receivership.
According to the lawsuit, Kelly's company, North East Contract Service, was to receive fees in connection with the construction of the biomedical facility.
Dignitaries and developers announce the AnC Bio project at Gateway Center in Newport on July 29, 2011. From left, Ariel Quiros, chairman AnC Bio US, Gov. Peter Shumlin, Sen. Patrick Leahy, William Kelly, adviser to AnC Bio, and, at podium, Bill Stenger, partner at Jay Peak Resort and investor in AnC Bio.
"However," the filing stated, "NECS was overpaid by approximately $6,208,875. Thereafter, Kelly either kept for his own personal use or distributed that overpayment to other parties although Kelly had no right to possess or control the use of those funds."
Kelly, in an answer to the lawsuit, denied any wrongdoing.
In a 301-page deposition with the SEC in July 24, 2014, regarding the proposed $110 million biomedical center, he talked about how he formed North East Contract Services.
"In 2011," Kelly said, "Ariel Quiros asked me if I would be willing to form a company and staff a company that would assist in construction supervision for the sponsor of EB-5 projects, and I said yes."
Kelly, throughout the roughly seven-hour deposition, was asked about his role in the complex transactions involving his company.
When answering, Kelly often referred to those asking questions by their first name, appearing comfortable in the setting.
His answers, though, at times seem to deflect a supervisory role.
For example, at one point, asked about the design specifications for equipment, Kelly said, "I cannot tell you that. I cannot tell you what is being done on the design or ordering or any equipment from AnC Biopharm at this point."
The proposed AnC Bio plant to be built in Newport.
"Because you don't know?" he was asked.
"No. Because it's not necessarily important to me yet," Kelly replied.
"Who would know what the status is?" the questioner followed up.
"Oh, it's possible that the AnC Bio Vermont, LLC may know," Kelly responded, pointing out that his company does 32% of supervision.
"Remember," he said, "there's another sixty-eight percent of supervision going on here."
In that deposition nearly five years ago, Kelly also was asked questions about his wife, Kelly D. Kelly, a listed registered agent with Deshazor Designs, a company with the same address as the couple's residence in Florida, according to public records.
He said that the design company had received funds for work at Q Burke Mountain Resort, the ski area in Vermont at the time owned by Quiros, and the biomedical center project.
"They have been paid I believe $100,000 last year and $50,000 this year so far," he said in 2014.
In a background questionnaire he prepared prior the deposition, a bit of Kelly's background is revealed. He wrote that he served in the U.S. Marine Corps and is a Vietnam veteran.
Also, the questionnaire stated, Kelly received a bachelor's degree from the University of Massachusetts at Amherst in 1978 and a law degree from Western New England School of Law in Massachusetts in 1982.
Asked if he ever held any professional licenses, Kelly responded that he didn't.
He described himself as a self-employed consultant based in Florida, as well as the chief operating officer of Vermont's Jay Peak Resort, starting in August 2011.
Quiros-affiliated businesses listed as occupying the fourth floor of this Miami building.
Kelly also said in that 2014 deposition he had an office in the same Miami building where Quiros' offices were located at the time. He added that he was rarely there, though, spending much of his time working from an office in his Florida home.
That 7,474-square-foot home is in the town of Weston, which calls itself one of the Sunshine State's "most desirable communities, both residential and corporate."
Kelly has had moments in the spotlight regarding the AnC Bio Vermont project.
Kelly spoke at a press conference in the summer of 2011 at the Gateway Center in Newport announcing plans for the biomedical research center.
Joining Kelly at the head table for the event were Quiros, Stenger, U.S. Sen. Patrick Leahy and then-Gov. Peter Shumlin.
The plans called for AnC Bio to work on stem cells, vaccine and artificial organs at the Newport facility.
Kelly, who sat beside Leahy at that press conference, said at the event that work was also underway on a process to repair damaged heart muscles with the help of adult stem cell technology, according to a report in the Barton Chronicle.
The newspaper reported that Kelly predicted that when that happens, the process will "put Newport on the map."
https://vtdigger.org/2019/05/26/bill-kelly-ariel-quiros-behind-the-scenes-man-in-the-eb-5-fraud/
Mentions
Litigation Cases
States
---
Securities Disclaimer
This website is for informational purposes only and does not constitute an offer or solicitation to sell shares or securities. Any such offer or solicitation will be made only by means of an investment's confidential Offering Memorandum and in accordance with the terms of all applicable securities and other laws. This website does not constitute or form part of, and should not be construed as, any offer for sale or subscription of, or any invitation to offer to buy or subscribe for, any securities, nor should it or any part of it form the basis of, or be relied on in any connection with, any contract or commitment whatsoever. EB5Projects.com LLC and its affiliates expressly disclaim any and all responsibility for any direct or consequential loss or damage of any kind whatsoever arising directly or indirectly from: (i) reliance on any information contained in the website, (ii) any error, omission or inaccuracy in any such information or (iii) any action resulting therefrom.