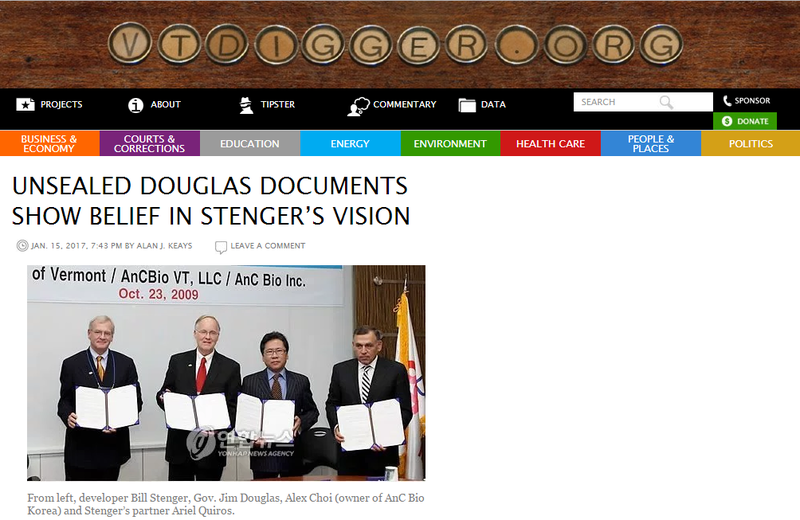 Newly unsealed records from Gov. James Douglas' time in office reveal few doubts and high hopes for proposals from a Jay Peak developer that were projected to bring thousands of jobs to the economically struggling Northeast Kingdom.
The records, kept from public view for six years under executive privilege, were released this month, providing greater insight into Douglas' eight-year run as governor, ending in January 2011.
Weekly memos to the governor from Kevin Dorn, then-secretary of the state Agency of Commerce and Community Development, were among those opened for public review.
Dorn's formerly secret reports, as well as other unsealed records, contain several mentions of Bill Stenger, former president and CEO of Jay Peak resort, and his series of development projects funded through the EB-5 program for immigrant investors.
The records reveal mostly positive views about the massive expansion of the ski resort and the eye-popping number of jobs the developments pledged to create.
Now years later, state and federal regulators have accused Stenger and his former business partner, Jay Peak owner Ariel Quiros, of misusing $200 million in EB-5 immigrant investor funds raised for a series of eight developments. The projects span the administrations of Douglas, a Republican, and his successor, Gov. Peter Shumlin, a Democrat.
Douglas said in an interview Tuesday that during his time in office the Jay Peak EB-5 proposals appeared to be credible.
"It's always easy to apply hindsight based on what happened since then," he added.
Asked if there should have been greater oversight, the former governor replied, "Looking back, more would have been better."
Stenger's name pops up often in Dorn's unsealed reports to Douglas, while no mention of Quiros could be found. The Miami businessman purchased Jay Peak in June 2008, allegedly using EB-5 money meant to fund other projects. In the Securities and Exchange Commission's lawsuit, Quiros is also accused of "looting" $50 million from the EB-5 developments and using the funds pay personal expenses.
NO LONGER CONFIDENTIAL
Stenger is mentioned in connection with trips overseas, a proposed biomedical research center in Newport and even bear habitat in Dorn's confidential weekly memos to the governor detailing his agency's work.
Take Douglas' two trips to Asia, in 2009 and 2010, that featured entourages of developers and stops along the way to promote Vermont's EB-5 visa program.
"James Candido (then director of Vermont's EB-5 Regional Center) is setting up a meeting with Bill Stenger this week to layout our plans and engage the EB-5 community," Dorn reported on July 9, 2009, as work was underway to organize overseas stops.
"Bill is extremely bullish on the trip," Dorn wrote.
For a trip to Asia in 2010, Stenger also provided input, according to the reports.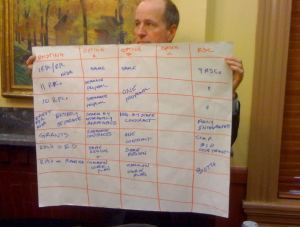 Kevin Dorn, who was secretary of the Agency of Commerce and Community Development under Gov. Jim Douglas.
"At this point we are going to try to structure the Vietnam portion as a side trip with you and Bill Stenger. This is really Bill's idea so he would prefer that it just be you" and two other state officials, Dorn's memo to the governor from Aug. 27, 2010, stated. "Bill said that if that becomes (a) contentious issue it would be OK if the Vietnam trip was opened up to the rest of the group."
Also unsealed from that 2010 trip is prepared text for a speech by Douglas promoting Vermont's status to investors as having the only state-run EB-5 regional center.
"It means the state is involved in assisting investors in getting approved, and that your investment is personally being monitored by state officials, offering greater stability and assurance,"' read the governor's prepared remarks for an Oct. 20, 2010, stop in Shanghai.
"It means that Vermont has a 100 percent approval record for its projects and investment," Douglas' prepared remarks continued. "It means our team is constantly working to make our program better, and aggressively working with our congressional delegation to keep our competitive edge."
The governor's speech did not endorse a particular project in Vermont but stated that officials from companies seeking EB-5 investments were available at the event.
"Around the room today we have representatives from our approved projects around the state who can explain to you their unique EB-5 opportunities," the governor's remarks stated. "Please take the opportunity to get around the room and talk with representatives of these great Vermont businesses."
Jay Peak's Stenger was the first one listed, with the prepared text noting the developer has several new projects at his resort "while also bringing to Vermont a new biotech company, ANC Bio."
Quiros and Stenger referred to the proposed state-of-the-art cell laboratory and artificial organ manufacturing plant as the "crown jewel" among their eight EB-5-funded projects in northern Vermont, a region then coping with the effects of economic recession. The direct and indirect economic impacts of AnC Bio, the developers said in legal records, could create 3,000 jobs.
The proposed $110 million biomedical research facility was later described by federal regulators in their April lawsuit as "nearly a complete fraud."
However, no hint of problems in the project's early stages are revealed in the unsealed documents reviewed from Dorn's agency.
Douglas received several updates throughout 2010 on the biotech research center proposal. Dorn reported to the governor that the former Bogner plant site in Newport was being eyed as the future home for the biotech facility.
"Bill tells me the site will not only accommodate AnC but also additional companies, which opens the possibility of having a small bio-tech campus," a February 2010 report from Dorn read. "EB-5 fundraising for the project is continuing with good results."
On Aug. 13, 2010, Dorn reported to the governor on a recent trip he took to the Northeast Kingdom to visit Stenger.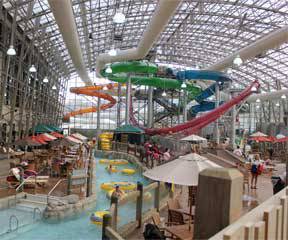 Jay Peak's water park.
"I went up to see Bill S. this week — no I did not bring my golf clubs — to get an update on both the Jay Peak project and status of AnC," Dorn's memo stated, adding that a "huge" amount of construction was underway with the building of a water park and new hotel.
Dorn then turned to the AnC Bio project and reported that Stenger was working with "AnC scientific staff to move one of their owner tech products though the approval process at the FDA."
Dorn's memo added, "They are viewing this as kind of a 'pilot project' with the FDA to determine how difficult it will be to get their higher tech products approved. Once they have confidence in their relationship with the FDA and the review process they will initiate their construction process."
Stenger was hopeful that construction could start the following spring, Dorn's 2010 briefing stated. "Bill is trying to keep the AnC stuff under the radar for now."
It was later revealed in the SEC lawsuit that Stenger and Quiros had "done virtually nothing to obtain" the Food and Drug Administration's approval for the research center's products.
The facility was never built, and the thousands of jobs never materialized. Alex Choi, the CEO of the AnC Bio parent company in South Korea, is being prosecuted on allegations he embezzled $10 million.
Quiros and Choi are longtime business partners. Choi served as president of Jay Construction Management from 2011 to 2014, with Quiros having power of attorney for the company.
Jay Construction Management, regulators would later say, was the vehicle used to move investors' money from AnC Bio to cover shortfalls, cost overruns and missing money from earlier Jay Peak expansion projects, all part of what the SEC described as a "Ponzi-like" scheme.
BEARS AND JUNKETS
Dorn's other unsealed briefings to the governor involving Stenger and the EB-5 program include:
— In May 2003 a dispute arose as Stenger sought approval for a golf course at the resort. The state Department of Fish and Wildlife wanted Stenger to pay $200,000 to study the course's impact on bear habitat.
Elizabeth "Wibs" McLain, secretary of the Agency of Natural Resources at that time, tried to help, getting her "bear team" to the table, "but the staff has dug in their heels and we are having a very hard time getting to a green light," Dorn wrote in his briefing to the governor. "Bill Stenger's patience is waning — you may hear from him."
— On May 28, 2010, Dorn reported to Douglas that Stenger was planning on "diversifying" his expansion at the resort, looking to establish "a world class" orthopedic center for surgery and rehabilitation.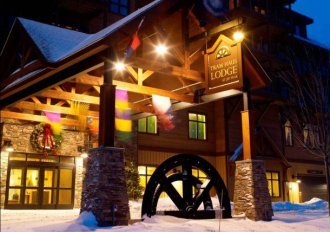 Jay Peak's Tram Haus Lodge.
"Apparently, there is a similar facility in Vail, CO, and I think Bill wants to tap into the Canadian market where access to such services is somewhat limited and subject to delay," Dorn wrote.
— On Dec. 18, 2009, Dorn wrote to Douglas that he represented him at the ribbon cutting for the Tram Haus Lodge at Jay Peak.
"This was the first event of this kind that I have attended where no banks were thanked for their financing — this is a result of EB-5," Dorn's briefing stated. "Next time you are in that neighborhood you should stop in — I know that Bill would love to show you around the finished Lodge."
— A final reference in Dorn's reports about Stenger and the EB-5 program was made Dec. 17, 2010, less than a month before the end of Douglas' final term and the swearing-in of Shumlin as his successor.
During his campaign for governor in 2010, Shumlin, in an apparent swipe at Douglas and his trips to Asia, reportedly told WCAX-TV, "I do not think the answer to our economic problems is junkets to China."
It's a remark that must have been on Dorn's mind when he briefed Douglas on a meeting that included two future Shumlin administration officials.
"Bill Stenger and James Candido participated in a meeting which included Lawrence Miller and Chuck Ross called by the Governor-elect to discuss how to 'take the EB-5 program to the next level,'" Dorn's briefing to Douglas stated.
He then added, "I guess now that he is Governor-elect he no longer sees the trips you took in support of the program and in support on investments in Vermont as 'junkets.'"
https://vtdigger.org/2017/01/15/unsealed-douglas-documents-show-belief-stengers-vision/
Mentions
Litigation Cases
States
---
Securities Disclaimer
This website is for informational purposes only and does not constitute an offer or solicitation to sell shares or securities. Any such offer or solicitation will be made only by means of an investment's confidential Offering Memorandum and in accordance with the terms of all applicable securities and other laws. This website does not constitute or form part of, and should not be construed as, any offer for sale or subscription of, or any invitation to offer to buy or subscribe for, any securities, nor should it or any part of it form the basis of, or be relied on in any connection with, any contract or commitment whatsoever. EB5Projects.com LLC and its affiliates expressly disclaim any and all responsibility for any direct or consequential loss or damage of any kind whatsoever arising directly or indirectly from: (i) reliance on any information contained in the website, (ii) any error, omission or inaccuracy in any such information or (iii) any action resulting therefrom.