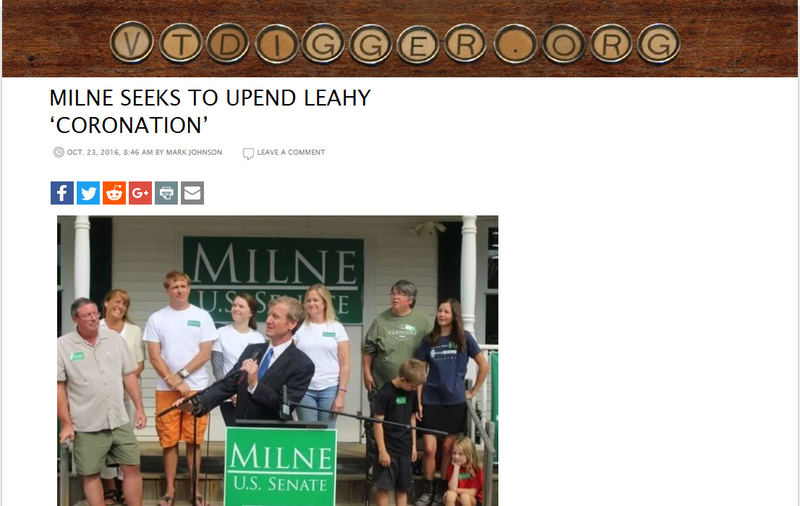 Scott Milne at his campaign launch for U.S. Senate on Sept. 10, 2016.
Seven-term US Sen. Patrick Leahy had already scheduled a press event at the Burlington High School one recent crisp September morning to discuss college funding when his opponent, Scott Milne, summoned reporters with a 5:30 a.m. email announcing an impromptu press conference in the school parking lot — a half an hour before Leahy's event.
Milne's chum to reporters included a promise to continue bashing Leahy for refusing to release emails Milne hoped would show wrongdoing — or at least portray Leahy in a poor light — in connection with the troubled EB-5 immigrant investment program. The senator was a huge champion of the program, which is now sullied nationally by allegations of abuse, including charges of fraud leveled in Leahy's home state against two men, one of them his friend, Bill Stenger.
A few hundred yards from the school entrance, in front of the football field, Milne set up a makeshift podium that he picked up at Sears on the way to the event. The "podium" was actually an old display sign holder that a store employee had thrown away that Milne, running a low-budget campaign, happily took off his hands.
"He literally pulled it out of the dumpster for me," Milne said. Then, displaying his dry, sometimes awkward humor, he added, with a laugh somewhere between a chuckle and a cackle: "Some people say the ideas for our campaign came out of a dumpster, too. But that's not the case."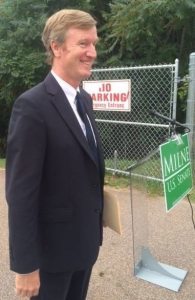 Republican Senate candidate Scott Milne addresses the media Sept. 19, 2016, at Burlington High School.
At the press event, Milne pounded away at Leahy for 20 minutes before a half a dozen reporters, who then trooped up the hill with cameras and microphones to the senator's event. Milne's piggyback on Leahy's press event was either brilliant — it guaranteed he'd receive coverage — or bush league, a breach of protocol, personal and political. Aides for the senator looked down at the Milne scrum from a few hundred yards away as they entered the high school. A short time later, while taking questions about EB-5, the United States Senate's most senior member dismissed Milne with words one might reserve for a pesky fly.
"I am tired of him. He doesn't want to say anything to my face even when I see him. He only talks to you guys. He makes baseless charges," Leahy said.
The longtime member of the Senate Judiciary Committee — which Leahy has chaired when Democrats have been in the majority — who started his political career as the Chittenden County prosecutor, added that if Milne thought he'd done anything wrong on the EB-5 program: "He should call the U.S. Attorney."
Then Leahy raised what he and many others believe to be a central question in the race.
"You can't just attack people. You've got to stand for something," said Leahy.
Scott Milne, Leahy's Republican opponent, has heard this same criticism before — that he is running a political campaign devoid of ideas where he is simply presenting himself as the vanilla, blank-slate alternative for voters tired of an incumbent.
That strategy, laying out a few specific proposals, offering himself as a middle-of-the-road option, letting the race become a referendum on his opponent, almost worked two years ago. And in many respects, Milne is using the same game plan this year. His message: vote for me if you believe Patrick Leahy has been in office too long or if you want to send a message about a political system corrupted by corporate campaign contributions. And when I get to Washington, Milne promises, I'll be a centrist in a sea of partisans with sharp elbows on the left and the right.
In 2014, Milne shocked the political establishment when he came within 2,500 votes of upsetting two-term Gov. Peter Shumlin. No one — pundits, the media, even leaders of his own Republican Party — gave the politically inexperienced owner of Milne Travel a chance. When Milne announced in June, less than six months before the election, analyst Eric Davis said he would be "doing very well to get 40 percent."
On paper, the statewide electoral rookie from Pomfret looked like he had no chance. He'd run for office only once before, losing a bid for the Vermont House in 2006. He announced his run for governor on the last possible day to file. For the next five months, his campaign seemed quixotic and clumsy at times: he resisted dialing donors for dollars, he called few press conferences, and laid out, by his own count, four or five policy proposals.
Milne spent $240,000, while Shumlin spent $1 million. Milne ran a limited schedule of television ads. He ran a low-key campaign. By his own admission, at events he liked to "stand in the back of the room." Shrugging off the idea of shaking as many hands as possible, he said he preferred to have a few quality conversations instead.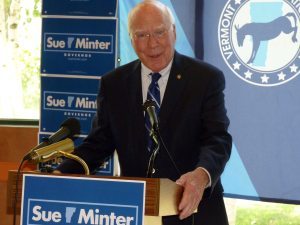 Sen. Patrick Leahy, D-Vt., addresses a Vermont Democratic Party gathering Wednesday.
In part because he took few controversial positions — his most substantive proposals were a property tax cap and tuition-free education at the state colleges — Milne was largely successful making the 2014 governor's race a referendum on Shumlin. And for personal and policy reasons, analyst Davis and others said, the governor's popularity had plummeted since 2012 when he crushed Randy Brock, won 58 percent, riding high on how he handled the post-Irene recovery.
After he beat Brock, Shumlin's popularity took a hit when he was accused of taking advantage of a neighbor in a land deal, failed to come up with a financing plan for a single payer health care system and made enemies supporting controversial policies including industrial wind.
Shumlin held on in 2014, winning by 1.2 percent. The race went to the Legislature for the final decision because the governor had failed to win an outright majority.
Milne views the razor-thin loss to Shumlin as a victory in many ways, that he came so close as a novice to a well-financed incumbent. His daughter, Elise, said the campaign was successful because it exposed how politically weak the governor was. Not long after he was re-elected, Shumlin announced he would not go forward with single payer, which Milne had predicted he would drop, and announced he would not seek a fourth term in 2016.
Elise Milne is 27, the campaign manager for the Senate race, and plans to pursue a legal career in civil litigation. She transferred from Pepperdine Law School during the gubernatorial campaign and graduated from Vermont Law School.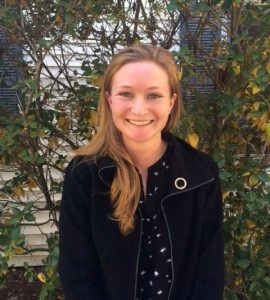 Elsie Milne
Scott Milne doesn't dispute the 2014 race was largely about Shumlin and hopes to put the focus in 2016 again on his opponent, the political system, and not necessarily his own ideas.
"I'm not going in on an agenda to do a lot of things. I'm going on an agenda to be a centrist United States senator who's going to work in the middle," Milne said in a recent interview. "I think there's a very good theory that if you have five centrists, the way there were 15 or 20 New England Republicans and Dixie Democrats, that things can get done."
"I'm just part of the message," Milne said while eating oatmeal at the Wayside Diner in Montpelier, "of do we agree with Milne (that) the system is broken and needs to be reformed."
Milne thinks if he could knock out a Senate heavyweight like Leahy that it would send a powerful message across the country, that politicians stay too long and depend on corporate donations that compromise their votes. He's made those two messages the theme of his critique of Leahy. Milne challenged Leahy to run a low-budget campaign, which he declined.
The senior senator has amassed $4.6 million in contributions since 2010, about $1.5 million in political action committee money. Milne says he plans on spending about $50,000. Elise and Milne's 29-year-old son Keith lead an all-volunteer campaign run out of a large, cluttered second-floor office at Milne's South Burlington travel agency. The signs Milne used on the side of his truck for the governor's race have been reused, with Milne for Senate painted on the opposite side.
As of this week, Leahy has approximately $3 million in his account (which included money carried over from his 2010 campaign). Milne has about $34,000 to spend. He put up $17,000 from his own pocket.
"It's a referendum on a broken and dysfunctional Washington, and the chances of winning — we're not coming into it a favorite," Milne said. "The message is that the system is broken and it's a referendum on reform."
In addition to reducing campaign expenditures, Milne believes senators should serve only two six-year terms.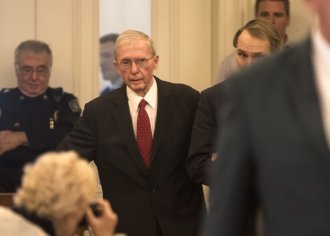 Clerk of the House Donald George Milne, father of Scott Milne
Milne said he decided to run for the senate and not governor again because Lt. Gov. Phil Scott stepped up and because he saw a greater need.
"In 2014, the biggest impediment on a ballot, in my opinion, to me being able to imagine being optimistic about my kids and grandkids being in Vermont in the future was Peter Shumlin. The biggest impediment on the ballot in 2016 to me being optimistic about the future of America and Vermont is Patrick Leahy," Milne said.
Analyst Davis, a retired Middlebury political science professor, noted public dissatisfaction with the political system is running high — congressional approval ratings have not exceeded 20 percent since 2012. The success of non-mainstream candidates including Republican presidential nominee Donald Trump and Democratic runner-up Sen. Bernie Sanders are indicative of that voter discontent, he and other political observers say.
Davis dismissed Milne's campaign throughout the 2014 race — and Milne was sharply critical of the analyst in return — but Davis said in the Senate race, Milne had been "rather effective" tapping into the public frustration by raising Leahy's longevity and large campaign war chest, including donations from corporations who have done business before the Senate.
However, Davis said a weakness is that Milne has not put forth any policy ideas other than campaign finance reform. He doesn't believe the strategy of Milne presenting himself as the alternative will work as well with Leahy as it did two years ago with Shumlin.
"I don't think that a Milne near-upset of Leahy is a likely outcome this year," Davis said.
The biggest difference, Davis said, is that Leahy has much stronger favorability than Shumlin, around 60 percent, some 15 to 20 points higher than the governor had two years ago. What Davis said he's watching for is how high a winning percentage Leahy will get. In 2004, the last presidential election year that he ran, Leahy received 71 percent of the vote when he trounced Republican Jack McMullen. In 2010, a non-presidential election year, Leahy won 64 percent when he defeated Republican Len Britton. Davis wonders if Milne can hold Leahy to under 60 percent.
Not only is Leahy more popular than Shumlin, Davis said the senator has another strong weapon: his ability to secure federal funds for Vermont, enhanced by his seniority and membership on the Appropriations Committee.
Davis said Milne hasn't made a good counter argument or how he would bring home the bacon as a freshman. Milne disagrees. He said all states receive significant funds and that despite his claims, Milne charges Leahy isn't bringing back more than his small-state peers. Federal largesse, Milne argues, has also contributed to the $20 trillion national debt.
"There's a benefit," Milne said of Leahy's seniority, "but having a new smart person there is going to be pretty good, too. Are we going to get a little more money in the next two years because he knows everybody? I would think it would be hard for me to argue he's not."
He added: "I'm not stupid. I'll figure out what's going on. I think there's an appetite to get back to the Greatest Generation, to people like (Vermont Sen.) Ralph Flanders, who were willing to work in the middle and get things done."
In an interview, Leahy touted his ability to secure federal funds for Vermont as one of his strengths. He cited his efforts to help secure $500 million after Tropical Storm Irene. He would not speculate how much more he thought Vermont received because of his experience or how much less the state would have received if Milne had been in office.
Milne frequently invokes past moderate Vermont Republicans as his role models, including Flanders, who served as a senator in the 40's and 50's. He more frequently mentions George Aiken, an iconic figure and the state's longest serving U.S. senator when he retired in 1974. Milne's grandfather worked for Aiken. Leahy, the first Democrat in Vermont elected to the U.S. Senate seat, took over Aiken's seat. Milne bristles when he hears Leahy supporters put him in Aiken's exalted class. (Milne volunteered for Republican Stewart Ledbetter, who almost beat Leahy in 1980.)
Milne challenged Leahy to run a 2016 version of Aiken's last Senate campaign in 1968 when he famously spent only $17. Leahy never seriously considered the idea. Spurning an expensive race, Milne said, could have enhanced Leahy's legacy. Raising large campaign sums instead Milne said, just makes Leahy look bloated.
"The amount of money he's raising is ruining this country," said Milne.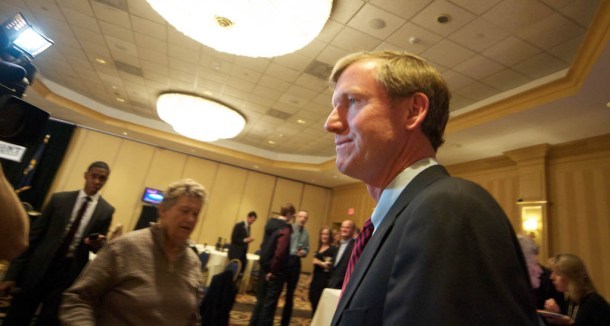 Scott Milne, Republican candidate for governor, at the Vermont Republicans' election night gathering. File photo.
Tall and lanky, the 57-year-old quiet introvert says he thinks he's better known than two years ago. He believes he's being taken more seriously because of his near defeat of Shumlin. He appears less bitter about the press coverage he received, though he complained about a newspaper editor who didn't return his messages who then wrote a highly critical piece castigating Milne's Senate campaign and attributing his 2014 success solely to Shumlin's unpopularity.
A popular liberal blogger, John Walters of the Vermont Political Observer, dubbed Milne's attacks on Leahy as "the nastiest campaign in living memory."
Despite the long odds, Milne said last week that he's more hopeful about a win against Leahy than he was one month before the 2014 election.
"I think it's going my way. Whether it's enough to get us there or whether I'm probably delusional, we'll see. I have a chance. I'm more optimistic about this race 29 days out than I was against Shumlin, and I believed then I had a chance," said Milne.
Former Gov. James Douglas ran against Leahy in 1992 and lost by a margin of 54-43 percent. He tried to go after Leahy for taking corporate contributions and for being part of the Washington, D.C. establishment.
"I think these are legitimate issues and Scott's right to raise them," Douglas said.
He said "conventional wisdom would suggest that he couldn't beat an entrenched incumbent, but he almost upended conventional wisdom a few years ago," Douglas said.
"I assume Pat is better regarded than Shummy is so it's not the same in that respect," the former three-term governor said. "But there comes a point where people say the system isn't working."
According to Milne, the biggest concerns he hears from voters are whether Leahy, at 76, is too old for the job, whether he is too much of an Beltway insider, and that he raises too much money from "special interests."
Asked if he thought Leahy was too old, Milne said: "What I'd say to be polite is that I don't think 76 is too old to do that job. But he's asking voters for essentially a six-year employment contract so I think it's fair for something for people to consider, whether he has the energy, on top of old ideas, or having me because I have more energy," Milne said.
"I think the big issue is he's been there too long," he said.
Milne complained Leahy is running a Rose Garden strategy, agreed to participate in only three debates and said too much of the Vermont press "is covering the race like it's a coronation." He noted several major news organizations did not cover his campaign kickoff, held on a Saturday in September. (VTDigger's coverage of his kickoff event can be found here.)
Leahy rejected any idea that he's slowed mentally. He and his wife Marcelle spoke of the vast amount of material he reads and the breadth of the subjects he must keep up with as a senator. In setting debates, Leahy's campaign says three is the "traditional" number for congressional races. Milne notes none are head-to-head and will include all the candidates, what he calls "kiddie debates."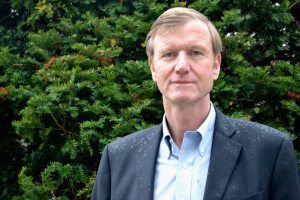 Scott Milne.
As for his warchest, Leahy doesn't apologize for raising millions, pointing to outside money pouring into the New Hampshire US Senate race. Leahy said he needed to be prepared if that happened in his race, which Milne called "preposterous" given his slim chances on paper.
Milne says he will roll out a few policy proposals during the upcoming debates, hoping to catch the senator off guard.
He acknowledged he was "caught a little off guard" when Seven Days columnist Paul Heintz asked him if would support Trump after the release of the video where Trump bragged about groping women. Milne wavered and then called Heintz back 20 minutes later to say he would not support Trump. Milne said he didn't disavow Trump sooner because after he won the presidential nomination, Milne said he didn't want Trump supporters to feel "disenfranchised."
Milne appears to be taking care to not alienate any particular constituency. On gun control, for example, Milne says: "I agree philosophically with the Second Amendment people, but practically, things are going to change. I'll try to move that conversation to the center." Milne said he could support expanding background checks and a ban on assault-style weapons.
Milne often speaks off the cuff and sometimes doesn't take a clear position. However, his public speaking is clearly better than when he started the governor's race in 2014.
The entertainer, Rusty Dewees, performed at Milne's campaign kickoff in Washington, Vermont, where Milne grew up. At the Saturday afternoon event, Milne was interrupted several times as he addressed a small crowd of supporters. In particular, Dewees mentioned how kindly Milne dealt with a young boy, the son of a friend, who has a disability and spoke out several times during the speech.
"I had seen Scott Milne speak publicly a few times before. One time I was at an event when he was running for governor and I was standing off to the side and I was saying to myself man I don't know where the freaking hell this guy learned to do anything, but he better go back and take some more lessons," said Dewees, who said he doesn't endorse, just entertain, at political events.
"So then at this thing, this guy was great. I told my friend he has this reputation of kind of being awful, but he was great, he was sharp, and whatever was coming at him, he dealt with it with aplomb," Dewees said.
Milne said perhaps his biggest advantage over Leahy is that he doesn't care if he loses and can say what he wants.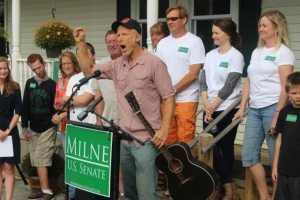 Comedian Rusty Dewees turns out for Scott Milne's campaign launch for U.S. Senate on Sept. 10, 2016.
"I believe what I'm saying," Milne said. "One of the real great blessings of being me is, if I lose I don't care. I care if I'm an asshole and make up a bunch of stuff to get elected. If I do get elected and turn into one of these narcissistic people — which seems to be more common than what I would hope it would be with politicians — that would be a drag but if I told the truth and lose, even if I lose by 20 points, which is possible," running against Leahy would have been worthwhile.
Loss is familiar to Milne.
One of the biggest differences in this year's campaign compared to the governor's race two years ago is the passing of both of Milne's parents. His father, Donald Milne, the clerk of the Vermont House, died in January of this year. His mother, Marion, his business partner he worked with side by side with for 20 years at the travel agency, passed away halfway through the governor's race. Marion Milne gained prominence after she lost her House seat in 2000 for supporting civil unions.
"I think it affected him like all of us, in all sorts of different ways, but him particularly profoundly because they were so close," said Elise Milne. "He really lost the person he'd talked through Milne Travel issues with, and now the campaign, and a really, really close friend of his. He kept it together and soldiered on, but obviously it was a profound loss."
Milne described his parents and two children as his "best friends."
Milne also endured the loss of his brother, 18 months older, who died at 13 of a brain tumor. Milne's eyes welled up as he recalled his brother who, shortly after a tour as a page at the Vermont Legislature, woke up one morning with a black eye and was dead two months later, despite a prognosis he might live for five more years.
Milne named his son Keith, who is 29, after his older brother. It marked the first time, he said, his parents could utter the name in the decades since the death.
Milne said his divorce in 2006 was the most difficult struggle he's faced in his life, in part because he knew it impacted his two children. Elise said her father "often put on good face for my benefit." Milne said he and his ex-wife, who lives in Vermont, get along well. Elise said they are "both happy, healthy people."
The divorce was difficult, Elise Milne said, but "I think it's healthy to have some hardship to overcome. If you've never been put to the test, you don't know what you have the capacity for."
"He's a natural survivor," she said of her father.
Literally.
And she should know.
In 2006, in the middle of his divorce, Milne had a stroke while taking his morning shower. He felt a pain down his left arm and a moment later fell. Elise found him. He assured her he was okay. When she got to the end of the driveway, she called and returned when he didn't answer. It was a snowy day and the ambulance was delayed. At the hospital, the power went out while doctors were running a key test on Milne. He received a drug to burst the small clot in his brain just before the window on its effectiveness closed. Elise said the doctors told her he would be permanently impaired, but the next morning, she said her father was walking around. He went home a few days later. He suffered a seizure later when he "went back to my usual schedule." Milne said today the only effect he feels from the stroke is a tingle in his hand and said he takes anti-seizure medication.
It was a miracle, Elise said.
"Maybe he can do it again," she said with a smile.
https://vtdigger.org/2016/10/23/milne-seeks-upend-leahy-coronation/
Mentions
States
---
Securities Disclaimer
This website is for informational purposes only and does not constitute an offer or solicitation to sell shares or securities. Any such offer or solicitation will be made only by means of an investment's confidential Offering Memorandum and in accordance with the terms of all applicable securities and other laws. This website does not constitute or form part of, and should not be construed as, any offer for sale or subscription of, or any invitation to offer to buy or subscribe for, any securities, nor should it or any part of it form the basis of, or be relied on in any connection with, any contract or commitment whatsoever. EB5Projects.com LLC and its affiliates expressly disclaim any and all responsibility for any direct or consequential loss or damage of any kind whatsoever arising directly or indirectly from: (i) reliance on any information contained in the website, (ii) any error, omission or inaccuracy in any such information or (iii) any action resulting therefrom.