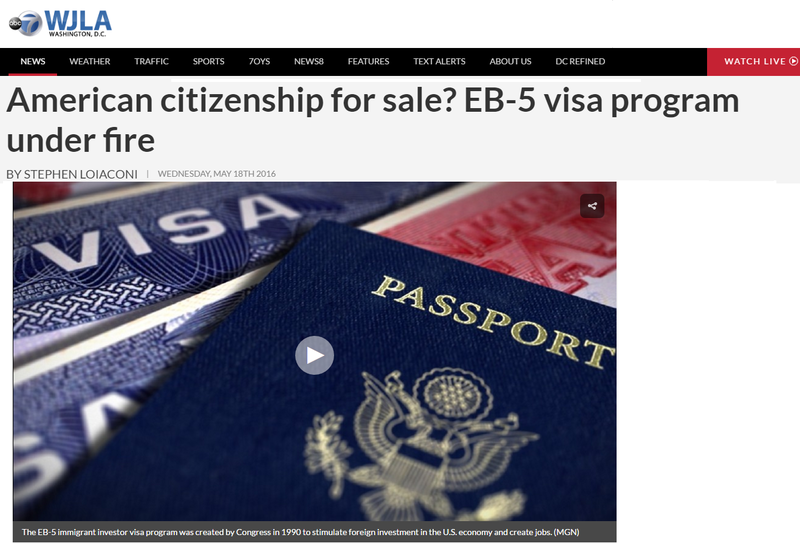 As more and more foreign investors take advantage of a program enabling them to obtain green cards for funding U.S. commercial enterprises, critics continue to push for its reform or discontinuation.
The EB-5 immigrant investor visa program, created by Congress in 1990 to stimulate foreign investment in the U.S. economy and create jobs, was rarely used prior to the financial crisis in 2008. It makes up to 10,000 visas per year available to foreigners who invest a large sum of money in a U.S. project that creates at least 10 jobs within two years.
According to the Immigration Policy Council, only 64 EB-5 visas were issued in 2003. The Department of Homeland Security reported that 10,085 visas were approved under the program in 2015, with most of those going to Chinese investors.
While the program has often been used for investments in construction projects like hotels and shopping centers, it is also being utilized to raise funding to build a stadium for a professional soccer team in Orlando.
Rep. John Mica (R-FL) told Sinclair Tuesday that foreign investments in such a project should be scrutinized, but preventing illegal immigration should be a higher priority than fighting against legal immigration.
"Sometimes, sports is a big business, and they can contribute not only to a sports team but also to the economy," he said. "So you have to look at them to make certain that it passes the test, but again my concern is more about illegal immigrants coming across the border, not so much those who are doing it through a legal process."
In theory, the EB-5 program can provide an economic boost to areas where workers are struggling and it can aid developers who are unable to find domestic investors. In practice, critics have alleged that it is plagued by abuse and fraud, favoritism, lax oversight, and potential national security risks.
As originally conceived, foreign investors must put $1 million into a new U.S. commercial enterprise or a minimum of $500,000 in a project in a rural area or area of high unemployment. At this point, most investments are at the $500,000 level, even though many fund projects in affluent urban areas.
Critics allege the maps of "targeted employment areas" that trigger the lower investment threshold are gerrymandered to encourage investment in communities that otherwise do not qualify.
The EB-5 program is periodically reviewed by Congress. It will be up for approval again in September, and lawmakers who pushed unsuccessfully to overhaul the program last fall have mounted a months-long attack. The Senate Judiciary Committee, led by Sens. Chuck Grassley (R-IA) and Patrick Leahy (D-VT), has held two hearings on the subject this year.
"This program is in need of a blood transfusion, not a Band-Aid," Leahy said at an April hearing.
In a Senate floor speech in December, Grassley criticized "wealthy elites" who are "buying a green card" with their investment, and he argued the program should be eliminated if it cannot be reformed.
Sen. Dianne Feinstein (D-CA) called for an end to the program more explicitly in a Roll Call op-ed in November, complaining that it suggests "American citizenship is for sale."
"Simply put, EB-5 sends a terrible message to the millions of immigrants patiently waiting their turn to enter the United States legally to be reunited with their families or for legitimate employment," she wrote.
EB-5 has defenders across the ideological spectrum, though, including Sheldon Adelson, Warren Buffett, and Bill Gates. The prominent businessmen wrote in a 2014 New York Times op-ed that reforms should be considered to prevent fraud, but investors granted visas would "impose minimal social costs on the United States, compared with the resources they would contribute."
U.S. Citizenship and Immigration Services (USCIS) estimates that since October 2012, the EB-5 program has produced $8.7 billion in investment in the U.S. economy and created more than 35,000 jobs. Most of this investment is done through Regional Centers, hundreds of public or private entities--some established by developers themselves--that vet investors and investment projects.
Compared to other methods of foreign investment, though, Center for Immigration Studies Fellow David North said EB-5 is "an extremely complicated, clumsy, corruption-prone technique for moving money into the United States."
North pointed to recent controversies and fraud allegations in Vermont and South Dakota as examples of what can go wrong. Too often, he said, funds go to urban real estate projects that do not need them with far lower interest rates than they would get from a bank.
"In many cases, the money is simply a transfer from rich Chinese to rich Americans," he said.
Other immigration experts view the EB-5 program more favorably.
"They're not buying their green cards," said Stephen Yale-Loehr, who teaches immigration law at Cornell Law School. "They have to do a lot to get their green cards."
Since the process is complex and lengthy, he added, it can often take seven years or longer for an EB-5 applicant to obtain permanent citizenship.
Yale-Loehr acknowledged that there are opportunities for abuse, but he said oversight has improved significantly in recent years.
"Overall, new projects starting now are much more heavily regulated."
If done properly, he said, the program could be "a four-way win" for taxpayers, American workers, project developers, and foreign investors.
William Stock, president-elect of the American Immigration Lawyers Association, emphasized that these investments are intended to have a positive economic impact. He said critics like Feinstein who claim the program is unfair are "completely out to lunch."
"There's no fairness in the immigration system by her measure," he said. The system already prioritizes those with family ties in the U.S. or desirable skills, with the goal of attracting people whose presence will best serve the country. EB-5 investors become taxpayers with a high net worth.
Others are more blunt about the economic trade-off involved.
"I don't have a problem saying they're buying green cards," said Michael Gibson, managing director of USAdvisors.org, a firm that provides due diligence research on EB-5 investments. He described it as "one of the best economic incentive tools" the U.S. has if it is adequately administered.
Grassley and other critics have at times emphasized potential national security risks of the EB-5 program. An internal Homeland Security Investigations memo released by Grassley's office in 2013 warned that it "may be abused by Iranian operatives to infiltrate the United States."
Whistleblowers have claimed that some applications for EB-5 visas were approved in as little as 16 days. Questions have also been raised about how thoroughly foreign investors can be vetted.
However, supporters say putting together a half-million-dollar investment in a U.S. business that will be reviewed by USCIS and the Securities and Exchange Commission (SEC) would be a terrible way for a terrorist to try to get into the country.
"If I was going to come to the United States and I didn't want any particular scrutiny, the investment visa would be the very last one I would use," Stock said.
While there is probably always more that can be done to ensure security, Gibson said, "it's probably one of the most thorough investigations of anybody entering the country that I know of."
The disproportionate level of Chinese investment has also caused some concern, but experts say there are good reasons why wealthy businesspeople in China would turn to the EB-5 program.
"In China, there's this combination of lots of rich people and lots of anxiety," North said, "but much of it is well-deserved."
A billionaire in Britain or India may be content to stay where they are, according to North, but some in China are concerned about their economic status and their children's futures. An investment under EB-5 can net a visa for an investor's spouse and any children under 21.
"Presumably, if you had a way of getting in here without putting up half a million dollars, you'd use it," North said.
The long backlog of Chinese citizens seeking entry to the U.S. through more traditional means makes EB-5 an appealing option for those who can afford it.
"It is very hard and very difficult for people from China to immigrate into the United States under other programs," Yale-Loehr said. It is especially attractive to those seeking better educational opportunities and a less polluted environment for their children.
While federal agencies have made improvements since some complaints were publicized in the last few years, the complexity of the program and the difficulty of verifying foreign income still present many opportunities for fraud, critics fear.
"This is a system that you can game," North said.
However, USCIS reports that there have been many recent security and operational enhancements. These include expanded security checks to cover Regional Center businesses and executives, creating a fraud detection and national security division, expanding language expertise, and planning random site visits in 2016.
USCIS has also hired more experts and has undertaken reviews that have led to the termination of more Regional Centers in 2014 and 2015 than in all previous years combined.
Advocates for the program agree with some of the reforms proposed in Congress. Given inflation since 1990, increasing the minimum investment from $500,000 to $800,000 or $1 million makes sense.
"I wish the price were higher," Gibson said. "I think we're selling the green cards too cheap."
They also expect some effort will be made to shift more investment to rural areas. However, they caution the investment must remain appealing to foreigners.
"If you live in China, you've never heard of Weaver, Iowa," Stock said. "You've heard of New York City and San Francisco."
If quotas for investment in less desirable regions create a backlog and the wait for an EB-5 visa becomes too long, investors will take their money to other countries that have less stringent investment visa requirements.
Gibson criticized the USCIS for not providing more transparency about who is funding EB-5 Regional Centers, who is approving projects, and what the economic benefits for the public are.
"There could be, for all we know, Chinese triads who are owners of these Regional Centers," he said.
Although North and some in Congress are skeptical that reforms can be enacted that would make the program the positive economic force it was designed to be, supporters hope its flaws can be addressed in a way that preserves the investment opportunity it creates.
"Overall," Yale-Loehr said, "despite the recent media attention, this is a program that, if done correctly, is good for the U.S. economy. Let's just hope that Congress will mend, not end, the EB-5 program."
http://wjla.com/news/nation-world/american-citizenship-for-sale-eb-5-visa-program-under-fire
Mentions
States
---
Securities Disclaimer
This website is for informational purposes only and does not constitute an offer or solicitation to sell shares or securities. Any such offer or solicitation will be made only by means of an investment's confidential Offering Memorandum and in accordance with the terms of all applicable securities and other laws. This website does not constitute or form part of, and should not be construed as, any offer for sale or subscription of, or any invitation to offer to buy or subscribe for, any securities, nor should it or any part of it form the basis of, or be relied on in any connection with, any contract or commitment whatsoever. EB5Projects.com LLC and its affiliates expressly disclaim any and all responsibility for any direct or consequential loss or damage of any kind whatsoever arising directly or indirectly from: (i) reliance on any information contained in the website, (ii) any error, omission or inaccuracy in any such information or (iii) any action resulting therefrom.