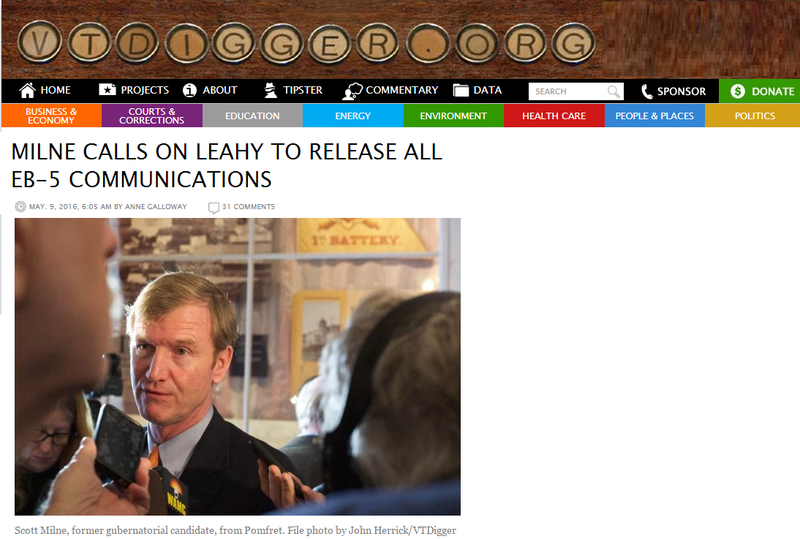 Scott Milne, a Republican who is mulling a run against U.S. Sen. Patrick Leahy, D-Vt., is demanding that the senior senator release all communications from his office about the EB-5 immigrant investor program.
Milne, a Pomfret travel agency executive, has not yet declared a bid for Leahy's seat.
But the former candidate for governor who narrowly lost to Gov. Peter Shumlin in 2014, came out swinging on Friday in an email blast to the media calling on the senator to disclose all meeting notes, call logs, letters and emails pertaining to EB-5 projects in the Northeast Kingdom that are part of an alleged "Ponzi-like scheme" perpetrated by developers Bill Stenger, the longtime CEO of Jay Peak Resort, and Ariel Quiros, a Miami businessman.
Milne says the visa program "has been mismanaged by Leahy and Gov. Peter Shumlin."
"At a time when Vermonters desperately need to have their confidence restored, Leahy and Peter Shumlin evade and stonewall," Milne said.
Neither public official has been willing to disclose communications with the developers.
Asked about Milne's accusations on Friday at a press conference, Leahy said he was "sorry that Mr. Milne wants to make politics out of what's a very sad situation."
Both Leahy and Shumlin promoted Vermont's EB-5 Regional Center programs, including those at Jay Peaks, while overseas.
The two officials also wrote letters of support for a private offering memorandum Stenger used to solicit investors for the proposed AnC Bio Vermont biomedical center in Newport.
The SEC, in a 52-count lawsuit against Stenger and Quiros, has deemed the AnC Bio Vermont project "nearly a complete fraud." The biomedical center was the capstone to a scheme in which federal regulators say Quiros and Stenger misappropriated $200 million out of a total of $350 million in immigrant investor funds which were to be used for eight developments in the Northeast Kingdom. Instead Quiros, with Stenger's assistance, allegedly commingled and borrowed against investor funds starting in 2008, ultimately diverting $50 million in investor funds for personal use.
More than 700 immigrant investors from 74 countries have been allegedly defrauded by Quiros and Stenger. As a result of the allegations, the immigration status of several hundred investors is in jeopardy.
The state of Vermont runs its own EB-5 regional center and oversaw the developments at Jay Peak Resort, Q Burke Resort and AnC Bio Vermont. From 2006 through 2014, the state did not require the Jay Peak developers to submit quarterly reports, did not obtain financial information and failed to charge fees for the projects. In May 2014, the center began raising questions about the legitimacy of the biomedical project, and in the following year state securities regulators worked with the SEC to investigate the Jay Peak developers.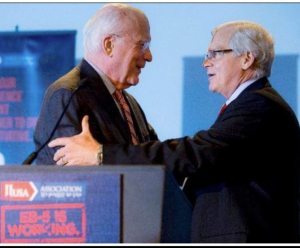 Leahy, who is running for a seventh term, has long been a champion of the EB-5 program, which gives immigrants an opportunity to invest $500,000 each in designated rural economic development zones in exchange for a green card and eventual permanent residency. Under the rules of the program, each $500,000 investment must create 10 permanent direct or indirect jobs.
A day after the SEC allegations were made public, Leahy called Stenger a friend and said he would feel betrayed if the allegations proved true. The senator told reporters he believed reforms of the EB-5 program he has pushed for over the past few years, including audits of projects and mandatory project site visits, would have uncovered the fraud sooner.
"I'm outraged at what happened up there," Leahy said. "I'm glad that the SEC and the Justice Department are involved. I know all the people, Republicans and Democrats, are hoping this will be cleared up. I think everybody involved, Republicans and Democrats, are trying not to make a political thing about it."
Leahy said he will not release the emails in question because he is a privacy advocate.
"We don't release emails," Leahy said. "I've been the privacy champion in the Senate. We get emails from battered spouses, people with adoption, immigration problems. I tell everybody, everybody with emails, 'I will keep your emails private. If you want to release my emails back to you, you're free to do that.' That's guided our standard for 40 years, started with mail and email."
The senator has said he has had no communication about the investigation with Shumlin, the Securities and Exchange Commission, Vermont Attorney General Bill Sorrell or Eric Miller, the U.S. District Attorney, who Leahy recommended to the post last year. Miller is married to Shumlin's former chief of staff Elizabeth Miller.
Milne has demanded that Leahy disclose all flights he has taken over the past five years — "as a guest of, host for or fellow passenger — with Stenger and Quiros, EB-5 investors, SEC personnel, the Vermont Attorney General, Gov. Peter Shumlin, and U.S. attorneys.
"As the EB-5 program's self-proclaimed 'leading champion,' Pat Leahy traveled the world to help recruit investors into this alleged Ponzi scheme," Milne said in a statement. "Pat Leahy needs to clear the air regarding what he and his office knew, when they knew it, and what he's done—and failed to do—by releasing information."
Leahy said his travel records are public, and he said he never went on "an EB-5 trip" to promote the Jay Peak projects specifically.
"On some of my official travel for other things, they've had some meetings I've dropped by, but I've not done an EB-5 trip," Leahy said. "And just as I drop by anytime, if I'm in a country — if anybody the Vermont chamber of commerce or others are talking about businesses — I would drop by that. I've done that with companies that have done business on military matters and others, but no I [have not], nor have I ever had any business in my 40 years here pay for any of my travel."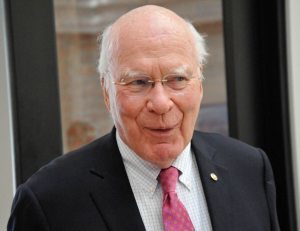 Documents show that in April 2014, Leahy and Rep. Peter Welch attended an EB-5 immigrant investor meeting Stenger arranged in Shanghai. Leahy said he stopped in to the meeting as part of a multi-country trip on trade and the banning of landmines.
Leahy has a long-running relationship with the Jay Peak CEO. Leahy invited Stenger on a trade mission to Ireland in 2009, and in a letter of support written later that year, Leahy congratulates Stenger "on the tremendous growth you have shepherded at Jay Peak and throughout Northern Vermont." The senator says he is pleased to have "worked with you to make this effort a success." The letter was part of promotional materials given to investors who subscribed to the Q Burke resort project, which was only partially completed.
Leahy also intervened with federal regulators to protect the program. In 2010, the Vermont senator asked then Alejandro Mayorkas, the director of the U.S. Customs and Immigration Service, to make an exception for Vermont's EB-5 program that would allow the Vermont EB-5 Regional Center and other EB-5 centers around the country to count out-of-state, indirect jobs. In a reply in December of that year, Mayorkas agrees to Leahy's interpretation of the job creation requirements of the law.
"USCIS interprets the law to require that a regional center focus its EB-5 capital investment activities on a single, contiguous area within the defined geographic jurisdiction requested by the regional center," Mayorkas writes. "Nevertheless, we agree that the law does not further mandate that all indirect job creation attributable to the regional center take place within that jurisdiction. I will, therefore, ensure that USCIS policy reflects this understanding of the law." Mayorkas was later investigated for giving preferential treatment to certain EB-5 projects run or championed by high profile Democrats.
A year later in December 2011, Leahy asked Stenger to testify in Congress in December 2011 to tout Jay Peak as a shining example of how EB-5 funds could be used to boost economic development in rural areas, and in 2012, Vermont's senior senator held his 50th wedding anniversary party at Jay Peak.
For the first four years of his tenure as governor, Peter Shumlin promoted the Jay Peak, AnC Bio and Q Burke developments and his administration offered little scrutiny of the projects.
The governor appeared in a promotional video for Stenger in which he said the projects were audited, but the developments were not audited by the state or anybody else. Under the Shumlin administration's watch, the Jay Peak developers also did not submit quarterly reports as required under an agreement with the state. Shumlin went on a $100,000, 10-day trip with Stenger and an entourage to promote the state regional center and the Jay Peak projects in September 2013.
Fees to the state, which were supposed to be paid up front by the developers, were never "billed," and state officials won't say how much is owed. If the current fee structure was applied to the projects, the developers would owe about $2 million to the state.
In August 2014 the Vermont EB-5 Regional Center suspended the AnC Bio and Q Burke projects because of questions about the developers' financial representations and unwillingness to provide the state with audits, or general ledgers. At the end of September that year, Shumlin asked the Vermont Department of Financial Regulation to manage the financial oversight of the Jay Peak projects. Five months later, he intervened in the regulatory process and met with the developers. Shortly afterward, both projects were partially approved, and Quiros and Stenger were allowed to continue soliciting investors for Q Burke and AnC Bio under new conditions for more than a year — until the SEC brought charges against the developers last month. In the meantime, a hotel at Q Burke was completed.
In the 2012 and 2014 election cycles, the governor received $26,000 in donations from the developers.
Days before the SEC filed a lawsuit in federal court, the Shumlin administration attempted to destroy emails not related to EB-5 from five former staffers, including Alex MacLean, a top aide who left the governor's office for a senior manager position with Jay Peak in 2013. The governor's office released a "representative sample" of three months worth of emails April 29. The following Monday, the Shumlin administration said it would cost as much as $20,000 for the Vermont press corps to obtain the remaining 21 months worth of communications.
Scott Coriell, a spokesman for the governor, has said the email deletion request, which was made on April 1, had nothing to do with the fraud case.
Emails and other communication about Vermont's EB-5 program have been put on litigation hold by the Vermont Attorney General's office.
https://vtdigger.org/2016/05/09/milne-calls-on-leahy-to-release-all-eb-5-communications/
Mentions
Litigation Cases
States
---
Securities Disclaimer
This website is for informational purposes only and does not constitute an offer or solicitation to sell shares or securities. Any such offer or solicitation will be made only by means of an investment's confidential Offering Memorandum and in accordance with the terms of all applicable securities and other laws. This website does not constitute or form part of, and should not be construed as, any offer for sale or subscription of, or any invitation to offer to buy or subscribe for, any securities, nor should it or any part of it form the basis of, or be relied on in any connection with, any contract or commitment whatsoever. EB5Projects.com LLC and its affiliates expressly disclaim any and all responsibility for any direct or consequential loss or damage of any kind whatsoever arising directly or indirectly from: (i) reliance on any information contained in the website, (ii) any error, omission or inaccuracy in any such information or (iii) any action resulting therefrom.