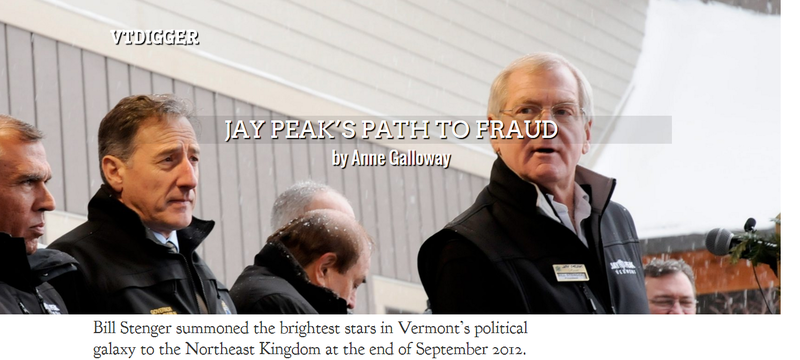 Bill Stenger summoned the brightest stars in Vermont's political galaxy to the Northeast Kingdom at the end of September 2012.
It's not often that the governor and the entire congressional delegation visit Newport. But on Sept. 29, 2012, they all came — Sen. Patrick Leahy, Sen. Bernie Sanders, Rep. Peter Welch and Gov. Peter Shumlin – to pay a visit to this city of 4,500 on the Canadian border that is home to an animal feed factory, an undeveloped lakefront and not much else.
The gathering itself was singular, and the announcement the CEO of Jay Peak made that sunny day three and a half years ago was historic. Stenger had already secured more than $200 million and created more than 1,200 jobs as part of a redevelopment at the Jay Peak ski area.
Now, on the heels of that success, Stenger promised to bring $600 million more in capital to two other impoverished towns in the Northeast Kingdom — Newport and East Burke — as part of a massive development scheme that he declared would transform the poorest region of the state and bring 10,000 additional jobs to Orleans County.
All that money for the Northeast Kingdom Economic Development Initiative, he told reporters, politicos and locals, would come from hundreds of foreigners who were willing to invest $500,000 each in the projects in exchange for the promise of a green card and eventually permanent residency. The investors, Stenger pledged, would also get their money back with a return on investment, and in a unique arrangement, the state was charged with monitoring the projects.
With more than a half billion dollars in additional funding from the EB-5 immigrant investor program, Stenger planned to build new trails at Jay Peak, an airport terminal facility in Coventry and a hotel and elite athletic center at another ski area in East Burke. But most of the development would be centered on Newport. Stenger proposed to construct a window manufacturing plant, a five-story office building on Main Street and a hotel, marina and conference center.
The "crown jewel," as Stenger has described it, was a state-of-the-art biomedical campus in Newport for stem cell research and the manufacture of organ replacement devices.
The proposals for the suite of seven projects were so exhaustively detailed, Stenger held a daylong press conference in three locations to explain how the plans would proceed. Everywhere he went the politicians cheered.
It was the biggest economic development scheme the state had ever seen, and the outpouring of support from local residents was immediate. His remarks were punctuated by sustained applause.
Newspapers quoted local residents and politicians who were bowled over by the initiative and used adjectives like "magnificent," "spectacular" and "amazing." A sign went up on the Newport municipal offices not long after thanking Stenger for bringing jobs to the area.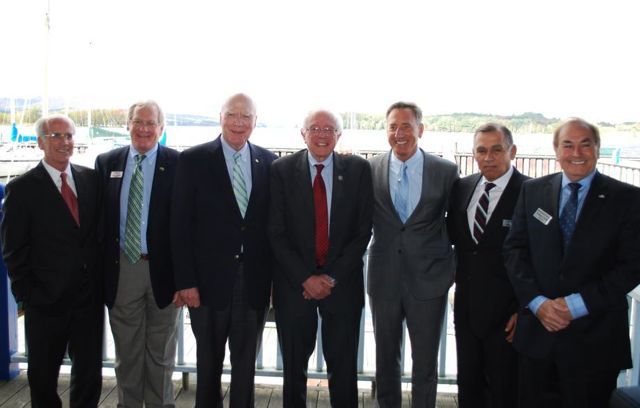 The governor and the delegation were equally effusive at the press conference.
"What we are seeing today is something of extraordinary importance," Senator Sanders told reporters. Shumlin, Leahy, Sanders and Welch posed for photographers with Stenger and his partner, Ariel Quiros. Three of the pols (Sanders excepted) would go on to promote the Jay Peak projects to investors on trips to China through the Vermont EB-5 Regional Center.
Shumlin declared that Stenger was the "Michelangelo" of EB-5 and had "a magical ability" to attract foreign investors. Leahy, who pushed through reauthorization of the national EB-5 program that month, said the best part was "it's not going to cost taxpayers one cent."
Three and a half years later, Stenger's starstruck dream has dissolved into a black hole of pending litigation, finger-pointing and the airing of dirty laundry.
On April 14, the Securities and Exchange Commission charged Stenger and Quiros with 52 counts of fraud for misusing $200 million in immigrant investor funds out of $350 million to be used for the construction of hotels, condos and amenities at the Jay Peak and Q Burke resorts. The state of Vermont, in coordination with the SEC, is also suing the developers for defrauding investors.
The "Ponzi-like" scheme began when Quiros used investor funds to purchase the Jay Peak Resort back in 2008, the SEC alleges. The Miami businessman then backfilled construction costs for the first investor project with money from new investors, regulators say. That pattern continued over a seven-year period for seven different projects. Quiros also borrowed against investor funds, and from 2009 to 2012 incurred $105 million in margin loan debt, according to the SEC.
At a press conference last week Shumlin soberly described the chain of events that led to the state and federal investigations. The governor said he and members of the administration who were responsible for overseeing the projects "feel betrayed."
In the same breath, Shumlin praised the state probe of the alleged fraud and took credit for making a structural change to the Vermont Regional Center in January 2015 that gave the Department of Financial Regulation jurisdiction over EB-5 projects and the authority to investigate Jay Peak. Prior to that time, the regional center was responsible for both promoting and regulating developments. Shumlin told reporters, "I realized we needed a better system that didn't ask one state agency to promote and oversee the EB-5 programs."
When asked if there was more the state could have done to prevent the alleged fraud — the largest in Vermont history — Shumlin said, "Obviously, we can all sit here and say who should have done what when differently and we have done a lot of inner searching in my administration over the last year as this has become more obvious to us, but I think the answer is that at the heart of it, there's a certain amount of trust in the partnerships that we have with the private sector and government and we have found in the process we set up that that trust was misplaced, allegedly misplaced."
But for several years the state had known that there was a problem with the finances at Jay Peak and chose to ignore it.
A former business consultant, Douglas Hulme, who worked closely with Jay Peak warned immigration attorneys of the suspected misuse of funds. In the spring of 2012, the Shumlin administration spoke with Hulme about his concerns, documents show. Although it is not known what was said at the meeting, it is clear that state officials did not investigate Hulme's allegations, nor did they respond fully to questions from an immigration attorney and an EB-5 financial advisor.
Four months later, the Shumlin administration and the state's congressional delegation gathered in Newport to support Stenger's plan to bring an additional $600 million in investor funds to the state at the much ballyhooed daylong press conference.
Overwhelming political support at the highest levels of government and the close relationship between developers and state officials gave the developers time, and the opportunity, to perpetrate the fraud, EB-5 analysts say.
Lax state oversight gave the developers room to maneuver and allowed the deception to go undetected for more than seven years.
Politicians who wanted Stenger's job creation plans to succeed unwittingly helped to facilitate the alleged fraud by attending promotional events with the Jay Peak CEO in China, Vietnam, South Korea, Hong Kong and Taiwan.
As Stenger put it in a 2013 promotional video disseminated to investors: "One of the reasons our EB-5 projects have been so successful has been the wonderful relationships we have at the local, state and federal level."
Shumlin appeared in that video and told investors that all of the Vermont Regional Center projects were audited by the state. "Vermont is the only EB-5 program that covers the entire state of Vermont and is audited by the state of Vermont," Shumlin said. "We make sure that our EB-5 programs are good investments for the investor and good economic development job creators for the state of Vermont." In the summer of 2014, the state asked Stenger to take the video down.
In fact, the Jay Peak, Q Burke and AnC Bio Vermont projects were never audited, as advertised, and the state failed to collect quarterly reports from Stenger and Quiros, as required under an agreement with the developers.
Michael Gibson, a registered financial EB-5 advisor who has written extensively about the immigrant investor program, says that if the state had reviewed the financials from the beginning, "They would have discovered in one hour or less, the misappropriation of funds."
"This fraud went on almost 10 years, to me that's unconscionable," Gibson said.
Investors say they were drawn to the Northeast Kingdom EB-5 developments because the state of Vermont was charged with monitoring the projects, and the backing of prominent politicians gave the projects an air of respectability and safety. Both Leahy and Shumlin, for example, wrote letters of support for the Jay Peak projects and the AnC Bio Vermont biomedical campus, which the SEC alleges is "nearly a complete fraud."
In all, about 700 foreign investors from 74 countries were duped. It's not clear whether they will recover their money, and several hundred investors who are in the middle of the immigration process may not be able to obtain residency in the United States as a result of the alleged fraud.
Mohammed Adil, an Indian investor who is a CEO of a company in Dubai, said "For someone sitting so far away, the governor's promise means something."
Adil, an investor in the Stateside project at Jay Peak, says he was attracted to the EB-5 program in Vermont because he thought it would be a safe investment.
"I come from a country where citizens cannot always count on the government and corruption abounds," Adil wrote in a letter to Sen. Patrick Leahy. "But America is supposed to be different, that is why we are so trusting in giving over our savings to Vermont, knowing it would be protected by the appropriate state and federal agencies."
Adil holds a degree from Harvard University and he brought his family to the United States to give his four daughters an opportunity to obtain a first class education. Now, he doesn't know if his families' applications for permanent residency have been jeopardized by the fraud, let alone whether he'll get his money back.
"I personally believe the senator [Leahy] and the governor [Shumlin], who have sold this, should come to our rescue, because who can you trust more than the government?" Adil said.
BOOSTERISM FROM VERMONT'S POLS
Economic development in Vermont is priority No. 1 for Vermont governors and members of the congressional delegation. With the exception of IBM, the state has not traditionally had a strong manufacturing base. For six decades, tourism has been a major source of revenue for the state and the ski industry is a prime driver.
Stenger and Quiros proposed both tourism and high tech manufacturing jobs for the state's poorest region, and that combination proved irresistible for the state's leaders, all of whom were taken in by the prospect of creating thousands of jobs in the state's poorest region.
When Quiros bought Jay Peak resort in 2008, Vermont had the only state-run EB-5 regional center in the country. The developers promoted the Vermont Regional EB-5 Center's oversight as a big plus for investors who were concerned about the riskiness of the investment.
Stenger enhanced that false sense of security and safety in the Jay Peak investments by enlisting the state's top politicians in a marketing campaign that lured hundreds of investors into the program.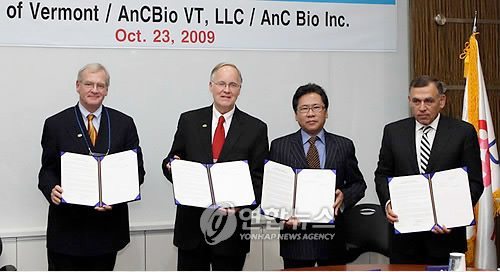 Republican Gov. Jim Douglas flew to South Korea, in October 2009 and signed an agreement that gave Quiros the go-ahead to solicit funds from investors for AnC Bio Vermont. In an interview last year about his trip, Douglas recalled that there was a surprising lack of activity at AnC Bio Korea, the Korean plant that was directly affiliated with AnC Bio Vermont.
Five and a half years after Douglas' tour of the facility, the headquarters of AnC Bio Korea was sold in a liquidation auction.
Sen. Patrick Leahy, D-Vt., who described Stenger as a "friend" after the SEC allegations came out, has a long-running relationship with the Newport businessman. Leahy invited Stenger on a trade mission to Ireland in 2009, and in a letter of support written later that year, Leahy congratulates Stenger "on the tremendous growth you have shepherded at Jay Peak and throughout Northern Vermont." The senator says he is pleased to have "worked with you to make this effort a success." The letter was part of promotional materials given to investors who subscribed to the Q Burke resort project.
Leahy asked Stenger to testify in Congress in December 2011 to tout Jay Peak as a shining example of what EB-5 funds could do to boost economic development in rural areas, and in 2012, Vermont's senior senator held his 50th wedding anniversary party at Jay Peak.
Two years later, Vermont's senior senator traveled to Shanghai with Rep. Peter Welch, D-Vt., to promote the Vermont Regional Center in general and the Jay Peak projects in particular, according to fliers provided by an investor.
At the press conference last week, Shumlin, a Democrat, said he inherited the problems with the program, which started before he took office in 2011, implicating his predecessor, Douglas.
But Shumlin, in his capacity as governor, accepted more in campaign contributions from Stenger and Quiros than any other state politician, and he went to great lengths to promote the Vermont Regional Center and by proxy the Jay Peak projects.
In 2011, the governor went to Miami with Stenger to give a presentation about the regional center at a seminar for immigrant investors, and he wrote a letter of support for the biomedical project in October 2012 that was included in a packet Stenger gave to investors. "I look forward to the future success of the AnC Bio Vermont project and am available to meet at any time to assist in its development," Shumlin wrote.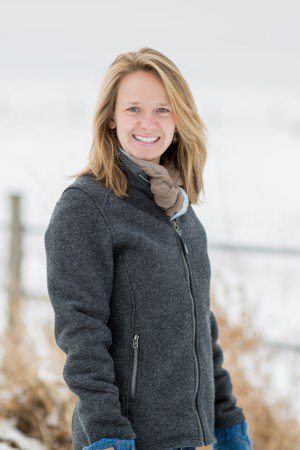 Alex MacLean, a close aide who ran Shumlin's election campaign, announced she would be taking a job with Stenger in November 2012. In her new role at Jay Peak, MacLean worked alternatively as an investor relations manager, strategic communications director and project manager of the Renaissance project, the proposed office building in Newport.
Two months later, Shumlin gave an extensive shoutout to Stenger and Quiros in his State of the State address.
In September 2013, the governor went on a weeklong trip with MacLean, Stenger, Lawrence Miller, the secretary of the Agency of Commerce and Community Development, to China and Vietnam. Jay Peak paid $100,000 for travel expenses.
At some point in 2013, MacLean was involved in the production of a promotional video of the governor in which he explains to investors that the state audits all of the EB-5 projects in Vermont. The video was translated into Chinese. In a statement released when VTDigger reported on the video in October 2014, the governor's office said Shumlin recognizes the agency "does not audit these projects, but provides independent oversight."
WHAT THE STATE KNEW WHEN
On February 28, 2012, Douglas Hulme, through his Florida-based company Rapid USA, sent notification to over 100 immigration attorneys who had represented Investors in Jay Peak programs that he was severing ties with Stenger and Quiros. Hulme stated in his February 2012 missive that "he no longer had confidence in the accuracy of representations made by Jay Peak Inc., or in the status of and disclosures" made by the Jay Peak developers. Hulme had worked with Jay Peak developers for over five years but has since consistently refused to comment to press on what eroded his faith in the Jay Peak developers.
In early March, 2012, just over a week after Hulme's missive, James Candido, who was the Vermont regional center director at the time, told Seven Days that he "spent the entire day at Jay after that letter."
"There was absolutely nothing that was out of the ordinary," he said.
In the same article Candido laments "Within EB-5, if there was any fraud happening, we would find it very quickly."
In retrospect, Candido's daylong vetting of Jay Peak financials stands in stark contrast to the 15-month investigation conducted by the Department of Financial Regulation that resulted in a suit leveling $185,000 in fines against Stenger and Quiros.
But back in the spring of 2012, behind the scenes, the state was starting to take heat from EB-5 attorneys and consultants who were raising questions about how the regional center was vetting projects, internal memos show. An attorney for a Jay Peak immigrant investor wrote on March 29, 2012, to John Cronin, the former director of securities for the state, asking to talk about the Rapid USA email and what it meant for his client. Cronin thanked Terenik Koujakian, the attorney from California, for writing and told him that the Vermont Securities Division was collecting information about the private placement offerings provided to investors but "is not conducting an investigation of Jay Peak."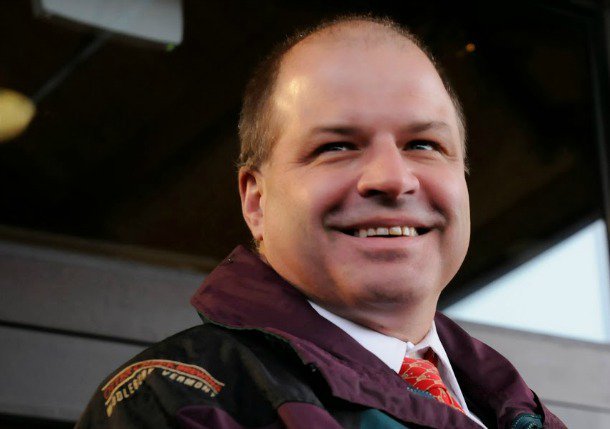 On April 4, 2012, James Candido wrote to Hulme on behalf of Lawrence Miller, the secretary of the Agency of Commerce and Community Development, to request a conference call with Hulme, according to emails obtained through a public records request.
Shortly afterward, state officials arranged a telephone conference call with Hulme, documents show. In an email, Candido explained the purpose of the call to Hulme. "Lawrence wants to discuss in detail the reasons for the departure from the Jay Peak project and your direct concerns about the project that led to the company's departure. Go over some of the marketing exercises you currently are employing with Vermont projects."
Meeting minutes for the conference call that was scheduled for May 4, 2012, have not been made available. Public records requests indicate that participants scheduled to be on the call included Miller, Candido, Deputy Secretary Patricia Moulton, Hulme and Hulme's attorneys.
Miller declined to comment on the substance of the meeting.
Public records show that Miller met with Stenger on May 17. In a subsequent email, Stenger wrote that he spoke to Candido following the call and asking for Miller's input.
"James [Candido] briefed me somewhat on the Douglas [Hulme] call. I wanted to ask your perspective on it, and if you want anything from me. I have a paper trail on all our interaction [sic]. If you would like that or anything else, please let me know. Best regards, Bill."
On May 21, 2012, Miller responds to Stenger's email: "I don't feel a need for any further information at this point Bill. Everyone is fully consistent with each other."
Instead of investigating allegations that Hulme may have brought during the call, Miller appeared to have ignored them. In June 2012, Miller sent a letter to Hulme accusing him of "unfair and deceptive marketing."
And then, just four months later, in September 2012, with the backing of the state's highest level politicians, Stenger announced $600 million in additional immigrant investor funded projects which included the AnC Bio and Q Burke projects.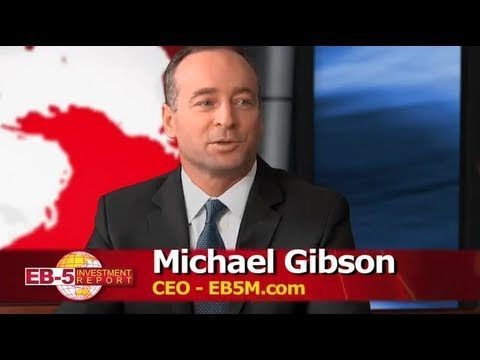 Also in April 2012, Gibson had sent a three-page analysis of SEC regulations to Cronin. He alleged that Jay Peak was violating state securities laws. The Jay Peak developers hadn't filed a Form D with the SEC for any of the projects, for example, he said. The Form D notifies federal regulators that a business is exempt from standard securities offerings.
The email was forwarded to John Kessler, the regional center attorney, who replied: "As I explained in my earlier email, there are certain limits to what James and I can do for the Vermont Regional Center, and naturally we pay attention to USCIS and other informational resources, such as AILA," Kessler wrote. "We'll continue to keep up, and hope that, on balance, more attention to EB-5 leads to greater awareness and support when it comes time for program renewal."
STATE COULD HAVE PREVENTED FRAUD
Gibson says he wasn't surprised when news broke last week about the SEC fraud case. It's the largest incidence of fraud, he says, in the EB-5 program so far.
"To me, it was inevitable there was going to be a time when they could no longer repay the investors," Gibson said. "The only way to repay the early EB-5 investors was to take money from new investors coming in – through a Ponzi scheme."
Gibson says federal regulators stepped in when the state abdicated its responsibility to shut down Jay Peak and the situation started to spiral out of control.
"The SEC saw this as being an extremely dangerous situation," Gibson said. "Their concern was not just the $200 million loss — they saw they could be facing a $400 million to $500 million loss if it had been allowed to go unchallenged."
The state he said should be held accountable for the fraud because the regional center was "completely negligent in the monitoring and compliance of this offering."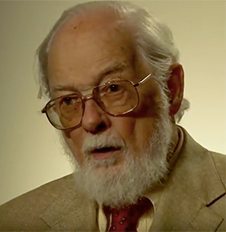 David North, a fellow with the Center for Immigration Studies, says the Jay Peak fraud case is one of the three biggest in the short history of the EB-5 program, pointing to similar problems in Chicago and South Dakota. North says the Vermont Regional Center was "oblivious to what was going on," and obviously didn't do enough.
"For years it was much too relaxed," North said. "If someone had looked at where the money was stored and had found it in margin accounts – well, that's not really where they were supposed to put investors money."
Spot audits would have quickly shown that Quiros was taking out margin loans against the investor accounts, he said. AnC Bio, he says, was the most outrageous of the projects. "It was totally on paper," North says. "The people working on it hadn't done work for the FDA approvals. One of the things that could have done is call the FDA and ask how the FDA approvals were coming, and nobody did that either."
While the state waited years to take action, North gives the state credit for "eventually owning up to the problem" by pursuing an enforcement action and splitting the oversight and promotional functions of the regional center.
Like other EB-5 investment experts interviewed for this story, North says, the case in Vermont will have a big impact on the program nationally because it comes at an awkward time for supporters of EB-5.
A major part of the program – the $500,000 investment program for rural areas — is up for renewal and will terminate Sept. 30. South Dakota and Vermont were the only rural regional centers, and the program "didn't work in either place," North says.
Leahy is a principal backer in the Senate, and the Jay Peak fraud, North says, strengthens the hand of Sen. Chuck Grassley who is trying to reform EB-5.
"If it can go wrong in Vermont, it can go wrong anywhere," North says."$50 million going missing in Vermont under state government oversight? In New Orleans that's not so surprising, but it's a shocker in Vermont."
TOO GOOD TO BE TRUE
To many locals, Stenger's grand plan seemed too big and too good to be true from the beginning. Skeptics wondered whether Orleans could house 10,000 workers. No one understood how 100s of thousands of square feet in new construction could be completed on an aggressive four-year timetable.
Others questioned the legitimacy of a program that allowed wealthy foreigners to buy citizenship in America where populism is a fundamental value. But most looked the other way.
Since that fateful day in 2012, many of the promises Stenger and Quiros made to investors, politicians and the public proved too good to be true long before the SEC caught up with the Jay Peak developers.
Along the way, partners reneged on deals with the developers, projects stalled, contractors walked off the job and disgruntled investors filed formal complaints with state officials.
Not one of the projects in East Burke and Newport Stenger promised to build three and a half years ago came to fruition.
Stenger and his partner, Ariel Quiros, only made partial progress on only one of the original Northeast Kingdom Economic Development Initiative projects – the Q Burke Hotel and Conference Center. A brand new hotel at the base of Burke Mountain now sits empty, subject to legal wrangling, and the elite athletic center is all but a pipe dream.
One by one, potential development partners pulled out. Menck Windows got cold feet in September 2013 and built a manufacturing plant in Springfield, Massachusetts, instead. Real estate mogul Tony Pomerleau nixed the sale of land for the Newport hotel, marina and conference center less than a year later because he said they didn't have the money.
When the developers held a groundbreaking ceremony for AnC Bio Vermont in May 2015, the governor and members of the congressional delegation who once so enthusiastically championed Stenger and his grand plan were conspicuously absent.
Townhouses at Jay Peak remain half finished. Plans for the airport terminal have been shelved. The developers razed a historic block on Main Street in Newport, and in its stead is an enormous hole in the ground.
To Ariel Quiros, his purchase of Jay Peak was a stroke of genius.
To the federal government, it was where the 8-year Ponzi scheme he orchestrated began.
In 2008, the Canadian owners of Jay Peak wanted to sell. The family patriarch had died and no one wanted to take over. Finding a buyer was difficult. They thought they had a deal with Korean investors but that fell through. Everyone, Quiros said, the locals, the state's politicians, including Gov. Jim Douglas and Sen. Patrick Leahy, pleaded with him to buy the mountain.
Quiros was reluctant.
He knew Jay Peak well. He had visited frequently while growing up in Harlem — his dad was a Greenwich Village chocolate maker — and on high school trips when he got a soccer scholarship to an elite prep school, Trinity Pawling, two to three hours outside the city. Quiros is the youngest of four brothers — a psychologist, an economist, the other killed in Vietnam.
For the last 30 years, he'd spent every Christmas in Jay, where he'd acquired several properties. But Quiros didn't have any interest in buying the mountain, didn't know how to run a resort, and didn't like doing business in the United States.
Operating out of Miami, his business dealings centered on exporting wire and cable to South Korea, where he'd served in US Army and met his wife. Their children were born while Quiros was assigned to Spandau prison in Berlin, where he guarded war criminal Rudolf Hess. Their son, Ary, ran Q Burke Mountain Resort, which was taken over by a federally appointed receivership two weeks ago; their daughter, Nicole, is an accountant. Her former husband, Joel Burstein, was Quiros' account manager at the Florida brokerage firm where the investor funds flowed through.
But the asking price for Jay, starting at $40 million, kept coming down and Quiros said the pressure kept increasing "every day, every day." He got the price down to $23 million, but even better, Quiros told federal authorities, he figured out a way to pay for the mountain using other people's money.
"If you think about what I did and how I did it, you guys are going to say Quiros you're a genius," he told the SEC lawyers in Miami last September. A year earlier in May, in their first session, he told the feds they'd understand it was all legal after "teaching" them what he'd done.
"I'm very proud about my project. I'm very proud of what I did. I'm very proud how I did it. It's a matter of teaching and showing you guys what I did, is my pleasure, it truly is my pleasure," he said in 2014. "I want you guys to know as much as you can. And I think in the end, everything will be explained. But it has cost me a lot of headaches."
To Quiros, everything about the Jay Peak purchase — as well as how the $350 million he and partner Bill Stenger raised through the EB-5 foreign investment program was later handled — was all perfectly kosher. Did it by the book, Quiros said, with a team of accountants and lawyers. Claiming otherwise, that he used investor funds improperly, is "one hellacious false statement."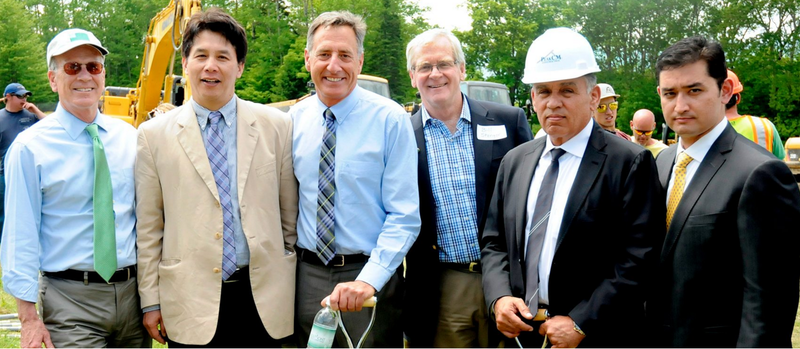 To the Securities and Exchange Commission, a slew of the financial transactions by Quiros and Stenger starting in 2008 brazenly violated securities laws. Among the allegations, they used funds raised for later EB-5 projects to cover costs, overruns or investor payouts on earlier projects. They were also accused of improperly mixing together funds from the eight different projects when they were supposed to keep them separate, and in the case of Quiros, the feds say he siphoned off $50 million of the $350 million for personal use. Throughout, they say the two made misleading statements to investors, didn't disclose critical information, and as a result, have put some investors' money and green cards at risk.
During the 12 hours of questioning, the 59-year-old businessman alternates between complaining and complimenting the SEC attorneys. He happily lays out in specific terms how he did the transactions, acknowledges moves that appear to be clear SEC violations, at times seeming to concede he broke the rules. But just as quickly, he waves off that admission and insists what he did was perfectly fine and approved by his lawyers and accountants, don't worry, the money's all accounted for and all the projects will get built.
By the end of the SEC questioning last fall, however, Quiros' mood is less boastful than when he describes the Jay Peak deal. He complains the two and a half year investigation — "this ridiculous thing here" — has prompted a series of financial institutions to cut ties. The firm he used throughout, Raymond James — his son-in-law Joel Burstein was his broker — has recently shut him down with little notice, he says, and ordered he pay back immediately $19 million outstanding on his margin account.
Quiros then admits to the lawyers that he used investor funds raised for AnC Bio Vermont, one of the last two EB-5 projects, to pay off that loan, but says, like other transactions the feds allege were wrong, he found a way to do it legally. And don't worry, he tells them, that project will get built. You have my word. The feds in allegations said that project, with three-quarters of the money raised and barely a shovel in the ground, a total fraud with no chance of being completed.
At one point, Quiros complains the SEC probe has scared away so many financial institutions he had to tap a high school friend to open an account at Merrill Lynch. Then moments later, Quiros compliments the feds, says he welcomes the probe and promises to help. "Whatever I can do…I'm just two blocks away. Call me. I'll come. I'll do whatever." Please, just expedite the process.
Quiros told the feds he asked Stenger to tell Sen. Patrick Leahy not to worry about the SEC investigation.
The two interrogations also shed light on Qurios' relationship with several key associates, including Stenger, his partner, who, he says, is always sunny like "it's like Merry Christmas, hello." Quiros blamed Stenger and another associate, Douglas Hulme, for cost overruns on two early projects, including the one involving the popular waterpark, costs he said he covered from his "profits."
At one point, Quiros is so angry at Stenger he takes back the handshake deal for a 20 percent stake in Jay Peak Mountain, but later changes his mind and agrees to give Stenger 20 percent of Jay's profits. In a more charitable section, Quiros says Stenger is so respected he could be elected governor. "It's just a matter of him saying yes. They will elect him tomorrow morning." At another point, he portrays Stenger as a dupe who was "outwitted" by Hulme.
When Stenger and Hulme found out how he financed the Jay Peak purchase, Quiros said the two "went crazy." However, Quiros also said repeatedly that Stenger was aware of the details of what he was doing with the investor funds throughout and knew Quiros was borrowing against the "cross margin" account. He said Stenger regularly initiated or approved financial transfers of investor funds to Quiros' myriad accounts, which all served as collateral for his main account.
Quiros saved his harshest words for Hulme, an immigration advisor who helped investors deal with customs and immigration paperwork. Hulme broke off relations with Quiros and Stenger in 2012 with a stinging public rebuke of their business practices. The effect, Quiros said, was "devastating," and made it difficult to raise more money from foreign investors. During the deposition, Quiros calls Hulme a thug, a tyrant, a bully and a gangster and says after the feds close their case, he will track Hulme down and kill him.
"It's terrible what that son of a bitch did. I will — when this SEC gets over with, I'm going to go over after that man, I promise you. I will kill that man for what he did," Quiros said.
He says he kept a "black book" on Hulme and Stenger, and "not to throw Bill under the bus," but he was "outwitted" by Hulme on several occasions.
HOW THE ALLEGED PONZI-LIKE SCHEME WAS PERPETRATED
According to federal and state officials, the methods that Quiros used to purchase Jay Peak were similar to the ones he and Stenger are alleged to have used over the next seven years to keep the "Ponzi-like" scheme going over eight different projects in the Northeast Kingdom.
Five of the EB-5 projects have been completed, two are partially complete, one is barely off the ground. In the case of the last one, AnC Bio Vermont, officials, including Gov. Peter Shumlin, say there is little chance now that it will ever be completed. More than three-quarters of the money was raised, but little work has been done and the authorities say it was essentially a complete fraud.
The Ponzi scheme began, according to the SEC, with the 2008 purchase of Jay Peak from Mont Saint Saveur International, Inc. of Canada.
The SEC says Quiros unabashedly used investor funds for two future EB-5 projects at Jay Peak to pay MSSI, even though the former owners explicitly warned him not to do so. Stenger had been raising money for two future projects since 2006. The SEC says after depleting most of those EB-5 accounts to pay the old owners, Quiros backfilled them with Treasury notes, which he bought using other EB-5 investor money improperly as part of the collateral.
Quiros claimed to the feds he used only a portion of the EB-5 investors' monies, funds he claimed he was owed, but he struggled to explain when the feds pointed out he used almost all the money in the accounts before replenishing them with T-Bills that he paid for by borrowing against his account and using other EB-5 money to back up those loans.
That practice — converting the $500,000 investments from foreigners into Treasury Bills, and then borrowing up to 90 percent of their value to pay for other projects and Quiros' personal use — would be a pattern that would be repeated over and over as Quiros and Stenger tried to keep financially afloat, according to the feds, and violated securities laws and investor agreements.
In addition, another way Stenger and Quiros were able to keep going financially was to take out the hefty management fees — 20 percent — and other costs they were due on the half million dollar investments as soon as the money came in. They then used those funds to pay off earlier projects.
The feds also allege Quiros and Stenger regularly and improperly mixed money from several EB-5 projects together. Quiros said he kept the money in separate accounts, but he also talked about keeping the investor funds over the years in two "buckets" divided between the early projects and later ones, some involving downtown Newport.
He also told regulators about using a "one window system" where all funds, including EB-5 investments, all went through Q Resorts, the company he established to buy Jay Peak. He later used investor funds to purchase Burke Mountain Resort.
"So I can control and see," he told the feds. "I wanted to see through one account where all the money went, how did the money flow."
He fully admitted that investor funds, once they were converted into T-Bills, were all used as collateral for his master "cross margin" account that he borrowed against. He seemed to believe that if he turned the investor funds into Treasury Bills that he was not technically using them. He acknowledged investor funds could not be used as collateral, but again, appeared to believe once they were converted that their status changed. He also repeatedly pointed to the management fees and other costs, such as land purchases, that could be taken out of the investment funds and used immediately.
Frequently, Quiros referred to the $500,000 investments as "my funds" until corrected by the government lawyers.
"I clearly understand what you're trying to get at. Whatever funds were consumed were my funds, number one," he said. "But you keep on referring to investors' funds. I did not use investor funds. Whatever funds I took into my account, I had full control, and it was my funds, my corporate funds."
He continued: "Instead of saying investor funds, it's hard for me to agree with you, because some of those investor funds belonged to my company. Some of those investor funds belonged to Q Resorts. Some of those investor funds belonged to the investors. And some of those investor funds belonged to vendors that had already contracted out the work prior to my purchase. So I'm understanding what you're saying. I think now I clearly understand. What everybody's trying to get at is that I used other people's money to buy Jay Peak, and that is one hellacious false statement, very false statement. I can show that, and I've shown that with documents. But you're asking me here, and I will address it to you because I want it to be so clear."
According to federal and state regulators, Quiros and Stenger misused $200 million, more than half of what they raised. The money, the feds say, was "flowing in a circular and roundabout manner among various accounts and entities."
The feds said the misuse started with the Jay Peak purchase and extended all the way to the latest, the Anc Bio Vermont project.
When Raymond James told Quiros they were shutting down his accounts in 2014 because of the SEC investigation and needed him to pay off the $19 million he owed, the feds said he used funds raised from AnC Bio Vermont (also called Jay Peak Biomedical) to close out the account.
Burstein, divorced from Nicole Quiros in 2010, testified how the margin loan was paid off.
"He and his accountants and his lawyers decided that they would take it from the Jay Peak Biomedical account, and they sent it to People's Bank. People's Bank sent it to the Jay Construction account. And the Jay Construction account paid down the margin," Burstein told the lawyers.
"And about how much was paid down?" the SEC lawyer asked.
"Nineteen million, I believe," Burstein said.
Quiros had a different view. He admitted using investor money but claimed the funds were available when he put off a $21 million obligation to a Korean firm for equipment to be used for AnC Bio Vermont, the biomedical center in Newport.
"I had to pay Raymond James. That would have been the sabotage of my company if I didn't pay them down," he testified. "So I paid them down. It's funny. They're the ones who designed this whole program, but they forced me to pay them down. So be it."
Earlier, he described how the Raymond James accounts were set up for the Jay Peak purchase and the idea of converting the $500,000 investments into Treasury notes came about.
"I went to a lot of banks, but the last stop was Raymond James," he said. "They said Quiros, this is easy, we'll put this together, put these money in Treasury bills, you're safe. Don't touch — I told them, you can't touch it. I can't sleep. I'm military. Don't play with me. No stocks. No nothing. I want Treasury bills. And we'll work off this, off the margins. I said, fine."
Burstein testified he felt his obligation ended when Quiros said all of his transactions had been approved by attorneys and accountants. Raymond James didn't want to hold EB-5 money in escrow.
"We can buy Treasury bills. I can give a corporation margin. Those are things within the realm of what I know and what I do," Burstein said.
"We were not about to just delve into the intricate world of Customs and Immigration, EB-5, foreign investors from random countries, escrow accounts, you know, subscription agreements," Burstein continued. "That's beyond our scope of, of what our knowledge base was. And so we made a conscious effort to say, we're just going to be your asset manager."
Quiros told SEC lawyers he put off paying the debt for Korean equipment in order to settle the margin account in March 2014, but he had every intention of paying the Koreans from future investors' money. The AnC Bio Korea headquarters was sold in a liquidation auction in May 2014.
"I wouldn't do that to the Koreans. I made a deal with them, and I will do the deal with them. And they will get their $21 million, and they will get all of the promises that I made to them for which they gave me all of the patent rights and the distribution rights here in the United States," he said.
AnC Bio Vermont, he insisted last fall, would still become a reality.
"I haven't failed in eight projects. I'm not going to fail on this one. That's the best way I can describe it," Quiros said.
And the sooner the investigation could be completed, he said, the sooner he can get back to business.
"I would just like to alert you that the SEC is hindering me from doing my work. I've been successful for the last eight and a half years. I haven't failed one project. And I have built out all of the projects that had to be built until now. I haven't failed once," he said.
Quiros told investigators he had a net worth of $200 million.
He continued: "I do want to tell you that I respect the work that you're doing. I welcome your work that you're doing. But please do whatever you can to expedite this thing, so that I can bring this to a conclusion. I got to get to my banks. I got to get to my resources. A lot of people out there think bad about me. That's okay. That's not a problem. So that's to me, the most important thing I can tell you."
In a Ponzi scheme, funds from later investors are used on earlier projects, typically leaving those later projects short if more investors can't be found.
According to Vermont financial regulators, work to varying degrees remains on three of the eight EB-5 projects and there are insufficient funds to complete them. And with the charges filed, Quiros and Stenger are prohibited from raising more funds and would be facing huge hurdles if they could.
The following projects have not been completed:
Stateside — The hotel has been completed and construction has begun on the 84 cottages, but little to no construction has occurred on the guest recreation center and no construction has begun on the medical center. The estimated total cost for those uncompleted projects was $32 million. That project is fully subscribed. Quiros said he planned to use Jay Peak profits to pay for the rest.
AnC Bio Vermont/Jay Peak Biomedical — site preparation began last April, but construction has not begun. More than $73 million was raised and the state says $42 million was spent and that there are irregularities in the figures claimed by the developers.
Q Burke Mountain Resort — construction of the hotel and conference center is complete, but has not been opened to the public. Construction has not begun on the Tennis Facility, Aquatic Center, or Mountain Bike Park.
http://vtdigger.org/fullimagestory/jay-peaks-path-fraud/
Mentions
Litigation Cases
States
---
Securities Disclaimer
This website is for informational purposes only and does not constitute an offer or solicitation to sell shares or securities. Any such offer or solicitation will be made only by means of an investment's confidential Offering Memorandum and in accordance with the terms of all applicable securities and other laws. This website does not constitute or form part of, and should not be construed as, any offer for sale or subscription of, or any invitation to offer to buy or subscribe for, any securities, nor should it or any part of it form the basis of, or be relied on in any connection with, any contract or commitment whatsoever. EB5Projects.com LLC and its affiliates expressly disclaim any and all responsibility for any direct or consequential loss or damage of any kind whatsoever arising directly or indirectly from: (i) reliance on any information contained in the website, (ii) any error, omission or inaccuracy in any such information or (iii) any action resulting therefrom.