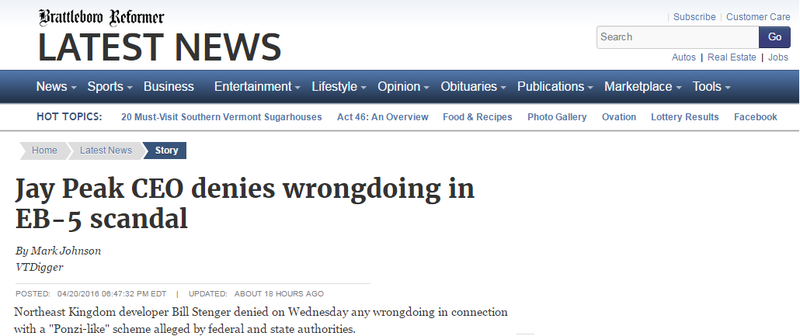 Northeast Kingdom developer Bill Stenger denied on Wednesday any wrongdoing in connection with a "Ponzi-like" scheme alleged by federal and state authorities.
The Jay Peak CEO said he was confident he would be cleared of fraud charges and did not believe anything improper was going on.
Stenger maintains he has not benefited personally, and he says he is heartbroken for his family, the community and the investors in the projects.
He said he would cooperate with authorities and would work to "bring stability and proper financial outcomes" for the projects and investors. He said he "trusted" that the funds raised by he and his partner, Ariel Quiros, were being properly managed and said it was Quiros who suggested project funds be "centralized" in Florida banks.
In his first public denial since the charges broke, Stenger told VTDigger that he has been working at Jay Peak with the company that the federal government put in charge of the resort when the feds filed fraud charges last Thursday.
"I'm heartbroken for my family and my community and the investors," Stenger said. "I have and will cooperate fully with federal and state authorities to bring about stability and proper financial outcomes for the resorts and the partnerships."
Stenger said he is in Vermont. "I'm at Jay Peak where I'm helping the receiver team each day," he said.
"I'm confident I will be cleared of wrongdoing."
The federal Securities and Exchange Commission charged Stenger and Quiros last week with running a massive "Ponzi-like" scheme where they misused $200 million of the approximately $350 million they raised through the EB-5 investor program that allows foreigners to gain permanent residency to the United States in return for a $500,000 investment.
Stenger and Quiros used the funds to build a hotel, water park, condominiums and other projects in the economically depressed Northeast Kingdom of Vermont near the Canadian border.
Federal authorities allege Quiros diverted $50 million of the money for his own personal use, including to buy a luxury apartment at Trump Place in New York City and to pay off margin loans.
The SEC does not allege Stenger used investors funds for personal gain; instead they allege "Quiros orchestrated and Stenger facilitated an intricate web of transfers" between the two's various companies "to disguise the fact that the majority of the seven projects were either over budget or experiencing shortfalls. These shortfalls were due in large part to Quiros pilfering tens of millions of dollars of investor money for his own use."
The SEC accuses Quiros and Stenger of improperly using funds from later projects to cover shortfalls in earlier ones. In a deposition he gave to the SEC last September, Stenger said he and Quiros did nothing improper; he said they covered shortfalls in earlier projects by taking the management fees from investors in later projects, as well as from land sales from those future projects.
Stenger said the overruns in the first two projects, including the Jay Hotel and the Waterpark, were also paid for in part out of current operations. For example, Stenger said Jay Peak revenue went from $7 million or $8 million in 2008 to $60 million in 2015, with a net profit of $12 million. The SEC alleges the $25.7 million purchase of Jay Peak by Quiros — and aided by Stenger — was improperly funded with $21 million from investors in the first two EB-5 projects, which were unrelated to the mountain purchase.
Stenger told the SEC that at one point they had three projects going simultaneously.
On Wednesday, Stenger said: "I kept working on our projects, running Jay Peak and raising capital for projects I fervently believed in and still do."
Stenger revealed in the deposition that he has a "handshake deal" with Quiros to own 20 percent of Jay Peak. He reportedly makes $170,000 a year as Jay Peak president.
On Wednesday, he said: "This whole economic development program has been about the investment of capital in our community. Millions have indeed been invested and thousands of jobs created. I've not benefited personally at all and that was never my priority."
Stenger hinted that he may not have known everything that his partner was doing.
"I trusted that all funds raised were being used correctly and legally. We had all funds for the project centralized out of Florida banks at the suggestion of Ariel Quiros to maximize banking capacity. Something I agreed with," Stenger said.
"I didn't think anything wrong was going on," he added.
The SEC had a different view in the fraud complaint it filed.
"In reality, Stenger extremely recklessly ceded control of investor funds to Quiros. He did almost nothing to manage investor money, even when confronted with red flags of Quiros' misuse," the SEC alleged.
The SEC says Stenger provided investors with "material misstatements and omissions" including "bogus claims." They said investors in later projects — including a medical research facility where the developers had raised three-quarters of the money, done little work and where the SEC says $30 million was siphoned off by Quiros for his own use — are in "grave danger" of losing their investments and right to live in the United States.
However, the SEC filing also says Stenger took "direction" from Quiros.
"Quiros, who orchestrated the fraudulent scheme and through Q Resorts controls the general partner and limited partnerships in all Jay Peak offerings, resides and works in the Miami area. Stenger and the other Jay Peak employees all take direction from Quiros," the complaint says.
The SEC also said Quiros controlled the funds that were raised. According to the SEC, Stenger and Quiros raised more than $350 million from more than 700 investors in 74 different countries. Stenger has done extensive traveling to Asia to raise funds, sometimes bringing along high-ranking politicians, or asking them to speak at events, including Sen. Patrick Leahy and Gov. Peter Shumlin.
"Stenger had no signatory or other authority over the Raymond James accounts. Rather, Quiros opened all of the Raymond James accounts, and had sole authority over them. The Raymond James broker listed on the accounts was Quiros' former son-in-law. Once the Raymond James accounts received transfers from the People's Bank accounts, it was solely Quiros who directed use of the funds," the SEC complaint said.
The SEC said Stenger violated partnership agreements when he transferred money from investors into those Miami accounts at Raymond James controlled by Quiros.
In the deposition, Stenger told the SEC that he does not believe any investor funds from future projects — other than ones he says they were entitled to — were improperly used to pay the cost overruns on the earlier projects, including the water park, which he said has been hugely successful. He said there had been some mingling of accounts very early on in the first two projects, but that it was a hectic time, and no nefarious intent.
"I'm telling you that the subsequent projects that were happening two at a time, and — and our growing operational success, provided us with the opportunity and the ability to continue to retire our obligation," Stenger said in the sworn statement.
"I believe that every — every fund or money that we accessed wasn't — we were contractually entitled to. And the fact that we made the decision to use those funds for the retirement of the obligation, that's what we did," he told the SEC attorneys in the Miami deposition, his second. The first interview was in May 2014.
Asked by attorney Christoper Martin: "How do you know that no investor proceeds were used" other than what was allowed?
Stenger: "Well, because that's what we committed ourselves to. Do I know that — no. I believe that the math is very clear."
John Carpenter, the controller for Jay Peak from October 2009 through March 2011, told the SEC there was so much co-mingling among the funds between accounts "it was quite a mess." When asked about the propriety of using funds from one project to pay for another, Stenger told Carpenter "the use of funds was at his discretion."
Efforts to reach Quiros were unsuccessful. In court papers filed seeking to unfreeze his assets, Quiros denies wrongdoing.
In the deposition, Stenger said he knew co-mingling of funds was not allowed and said each project stood financially on its own.
Stenger told the SEC that each project account was kept separate, and that the only funds used to pay off past obligations from future projects were the developer fees they felt entitled to and other costs.
In a deposition, Stenger said: "Well, each project has land value, developer fees, and those are the principal sources of what we use to meet any obligation we have. And I think it's pretty clear on each one.
Now the gentleman (SEC Attorney Christopher Martin) asked the question about — there was a lot of compression going on. Those projects were happening very fasts. I think we had three projects within about a twenty-four month period. And it may have taken thirty-six months to build, but we — it was very active and aggressive period of time."
Martin: "And you understood, as the general partner of those projects, that you couldn't co-mingle funds between the projects, is that correct?"
Stenger: "Every project stands on its own. Every project has its own budget. Eery project has its own obligations. We have rights to the things that are produced from those projects that we are entitled to by the offering, and we use those proceeds to meet obligations that we had."
In the deposition, Stenger said he and Quiros should have raised more money for the Phase II or Hotel Jay project that included the waterpark, which went $15 million to $20 million over budget, Stenger told the feds.
"You can build an also-ran facility, or you can do a couple of strategic things and make it incredibly effective. And I look back on it, and I'm sorry we didn't expand the offering, but I am very glad we built what we did, because I've seen since the time we built it to now that the impact of that strategic decision, with our eyes wide open, has meant millions of dollars more of revenue to that partnership and to subsequent partnerships. Because the water park is not just an ordinary water park. It's extraordinary," Stenger told the SEC lawyers.
http://www.reformer.com/latestnews/ci_29792333/jay-peak-ceo-denies-wrongdoing-eb-5-scandal
Mentions
Litigation Cases
States
---
Securities Disclaimer
This website is for informational purposes only and does not constitute an offer or solicitation to sell shares or securities. Any such offer or solicitation will be made only by means of an investment's confidential Offering Memorandum and in accordance with the terms of all applicable securities and other laws. This website does not constitute or form part of, and should not be construed as, any offer for sale or subscription of, or any invitation to offer to buy or subscribe for, any securities, nor should it or any part of it form the basis of, or be relied on in any connection with, any contract or commitment whatsoever. EB5Projects.com LLC and its affiliates expressly disclaim any and all responsibility for any direct or consequential loss or damage of any kind whatsoever arising directly or indirectly from: (i) reliance on any information contained in the website, (ii) any error, omission or inaccuracy in any such information or (iii) any action resulting therefrom.