A VTDigger Legal Fight Reveals That Key EB-5 Docs Are Missing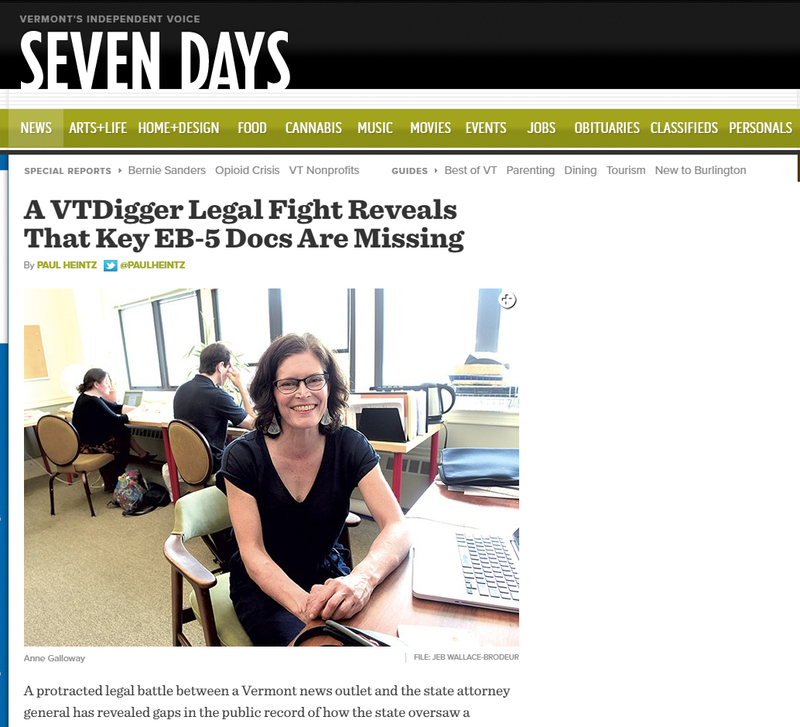 A protracted legal battle between a Vermont news outlet and the state attorney general has revealed gaps in the public record of how the state oversaw a fraudulent development project.
According to a tech company hired to track down the missing emails of a state official, many appear to have been deleted years before the wrongdoing was exposed. Others were found only recently — on a forgotten backup drive in a government storage closet in Montpelier — after the news outlet, VTDigger.org, repeatedly asked for them.
The state's inability to locate key communications raises new questions about whether there will ever be a full accounting of how much Vermont officials knew about the $200 million scheme perpetrated by Jay Peak Resort developers — and whether the government should have done more to prevent it. As regional administrator of the federal EB-5 investor visa program, which was used to fund the developments, the state was required to keep tabs on the projects.
Gov. Phil Scott, who inherited the mess from his two predecessors, former governors Peter Shumlin and Jim Douglas, called the revelation of missing emails surprising and concerning during a press conference last week. In a separate interview, Scott spokesperson Rebecca Kelley said the discovery should prompt a new review of unexamined files. "This is about restoring the public trust," Kelley said. "So if there's documents that haven't been looked at, they should be looked at."
The situation came to light last month at the conclusion of an eight-month legal fight between VTDigger and Attorney General T.J. Donovan over a request for records related to the Jay Peak development. Confidential legal documents obtained by Seven Days show that the tussle became heated at times as the nonprofit news outlet demanded more documents and Donovan's office could not produce them.
In May, four months after VTDigger sued the state for the records, Donovan's office threatened to countersue, accusing the news outlet of violating a settlement agreement and questioning whether it was working in the public's interest or its own.
"It is increasingly difficult to escape the conclusion that your client is using these negotiations to pursue goals unrelated to the settlement of this case," Solicitor General Benjamin Battles wrote to VTDigger's lawyers on May 31.
Months later, Battles wrote that he was "extremely frustrated with [VTDigger's] approach to these negotiations," complaining that the state had spent "literally hundreds of attorney and staff hours — across multiple agencies" responding to its requests.
After participating in two rounds of mediation with the state and acquiring multiple batches of documents, VTDigger withdrew its lawsuit in August. But in subsequent news stories it published, its reporters suggested that they had failed to obtain all the records they sought — including communications between the state and the office of U.S. Sen. Patrick Leahy (D-Vt.), a champion of the EB-5 program.
VTDigger was barred from publishing details of the mediation proceedings because they are confidential. For the same reason, founder and editor Anne Galloway declined to comment for this story.
Donovan, who is charged with defending the state and its officials in lawsuits involving the Jay Peak fraud, said he was simply doing his ethical duty on behalf of his clients. The AG downplayed the seriousness of his office's dispute with VTDigger, saying, "At the end of the day, it's lawyers being lawyers." But he also chided the news outlet for dragging its heels in negotiations and demanding more documents after he believed the state had fulfilled its obligations.
"The goal posts kept moving," Donovan said.
The public records suit is the latest development in a years-long saga surrounding what authorities have referred to as a "Ponzi-like scheme" in the Northeast Kingdom.
In 2016, the federal government charged Jay Peak owner Ariel Quiros and president Bill Stenger with 52 counts of securities fraud, accusing the men of misusing $200 million invested in a series of rural development projects, some of which were never built. The money came from foreigners who invested half a million dollars each through the federal EB-5 program in exchange for green cards. In an unusual arrangement, the state's Agency of Commerce and Community Development operated a federally designated "regional center" that both promoted and regulated the Jay Peak development and other area EB-5 projects.
Quiros and Stenger have settled the federal securities fraud civil suit, and a corresponding one filed by the state, but they and two associates now face federal criminal charges. Both men have denied wrongdoing. Foreign investors have also sued the state.
VTDigger, which raised questions about the fraud years before authorities shut down the projects, has continued to probe the state's role in overseeing them. In December 2017, it filed a public records request for years' worth of financial updates on the EB-5 projects that the state had been required to provide to federal regulators. The news outlet later explained in mediation filings that those documents could "fill in critical gaps in the story as to what state regulators knew or should have known each year that the [Jay Peak] owners were progressing in their scheme."
The state denied the request, arguing that nearly all documents associated with the fraud should be shielded from public view as the various court battles played out. After failing to obtain the financial updates again the next year, VTDigger sued the state in January 2019.
During a mediation session in March, Donovan's office agreed to turn over what it had: a handful of the financial updates, though none from before 2009. In lieu of paying VTDigger's attorneys' fees, as government agencies are required to do when they lose a records suit, the AG's office said it would provide two additional batches of documents: communications between Leahy's office and Vermont officials, and those between a whistleblower and the state.
The news outlet eventually received just 200 pages of Leahy-related documents — including press releases and duplicative email chains — a quantity it later suggested was implausibly small. Leahy spokesperson David Carle said he did not know the extent of his office's communications with the state at the time and wasn't familiar with the AG's search methodology. Congress has exempted itself from public records laws, and Leahy has refused for years to release EB-5-related documents.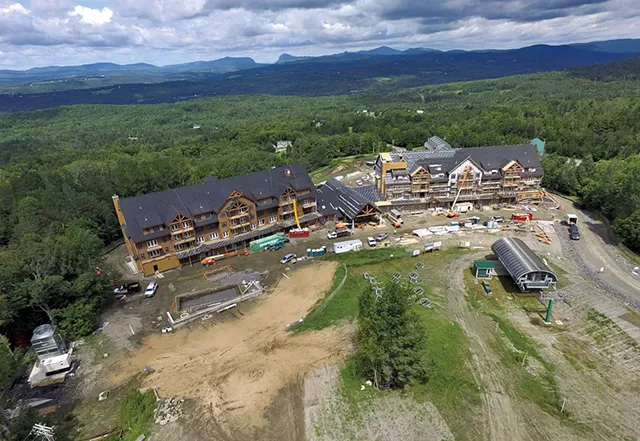 The former Q Burke Mountain Resort
The whistleblower, Florida immigration attorney Douglas Hulme, had spent years steering foreign investors to the Jay Peak projects. In 2012, he had a public falling out with Quiros and Stenger, accusing them in a letter to other immigration attorneys of misrepresenting their finances; he later shared those concerns with state officials. Internal emails suggest that state officials brushed off Hulme's warnings and proceeded to work with and vouch for the developers.
VTDigger's request netted just 22 pages' worth of state communications with Hulme. When the news outlet subsequently obtained another 36 pages of Hulme emails from an unnamed third party, it cried foul — questioning why the state hadn't turned over those documents, too.
VTDigger appeared particularly interested in Hulme's contacts with James Candido, an Agency of Commerce official who ran the state's regional center from 2006 to 2012 and authored the regular reports to the feds. In mediation filings, the news outlet questioned whether Candido knew about the Ponzi scheme and suggested that he "may have had a motive to destroy evidence that would inculpate him at a later date." There is no public evidence establishing that he did so.
Candido did not respond to requests for comment.
Donovan's office eventually hired an outside firm, Competitive Computing, to determine why it couldn't track down Candido's missing emails, particularly those dating to a four-month period in 2010. What the firm found was disturbing: At the time, the state did not regularly back up email data and encouraged employees to download or delete messages when they exceeded "strict storage quotas."
According to a July report from Competitive Computing, an external hard drive containing emails belonging to Candido and other Agency of Commerce officials turned up in an agency storage closet during the review. But the drive didn't include the communications VTDigger had obtained independently, perhaps because those and other emails had been deleted.
Since the hard drive hadn't previously been known to exist, its contents had not been available to state and federal investigators who had probed the matter. And as Competitive Computing pointed out in its report, "It is possible and even likely there may be other email data in similar ACCD archives."
Donovan said it was "hard to believe" that the state had done such a poor job of retaining records a decade ago, and he acknowledged that it was impossible to know what communications may still be missing. "The idea that there was an external hard drive in a closet — I think I'll just say it's frustrating," the AG said. But, he added, his office had found no evidence to suggest that any records were intentionally deleted to avoid accountability.
According to Kelley, Scott's spokesperson, the key to restoring public confidence in the state's handling of the EB-5 scandal is to release as many documents as possible. To that end, the administration made available more than 700,000 pages in March and April, though they are impossible to search without specialized software.
Other documents won't be available to the public for some time. Former governor Shumlin, a close ally of the Jay Peak developers, sealed many of his records for six years after his January 2017 departure from public office.
Shumlin has, however, provided his EB-5-related documents to state Auditor Doug Hoffer, who is conducting an independent examination of the state's role in the Jay Peak fiasco. The former governor and other officials involved with the situation — including Candido — have agreed to be interviewed by the auditor, Hoffer said.
"We're basically trying to tell the story about how the state and successive agency heads and other employees handled this," he said.
But Hoffer can't tell that story, he believes, until the state and federal court cases are complete. "We just don't want to interfere with the litigation," he said. That means a full accounting could be years away.
Donovan, for his part, said he's looking forward to that moment.
"I want the story to be told," he said. "Let's learn from this."
https://www.sevendaysvt.com/vermont/a-vtdigger-legal-fight-reveals-that-key-eb-5-docs-are-missing/Content?oid=28446570
Mentions
Litigation Cases
States
---
Securities Disclaimer
This website is for informational purposes only and does not constitute an offer or solicitation to sell shares or securities. Any such offer or solicitation will be made only by means of an investment's confidential Offering Memorandum and in accordance with the terms of all applicable securities and other laws. This website does not constitute or form part of, and should not be construed as, any offer for sale or subscription of, or any invitation to offer to buy or subscribe for, any securities, nor should it or any part of it form the basis of, or be relied on in any connection with, any contract or commitment whatsoever. EB5Projects.com LLC and its affiliates expressly disclaim any and all responsibility for any direct or consequential loss or damage of any kind whatsoever arising directly or indirectly from: (i) reliance on any information contained in the website, (ii) any error, omission or inaccuracy in any such information or (iii) any action resulting therefrom.