Developer with roots as Tibetan monk firmly planted in capitalism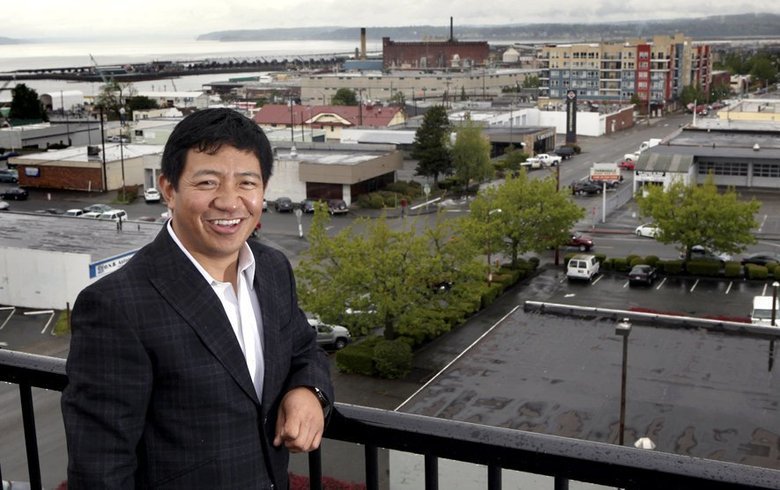 Tibetan Buddhist monk Lobsang Dargey had only been in Seattle for a week when he walked through the door of a University District language school.
"He came in wearing a monk's robes. He had a check for $400 and wanted to know how much English he could buy for $400," recalled Melissa Rivkin, co-founder of the now-closed American School of English.
Fifteen years later, Dargey lives in a suburban home in Bellevue with his wife and daughter. He is a U.S. citizen and no longer a monk. As one of Everett's most influential developers, he is soliciting foreign investors and working on his first King County project.
Dargey's life journey from Buddhism to capitalism, as he puts it, is at once uniquely his own and squarely rooted in the American dream.
But his Horatio Alger story hasn't entirely taken the Buddhist out of the capitalist. He is creating "green" buildings, he's making fresh, locally grown food more accessible, and he marvels at how Americans take their affluence for granted.
Striving to not get too attached to the success or failures of his ventures, Dargey reminds himself of the "ocean of samsara," or cycle of rebirths, in which he believes we live.
"I look at it a little differently than ordinary real-estate investors will do," he says.
"If tomorrow I have no money and I have to go on the street, I have no problem. That's one of the teachings I've been taught. You can't lose those."
In a hometown without electricity, running water or modern medicine, Dargey came into the world in the traditional way: on the first floor of his home, where the goats, sheep, pigs and cows lived.
"I was born next to a pig," he says.
The family cooked on a wood fire on the first floor but otherwise lived on the second floor.
He didn't care much for herding goats because, "They would go into the mountains and not come down. The sheep will not go that high."
When he was 13, he says, his parents "saw something in me" suggesting he was destined for a life other than farming — so they sent him to a Buddhist monastery.
A year later, he became involved in his first development project, going door to door asking for donations, mostly in the form of barley, for construction of a stupa, or dome-shaped shrine.
At 18, Dargey left the monastery with several other monks on an epic 14-month journey, first to the holy city of Lhasa and then to India. The travelers walked most of the way, sleeping on the ground and begging for food.
In India while still a monk, he oversaw every aspect of construction of a boutique hotel for a Buddhist organization.
Now 38, Dargey recruits investors from China and other Asian countries. He declined to discuss details of his journeys to India — which he says was to learn more about Buddhism — and the U.S.
Relations between China and its "autonomous region" of Tibet have become severely strained as some three dozen Tibetans, mostly monks, have set fire to themselves protesting Chinese rule since early last year.
Future was once hazy
In 1997, when Dargey came to the United States on borrowed money, his vision of his future was hazy. He thought about starting "a dharma center," or Buddhist community, but decided he didn't have enough English fluency or spiritual training and knew he would have to earn a living.
"When I got off the airplane I made a commitment to myself. Within five years I wanted to have a house and I wanted to have a green card. That was my goal," he said.
With the help of his sponsor and new friends like the owners of the English-language school, he began taking odd jobs and saving toward his goals.
His first job was painting an orthodontist's office in Federal Way, even though he now admits, "Technically I didn't know how to paint." But after navigating the 2 ½-hour Metro bus ride, with transfers, he did a job good enough to get other painting and handyman gigs.
One day Dargey came to English class "wearing really nice shoes" under his monk's robe, Rivkin noticed. Then he bought a used car and after that saved enough money to buy a Green Lake house with a friend.
Dargey was still struggling with English when he applied for a sales job with Sprint. "We still laugh about the interview," said Kayla Schober, who interviewed and then supervised him. "I don't think I understood much of what he said or he understood much of what I said."
Impressed by his enthusiasm, Schober hired him: "He's gung-ho. I've never seen anybody work that hard." He donned a business suit for work, wore a monk's robe at other times.
"I was very guilty. I say I was a monk but I wasn't doing any monk things. There were rules to be followed," Dargey says. After seeking counsel from his mother and his spiritual teachers in Tibet, he gave back his vows.
Life took a turn when Dargey attended a fundraiser for the Marsha Rivkin Center for Ovarian Cancer Research, founded by Melissa Rivkin's father, Saul, in honor of her late mother. He met the center's director, Tami Agassi, and was smitten.
Dargey called her office, hoping to set up a date. She declined. He was persistent.
"He called me every three months," she recalled "It was a running joke in the office: 'The monk is calling you again.' I'm not a tree-hugger. I'm a girl from Vegas, so it was kind of a little out of my box."
After a year, Dargey wore Agassi down and she agreed to have lunch with him. Six months later they were engaged. If he had known at the outset she was the sister of tennis great Andre Agassi, "I probably wouldn't have asked her out" because of his misgivings about celebrity families.
The couple were married in 2004.
Ready to move on from Sprint, and failing to set the world on fire with a software company he ran on the side, Dargey told his wife his newest idea. "He said, 'I know what we're going to do. We're going to buy a building.' I said, 'We are?' "
He settled on the Everett Public Market, a 100-plus-year-old building near the downtown waterfront that been a livery stable and a Boeing B-29 subassembly plant — but whose roof was leaking and whose largest tenant, an antique mall, was doing little business.
When Dargey introduced himself to Lanie McMullin, Everett's economic-development director, she was impressed — and sure he needed her help meeting local movers and shakers.
"Before I could get to that," McMullin said, "everyone I would run into in town would say, 'Have you run into Lobsang yet?' Great Scott! I walk with Lobsang and everybody hangs out the window, saying, 'Lobsang, Lobsang!'
"Everyone recognized his potential and he had worked his way into the hearts of businessmen all up and down Colby Avenue. They were all willing to help."
While fixing the roof of the public market, Dargey retained a popular restaurant and natural food co-op. He eased out the antique mall and divided the space into modern offices, filling them with health practitioners, counselors, other tenants and his own offices.
He was on his way.
For his next project he renovated the former Federal Building, most recently Cogswell College, and leased it to Chicago Title. Then, in the middle of the recession, he developed his first new building, the six-story Potala Village Everett — named after the Potala Palace in Lhasa — with 108 apartments above first-floor retail space.
Operations cross ocean
Dargey now has permits for Pagoda Village Everett, which will cover a full block with 218 apartments, a Hampton Inn, a community kitchen and a year-round indoor farmers market that will sell produce from local farms. His first four projects are within blocks of each other. Pagoda Village is being financed primarily by well-heeled foreign nationals who, through the federal EB-5 program, can become permanent U.S. residents by investing at least $500,000 in a project that creates at least 10 jobs in a high-unemployment area such as Snohomish County.
Dargey has investment agents in China and two receptionists in his Everett office, one who speaks English, the other Mandarin.
Dargey's first King County project, Potala Village Kirkland, won't use EB-5 immigrant financing. It has drawn opposition from neighbors who say 143 apartments on 1.2 acres would be out of scale with adjacent zoning. The Planning Commission and City Council are taking a fresh look at the zoning.
Dargey scaled back his original plan but hasn't backed off from the project.
Carrying Buddhist values into his American business life is "really hard," Dargey says. "As a human being we spend a lot of time on things we don't have that we're trying to get and when we get we don't know how to appreciate. We search for more things."
He admits he's become too attached to things. At the same time, he thinks he could handle a major business reversal. "If a project goes south I'm not going to kill myself, I'm not going to jump from the roof. I tried the best that I can, so I'm not going to do it."
http://www.seattletimes.com/seattle-news/developer-with-roots-as-tibetan-monk-firmly-planted-in-capitalism/
Mentions
Litigation Cases
States
---
Securities Disclaimer
This website is for informational purposes only and does not constitute an offer or solicitation to sell shares or securities. Any such offer or solicitation will be made only by means of an investment's confidential Offering Memorandum and in accordance with the terms of all applicable securities and other laws. This website does not constitute or form part of, and should not be construed as, any offer for sale or subscription of, or any invitation to offer to buy or subscribe for, any securities, nor should it or any part of it form the basis of, or be relied on in any connection with, any contract or commitment whatsoever. EB5Projects.com LLC and its affiliates expressly disclaim any and all responsibility for any direct or consequential loss or damage of any kind whatsoever arising directly or indirectly from: (i) reliance on any information contained in the website, (ii) any error, omission or inaccuracy in any such information or (iii) any action resulting therefrom.