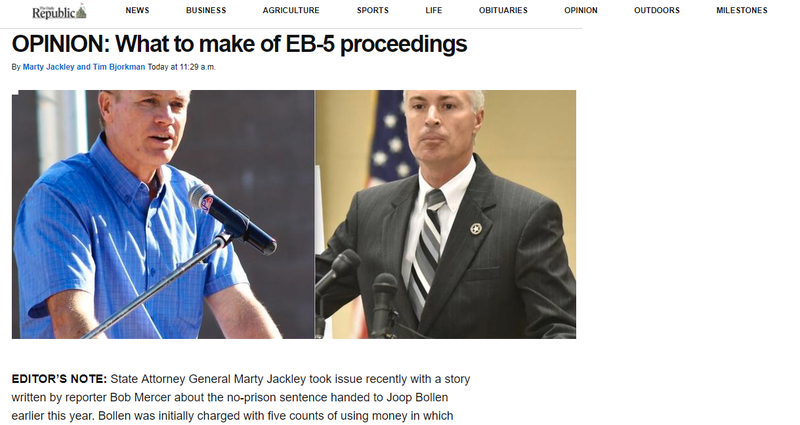 State Attorney General Marty Jackley took issue recently with a story written by reporter Bob Mercer about the no-prison sentence handed to Joop Bollen earlier this year. Bollen was initially charged with five counts of using money in which state government had a security interest. He pleaded guilty to one count. Jackley agreed to the plea arrangement. He is a candidate for the Republican nomination for governor. Here is the response from Jackley:
Democrat Congressional Candidate Tim Bjorkman's recent statements and invitation to discuss the EB-5 court proceedings are somewhat puzzling and highlight why it may have been important for him to have considered the facts and the law before making such statements.
First, state law clearly limits what a state prosecutor could charge. Our Supreme Court overruled a jury conviction for theft in Bon Homme County because it involved a similar security interest. The Court went so far as to instruct state prosecutors, "At best, the Bank held a security interest in the vehicles, SDCL 44-1-12 specifically criminalizes the 'destruction, disposal, or removal of personal property subject to [a]security interest.' "
Mr. Bollen was charged by the grand jury and after a hard-fought motion to dismiss the charges, he was convicted of that available felony crime involving the security interest under SDCL 44-1-12. Second, as a former judge, candidate Bjorkman should appreciate that the trial judge sentences a defendant not the prosecutor. Having appeared before the sentencing judge, I can assure the public that the sentencing judge is a very good and respected judge, and he deserves better than statements offered by candidate Bjorkman. Despite what has been suggested, the sentencing Judge had little choice but to give a probation sentence under South Dakota law of presumptive probation.
Third, and perhaps less obvious, if candidate Bjorkman has further concerns he should take those up with federal prosecutors. EB-5 is a federal program that then-U.S. Attorney General Eric Holder had prosecution authority over. We know from the federal authorities in Eric Holder's administration that they investigated this EB-5 case in South Dakota because it is a federal program. However, federal authorities did not bring a single criminal charge, obtain any conviction or obtain any sentence. This is why I encourage candidate Bjorkman to bring his attention to how he plans to improve congressional oversight and its response to federal programs such as EB-5 in order to better protect our tax dollars.
Marty Jackley
EDITOR'S NOTE: Here is the response from retired Circuit Judge Tim Bjorkman, who is the Democratic candidate for South Dakota's seat in the U.S. House of Representatives:
Reporter Bob Mercer recently asked me some questions about EB-5. One was whether I thought Attorney General Marty Jackley should have sought time in prison for Joop Bollen, when Bollen pled guilty to one of the five felony charges he faced last February. I told him yes.
If you remember, Bollen was a state employee who signed a contract with his own company, SDRC, to administer the state's EB-5 projects. By some estimates, Bollen's company made over $100 million on EB-5 deals. After Richard Benda's startling death, Marty Jackley announced that he had been preparing to charge Benda, who was associated with Bollen, for theft, claiming he diverted $550,000 from a state-issued check to Bollen's company. Inexplicably, Mr. Jackley didn't charge Bollen.
In the case Mercer asked me about, the State's DCI investigator concluded that Bollen took over $1.2 million from an indemnity account in which the State had a security interest, and used this money to buy, among other things, hundreds of thousands of dollars worth of Egyptian art.
Bollen was indicted on five Class 6 felony counts. Each carried a maximum sentence of two years in prison and a $4,000 fine. Thus, Bollen faced a potential total of 10 years in prison and $20,000 in fines. In a plea agreement, Mr. Jackley allowed Bollen to plead guilty to a single felony charge, and dismissed the other four.
Mr. Jackley didn't ask the judge to send Bollen either to county jail or state prison.
I believe these kinds of deals erode the people's trust in government and, as a result, our whole state suffers. I told Mercer I thought Mr. Jackley should explain his decisions regarding Bollen's prosecution. I for one would like to know and citizens deserve to know. Some of my comments along with those of Marty Jackley appeared in an August 25, 2017 article.
Mr. Jackley apparently agreed with me on the need to explain his decisions, because he sent an additional response to Mercer after reading my comments. Mercer then invited me to respond to Mr. Jackley's new statements. Let's take a look at them:
Mercer's article reported: "Jackley said Bollen's crime was one of many lower-class felonies the Legislature exempted from prison four years ago. . . . He said lawmakers took prison time off the table for Bollen's crime."
Marty Jackley's statement is not true. Bollen, having pled guilty to a Class 6 felony, could still be ordered to jail or prison as a part of probation. SDCL 23A-27-18.1. So, even with a sentence to probation, Mr. Jackley could have asked the judge to send Bollen to prison for up to six months, on any count Bollen was found guilty of. The reality is that six months in prison, as a part of probation, would have equaled the amount of time Bollen would likely have spent behind bars with an actual two-year prison sentence, once parole rules are factored in.
So when Mr. Jackley blames the Legislature, claiming that they "took prison time off the table for Bollen's crime," he's just wrong.
Similarly, Mr. Jackley's use of the presumptive probation law to explain why he didn't ask the judge to incarcerate Bollen is simply not valid. If he really thought that law limited him from seeking appropriate punishment, why did he dismiss four of the five available felony charges — each of which provided the opportunity for a separate sentence?
How, then, could the presumptive probation law have possibly affected Mr. Jackley's decision-making – since he didn't ask the judge for any incarceration at all?
Instead of explaining why he didn't seek incarceration, Mr. Jackley dodges the question in another way: by falsely suggesting that my comments to Mercer were a critique of the sentencing judge. That's just not true. Mercer's question and my response were both directed to Mr. Jackley's decision not to seek a prison sentence. It was Mr. Jackley I called upon to explain why he didn't seek incarceration. After all, how could Mr. Jackley or anyone else expect a judge to order someone to prison when the prosecutor himself doesn't even ask for it?
Mr. Jackley also claims he could not charge more serious offenses because of a particular court decision and that the charge he got a conviction on was the only one "available." When he made that statement, he apparently didn't have in mind the potential grand theft charge against Bollen for allegedly receiving the $550,000.
But putting that aside and giving Mr. Jackley the benefit of his discretion as to how to charge, let's remember that there was not one but five "available" felony counts in the indictment. When Mr. Jackley dismissed four of them in exchange for Bollen's plea to only one, he dramatically reduced the consequences Bollen faced. There has been no suggestion that the DCI affidavit setting out the other four instances of misappropriation were false, so why did he dismiss them?
In his various responses, Mr. Jackley has laid responsibility for the outcome of the Bollen matters on the Legislature, the federal government, the trial judge, and even me for raising questions! Notably, though, he hasn't acknowledged any personal responsibility for his decisions.
The questions raised are important ones. This isn't about politics, or me, or Marty's campaign for governor. And it's a conversation I would rather not be a part of, but it is important. It is about the need to re-establish integrity in our government. Mercer himself has called South Dakota "Scandal Land." I hate hearing our state referred to that way.
The entire EB-5 affair and Bollen's role in it present disturbing facts that go far beyond what appears here. It is even more disturbing that Bollen experienced a much different sort of prosecution than most South Dakotans would have faced. Prosecutors routinely secure terms of incarceration for regular South Dakotans who are convicted of low-grade felonies and thus entitled to presumptive probation. Even some people convicted of misdemeanors spend time incarcerated. We are right to ask why Mr. Jackley did not seek the same for Joop Bollen.
http://www.mitchellrepublic.com/opinion/letters/4325851-opinion-what-make-eb-5-proceedings
Mentions
Litigation Cases
States
---
Securities Disclaimer
This website is for informational purposes only and does not constitute an offer or solicitation to sell shares or securities. Any such offer or solicitation will be made only by means of an investment's confidential Offering Memorandum and in accordance with the terms of all applicable securities and other laws. This website does not constitute or form part of, and should not be construed as, any offer for sale or subscription of, or any invitation to offer to buy or subscribe for, any securities, nor should it or any part of it form the basis of, or be relied on in any connection with, any contract or commitment whatsoever. EB5Projects.com LLC and its affiliates expressly disclaim any and all responsibility for any direct or consequential loss or damage of any kind whatsoever arising directly or indirectly from: (i) reliance on any information contained in the website, (ii) any error, omission or inaccuracy in any such information or (iii) any action resulting therefrom.