Shumlin Administration Had Evidence Of Alleged EB-5 Fraud 18 Months Before Charges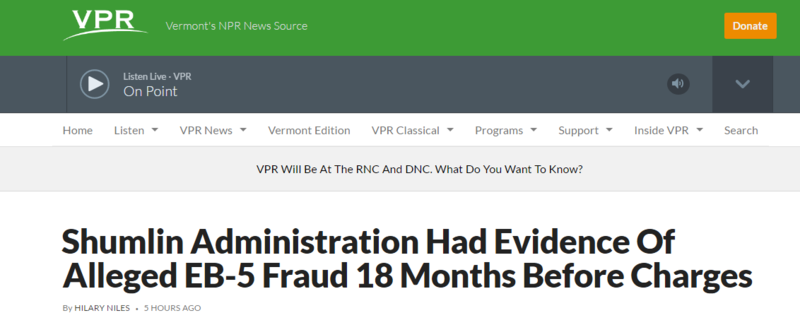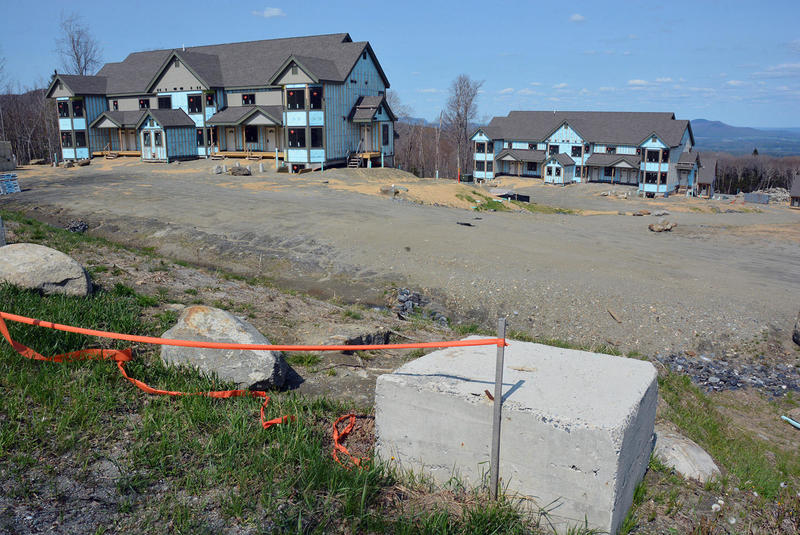 Unfinished suites at Jay Peak's Stateside, one of the many projects funded by allegedly misused EB-5 investments. VPR has found that the Shumlin administration held some evidence of the alleged fraud 18 months before the state filed charges.
A big question has lingered in the months since federal and state authorities charged Jay Peak developers with fraud: What did Gov. Peter Shumlin and other officials know about the alleged scam, and when did they know it?
VPR has found that the Shumlin administration held some evidence of the alleged fraud 18 months before the state filed charges. Officials confirm they had suspicions. But, they say, they made a calculated risk to let the venture continue while investigations were underway.
The question of what officials knew, and when, is important because for months while Jay Peak was under investigation, its principals still solicited more investors.
At an April press conference announcing the charges, Shumlin said despite red flags that stand out in hindsight, there's no way his administration could have prevented this alleged $200 million-plus fraud.
"I don't think there's anything I could have done differently previously without knowing the facts," he said.
The heart of the lawsuits against Jay Peak owner Ariel Quiros and president Bill Stenger is this: The two men allegedly pooled investments from several different developments, when each project's funding was supposed to stay separate. And, Quiros allegedly used those pooled investments as collateral to secure millions of dollars in loans.
And VPR has learned that state officials actually received a preview of the alleged fraud in November 2014. The leaked evidence came from an early Jay Peak investor, who declined to comment for this story. VPR has not seen the document, but interviews indicate it was a financial statement or excerpts from financial statements held with Raymond James Financial.
Financial Regulation Commissioner Mike Pieciek, formerly lead investigator on the Jay Peak case, says it did indicate possibly unauthorized margin loan accounts involving EB-5 funds. Subsequent emails between the state and Jay Peak also show concerns about possibly commingled funds.
Gov. Shumlin declined multiple requests to be interviewed for this story.
Commerce Secretary Pat Moulton says, "That was important evidence, but it had to be coupled with other investigations and other review."
Even before the leaked evidence came in, the office she oversees had concerns about possible misrepresentations Jay Peak was making to investors regarding a hotel at Burke Mountain and AnC Bio, the bio-tech campus planned in Newport.
Moulton says throughout much of 2014, her staff had demanded answers to longstanding questions of Quiros and Stenger, mainly about AnC Bio. The state wanted to know about certain financial projections, the status of necessary FDA approvals and the relationship between project principals and a nest of corporate entities.
"Let's say it's 10 questions ... we'd get answers to five and not five others, and the answers we got prompted five new questions," she said.
Both developments were to be financed through a federal immigrant visa program called EB-5. For $500,000, EB-5 gives would-be immigrants a fast track to U.S. residency if their investments can be linked to American job creation.
It's the same program that Jay Peak has used to fund its colossal buildouts since 2006. The resort's developments, including those in Burke and Newport, are overseen by a state-run EB-5 Regional Center.
That office learned in the summer 2014 that the federal Securities and Exchange Commission was investigating Ariel Quiros. State authorities then demanded that Jay Peak disclose that information in updated investment offerings.
When that didn't happen, the state in summer 2014 suspended Jay Peak's permission to solicit investors for Q Burke and AnC Bio, its two active projects.
A new EB-5-financed hotel at Burke Mountain, formerly Q Burke, is set to open in September. It took until September 2015 before state securities regulators amassed enough evidence to understand what they now believe was a massive fraud.
"So, everything was suspended ... the marketing and any new investor dollars," Moulton said.
Then: the leak showing co-mingled accounts in November 2014. Correspondence obtained by a public records request show authorities immediately grilled Jay Peak representatives about the financial statement.
Yet still, for months, even as Jay Peak President Bill Stenger pleaded with the state to restore the resort's permission to market projects to investors, the resort's lawyers and accountants stalled on the state's requests for financial disclosures.
Meanwhile, the state's Department of Financial Regulation was getting involved. Michael Pieciak, who was recently appointed commissioner of that department, came to serve as lead investigator on the Jay Peak case. He said his first glimpse at a Raymond James statement led to scores more accounts at multiple banks — 20 or more at People's United, and more at JP Morgan, HSBC — "And then from there we discovered Merrill Lynch accounts. And then from there we discovered Citibank accounts," Pieciak said.
This string of discoveries intensified as Pieciak's investigation commenced in February 2015. Remember, this is four or five months after the leak occurred. And the leak came many more months after the state's own concerns surfaced.
Then, in March 2015, Gov. Shumlin convened a meeting with Moulton, Financial Regulation Commissioner Susan Donegan and representatives from the resort.
In an interview in March 2015, Commerce Secretary Moulton recalled Shumlin's approach to Jay Peak. "He pulled us all in and said, 'Hey gang, your failure to provide information makes us feel like there's something you're trying to hide.'"
Moulton said the developers assured they'd find a way to provide the necessary information. And Gov. Shumlin, she said, "instructed both Susan and I to try to work with the project to assure that we'd get the information."
Attorney General Bill Sorrell at a press conference announcing the fraud charges in April 2016. The question of what officials knew, and when, is important because for months while Jay Peak was under investigation, its principals still solicited more investors.
Jay Peak ultimately did answer certain questions, and provide some disclosure to investors about the SEC probe.
But they still had to provide their financial statements.
"They never did," Pieciak said. "They never did."
Yet, within days or weeks of the March 2015 meeting, authorities released Quiros and Stenger back into the international market to bring in money for AnC Bio. In July, their permissions for Q Burke were restored.
Pieciak says it took until September of that year before state securities regulators amassed enough evidence to understand what they now believe was a massive fraud. It would take months more to compile the evidence in a strong lawsuit against Quiros and Stenger.
Moulton says sending them back to the market to solicit investors that spring, as the state and federal investigations played out, was a calculated risk.
"I wouldn't call it a gamble," she says. "We were trying to do the best we could based on what we knew, and knowing there were a lot of Vermonters working up there, and so we wanted to try to have that continue and get projects built."
Moulton maintains that controls the state subsequently placed on Jay Peak's fundraising protected new investors. All their money was placed in an escrow account controlled by state regulators, not Quiros and Stenger.
And, Moulton says, moving the projects forward also protected those who had already put their money in, "with the understanding that a finished hotel is worth a whole lot more than a half-finished hotel, both to the investors but also to the contractors who needed to get paid."
The hotel did get finished, and should open this fall. AnC Bio never got off the ground. And dozens of investors now face the risk of not only losing the $500,000 each they put into Jay Peak, but also the American residency they hoped their money would buy.
Clarification 10:33 a.m. 7/14/16 This post has been updated to clarify the fact that VPR has confirmed the evidence leak from November 2014 with state officials, but has not seen the leaked document itself. This post has also been updated to include a collection of documents obtained by VPR.
http://digital.vpr.net/post/shumlin-administration-had-evidence-alleged-eb-5-fraud-18-months-charges#stream/0
Mentions
Litigation Cases
States
---
Securities Disclaimer
This website is for informational purposes only and does not constitute an offer or solicitation to sell shares or securities. Any such offer or solicitation will be made only by means of an investment's confidential Offering Memorandum and in accordance with the terms of all applicable securities and other laws. This website does not constitute or form part of, and should not be construed as, any offer for sale or subscription of, or any invitation to offer to buy or subscribe for, any securities, nor should it or any part of it form the basis of, or be relied on in any connection with, any contract or commitment whatsoever. EB5Projects.com LLC and its affiliates expressly disclaim any and all responsibility for any direct or consequential loss or damage of any kind whatsoever arising directly or indirectly from: (i) reliance on any information contained in the website, (ii) any error, omission or inaccuracy in any such information or (iii) any action resulting therefrom.