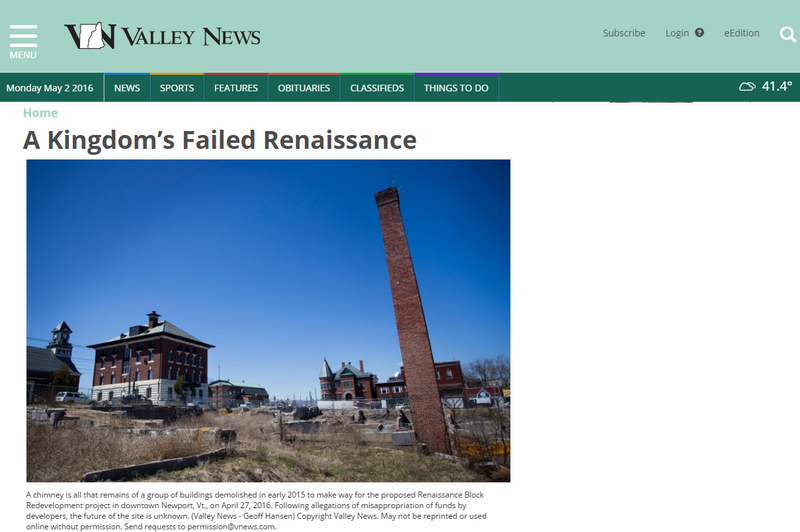 In February 2014, Kathy McQuillen closed her family's flower shop, which had been a fixture in this small city's downtown for nearly 50 years.
Not because business was slow or the rent had soared.
Newport, at the heart of Vermont's Northeast Kingdom, was about to undergo a renaissance, touted by Gov. Peter Shumlin and the state's congressional delegation.
Old buildings, including the one that McQuillen's flower shop had occupied since 1966, were slated for demolition. From the rubble, a three-story hotel, upscale apartments, retail shops and restaurants would rise.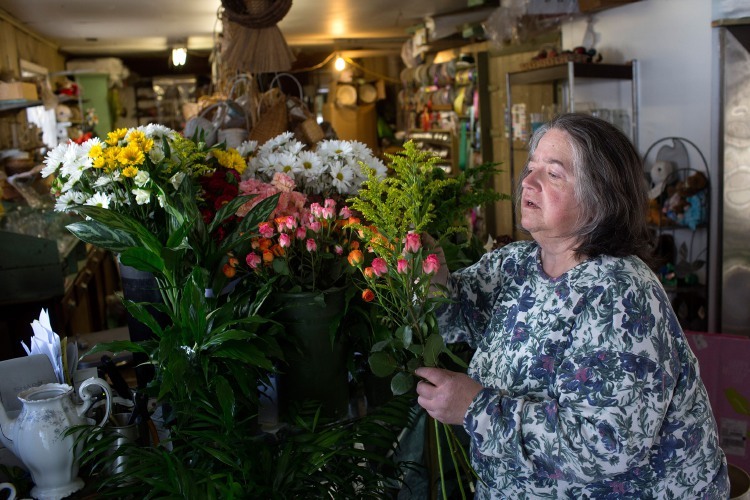 The new businesses would cater to visitors and hundreds of high-paid, high-tech workers soon to be employed at a cutting-edge biomedical research park planned for Newport.
The hardscrabble community with a 420-bed state prison and animal feed plant would soon be producing organ replacement devices, including artificial kidneys, elected officials said.
The proposed $120 million facility, perched on a hill overlooking the downtown, would also host stem cell research to be used for "medical applications throughout the North and South American markets," according to the project developers' promotional packet.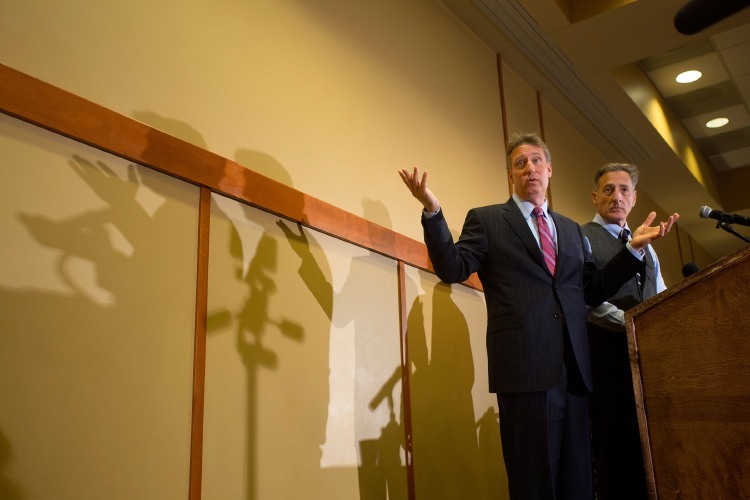 In 2013 when I met McQuillen, who grew up in Newport, she had come to accept that her family's small business wouldn't have a place in the gussied up downtown. "We can't afford it," she told me.
But who was she to stand in the way of progress?
The Northeast Kingdom, as George Aiken dubbed it in the 1940s, is the most rural region of the state. Orleans County, in which Newport is the largest community with 4,600 residents, and its neighbor to the east, Essex County, have long had the state's highest poverty rate and highest percentage of adults who have not graduated from high school.
Howard Frank Mosher, the novelist, has lived and written about the Kingdom for 50 years. "In some ways, it's like a little fragment of Appalachia that broke off," he once told me.
But in 2013 all that was about to change.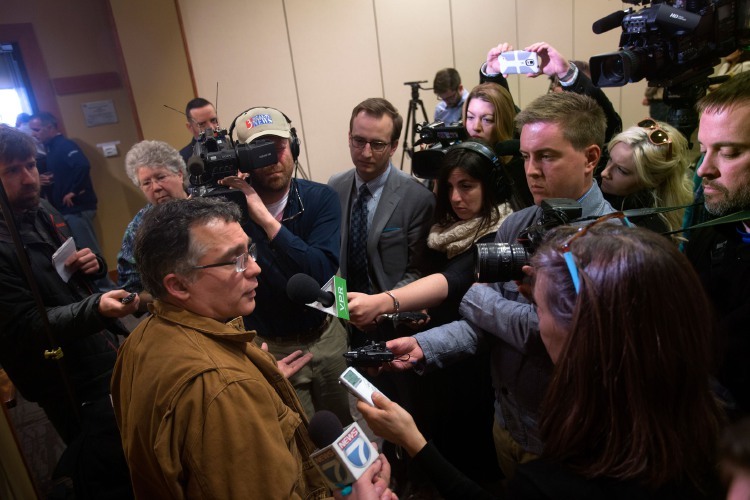 Bill Stenger, who had come to the Kingdom from Pennsylvania in the early 1980s to run the nearby Jay Peak ski area, was at the forefront. Stenger, who is in his late 60s, formed an alliance with Ariel Quiros, a 50-something South Florida businessman who owned thousands of acres in the Kingdom and was a longtime Jay Peak skier.
Stenger and Quiros would tell anyone who would listen that they had a vision — and more important, the financial resources — to remake Newport, which unlike many of Vermont's old railroad towns, had a built-in advantage: Lake Memphremagog. The pristine lake, lapping up against Newport's downtown, stretches for 27 miles. Fishing, boating, canoeing and kayaking are a natural tourism draw.
Along with revitalizing the downtown, Stenger and Quiros said they planned to replace an aging supermarket on the waterfront with a $110 million hotel, conference center and marina.
All told, Stenger and Quiros said they planned to spend $600 million on a half dozen or so projects in the Kingdom that would directly or indirectly create 10,000 new jobs.
How? With foreign capital.
In 1990, Congress created something called the EB-5 Immigrant Investor Program, which allows wealthy foreign nationals to move to the front of the immigration waiting line. By investing at least $500,000 in development projects that will create jobs in economically depressed areas, they get "green cards" for themselves and family members under age 21, enabling them to live permanently in the U.S., a highly sought-after status.
Sen. Patrick Leahy, the dean of Vermont's congressional delegation, is the self-proclaimed champion of EB-5. After Stenger and Quiros announced their ambitious plans in September 2012, Leahy said, "The beauty of this program is that it is doing so much to create jobs and economic growth and is not costing the taxpayers a cent."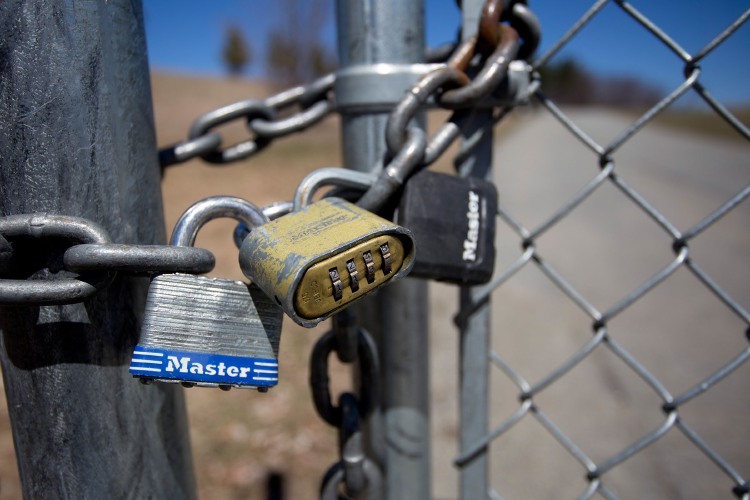 Stenger and Quiros initially compiled an impressive track record in the Kingdom. Relying on EB-5 money, they built a $75 million hotel and $25 million indoor water park at Jay Peak, turning what was once an off-the-beaten path ski area into a four-season family resort. In December 2012, The New York Times ran a front-page story about their current and future projects.
"People were optimistic, and why wouldn't they be?" former state Sen. Vince Illuzzi, of neighboring Derby, told me last week. "No commercial bank was ever going to invest that kind of money in northern Vermont. From a local standpoint, it was free money."
When I first talked about the plans in 2013 with Illuzzi, who represented parts of the Kingdom for 32 years, he was among the few skeptics. "The numbers are unfathomable," he said.
But Shumlin (along with his predecessor, Jim Douglas) and Vermont's congressional delegation had totally bought in. "I'll do anything I can to promote jobs," said Shumlin when I interviewed him in 2013. "That's where state government has failed in the past. I want to do everything I can to bring capital into areas of the state that have suffered from high unemployment, like the Northeast Kingdom."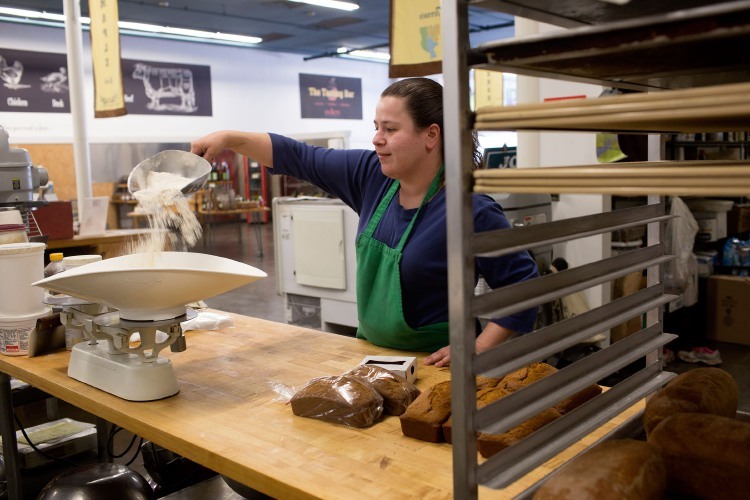 Elected officials seemed particularly enamored with ANC Bio Vermont, the proposed biomedical research park. It was a spinoff of a company that Quiros operated in South Korea, and Douglas visited in 2009 while he was governor. The ANC Bio Korea facility was sold in a liquidation auction in May 2014, the online news site Vermont Digger reported.
In 2012, Stenger and Quiros paid $3.15 million for ANC Bio Vermont's future home, a 25-acre parcel and buildings that was once a ski apparel manufacturing plant.
The research park was expected to provide directly and indirectly more than 2,000 jobs. In a news release put out by the developers, Sen. Bernie Sanders was quoted as saying, "These jobs are among the best types of positions Vermont can offer: Skilled manufacturing positions as well as great research careers in a state of the art facility. I'm proud ANC Bio is here in Vermont."
Except it never arrived.
Shumlin recently said the proposed park "looks to be a total bust." Whether Stenger and Quiros even had the technology to do what they said they were going to do has come into question.
On April 14, the federal Securities and Exchange Commission unsealed an 81-page complaint that described a $200 million scheme in which Quiros allegedly "systematically looted" millions of dollars from foreign investors through the EB-5 program in the last eight years.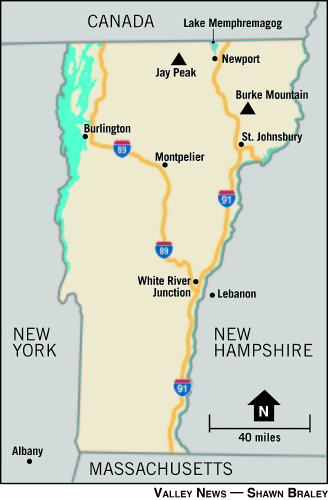 "Investors were told they were investing in one of several projects connected to Jay Peak," the SEC claims. "Instead, in Ponzi-like fashion, money from investors in later projects was misappropriated to fund deficits in earlier projects."
Quiros and Stenger raised $350 million in capital from more than 700 investors from 74 countries.
More than half of that money — $200 million — was allegedly used for "other-than-stated purposes, including $50 million spent on Quiros's personal expenses and in other ways never disclosed to investors," the SEC stated.
Quiros used some of the $50 million to pay off personal debts, income tax obligations and to purchase a $2.2 million luxury condominium at Trump Place in New York, according to the SEC.
Stenger, the CEO of Jay Peak, is alleged to have facilitated the fraud by funneling investor money to private accounts controlled by Quiros.
No criminal charges have been filed. Both men have denied wrongdoing.

A federal judge in Miami has appointed a receiver to oversee Jay Peak, the nearby Burke Mountain resort, which Quiros also owns, and the EB-5 projects in Newport.
Last Wednesday, Shumlin and Florida attorney Michael Goldberg, the federal judge's appointee, held a news conference at Jay Peak.
Shumlin, the state's three-term governor who is not seeking re-election this year, said "there's no question that Newport is facing the biggest tragedy."
Unlike Jay Peak and Burke, which hosts a $50 million turn-key-ready hotel and conference center funded by EB-5 money, Newport, like many of the foreign investors, has little to show for what it's been through.
Last week, a "Coming Soon" sign, featuring an architect's rendering of a four-story building with shimmering exterior glass walls stood at the proposed park's entrance on Bogner Drive. A 6-foot high metal fence enclosed the site. A padlocked gate blocked the entrance.
Just over the hill toward downtown, Kathy McQuillen put together fresh flower arrangements in the small shop that she's set up next to a greenhouse on the property that's been in her family for 90 years.
Her 86-year-old mother, Betty, watches from a stool next to McQuillen's work bench. When the shop was on Main Street, the family placed hanging baskets of petunias above the sidewalk in the summertime.
But here, a couple of miles from downtown, there's no foot traffic. Flower orders come mostly by internet or phone.
Driving around town as she makes deliveries, McQuillen, 60, can't help but notice that much hasn't changed. The deal to buy the waterfront supermarket property and turn it into a marina and hotel fell through early on — a warning sign that all was not going according to plan.
She was the last tenant to leave the Main Street block in February 2014, but it wasn't until March 2015 that the wrecking ball arrived supposedly to make way for a new hotel and retail shops.
"I wish I had been wrong, but I had a bad gut feeling about what was going on," McQuillen said. "Everything was taking too long."
A chain-link fence now runs along the Main Street sidewalk, surrounding the giant crater that stretches for a block and runs 20 feet deep in some places. Parts of the concrete foundation and crumbling interior brick walls remain. A tall smoke stack, part of a bakery long ago, stands as a sentry over the downtown.
"Making Way for Newport's Future," reads a sign attached to the fence.
On Facebook, residents have come to call it, "The Pit."
Last Wednesday, 71-year-old Joseph Pond pushed an empty grocery cart that he'd borrowed from a store at the top the hill. After taking a senior citizens shuttle bus from his home in nearby Island Pond, he was headed to the food pantry to pick up canned and dry goods.
Pond said he used to have an apartment, where he paid $450 or so a month in rent, in one of the demolished buildings.
"The buildings didn't look great and the places weren't fancy, but they were comfortable," he said. "The heat was good."
Earlier, I talked with Charlie Elliott, the city's zoning administrator, who started his job just before the buildings came down.
"Yeah, we've got a hole in the ground," he said. "But what was there before? We had some buildings that were in bad shape."
The buildings were plagued with asbestos that was removed during the demolition.
"I don't know whose money (Stenger and Quiros) used, but the asbestos is gone," Elliott said.
As for the foreign investors, "they certainly had a right to expect honesty," he said.
Across the street, baker Cinta Ahrens sipped her soup near the front window of the Northeast Kingdom Tasting Center, an indoor food pavilion. She gestured toward the vacant block. "I'd rather look at that than what was there before," she said.
Ahrens and her business partner, Jocelyn Bourassa, used to have their bake shop in one of the buildings that was torn down. They had an offer to move Jocelyn and Cinta's Bake Shop to the new Tasting Center. At the moment, a small restaurant is the only other occupant on the main floor.
Newport needs to "fill up the buildings that are empty," said Bourassa, before worrying about the hole in the ground across the street. The bakers sell their breads, doughnuts and desserts to restaurants and grocery stores. "If we didn't have that, we'd pretty much be done," Bourassa said.
Stenger, who owns a waterfront home in Newport, was fond of the bakery's apple-raspberry crumb pie, said Ahrens.
In a 2013 interview, Stenger told me, "I get approached all the time by people who want to thank me for what we're doing here. I tell them, 'Wait and thank me when we do the ribbon cutting.' "
Steve Breault, who moved from New Jersey five years ago, opened a butcher shop in the Tasting Center. He closed it after 18 months when it became apparent the downtown revitalization was going to take longer than expected, if it happened at all.
"I did kind of gamble," he said.
Breault is concentrating on his Natural Market and Cafe on Main Street, but he hasn't lost hope that downtown Newport will recover.
"It's too expensive of a hole," he said. "Something will go there."
From his booth in the cafe where he sat drinking coffee, Thadd Beebe replied, "I'll believe it when I see it."
Beebe recalled attending the big ceremony on Newport's waterfront a few years ago when all the plans were laid out. "Everyone wanted jobs so much, they put blinders on," he said.
State and local officials are working to find a buyer for the downtown property. If a buyer isn't found by late next year, the talk in town is that it will be converted into a park.
Looking back on it, the notion of new hotels, a conference center and biomedical research park seems far-fetched now.
But two miles from Newport's downtown, just across the city line in Derby, dump trucks rumble over a temporary gravel road. On their way into the "hard hat area," the trucks pass a mobile home park and cemetery.
Construction is well underway on a Walmart Supercenter.
http://www.vnews.com/48-Pt-Htk-Htkly-Htkly-Htk-1798977
Mentions
Litigation Cases
States
---
Securities Disclaimer
This website is for informational purposes only and does not constitute an offer or solicitation to sell shares or securities. Any such offer or solicitation will be made only by means of an investment's confidential Offering Memorandum and in accordance with the terms of all applicable securities and other laws. This website does not constitute or form part of, and should not be construed as, any offer for sale or subscription of, or any invitation to offer to buy or subscribe for, any securities, nor should it or any part of it form the basis of, or be relied on in any connection with, any contract or commitment whatsoever. EB5Projects.com LLC and its affiliates expressly disclaim any and all responsibility for any direct or consequential loss or damage of any kind whatsoever arising directly or indirectly from: (i) reliance on any information contained in the website, (ii) any error, omission or inaccuracy in any such information or (iii) any action resulting therefrom.