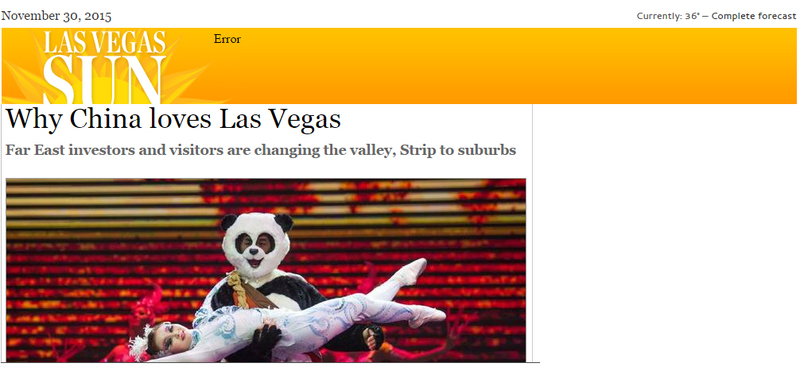 Far East investors and visitors are changing the valley, Strip to suburbs
They're buying into Las Vegas like never before.
They're pumping cash into major resort projects and big stage productions on the Strip and they're purchasing single-family homes in quiet neighborhoods.
Who are they? Chinese investors. And they're propelling Las Vegas' recovery from the recession.
They are quietly helping to bankroll the $415-million SLS Las Vegas, a nightclub-themed resort set to replace the Rat Pack stomping grounds of the Sahara and shake up the struggling north end of the Strip. A quarter of the investment came from foreign bank accounts, mostly in China.
Money from China is also backing such Las Vegas ventures as "Panda!" the stage production at the Palazzo, the $120 million transformation of the Lady Luck into the Downtown Grand, and a pair of forthcoming Chinese-themed resorts.
"As the Chinese middle class grows, investors are getting more savvy as to how to get their money overseas," said David Jacoby, director of the Las Vegas Economic Impact Regional Center. "Las Vegas is a stable place to park your money."
Much of this activity is prompted by a little-known government program called EB-5 that rewards foreign investors with green cards.
Jacoby hopes to use the program to raise more than $200 million in Chinese cash to develop a pair of resorts in Las Vegas. One would be called the Lucky Dragon, a strictly Asian-themed hotel and casino on a plot of land across the street from SLS Las Vegas.
The foreign investment enticement program is growing by leaps and bounds: More than 8,000 EB-5 visas were issued last year by the Department of Homeland Security, compared with 502 EB-5 visas in 2006.
"Chinese money is continuing to find its way into the United States, because they view it as a more secure and lucrative investment," said Jeremy Aguero, principal of Las Vegas-based Applied Analysis.
Plus there's the EB-5 bonus: Any Chinese investment of $500,000 in the United States earns the investor legal residency — an opportunity for the businessperson to leave China altogether and embrace the U.S. economy.
Besides hard-cash investments, Chinese investors are leaving their mark here in other ways — from feng shui elements on the casino floor to grand celebrations for Chinese New Year to specialty food menus. Asian visitors can find cultural touchstones along the Strip, just as there are American trappings in Macau.
The bicultural relationship has been mutually beneficial.
Without the influx of Chinese investment, a handful of properties and projects on and off the Strip likely would not exist, according to Aguero.
"It's putting construction workers back to work and some excitement back into the market."
Indeed, while U.S. gaming interests have been looking to Chinese-controlled Macau and elsewhere in Asia as a financial life jacket, Far East investors see the American West as the new frontier of opportunity. Their efforts are part of an ongoing metamorphosis of Las Vegas, which has moved from the mob era to a Wall Street kingdom of corporations to a global marketplace that makes the city attractive on several levels.
"Las Vegas has not only developed as a gambling capital but also an entertainment and exhibition center," said Zhao An, a native of China and director of "Panda!" "This will definitely attract more and more Chinese investors to Las Vegas."
A FOOT IN THE DOOR
Shuyen Cheing, CEO of Fortune Gaming, had planned on recruiting private investors to build Dynasty, his proposed $300 million off-Strip resort. Then he heard of the EB-5 program as a way to land a line of Chinese investors waiting to pour money into America.
The hotel developer now has more than 300 people — mostly from China — waiting to invest at least $500,000 through the program.
Cheing, whose permanent home is in Los Angeles, said through a translator, "Chinese investors are looking for places to invest outside of China. It is hard to find any good projects anymore in China so they come to the United States."
Quietly released as part of the Immigration Act of 1990, the EB-5 programs created new opportunities for legal immigration to the United States and a way to create jobs. The visa program also became a go-to source of investment cash for American businessmen when traditional sources dried up during the Great Recession.
The path to EB-5 funding can be tedious for both developers and investors. The process often takes at least two years because of paperwork and extensive background checks. But the persistence brings big rewards, which in this case, has been bolstering Las Vegas' economy.
Upon application, foreigners must show the resources to invest a minimum of $500,000 — or a maximum of $1 million — in an American business. For either of those investments, an investor is approved for permanent U.S. residency.
About 85 percent of all EB-5 investors are Chinese, much to the consternation of the Chinese government, which would rather keep the wealth at home.
For a project to qualify for funding, it must either be in an area of high unemployment or involve a commercial establishment that would create at least 10 jobs over a two-year period. In Las Vegas, those criteria are easily met.
The EB-5 program has transformed Las Vegas and many other destination cities into a gateway for hundreds of Chinese immigrants to get their foot in America's door. That number is even higher on the national level.
The federal government has a cap on the number of visas it issues every year: 10,000 EB-5 visas. The number approved grows closer to the cap each year.
The EB-5 program has proved especially enticing for low-level millionaires in China who want to make money in a less restrictive market; Chinese billionaires can buy their way into the United States without the help of a U.S. program, insiders say.
AN ALTERNATIVE
The United States' less restrictive government and ample opportunities have been the main draws for Chinese investors.
Properties here cost one-eighth of what properties cost in Beijing. That's because land is scarce along China's coasts. The lack of bare land has forced manufacturers and investors to plant projects deeper into the country's interior or pay inflated prices to be closer to the coasts.
EB-5 investors are often first-generation parents who wish to pass on the family business to second-generation sons and daughters — and get their money out of China.
Some of the biggest Las Vegas developments over the past five years have tapped the EB-5 program for hundreds of millions of dollars, according to Jacoby. Among them: $100 million from Chinese investors for the Downtown Grand and $150 million from Chinese and Thai investors in SLS Las Vegas.
And Chinese investments have not been limited to big projects like resorts. Investors are buying homes here, too. Time and time again, Las Vegas has been named a top-10 market for Chinese homebuyers.
"We have a realty arm that sells homes," said Jacoby, who consistently sees wealthy Chinese investors moving to Las Vegas to buy homes in the suburbs for their families.
That's because Chinese tourists — both visitors and investors — love Las Vegas.
A LOVE AFFAIR
Las Vegas has long lusted for Chinese tourists, who stay longer and spend more money than most visitors. It explains why the Las Vegas Convention and Visitors Authority staffs offices in Shanghai and Hong Kong.
A Chinese entertainment company staging a production on the Strip — in this case, "Panda!" — is icing on the cake for Chinese tourists looking for a slice of home. Its producer, An, said his decision to bring the show to Las Vegas is testimony to all that Las Vegas does to market to Chinese tourists and incorporate Chinese elements in its hotels.
Such demonstrations of hospitality are paying off. In 2012, Las Vegas welcomed 263,000 visitors from China, a 39 percent increase from 2011. In all, Chinese visitors represented 5.1 percent of international visitors in 2012.
Over the next decade, the LVCVA wants international travelers to make up 30 percent of the overall market mix, according to Michael Goldsmith, the LVCVA's vice president of international marketing. Right now, those visitors make up 20 percent of the mix, and 12 percent are Asian.
That's good news for casinos. The largest single source of gaming revenue for casinos is baccarat, and baccarat is the game of choice among Chinese gamblers.
In 2013, gamblers wagered $11.3 billion on baccarat in Nevada. That number has been enough to keep the Las Vegas gaming market afloat.
THE FUTURE
Tom Skancke, who heads the Las Vegas Global Economic Alliance, expects to visit China three times this year to recruit investors.
As point man for the economic development agency, Skancke has taken one trip to China this year and plans to take two more later this year.
"What's that saying? You can't eat if you're not at the dinner table," he said. "It's going to take time … You can't go to China one time and expect to get something the first time you go. It's client development."
Skancke's pitch includes low taxes and the city's proximity to the ports in Los Angeles and Seattle.
From China's perspective, Las Vegas is a fertile market with endless opportunities.
http://lasvegassun.com/news/2014/may/11/why-china-loves-vegas/
Mentions
States
---
Securities Disclaimer
This website is for informational purposes only and does not constitute an offer or solicitation to sell shares or securities. Any such offer or solicitation will be made only by means of an investment's confidential Offering Memorandum and in accordance with the terms of all applicable securities and other laws. This website does not constitute or form part of, and should not be construed as, any offer for sale or subscription of, or any invitation to offer to buy or subscribe for, any securities, nor should it or any part of it form the basis of, or be relied on in any connection with, any contract or commitment whatsoever. EB5Projects.com LLC and its affiliates expressly disclaim any and all responsibility for any direct or consequential loss or damage of any kind whatsoever arising directly or indirectly from: (i) reliance on any information contained in the website, (ii) any error, omission or inaccuracy in any such information or (iii) any action resulting therefrom.