Future of Potala Village Kirkland in limbo after developer sued by SEC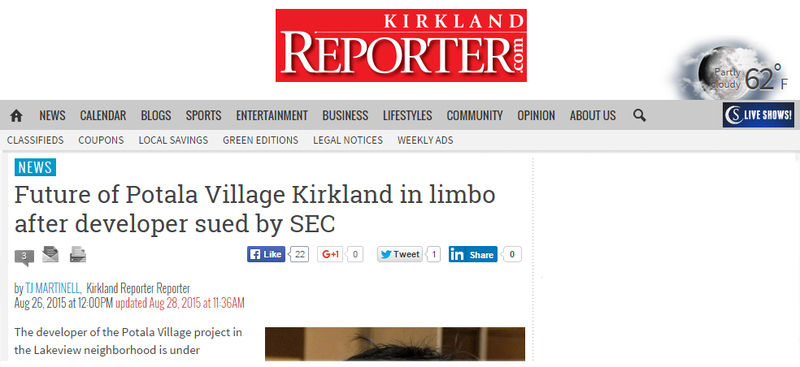 The developer of the Potala Village project in the Lakeview neighborhood is under investigation by the federal government for allegedly misappropriating millions of dollars from overseas investors.
Lobsang Dargey is being sued in federal court by the U.S. Securities and Exchange Commission (SEC) for allegedly raising more than $125 million through sales of securities to at least 250 investors for Path America and the Potala Place development in Everett.
The EB-5 visa system allows foreign nationals who invest at least $500,000 in a project that generates or preserves at least 10 jobs for U.S. workers to qualify for residency in the United States. The SEC complaint alleges that Dargey and Path America used the EB-5 system to raise money from Chinese investors by encouraging them to invest in Potala Place and Potala Tower, but then misappropriated $17.6 million, $14.7 million involving Potala Shoreline LLC and Potala Village Kirkland LLC, which are not eligible for the EB-5 visa program.
Dargey allegedly promised his backers that their investments would make them eligible for U.S. residency but didn't disclose those investments would not qualify under the EB-5 program if they weren't used for those dedicated projects, according to the complaint.
Details are provided in the complaint and hundreds of pages of supporting documents. Among other things, they show that each investor who bought a $500,000 partnership interest in either of the two Path America projects also was charged a $45,000 administrative fee. The investment capital was wired to an escrow account in the United States while the administrative fee was wired to an account in Hong Kong.
Then on Sept. 14, 2014, Dargey used nearly $2.5 million from the account in his and his wife's names to purchase a home in Bellevue. The purchase was made in the name of Bellewood Farms Trust, the beneficiaries of which are the Dargeys.
The suit also alleges that Dargey withdrew about $350,000 in cash from both the Potala Tower and Potala Place accounts between October 2012 and June 2015, mostly with a debit card or at a bank or casino teller.
From 2012-15, Dargey allegedly diverted $7.5 million from the Potala Farmer's Market and Potala Tower accounts to an account in the name of Potala Village Kirkland.
In August 2014, Dargey allegedly used $4.25 million of those funds to purchase property in Kirkland.
The SEC has asked a federal judge to approve a restraining order prohibiting Dargey or his companies from raising more money from investors, selling any securities of any business interest they own, and freezing all their assets - including the Potala Village site in Kirkland.
The SEC complaint and request freezes Dargey's financial assets and brings new uncertainty over the fate of the Potala Village project.
The complaint alleges that the limited liability company "maintains a bank account into which proceeds raised from defrauded investors are deposited and "also owns property purchased with funds raised from defrauded investors."
The government is seeking an accounting of all money received from investors, an order prohibiting the alteration or destruction of books and records, an order to return any investors' funds that have been transferred overseas back to the United States and unspecific civil monetary penalties.
The complaint comes after Dargey's legal wrangling with the city of Kirkland over vested rights to specific zoning regulations concluded when the State Supreme Court denied a request on Feb. 4 to review an Aug. 25, 2014 ruling by the Washington Court of Appeals, Division I.
The development recently had a design response conference with the city of Kirkland Resign Review Board (DRB) Monday on Potala Village's design for the site at 1006 Lake Street South. Another meeting is scheduled for Oct. 19.
Unless Dargey pulls out of the design review phase altogether, however, the legal complaints won't affect that part of the project, according to Senior Planner Angela Ruggeri.
"At this point, they need to receive their design revisions in order to go ahead with that (design review process)," she said. "The board told them some things to do, and if we receive their changes, then we'll move ahead."
"I would say that the question is more for the applicant," city of Kirkland Planning Director Eric Shields said. "Will it affect their ability to move forward? Will they still have the desire or financial wherewithal to pay consultants?"
The proposed project would be a 138,434-square-foot, three-story building that would include approximately 7,000 square feet of ground floor retail space on the north and south corners of the building, as well as 58 residential units on the second and third floor.
Kirkland City Manager Kurt Triplett stated that the DRB will need the updated materials from the developer three weeks prior to the next meeting and whether they receive them or not will indicate if things move forward.
"We'll know by the end of September whether there's still a project," he said. "I think we're still in a wait and see mode."
At the moment, however, the site remains undeveloped. Kirkland City Councilmember Toby Nixon said his biggest fear is that, irrespective of whether the complaint turns out to be true or not, the legal process will leave the site as it is, an eyesore for the local neighborhood, for an indefinite amount of time.
The scenario would be similar to that of the seven-and-a-half story Bel Lago condominiums on Northeast Juanita Drive overlooking Lake Washington. Constructed in 2006, it remained unfinished for years and was the source of grief for nearby residents until it was finally bought by Legacy Homes of Washington in April 2012.
"I hope if he (Dargey) does get shut down… that some other developer would be able to move forward with an attractive project on that site that meets the needs of the community quickly," Nixon said. "I just don't want it to sit in a half-built or big-hole-in-the-wall state for a long time."
Additionally, Nixon said is he concerned about the potential environmental impacts it would have on the neighborhood if left alone.
"My main concern is the property be left in a physically safe condition, that it be in an environmentally sound condition, that there is not toxics exposed and that kind of thing," he said. "I want it to be left in a tolerable condition. It looks ugly right now, but the problem is I have no idea what authority the city has on to any of that."
Triplett, however, said he is confident that Kirkland's booming real estate market will entice a new developer to take over if Dargey cannot move forward.
"I think right now people are obviously very bullish on Kirkland," he said. "They're snapping up property."
In the meantime, he added, Potala has completed the environment remediation.
"Certainly none of us want to see it stay an empty property, but it's not a whole lot different from what it was before," he said. "Clearly we would like to see something positive happen at that site…there are tools in our code to make sure the site is not becoming a dilapidated place."
According to Larry Altose at the Department of Ecology, last year they requested the property owners send them groundwater samples from the site, as well as a revised plan to prevent possible vapor intrusion into the building from soil under the sidewalk adjacent to the property, which has not been removed. The submitted groundwater samples were found to be below the state cleanup levels, but they still haven't received a revised plan concerning soil vapor intrusion.
"While considered unlikely, it is possible for vapors from that soil to enter a building constructed on the property," he wrote in an email.
Karen Levenson, spokesperson for the group of neighbors who have organized against the original Potala Village project, released the following statement: "My concern has been that Lobsang Dargey has not been fair to the Kirkland Citizens. I have been concerned by the feeling that he is manipulating and misinterpreting Kirkland's codes in ways that were not intended by past councils or the citizens. I have also been concerned by what seems to be his ability to get some staff and city council members to support his version of reality in a way that potentially harms the neighborhoods where Kirkland citizens have invested their life savings into their family home."
Dargey and Path America declined comment to Sound Publishing.
http://www.kirklandreporter.com/news/322989701.html
Mentions
Litigation Cases
States
---
Securities Disclaimer
This website is for informational purposes only and does not constitute an offer or solicitation to sell shares or securities. Any such offer or solicitation will be made only by means of an investment's confidential Offering Memorandum and in accordance with the terms of all applicable securities and other laws. This website does not constitute or form part of, and should not be construed as, any offer for sale or subscription of, or any invitation to offer to buy or subscribe for, any securities, nor should it or any part of it form the basis of, or be relied on in any connection with, any contract or commitment whatsoever. EB5Projects.com LLC and its affiliates expressly disclaim any and all responsibility for any direct or consequential loss or damage of any kind whatsoever arising directly or indirectly from: (i) reliance on any information contained in the website, (ii) any error, omission or inaccuracy in any such information or (iii) any action resulting therefrom.