Jay Peak receiver argues Saint Saveur Valley Resorts owes $80M in EB-5 fraud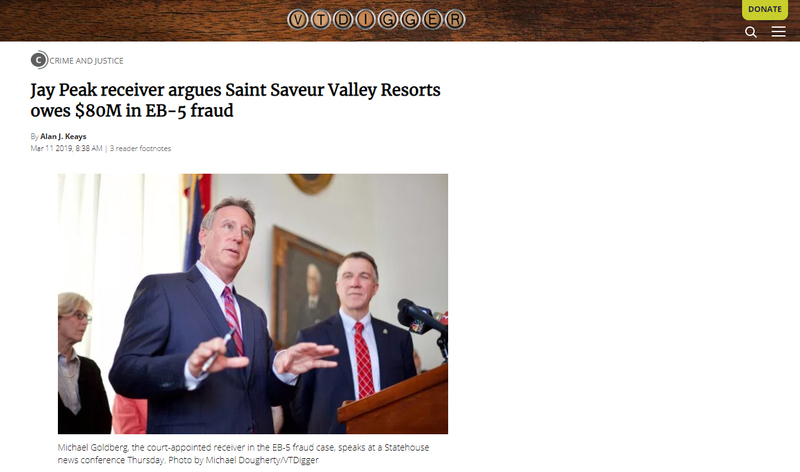 Michael Goldberg, the court-appointed receiver in the EB-5 fraud case, speaks at a Statehouse news conference Thursday.
Abitter legal battle is playing out between the Canadian company that formerly owned Jay Peak Resort and the court-appointed receiver now in charge of overseeing it as it emerges from an EB-5 investor scandal.
The dispute involves competing claims of whether the resort's former owners should have to pay up more than $80 million in damages from an alleged fraudulent sale of the ski area in 2008, or if the receiver assumed that liability when he took over the ski area in April 2016.
The trading of sharply worded, high-stakes filings is taking place in a federal lawsuit in Vermont initially brought by a handful of investors against Saint-Sauveur Valley Resorts nearly two years ago.
Michael Goldberg, the receiver, says the Canadian company fraudulently accepted EB-5 funds in the sale of Jay Peak Resort when Ariel Quiros bought the ski area for $21.9 million in 2008.
Bill Stenger, the former CEO of Jay Peak, was in charge of the EB-5 program at Jay Peak for Saint-Sauveur, then known as Mont Saint-Sauveur International Inc., starting in 2006, and was instrumental in cementing the sale with Quiros, according to filings.
The money from foreign investors for the Tram Haus Lodge and Hotel Jay was legally bound to be held in separate escrow accounts for each project.
However, when Saint-Sauveur Valley Resorts sold Jay Peak to Quiros, the Miami businessman used EB-5 money to purchase the resort — instead of keeping the money in escrow for Hotel Jay and the Tram Haus Lodge.
Quiros and Stenger then brought in new investors to backfill funding for the two hotel projects.
VTDigger is underwritten by:
That was just the beginning. With the help of state officials, including Gov. Peter Shumlin, who aggressively promoted the projects overseas, Quiros and Stenger brought in more than $400 million in investor funds. Before federal regulators caught up with them, they built a third hotel and three condo complexes at Jay Peak, purchased Burke Mountain where they built another hotel, and collected $67 million in funding for a biomedical facility in Newport.
In April 2016, the Securities and Exchange Commission found that Quiros and Stenger misused $200 million in EB-5 funds, federal regulators say. The resort went into receivership and a number of legal battles ensued.
The lawsuit filed by receiver Michael Goldberg accuses Saint-Sauveur Valley Resorts of fraudulently accepting EB-5 funds from investors as payment for Jay Peak.
The five plaintiffs who initially sued Saint-Sauveur are EB-5 investors put money into the first two development projects at the resort — Tram Haus, known as Phase 1, and Hotel Jay, called Phase II.
The investors believed they were investing in the first construction projects at Jay Peak. They were unaware their money had been used by Quiros to buy the resort.
In a recent filing, Goldberg, who is now the lead plaintiff in the investor lawsuit, alleges for the first time the actual damages against Saint-Sauveur could top many times the sale price, reaching more than $80 million.
That's because, according to filings by attorneys on Goldberg's behalf, that alleged fraudulent sale set the stage for a "Ponzi-like" scheme that bilked EB-5 investors out of many more millions of dollars than the just sale price of the resort.
Lawyers for Saint-Sauveur Valley Resorts have called those latest damages figures "preposterous."
And in a twist, Saint-Sauveur say it's actually the receiver who is on the hook for any damages.
That's because, they argue, a clause in paperwork that went along with the 2008 sale included a provision that the new owner, Quiros and his various entities, would assume any claims stemming from the EB-5 projects as well as cover any legal fees associated with those claims.
Attorneys for a group of EB-5 investors exit federal court in Burlington following a hearing Thursday. From left after lawyers Joshua Simonds and Keith Miller.
Saint-Sauveur, in a recent letter to Goldberg filed in the case, says the receiver has effectively taken over Quiros' assets connected with the resort since his appointment to the post in April 2016 when state and federal investor fraud allegations were lobbed at Quiros.
In addition to being responsible for claims associated with those EB-5 projects, Saint-Sauveur says the receiver is also liable to pay the Canadian firm's legal fees tied to the case, now totaling about $143,000.
At hearing Friday in federal court in Burlington, attorney Keith Miller, representing Goldberg, said the letter was nothing more than a "threat."
Judge Christina Reiss said she wasn't sure from reading the latest filings in the case exactly how the receiver's request for damages shot up to more than $80 million.
She asked Miller to submit an amended complaint tying the damages to more specific claims, giving him 30 days to submit that filing.
Reiss told the attorney for Saint-Sauveur that she was surprised that the revelations in the letter to the receiver were just coming out now.
Laurence May, an attorney for Saint-Sauveur, said at the hearing he had only discovered the information.
The judge also appeared frustrated by the pace of the case.
"This is off track and we're going to be putting it back on track," said Reiss, ordering the attorneys to work together to come up with a schedule to have the case ready for trial in eight months.
The lawsuit at the center of the dispute was filed in April 2017, with Goldberg, who represents the interests of all the defrauded investors, taking over as the lead lead plaintiff in the case about a year later.
He's pushing to recoup as much as he can for all the alleged defrauded investors of a series of EB-5 funded projects headed by Quiros and Stenger.
Joshua Simonds, a Burlington attorney representing the receiver in the case, wrote in a recent filing that many other investors are out millions of dollars as a result of the 2008 fraudulent sale.
Federal regulators have said Saint-Sauveur's sale was "ground-zero" for a fraud that harmed more than 800 EB-5 investors.
In his filing, Simonds lays out his rationale for the more than $80 million in damages.
"Since his appointment, the Receiver has entered into various settlements, the result of which has permitted repayment to the Phase I investor/creditors of their $500,000 limited partner contributions, but not their administrative fees of $50,000 each, for thirty-five (35) investors totaling $1,750,000," Simonds wrote.
"The one hundred and fifty (150) Phase II investor/creditors have received nothing," he added, "and are owed $550,000 each, or the total sum of $82,500,000. Together, the total amount outstanding for the Phase I and Phase II investor/creditors is $84,250,000."
EB-5 investors put up $500,000, plus as much as $50,000 in administrative fees, into the projects. Through their investments, the investors were seeking U.S. residency, which they would be eligible for if projects met job creating requirements.
Those early investors in Phase I and Phase II project had believed their funds were being held in escrow, only to be used to pay for the projects in which they invested in.
Attorneys for the receiver allege that Saint-Sauveur knew all along Quiros would be using EB-5 funds from Phase I and Phase II investors to pay for the resort.
According to SEC filings, in June 2008 Quiros negotiated a transfer of EB-5 funds with Saint-Sauveur officials moving the assets of Jay Peak, including cash from immigrant investor accounts, to his company, Q Resorts.
That transfer occurred within hours of Quiros' purchase of the resort.
In advance of the transfer, according to court filings, Quiros asked Saint-Sauveur to open brokerage accounts at Raymond James for EB-5 funds that were to be used for construction of the Tram Haus Lodge and Hotel Jay.
Attorneys for Saint-Sauveur, at the time of the bank transfers, sent a letter to Raymond James, which was copied to Quiros and Stenger, saying that money for those EB-5-funded projects "may not be used in any manner" to pay for Jay Peak, according to the SEC filing.
Lawyers for the investors and receiver have said that letter was a "protect your ass" document, with the Canadian firm knowing all the while what was really taking place. Attorneys for the firm have denied that claim.
Saint-Sauveur's legal team, in their recent filings, took aim at the allegation that the Canadian firm is responsible for the money from all the Phase II investors, pointing out that a great deal of that more $80 million in funds was raised after the sale of the resort in 2008.
"This is a preposterous notion," David Pocius, a Burlington attorney representing Saint-Sauveur, wrote in a filing.
Pocius also wrote that following an earlier hearing to dismiss the case, the judge threw out all but two of the claims by the investors, "and characterized the damage allegations as to the surviving claims as 'sparse.'"
The judge also ordered the attorneys for the investors to file a more "definitive statement" on the damages they are seeking to recover. That's what prompted the back-and-forth recent filings by both sides in the case.
Attorneys for Saint-Sauveur have claimed that since the receiver now possesses the resort, as well as other completed projects funded by the EB-5 investments, including Phase I and Phase II, the receiver shouldn't be entitled damages on top of the assets he already has in hand.
Jay Peak has recently been put on the market, with money from the sale expected to go alleged defrauded investors on a "pro rata" basis. But the market value for the resort could be far less than what is needed to fully repay investors. While the resort is appraised by the town of Jay for $124 million, fair market estimates could be as low as $70 million, town officials say.
Pocius wrote in his filing that the "definitive statement" from the investors and receiver regarding damages makes little sense.
"The Response just adds to the confusion and uncertainty surrounding the damages issue. At one point, for example, the Plaintiff infers that SSVR should be liable in an amount equal to the full amount invested by Phase I and Phase II investors, which he calculates to be in excess of $84 million," Pocius wrote.
"Elsewhere in the Response, the Plaintiff suggests that SSVR should be held liable to "repay the full sum of $21,936,030 it received in payment for the Resort even though the Court has already characterized this damage claim as giving rise to an unconscionable windfall."
Goldberg recently submitted an affidavit in support of his claim that damages in the case could surpass $80 million in the case.
He added that when Quiros used those EB-5 investor funds to purchase Jay Peak in 2008, it left the escrow accounts and partnerships that had been set up to hold those funds insolvent.
"Upon a verdict that SSVR breached its fiduciary duty to the Phase I and Phase II investor/creditors, I believe that I would be entitled to recover damages, representing the 'direct economic loss' foreseeably arising from the breach," the receiver wrote.
Goldberg then added, "This means that a jury could find that the conduct of SSVR, which rendered the Phase I and Phase II limited partnerships insolvent, foreseeably caused economic loss to all those investors, meaning SSVR could be liable for the sum of $84,250,000."
https://vtdigger.org/2019/03/11/jay-peak-receiver-argues-saint-saveur-valley-resorts-owes-80m-eb-5-fraud/
Mentions
Litigation Cases
States
---
Securities Disclaimer
This website is for informational purposes only and does not constitute an offer or solicitation to sell shares or securities. Any such offer or solicitation will be made only by means of an investment's confidential Offering Memorandum and in accordance with the terms of all applicable securities and other laws. This website does not constitute or form part of, and should not be construed as, any offer for sale or subscription of, or any invitation to offer to buy or subscribe for, any securities, nor should it or any part of it form the basis of, or be relied on in any connection with, any contract or commitment whatsoever. EB5Projects.com LLC and its affiliates expressly disclaim any and all responsibility for any direct or consequential loss or damage of any kind whatsoever arising directly or indirectly from: (i) reliance on any information contained in the website, (ii) any error, omission or inaccuracy in any such information or (iii) any action resulting therefrom.