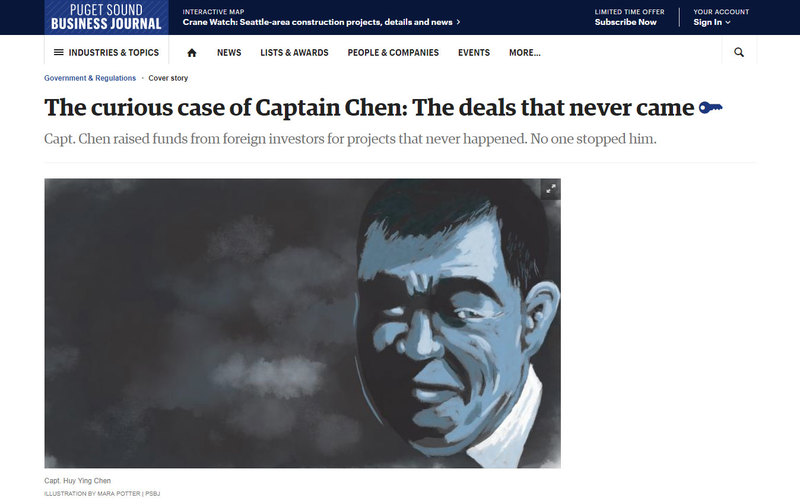 Capt. Chen raised funds from foreign investors for projects that never happened. No one stopped him.
To officials in Longview, a scrappy Washington mill town on the Columbia River, the "Cool Port" proposal was like manna from heaven.
A Sammamish resident, Capt. Huy Ying Chen, came to town in early 2013 with an ambitious plan for his company, Great Ocean Capital Holding, to build an international shipping terminal called "Cool Port — Port of Longview."
The $202 million Cool Port — which was to be funded mostly by foreign nationals seeking to immigrate to the United States on EB-5 visas — would consist of ocean-going freighters, inland barges operating upriver to Lewiston, Idaho, and a huge warehouse for packing seafood and agricultural products. The project would generate 600 direct jobs and thousands more indirect jobs.
While exciting news for Longview, where the unemployment rate was nearly 12 percent at the time, Geir-Eilif Kalhagen, then the CEO of the port, was skeptical.
"As this is a case of just too good to be true, I am not ready to send out invitations to the ribbon cutting just yet," Kalhagen wrote in an email to port commissioners after viewing the proposal.
Kalhagen's hunch was right. Four years later, there is no Cool Port, and Longview officials haven't heard from Chen since the fall of 2015.
In the 13 months after, Chen continued to solicit EB-5 investors for the Great Ocean project in Longview.
"As to whether we accept other EB-5 investors, the answer is yes," he wrote in response to questions from the Puget Sound Business Journal on Oct. 27.
Months before he stopped communicating with Longview officials, Chen proposed an even bigger EB-5 project in Astoria, Oregon. It, too, floundered. As of March 23, it was still advertised on Great Ocean's website.
Last year, a King County Superior Court judge ruled Chen must return one investor's money after she filed suit. As part of that decision, the judge ruled Chen violated the Washington state Securities Act.
The building that housed Chen's previous business, Safety Touch, was sold in a bankruptcy auction in 2007, and he has been fighting the foreclosure of his Sammamish home for 11 years.
The Puget Sound Business Journal has been tracking the story of Capt. Chen and Great Ocean since last summer. Our findings are based on email exchanges between the paper and Chen, as well as interviews and court filings from the various legal battles Chen has fought and continues to fight.
Great Ocean is one of 57 current EB-5 projects in Washington state officially registered with the United States Citizenship and Immigration Services (USCIS). The goal of the EB-5 program — where foreign nationals are asked to put up at least $500,000 and, in exchange, receive visas and a chance to seek permanent residency in the U.S. — is to create jobs.
But unlike U.S. investors, EB-5 investors do not need to be accredited to qualify for the program and there is little protection by the government for foreign investors in U.S. projects. That, combined with cultural and language barriers, could make them more vulnerable to fraud.
It also puts at risk the cities and towns where these projects are proposed, particularly if those projects are disrupted before they begin or abandoned before they can be completed.
There are many EB-5 projects around the Seattle area that operate within the confines of the program, such as The Mark, a downtown Seattle tower.
EB-5 history
Congress created the EB-5 investor program in 1990 to encourage foreign investment and jobs in economically challenged regions.
Foreign investors can gain permanent U.S. residency for themselves, their spouses and their unmarried children under the age of 21 by investing at least $1 million, or $500,000 if the investment is in a high-unemployment area, such as Longview. There is a cap of 10,000 applications under the EB-5 program each year.
EB-5 is not a permanent program and must be periodically reauthorized. In December, President Barack Obama extended the program through April 28, 2017.
What's at stake
Nationwide, the EB-5 program created more than 174,000 jobs, with $16.4 billion of total investments in 562 EB-5 projects in 2012-13, according to a report the U.S. Department of Commerce issued earlier this year. This accounted for between 0.5 percent and 1.6 percent of the flow of foreign direct investment into the United States. Of the total, roughly 35 percent, or $5.8 billion, came from around 11,100 EB-5 investors. The remainder came from non-EB-5 investors.
During this same period, 122 EB-5 investors sunk $61 million in three projects in Washington state, helping generate $156 million in development. This created an estimated 2,649 jobs.
Chen had submitted information to the Port of Longview showing that in addition to EB-5 investor money, he would put $76 million into the project. In an email, Chen said that would come from non-EB-5 investors in Asia. This is Chen's first EB-5 project, he said.
EB-5 money provides developers the opportunity to build big projects in areas where traditional investors might not be willing to take the risk. In Renton, for example, EB-5 funds are partly financing a $350 million office and hotel campus project called Southport.
Seattle also has several large EB-5 projects, including the $450 million Mark high-rise hotel and office project downtown and the Dexter Station office building in South Lake Union, which Facebook has leased.
'Investor, beware'
While EB-5 projects can be a windfall for the areas where they're built, investors have few protections. The USCIS, which runs the program, takes only an "investor, beware" tack, noting on its website that even though a development might be formally recognized as an EB-5 project, that doesn't mean it is a safe investment.
Investors are on their own. In Seattle, it has been shown that authorities do not step in until something goes awry.
There have been four cases alleging EB-5 malfeasance in the Puget Sound region, including Seattle-area real estate developer Lobsang Dargey. Dargey's downtown Seattle Potala Tower project was stalled two years ago when the Securities and Exchange Commission filed a civil fraud complaint against him. In a related case, Dargey pleaded guilty to criminal charges.
In March, Dargey and the SEC reached an $18.4 million settlement. Dargey is scheduled to be sentenced June 15 and faces up to 10 years in prison for conspiring to commit wire fraud and concealing information from federal authorities overseeing the EB-5 program.
As part of the plea agreement, he has agreed to pay up to $24.2 million to the victims of his crimes. But the 250 mostly Chinese EB-5 investors in the Potala Tower project in downtown Seattle as well as a nearly completed hotel/apartment development in Everett may have lost their chance at U.S. citizenship. Program regulators have terminated both the Seattle and Everett buildings as EB-5 projects.
Who is Capt. Chen?
"I remember him well," said Barbara Nelson, president of ROI Commercial Real Estate Inc. in Woodinville. She worked on a foreclosure in 2007 involving a warehouse and office building Chen developed in Woodinville for an import/export business called Safety Touch, which Chen said he operated for 13 years.
Initially, Nelson said, Chen didn't seem to understand she had been hired to help him find rent-paying tenants so he could complete the building. She was on the assignment for eight months.
The United States Bankruptcy Court in Seattle eventually approved the sale of the building to a Seattle company, Garneau Properties.
In an email to the Business Journal, Chen blamed "commercial bank fraud" for the foreclosure.
He ended up suing Garneau Properties, Nelson and others involved in the case. The court dismissed that suit, but not until the defendants spent thousands of dollars defending themselves, Nelson said.
Chen, 64, is from Taiwan, and is a United States citizen. He says he graduated from the Taiwan Merchant Marine University.
Chen reportedly told an investor, according to a lawsuit brought later by that investor, that he was once the youngest captain at two Taiwan shippers, Evergreen Marine Co., and Wan Hai Lines. Chen told the Business Journal he was first hired at age 26. Neither Evergreen nor Wan Hai responded to the paper's request for employment confirmation.
The Woodinville foreclosure is not Chen's only one. He has been fighting to keep his four-bedroom house in Sammamish for nearly 11 years. It was sold late last year at a courthouse auction, though Chen filed an objection to the confirmation of the sheriff's sale, arguing it was sent to the wrong address. A King County Superior Court judge ruled against the objection.
"He's a master at keeping these proceedings going," said attorney Steven K. Linkon of RCO Legal in Bellevue, who in 2007 represented the bank in the foreclosure of the house. "He's a great talker and he had a lot going on, so he was able to get a lot of reprieves."
Chen formed Great Ocean Capital Holding and registered it as a Washington limited liability company in early 2013. By the end of the year, USCIS designated Great Ocean as an official EB-5 regional center.
Chen has been fighting foreclosure proceedings on his home in Sammamish for 11 years.
A chance meeting
Once designated an official regional center, Great Ocean could now start looking for investors.
A chance meeting at an English as a Second Language class led Capt. Chen to Zhongyuan "Bonnie" Pan, 29, who works in the supply-chain logistics industry. She gave Great Ocean $500,000, plus a $19,500 administrative fee. Pan later went to work for the company, 17 percent of which her parents own, according to a declaration her parents filed in court during a request to have one of Chen's bank accounts frozen.
Her father, Yanlu Liu, met Chen at an ESL class at Lake Washington Institute of Technology in Kirkland. They immediately hit it off. Bonnie Pan said in a court document that her father told her he had met "a brother."
Liu and his wife Hua Pan, Eastside residents, told Chen how they had gained permanent residency in the U.S. through an EB-5 project in Idaho. Liu said Chen expressed interest in using the program to fund some of his projects. Chen told Liu about his work in international trade and claimed President George H.W. Bush honored him as an "excellent immigrant enterpriser" in the 1990s, Liu stated in his declaration to the court.
Liu and his wife ended up investing $50,000 in Great Ocean along with $180,000 into what Liu said was a failed project Chen had named Great Alaska Holding. The $180,000 was returned to Liu and Hua Pan, according to a court declaration by Liu.
This relationship led to Bonnie Pan's involvement in Great Ocean. In a court declaration, Pan said that in late 2013 — when she was then a potential investor in the Great Ocean EB-5 Regional Center — Chen told her he had secured a long-term lease for property in Longview for the Cool Port, where hundreds of workers would pack and ship seafood and agricultural products.
Pan's declaration added that Chen told her the lease made Great Ocean worth hundreds of millions of dollars.
She went to work for Great Ocean Capital Holding in early 2014, and later that year she wired $519,500 to the company, court documents show.
It turned out the lease never existed.
"There are no lease documents or commitments of any kind between Great Ocean and the port," Port of Longview Director of External Affairs Ashley Helenberg told the Business Journal. "Our project vetting and lease negotiation process is extensive and thorough, and this project hadn't even entered that official process."
In 2015, Pan filed suit against Chen seeking to get her investment and application fees back.
Pan said in her lawsuit that she invested even though she said Chen did not allow her to review a private placement memo that outlined Great Ocean's Longview plans.
"At the time I was not terribly concerned because I trusted him and my father trusted him," Pan stated in her declaration.
In a written statement to the Business Journal in October, Chen said Pan had misrepresented herself to Great Ocean by saying she was an accredited and sophisticated investor, and this should under state law bar her from her legal claim.
Capt. Chen met Yanlu Liu at an English as a Second Language course in Kirkland. They hit it off immediately. Liu told Chen about how EB-5 the program worked. They went into business together.
Frozen assets
Emails between Great Ocean and the Port of Longview, obtained by the Business Journal through a public records request, show Chen was eager to move the project ahead. The port and Chen emailed back and forth through the summer of 2014. Communication briefly resumed in the fall of 2015, with no tangible signs of progress.
This concerned Bonnie Pan, who was banking on the project to help her get a green card.
On Dec. 8, 2015, Pan's father alleged in King County Superior Court that Chen had transferred $160,000 from a Great Ocean bank account in the U.S. to a Chinese-based bank. In a separate court filing the same day, Bonnie Pan said she had asked Chen several times for Great Ocean's business plan but he refused because it was sensitive information.
Pan, along with her husband and parents, asked the Superior Court for a preliminary injunction against Great Ocean, expressing concern about the company transferring Bonnie Pan's investment overseas.
Ten days later, Judge Suzanne Parisien granted the preliminary injunction, freezing a Great Ocean bank account.
Chen said this has caused him financial duress. The state Department of Labor & Industries, for instance, ordered Chen to send three former Great Ocean employees a total of nearly $40,800 for unpaid wages and interest. L&I spokesman Matthew Erlich said the money, plus a penalty of $3,860, have been paid.
In an email, Chen said the court order freezing Great Ocean's assets was the reason these employees were not paid.
Parisien on Nov. 28 ordered Great Ocean to return the $519,500 investment and application fees to Pan. In addition, Great Ocean was ordered to pay Pan more than $225,600 in interest and legal costs.
Chen asked the judge to reconsider, but Parisien denied the motion.
"He's very consistent at filing for reconsiderations," said Pan's attorney, James Ware of MDK Law in Bellevue. "This is his fourth or fifth one."
Parisien also ruled that by stating in a private placement memo that Great Ocean had a long-term lease in Longview, Chen violated the state Securities Act.
Since then, Chen has returned Pan's $519,500 investment and fees, but not the $225,650 in interest and legal fees. Pan and her parents on March 8 filed "applications for writ of garnishment" against Chen and Great Ocean.
The Pans give up
Pan's parents, meanwhile, have all but given up on getting their $50,000 back. Ware, their attorney, said the parents have dismissed their claim against Great Ocean and Chen "without prejudice," meaning they could resurrect the claim should they decide whether "the juice is worth the squeeze."
Ware added the parents no longer consider themselves affiliated with Great Ocean.
"I just think they want to be done with Mr. Chen and move on with their lives," he said.
On the advice of counsel, Chen declined the Business Journal's request for an in-person interview.
In an email, he said it is he who is the aggrieved party. After Pan sued him and before Parisien's ruling against him, he said Great Ocean had agreed to return her money, but that Pan wanted her legal fees paid, too, which Chen alleges are inflated.
Chen said Pan received provisional approval for U.S. residency then sued Great Ocean. He said Pan should have either canceled her EB-5 application or released her investment to Great Ocean.
"I am of the opinion that this case is not about a(n) EB-5 regional center allegedly defrauding any investor, but rather a prime example of the proverb, 'you can't have your cake and eat it, too,'" Chen wrote in an email.
Pan made a promise to Great Ocean and the people of the United States that if she got provisional residency approval, her funds would be released and invested in a job-creating project, Chen continued, adding "she appears to have broken this promise."
Pan now lives in Ontario, Canada, according to court documents. Through their attorneys at MDK Law in Bellevue, Pan and her parents declined the Business Journal's request for an interview.
But in a response to a court motion by Chen, Pan's attorneys stated, "Pan has not engaged in immigration fraud. Furthermore, (Pan's) attorneys have not, as the defendants allege, inflated attorneys' fees …."
Chen proposed a $202 million upgrade to the Port of Longview in 2013 and began raising money from EB-5 investors. He was still raising money in the fall of 2016, though the port hasn't heard from him in more than a year.
'Big dreams' in Astoria
King County Superior Court and Longview are not the only places where questions about Chen and Great Ocean have been raised.
After communication between the Port of Longview and Great Ocean stopped in the summer of 2014, Chen initiated conversations with officials at the Port of Astoria at the mouth of the Columbia River. There, he proposed an even bigger EB-5 development.
According to a marketing flier, Great Ocean was going to redevelop the Astoria port, "redefining it as a cold chain distribution center with seafood and fruit storage, and process and trans-modeled transportation." Tugs would transport agricultural products from upstream to the privately owned port and distribute it across the Pacific Rim on deep-sea vessels.
In addition, Chen proposed a resort in Astoria, a cruise ship homeport and a plan to turn the regional airport into an international one with 747 service.
"I would tell you that that's absolutely impossible at our airport. You might land (a 747) but it would never be able to take off again," Port of Astoria Executive Director Ted Knight said.
Knight asked Chen to send him a written business plan, but said he never received one.
"All my warning bells went off at that point," Knight said.
The Daily Astorian newspaper published two articles about Great Ocean in March 2015. The first one laid out the company's plans and quoted Chen saying he had 56 or 58 EB-5 investors and planned to have 196 of these investors plus about $20 million from non-EB-5 investors.
Three weeks later, the paper published another article with the headline, "Great Ocean has big dreams, little reality," noting the company's plans "appear to be stalled, if not a phantom." The story stated, "Great Ocean largely doesn't exist beyond a rented office in Kirkland, and a string of port officials who said they've had nothing but talks."
Chen said issues with a longshoremen's union were going to affect investors' returns, so he decided to move the project elsewhere but did not specify a location. The Astoria resort was put on hold due to political reasons, Chen told the Business Journal in an email.
Knight said that against his advice, Chen tried to meet with mayors of cities in the Astoria area to talk about his plans. Knight told him it was up to port commissioners, not the mayors, to sign off on Great Ocean's plans. None of the mayors showed up for the meeting, and "shortly after that he went away," Knight said.
Ship in Shanghai
While it never had a lease with the Port of Longview, Great Ocean once had — and may still have — a cargo ship.
The 330-foot-long "G.O. America" has been moored in Shanghai, China for months, according to an online ship tracker. In a court filing last spring, Chen said because Judge Parisien froze Great Ocean's bank account, the company was unable to pay the ship's crew, and that the vessel was up for auction.
Chen, in an email to the Business Journal in January, said he would soon have some "big news." It was around this time the Great Ocean website was updated. Gone were the mentions of Astoria and Longview.
The new site showed a shipping map with stops on the west coasts of Mexico, Canada and the United States but with no ports of call in the Northwest. Also on the map was a mention of Wan-Hai, the Taiwanese shipping company where Chen told one investor he had worked, according to court documents.
The indication was that Wan-Hai ships traveling between the Americas and Asia would work in concert with Great Ocean vessels moving freight among ports on the west coast of North America.
Chris Orr, a senior executive at Wan Hai Lines in the United States, said he had, at the Business Journal's request, reached out several times to Wan Hai's headquarters in Taipei to discuss possible ties with Great Ocean.
"We are unable to confirm or deny the requested information," Orr wrote in an email.
Shortly thereafter, the Great Ocean website was changed back. As of March 23, it again included information about the Astoria resort and airport and said the company's "cool container port is a new concept in maritime logistics, utilizing the perfect location at the Port of Columbia River."
The Port of Columbia River does not exist.
'A very big red flag'
Trying to make sense of the complicated EB-5 program is difficult for anyone, let alone foreign nationals trying to secure one of the 10,000 visas the government awards each year.
The United States Citizenship and Immigration website lists approved regional centers and says government approval of a center does not in any way constitute USCIS endorsement of that center nor eliminate risk to the investor.
There are companies that help EB-5 investors vet projects, and one is EB-5 Analytics of Phoenix.
John Roth, the head of the company, said there are warning signs of possible fraud, including when a project is "half baked" without key elements of the business plan in place.
"That's a very big red flag," said Roth, who added he could not comment specifically about Great Ocean since he was unfamiliar with the company.
Roth said another warning sign is if an EB-5 project is the backer's first one.
Questions remain
Getting information from USCIS about any EB-5 project is difficult. It's unclear how many EB-5 investors have actually put money into Great Ocean.
In an October email to the Business Journal, Chen said Pan was the first person who sought to obtain a green card through the EB-5 program but he told the Daily Astorian he had 56 to 58 EB-5 investors.
Chen later qualified his comment, saying he had told the Astorian he had 56 to 58 potential investors, and that some of them may withdraw.
Regulators won't say whether they're looking into Great Ocean, though a spokeswoman for the USCIS said the agency takes any "allegations of EB-5 program malfeasance very seriously."
USCIS spokeswoman Sharon Rummery declined to comment about Great Ocean, and referred questions to the U.S. Securities and Exchange Commission. The SEC declined to comment.
Peter Lavallee, spokesman for the state Office of the Attorney General, said the office received two complaints against Great Ocean in July. The complaints were filed by two former Great Ocean employees, alleging fraud. One complaint alleged there's "reasonable cause to believe there may be fraudulent activities with respect to the EB-5 visa program," and the other flat out called Great Ocean's business a fraud. Both complainants declined to comment.
The state Office of the Attorney General declined the Business Journal's request for an interview about the complaints against Great Ocean.
In an email, Chen said no federal or state agency has made any finding that he has done anything unlawful.
"Although the Honorable Judge Suzanne Parisien has not granted our motion to dismiss (the) plaintiffs' case as of yet, we are confident in our judicial system and in her experience and her judiciousness," the email said.
That was a month before Parisien ruled Chen had violated the state Securities Act. Chen then asked her to reconsider. On Feb. 16, she denied that request and a month later, Chen filed a notice to appeal to the state Court of Appeals.
Meanwhile, the USCIS website still lists Great Ocean as an approved EB-5 regional center. Great Ocean Regional Center is free to continue seeking investors.
https://www.bizjournals.com/seattle/news/2017/03/31/captain-huy-ying-chen-eb5-cool-port-longview.html
Mentions
Litigation Cases
States
---
Securities Disclaimer
This website is for informational purposes only and does not constitute an offer or solicitation to sell shares or securities. Any such offer or solicitation will be made only by means of an investment's confidential Offering Memorandum and in accordance with the terms of all applicable securities and other laws. This website does not constitute or form part of, and should not be construed as, any offer for sale or subscription of, or any invitation to offer to buy or subscribe for, any securities, nor should it or any part of it form the basis of, or be relied on in any connection with, any contract or commitment whatsoever. EB5Projects.com LLC and its affiliates expressly disclaim any and all responsibility for any direct or consequential loss or damage of any kind whatsoever arising directly or indirectly from: (i) reliance on any information contained in the website, (ii) any error, omission or inaccuracy in any such information or (iii) any action resulting therefrom.