State settles EB-5 fraud case with Quiros for $2M; Stenger for $100k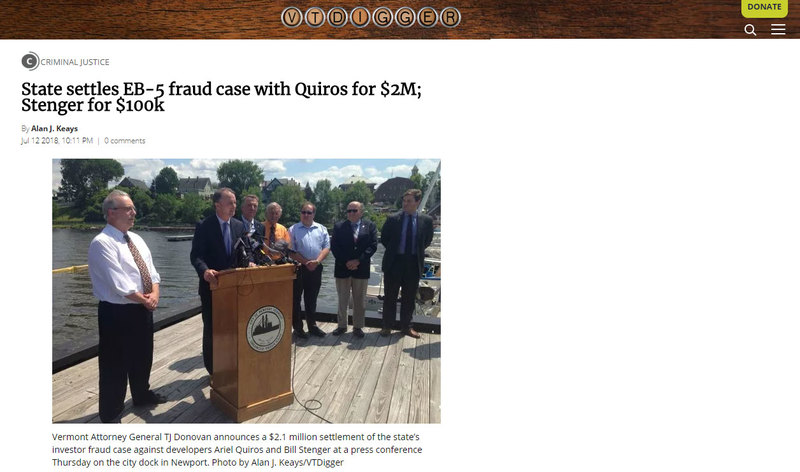 Vermont Attorney General TJ Donovan announces a $2.1 million settlement of the state's investor fraud case against developers Ariel Quiros and Bill Stenger at a press conference Thursday on the city dock in Newport.
State officials have reached a $2.1 million settlement with the former Jay Peak developers at the center of an investor fraud scheme that regulators say spanned nearly a decade and bilked hundreds of millions of dollars from foreign investors.
Gov. Phil Scott and Attorney General TJ Donovan announced the settlement at a press conference Thursday on a dock overlooking Lake Memphremagog in Newport, a Northeast Kingdom community home to two projects by the developers that never got off the ground.
Get all of VTDigger's criminal justice news.
You'll never miss our courts and criminal justice coverage with our weekly headlines in your inbox.
One of those projects was termed "nearly a complete fraud" by regulators while the other has left a large hole in the city's downtown after buildings were razed for a project that stalled once state and federal authorities put the brakes on in April 2016.
The settlement money will go to fund economic development efforts in the Newport region, both Scott and Donovan said Thursday.
"We're confident this settlement will make a meaningful impact on the Northeast Kingdom," Scott said from a podium on the dock. "An infusion of capital is very helpful to this region and this economy."
Donovan added that the settlement would help "repair the harm done to the city of Newport."
The settlement announced Thursday, if approved by a judge, would end the state's more than two-year-old case against Ariel Quiros, Jay Peak's former owner, and his past business partner Bill Stenger, the resort's former CEO.
The financial terms resolving the state's case against the two men pales in comparison to one reached earlier this year in a similar lawsuit filed by federal regulators.
In that case, brought by the U.S. Securities and Exchange Commission, the total settlement involved Quiros alone surrendering $81 million in assets, while Stenger was assessed a $75,000 penalty.
In the state's settlement, again Quiros is forking over a lion's share of the money, agreeing to surrender five properties in Vermont valued by the state at $2 million.
Stenger will pay more than he did in the federal one, this time agreeing to $100,000 over four years.
The settlement Thursday comes of the heels of a blistering review issued just days ago by a federal agency that took the state to task for its lack of oversight and misrepresentations regarding the series of projects headed by the two developers.
That review was included in a document by the U.S. Customs and Immigration Services ordering the termination of the state's EB-5 Regional Center.
The state plans to appeal that USCIS decision.
"It had no impact," Donovan said of that USCIS document on the state's settlement with Quiros and Stenger. "We've been in negotiations for quite some time. It had absolutely no role in the settlement."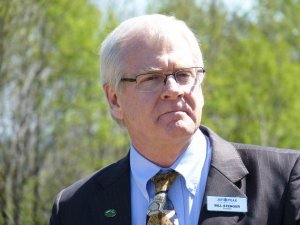 Bill Stenger, CEO of Jay Peak.
Asked if he believed that criminal misrepresentations were made by state officials, Donovan replied that he wasn't aware of any state employee who "committed intentional fraud," adding, "I would challenge anyone to produce that evidence."
He said the U.S. attorney's office in Vermont is conducting a criminal investigation into the EB-5-related matters, a decision that was backed by the state officials when the state brought its civil lawsuit against Stenger and Quiros in April 2016.
"You can't commence a civil action and then threaten a criminal prosecution," Donovan said in response to questions from reporters about the state conducting its own criminal probe. "It's against our rules."
He said that decision regarding the state pursuing the civil action with the federal authorities taking the lead on the criminal investigation was reached by his predecessor as attorney general, Bill Sorrell.
"That wasn't my decision," Donovan said, adding that for other questions related to the criminal probe, "I'd refer to the federal government."
Federal authorities have been tightlipped about the probe since the start more than two years ago, including neither confirming or denying that one even existed.
Asked how much money the state has spent on litigating its lawsuit against Quiros and Stenger, the attorney general replied, "I'm not sure I have that number off the top of my head. I'm not sure I want to figure out what that number is, but this has been nonstop since I started."
David Cleary, Stenger's attorney, could not be reached Thursday for comment.
Melissa Visconti, a Florida attorney representing Quiros, said in an interview Thursday that the $2 million settlement figure was reached after "compromise" by both sides.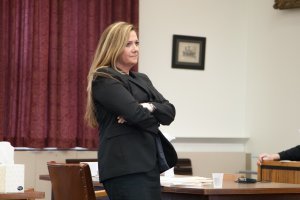 Melissa Visconti, an attorney from Miami representing Ariel Quiros, the former owner of Jay Peak Resort.
"(Quiros) wants to make every step toward resolving all litigation," she said, adding, "He's happy to be doing it a way that will hopefully benefit the people of Vermont."
The proposed resolution of the state's case comes before any depositions in the lawsuit have taken place, meaning state officials involved in the EB-5 program did not have to testify under oath about their actions.
Those depositions also would have become public as the case worked its way through the legal system.
VTDigger has been trying for years to obtain public records from the state regarding the EB-5 program, with the state refusing most requests citing the ongoing litigation involving the developers, as well as another lawsuit brought by a group of investors.
Those investors, led by Anthony Sutton of Great Britain, sued several state agencies and a slew of current and past state employees and officials alleging they were complicit in the alleged fraud carried out by the two developers.
Documents related to that case will remain kept from public release while that matter is pending, the attorney general said.
"The AG's office would turn these documents over to the public if we could," Donovan said. "But, the plaintiff appealed. That case is currently pending, we have a fiduciary responsibility to our clients to do our job."
A state judge recently tossed that lawsuit out, but Stowe attorney Russell Barr, representing the investors, is appealing that ruling to the Vermont Supreme Court.
Donovan did say that, if the settlement is approved by the judge, EB-5 related documents will be provided to State Auditor Douglas Hoffer to conduct an audit to "answer that question of what happened in state government in terms of the management of EB-5."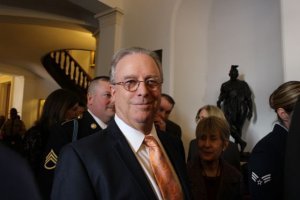 Doug Hoffer, Vermont state auditor.
Hoffer, speaking at the press conference, said his audit will look at who did what when. He added that he couldn't say at this point how long such a review would take, but did point out that state officials have said there are more than 1 million EB-5-related documents.
Both Donovan and Hoffer, Democrats, are running uncontested for their offices in November's elections, while Scott, a Republican, is expected to win a second term despite facing challengers in both the primary and general election.
The fraud was carried out under former Govs. Jim Douglas, a Republican, and Peter Shumlin, a Democrat.
Asked if he believed that a special prosecutor should be appointed to review the state's role in the fraud scandal given the recent stinging federal review, Scott on Thursday wasn't calling for one.
"We have an auditor that is willing to take a look at this as well, and that's in his purview and his background," the governor said. "The attorney general has decided to work with the auditor in terms of investigating what happened so I look forward to seeing what happened."
There had been little action in the state case over the past two years, but it did heat up a bit this spring, when the state argued at a hearing in April for a need to freeze all of Quiros' remaining assets following his $81 million settlement with federal regulators.
The state contended at that hearing that such a freeze was warranted to prevent Quiros from spending down those assets, leaving nothing left for the state to recoup in its lawsuit against him.
The state estimated the value of those assets at between $8 million and $10 million. Judge Mary Miles Teachout granted the state's request, despite the objections of Visconti, Quiros' attorney.
Visconti argued, in part, that a state judge in Vermont had no authority to freeze assets belonging to her client out of the state.
Those assets included properties in Colombia, the Bahamas, Puerto Rico, Colorado and Florida. Visconti vowed to appeal that ruling to the Vermont Supreme Court.
The $2 million settlement the state reached with Quiros falls well below that $8 million to $10 million asset-freeze figure, and involves only the properties owned by Quiros in Vermont.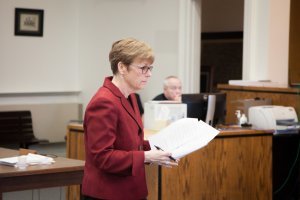 Kate Gallagher.
Assistant Attorney General Kate Gallagher, who argued for that asset freeze, spoke Thursday of the challenge of litigating over those out-of-state properties, some of which was held jointly, leaving only $4 million or $5 million that Quiros had under his control.
She said the state believed it made sense to settle for the $2 million, given that the legal fight would have likely cost another $1 million, plus added a great deal of time to the process to recover the difference.
"As every lawyer knows we can litigate this and continue to litigate it," Donovan said. "At the end of five years the result could be same, let's move forward."
The properties Quiros will turn over to the state are all located in Vermont's Northeast Kingdom. They are:
• a Jay Peak Villages Townhouse on South Village Road in Jay
• a parcel of land on Shallow Brook Road in Jay
• A parcel, known as Okcha Land consisting of nearly 80 acres, in Jay
• Aqurios Farms on Loop Road in Troy
• a parcel of land on Darling Hill Road in Burke
State officials said Thursday that Stenger, "at his own direction," will pay $100,000 to the city of Newport, which will be administered by the state Agency of Commerce and Community Development. The funds will also be earmarked for economic development in Newport.
Stenger, his attorney, and Gallagher signed a settlement agreement Wednesday outlining the terms of his settlement.
"William Stenger, for his part, acknowledges and agrees that he did not adequately or properly supervise the administration of the investor funds entrusted to his care and oversight in connection with his role as the individual and/or co-general partner in the various EB-5 projects, which were initiated as a part of the EB-5 Immigrant Investor Visa Program," the document states.
The document later adds, "Although William Stenger did not receive any of the misappropriated and misused investor funds, he acknowledges that appropriate oversight of the financial transactions involved in the projects would have prevented the misuse, misappropriation, and/or other Improper use of investors' funds."
The two developers were accused by state and federal regulators of misappropriating more than $200 million of the over $350 million they raised through the federal EB-5 immigrant investor program.
The projects started with new hotels and infrastructure improvements at Jay Peak ski resort and expanded to other sites in Vermont's Northeast Kingdom, including Newport.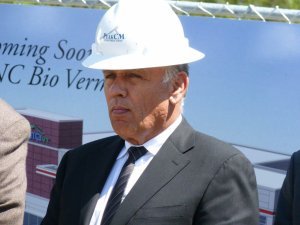 Jay Peak owner Ariel Quiros.
In addition to misappropriating funds through a "Ponzi-like" scheme over an eight-year period, the lawsuits alleged that Quiros pocketed $50 million for himself, purchasing a luxury New York City condo and paying off his taxes.
In Newport, Stenger and Quiros had proposed turning the several contiguous Main Street properties into a four-story development to be known as the Renaissance Block. It was to feature retail and office space and a restaurant, as well as a hotel and longer-term suites.
The site is now referred to as the "hole in the ground," because work stalled after the existing buildings were removed but before construction began. Rental units made up most of the dilapidated buildings of the Spates Block.
And that wasn't all Stenger and Quiros had planned for Newport, all to be funded with foreign investment through the federal EB-5 visa program. The developers had announced a grander proposal for a site just outside downtown on Lake Road.
Stenger and Quiros said they would convert the former Bogner plant into a $110 million biomedical research center. However, like the Renaissance Block, it never materialized. Federal regulators have termed that project, called AnC Bio Vermont, "nearly a complete fraud."
Newport Mayor Paul Monette said Thursday that he welcomed the news that settlement funds would help bolster economic development efforts in the region.
"It's hard to believe it's been two years since this scandal broke," he said, adding that the community has done a great deal of work since that time with the assistance of planning grants to move the city forward.
He talked of plans to better tie in the city's Main Street and waterfront. Now, with the settlement funds, work can proceed on how to make those plans become reality, he said.
https://vtdigger.org/2018/07/12/state-settles-eb-5-fraud-case-quiros-2m-stenger-100k/
Mentions
Litigation Cases
States
---
Securities Disclaimer
This website is for informational purposes only and does not constitute an offer or solicitation to sell shares or securities. Any such offer or solicitation will be made only by means of an investment's confidential Offering Memorandum and in accordance with the terms of all applicable securities and other laws. This website does not constitute or form part of, and should not be construed as, any offer for sale or subscription of, or any invitation to offer to buy or subscribe for, any securities, nor should it or any part of it form the basis of, or be relied on in any connection with, any contract or commitment whatsoever. EB5Projects.com LLC and its affiliates expressly disclaim any and all responsibility for any direct or consequential loss or damage of any kind whatsoever arising directly or indirectly from: (i) reliance on any information contained in the website, (ii) any error, omission or inaccuracy in any such information or (iii) any action resulting therefrom.