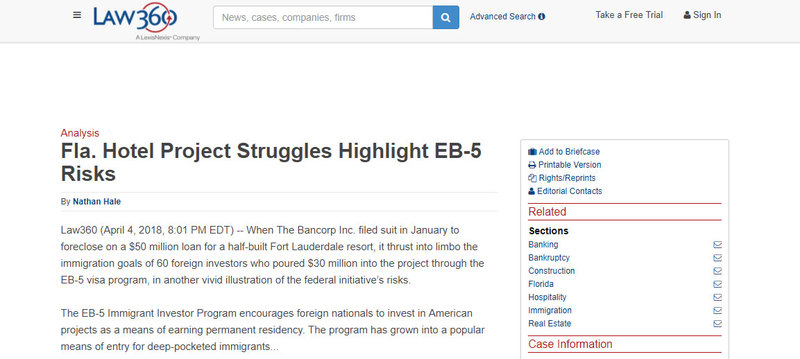 When The Bancorp Inc. filed suit in January to foreclose on a $50 million loan for a half-built Fort Lauderdale resort, it thrust into limbo the immigration goals of 60 foreign investors who poured $30 million into the project through the EB-5 visa program, in another vivid illustration of the federal initiative's risks.
The EB-5 Immigrant Investor Program encourages foreign nationals to invest in American projects as a means of earning permanent residency. The program has grown into a popular means of entry for deep-pocketed immigrants and an easily accessed source of financing, especially for commercial real estate projects.
But the foreclosure of the stalled Las Olas Ocean Resort highlights the vulnerable position applicants can find themselves in if a project hits obstacles, as well as the need for applicants to protect their legal rights, attorneys say.
If Bancorp liquidates the project, leaving it unfinished, the immigrant investors' chances of gaining a return on the $500,000 each investor contributed would be in jeopardy. More importantly, it would derail the investors' applications for permanent green cards, which are contingent on the investments creating a certain number of jobs.
Bancorp's Jan. 25 foreclosure complaint omitted mention of the EB-5 component of the project's
financing package, and the bank's subsequent request for a court-appointed receiver to take over
the project recommended a person with no experience handling EB-5 matters.
In response, 31 of the 60 EB-5 investors have asked to intervene in the case, to protect their rights and request that if a receiver is named, it be one with EB-5 experience, in the hope that would improve their chances of preserving their immigration applications.
"[T]he rights and interests that the EB-5 investors seek to protect by this limited intervention are real and substantial," the investors' lawyer, Jeff Schneider of Levine Kellogg Lehman Schneider & Grossman LLP, said in the motion. "[T]he investors' EB-5 status is imperiled by the requested relief of foreclosure sought by the bank in this case and could be imperiled if a receiver were to be appointed who was unfamiliar with the complicated EB-5 issues."
The 31 investors, all Chinese nationals, found themselves in a holding pattern when the foreclosure suit was stayed after 550 Seabreeze Developer LLC filed for Chapter 11 bankruptcy protection. The investors will be watching that case, including an April 10 meeting of creditors, to see if the investors need to pursue similar intervention, Schneider said. He and co-counsel said they are unaware of legal action by any of the other investors.
Any delays add to the investors' concerns because each investor has received approval of an I-526
petition for a conditional green card. That means the two-year window is closing for them to submit an I-829 petition that must show the investment has created 10 qualifying jobs to make their green cards permanent.
Some of the investors have submitted their I-829 petitions and started receiving approvals — a good sign — but it is still a critical period, said co-counsel Matthew Sava of Reid & Wise LLC. The business plan also calls for a portion the EB-5 job creation goal to be fulfilled by positions involved in operating the hotel, retail shops and restaurants, which rely on completion of the construction.
"This could not have happened at a worse time," Schneider said. "Some [investors] are very close to the finish line only to have the project stall out."
A Growing Source of Financing
EB-5 investments are not without risks, and the program has come under scrutiny in recent years as a popular target of fraud schemes.
The most prominent example is a $350 million investment fraud orchestrated by Miami-based
businessman Ariel Quiros that involved construction projects at the Jay Peak ski resort in Vermont, and a second ski resort project and biomedical research facility, also in Vermont.
That scheme, currently the subject of litigation in federal court in Miami, involved 700 foreign investors from 74 different countries, according to claims brought by the U.S. Securities and Exchange Commission.
While the Las Olas Ocean Resort project is much smaller in scale, it is representative of the kind of
projects in South Florida tapping into EB-5 money.
EB-5 capital investment has surged over the past decade, topping $5 billion nationally, according to the nonprofit EB-5 trade association Invest in the USA and government data. As of 2013, Florida ranked fourth among the states with $150.5 million in EB-5 investments and third with 2,755 jobs supported by the program.
In Florida, most of the investment has been in commercial real estate development, according to Michael A. Harris, counsel to Miami law firm Diaz Reus, who focuses on immigration law, including
EB-5 matters.
"The trends have been moving upward in different parts of the state," Harris said. "I see that as a
continuing growth."
How many of these projects have run into complications like the Las Olas Ocean Resort is unclear, but Schneider and Sava said they are working on at least one other matter with another South Florida project that has encountered problems.
Protecting Investors' Interests
It is unclear what was responsible for derailing the Las Olas Ocean Resort. Bancorp pointed to waste and mismanagement, including lost partnerships with Aston Hotels and Resorts as property manager, and the Señor Frog restaurant.
In a bankruptcy filing, 550 Seabreeze cast blame on water, salt and sand intrusion from Hurricane Irma, which the company said caused significant damage to electrical and mechanical components, including in a planned automated garage. A $2 million insurance claim is still pending, and there have been related delays in getting a temporary certificate of occupancy and utility installations, as well as increased labor costs since the September storm.
But the developer also acknowledged prior delays, attributing them to changes in zoning and legal
requirements for flood elevations; the challenge of complying with various agencies' lighting
requirements, in consideration of nesting sea turtles; and delays in steel fabrication.
There has been no specific evidence of fraud, but that is a possibility that has not been ruled out yet, Schneider and Sava said.
Construction is said to be 70 percent complete, according to the developers. The plans call for the resort, located across the street from the beach, to feature 136 rooms, a salon, fitness and meeting rooms, and a state-of-the-art, 260-car automated parking garage, according to court filings.
At this moment, there appear to be four possible paths the matter could take, Schneider said. Bancorp could move to dismiss the bankruptcy as having been a bad-faith filing by 550 Seabreeze intended to delay the foreclosure, but the bank has not yet moved in that direction.
Bancorp also could file a motion for relief from the bankruptcy. The bankruptcy court might allow the bank to move forward with its foreclosure case, probably up to the point of judgment but short of selling the property, Schneider said.
The bankruptcy court could appoint a trustee, in which case the investors would probably surface with a similar motion to the one they filed in the foreclosure case to request a trustee with EB-5 experience, Schneider said.
It is also likely that conversations have been taking place between the developer and bank to determine how much more money is needed to complete the work, Schneider said. If the project were sold now partially completed, it would fetch considerably less than if completed. And the bank likely would have to chase after the developer to complete repayment of the approximately $37 million allegedly outstanding in principal and interest.
Typically banks are looking to move quickly to resolve a situation like this one, and a receiver or trustee would tend to be largely beholden to the lender to sell the project for as much as possible to pay off the lender and call it a day, according to Schneider and Sava.
"And that would probably be the worst case scenario for the EB-5 investors," Schneider said. EB-5 investors are required to maintain their investments "at risk" and cannot receive a refund of their capital during the immigration process. If the receiver sold the collateral or otherwise altered the development or operation of the project, the EB-5 investors' immigration petitions likely would be denied, the investors said in their motion.
In contrast, a receiver with EB-5 experience might look to find funding from another source, possibly through a bridge loan, to maintain the job creation. The receiver could also look to transfer investors from this project to another EB-5 project while keeping them on the same set of deadlines for their immigration petitions, Schneider, Sava and Harris said.
"There are just different ways that the receiver can do things that will not harm and possibly even benefit the EB-5 investors, while at the same time not harming and possibly even benefiting the
lender," Schneider said, contrasting that with a receiver who does not even think about the EB-5 issues because he or she has not dealt with these issues before and is not familiar with the options that are available.
The EB-5 investors have recommended Michael Goldberg, a partner at Akerman LLP who is serving as the trustee in the Jay Peak case, noting that he has taken some of these types of steps to protect the EB-5 investors in that case.
The investors also have argued that the terms of the mezzanine loan contract, through which their funds were provided to the developer from its parent company, required the developer to maintain
the project to ensure compliance with the EB-5 program.
Goldberg declined to comment given that he could become directly involved in the case. Counsel for the developer in the foreclosure case also declined to comment, while the developer's bankruptcy counsel and Bancorp's counsel did not respond to inquiries.
Diaz Reus' Harris said that getting professionals with EB-5 experience involved is a good idea.
"I think it's critical because someone who understands EB-5 … some type of independent attorney,
should be involved to educate the court," Harris said, pointing to the immigration timeline for the EB-5 investors as the most important part.
Harris said that the individual investors may be able to negotiate with the government through their immigration attorneys to obtain extensions on their conditional residency status if the project is held in limbo by the instant litigation, but that is likely to be very costly to them.
"Time is running out for some of those investors, I fear," Harris said.
https://www.law360.com/articles/1026649/fla-hotel-project-struggles-highlight-eb-5-risks
Mentions
Litigation Cases
States
---
Securities Disclaimer
This website is for informational purposes only and does not constitute an offer or solicitation to sell shares or securities. Any such offer or solicitation will be made only by means of an investment's confidential Offering Memorandum and in accordance with the terms of all applicable securities and other laws. This website does not constitute or form part of, and should not be construed as, any offer for sale or subscription of, or any invitation to offer to buy or subscribe for, any securities, nor should it or any part of it form the basis of, or be relied on in any connection with, any contract or commitment whatsoever. EB5Projects.com LLC and its affiliates expressly disclaim any and all responsibility for any direct or consequential loss or damage of any kind whatsoever arising directly or indirectly from: (i) reliance on any information contained in the website, (ii) any error, omission or inaccuracy in any such information or (iii) any action resulting therefrom.