Burke Hotel, Conference Center, Mark 1-Year Anniversary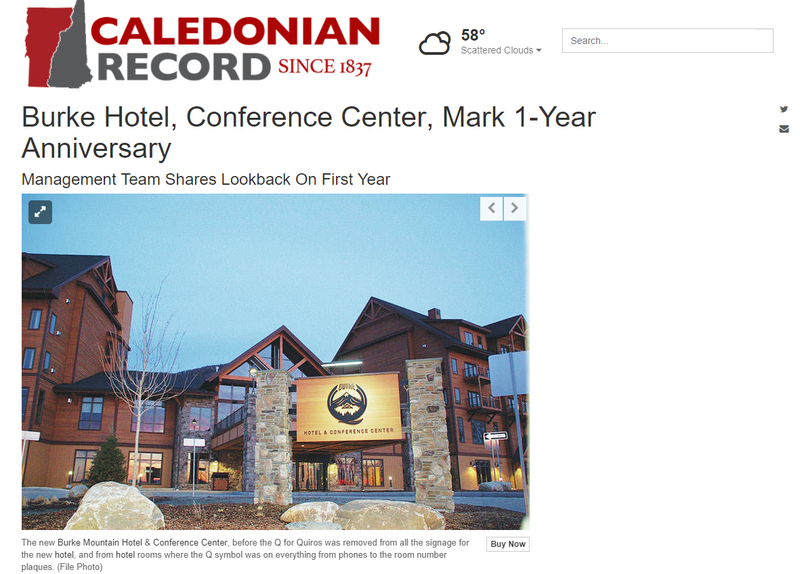 The new Burke Mountain Hotel & Conference Center, before the Q for Quiros was removed from all the signage for the new hotel, and from hotel rooms where the Q symbol was on everything from phones to the room number plaques.
The new Burke Mountain Hotel & Conference Center just marked its first anniversary.
After a soft opening last summer, the new $66 million hotel had its official grand opening and ribbon-cutting ceremony attended by state officials on Sept. 8 last year.
The celebration was well-attended by state officials, from state representatives and senators to department heads from Montpelier as well as then-governor Peter Shumlin, and many locals with a stake in the region's tourism-driven economy, who had their hopes pinned on the major investment at Burke and its promise of jobs and year-round visitors.
Rough Start
Those hopes had crashed to a halt just 4½ months earlier, when the U.S. Securities & Exchange Commission (SEC) and Vermont Attorney General accused the owner of Burke Mountain and Jay Peak, Ariel Quiros, of running a 'Ponzi-like' scheme to bilk foreign investors in the EB-5 program of funds.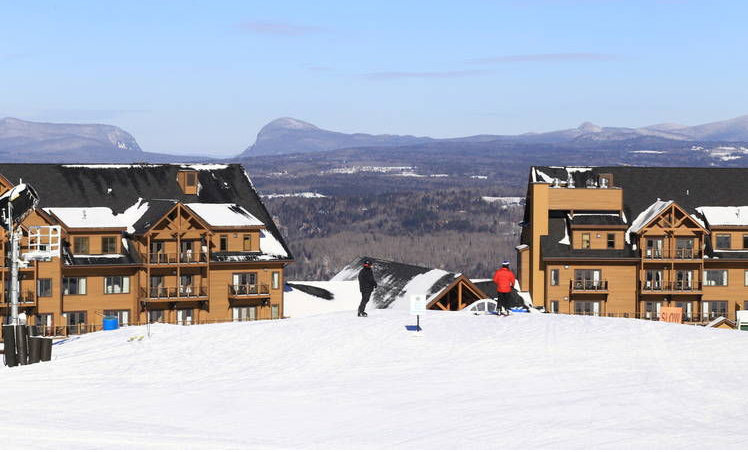 Quiros and his former business partner, Bill Stenger, a well-respected Northeast Kingdom businessman who had long run Jay Peak, were both accused of having allegedly misappropriated more than $200 million in immigrant investor funds, while Quiros faced the more egregious accusations of having allegedly also pocketed an additional $55 million-plus to fuel his lavish lifestyle, court records state.
The news followed a period when the hotel had been substantially completed but sat vacant until the 52 counts of fraud allegations – the largest such case in Vermont history, and described by state officials as "a massive fraud" – were announced.
For months, the hotel had seem poised to open, staff had been hired, but the hoped-for opening in early December 2015 was pushed back repeatedly with important holiday bookings having to be canceled at Christmas, New Year's, Martin Luther King Jr. weekend, and President's Day.
A shortage of cash led to property taxes and bills not being paid, most notably to the general contractor who oversaw the construction of the ambitious project, PeakCM, and the many subcontractors they worked with. Liens began piling up against the as-yet unopened hotel.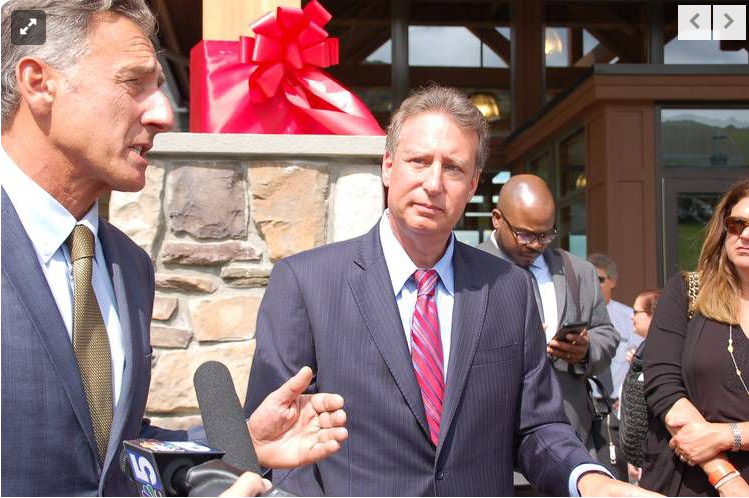 Former Gov. Peter Shumlin, left, speaks at the ribbon-cutting for the Burke Mountain Hotel & Conference Center last year on Sept. 8, with the federal receiver Michael Goldberg, at his right. Goldberg and his team have worked to get the new hotel up and running, and to try to right a lot of the wrongs left in the wake of what state and federal authorities say was a Ponzi-like scheme allegedly orchestrated by the resorts' former owner, Ariel Quiros, whose assets are all frozen under a federal court order.
Most of the new hotel's staff, hired months earlier, was let go, and then the news came crashing down, followed by the Burke and Jay assets being put in the hands of attorney Michael Goldberg, a federal receiver appointed by the U.S. District Court in Miami.
Praise for Receiver
Kevin Mack, director of resort services for Burke, and Jessica Sechler, the resort's director of marketing and sales, were on the ground during all of it, and say a lot of credit goes to Goldberg for staying the course and pushing to get the new hotel open – both to preserve investors' capital and to preserve and create more new jobs at the resort.
Goldberg and his team have turned the tide significantly for the properties in the receivership, the investors, the employees, and for the region which had looked to the two ski resorts as critical components of revitalizing the economically fragile Northeast Kingdom.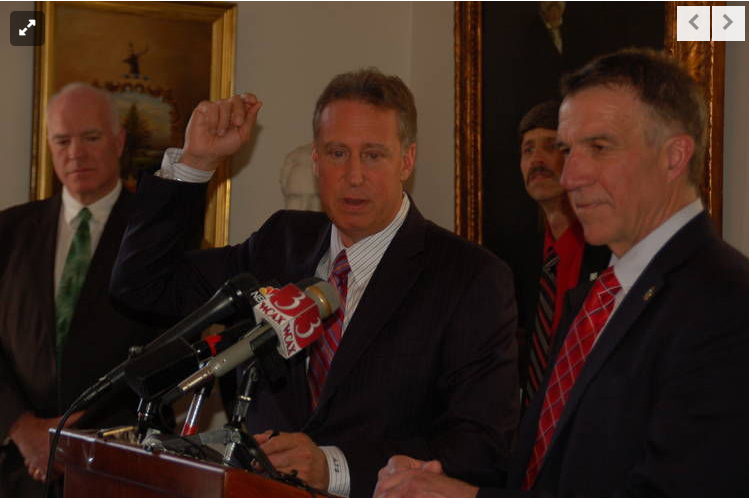 Exactly a year after the scandal alleging a Ponzi-like scheme had been carried out at Burke Mountain and Jay Peak ski resorts, federal receiver Michael Goldberg (hand up) and Gov. Phil Scott, flanked by state officials, announced a huge, $150 million settlement had been worked out with Raymond James financial, money that would be used to pay off creditors, including contractors who had liens on the properties, vendors, and more. Many investors are also being paid back through the significant settlement.
The receivership team have reeled in multiple settlements, the most recent totaling $150 million with the Raymond James financial services company, which Quiros held accounts through and which provided a conduit in his alleged scheme.
The substantial settlement has meant many investors were made whole, property taxes in several Vermont towns were caught up, vendors were paid millions owed, and contractors were also paid back millions.
On Monday, Michael Pieciak, commissioner of the Vermont Department of Financial Regulation, who worked on the investigation, and collaborated with the SEC in its probe, said, "Since helping uncover the alleged fraud, the Department has been working hard to mitigate its impact on the affected Kingdom communities."
"One major goal in this regard was ensuring full construction of the Burke Hotel and then working closely with Mike Goldberg to ensure it opened. It's successful operation this last year represents a big step forward for the Burke community and is another example of how fortunate we are to have Mike Goldberg on the job."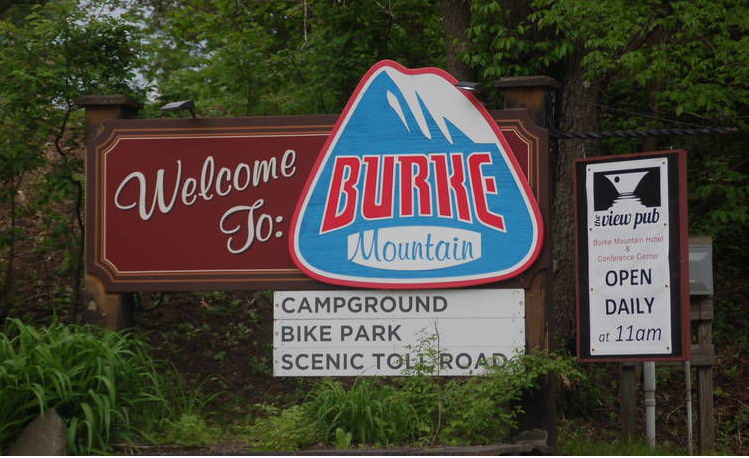 Burke Mountain Resort opened its new hotel & conference center a year ago and is looking forward to seeing its visitor base grow, to benefit the ski resort and the entire community, said Kevin Mack, director of guest relations, and Jessica Sechler, director of marketing and sales for the resort.
Goldberg, who lives and works in south Florida, was unavailable for comment this week, due to Hurricane Irma.
In an earlier interview, Goldberg said the new hotel at Burke has many top-notch elements, and no expense was spared.
The hotel at Burke was supposed to cost $55 million, but ended up costing $66 million, Goldberg said. He said one high end hotel chain who came to look at it, was stunned at some of the equipment at the hotel, including a huge state-of-the-art laundry machine which "takes linens, presses and folds them" and cost $350,000.
"It's easy when you're using investor money at $500,000 (the cost for an investor to be part of the EB-5 development) a pop to get these things," said Goldberg.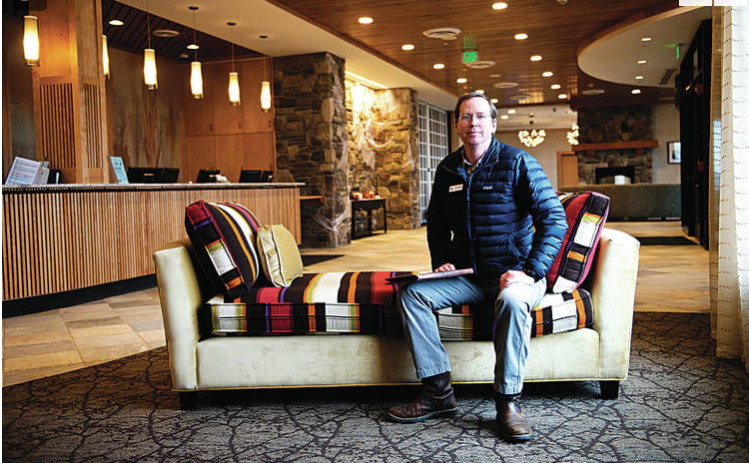 Kevin Mack, director of resort services at Burke Mountain Resort.
Gov. Phil Scott on Monday said, "The opening of the hotel a year ago was important to helping the Northeast Kingdom move forward and in supporting the local economy. There is still more work to do, but it was a positive step forward and we hope to see sustained success of the hotel, providing stability, jobs and contributing to tourism opportunities in the region."
A Year Under Their Belts.
"It's been a lot of fun, but also a lot of of learning in the first year," said Mack. "There was a lot that we had to do to get the hotel ready to accept guests, everything from finding toasters to learning how to work the building management system … It wasn't turn-key."
He said, "This building is very energy efficient, you can control a lot through a laptop, but with that kind of technology comes a lot of training, and the building had sat vacant."
"We dealt with a lot of fire alarms, everyone told me we would have a lot of fire alarms, but until you actually have them and have lots of guests who are concerned … If we were looking back and reminiscing, those would be our least favorite times."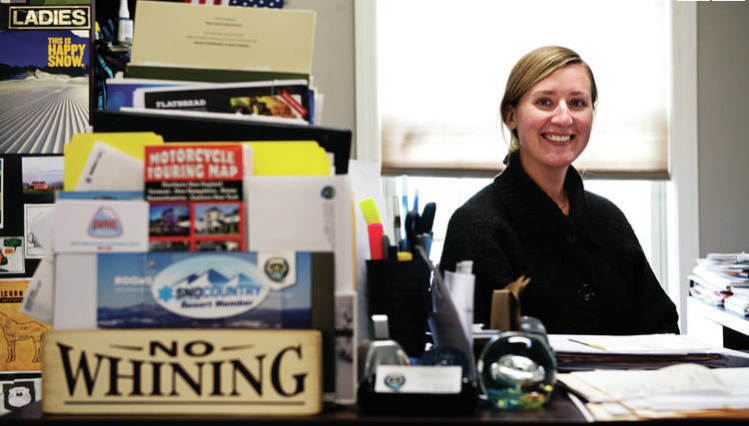 Jessica Sechler, director of marketing and sales at the Burke Mountain Resort, sitting at her desk earlier this year.
He said, "The drama this winter was really around us really responding to the building telling us about itself."
"Responding to a building that had sat quiet for a year was good fun … It was good fun," said Mack with a hearty laugh. He said the "maintenance guys have been working their tails off to make sure we are where we need to be."
"We'll learn something new this winter, as the building transitions from summer back to winter, but we're ahead of the curve … last year we couldn't even see around the curve," said Mack.
New Hotel's Impact Locally
There have been some local growing pains due to the new hotel opening, and its low price deals being offered to entice business to the resort.
A few local innkeepers say the undercut prices have hurt them.
The hope is as the resort does well – it last year secured a coveted US Ski Team training designation with Burke Mountain Academy – that the town will see more and more visitors come; some will want a full service hotel, some will want other types of lodging, and Mack and Sechler say they hope as the town's visitor base draws more people, all boats will rise.
Burke Area Chamber of Commerce Administrator Laura Malieswski on Monday said of the new hotel's first year of operations, "It's been a great and long anticipated addition to the area, not only the hotel itself, but now having a conference center space as well as more dining options in town."
"Of course, the hotel is new competition for other lodging properties in the area and it's been an adjustment period for all while Burke Mountain is in this receivership phase," she said. "While they may not be able to compete with the current pricing, other lodging owners can, and many have done so, find ways to differentiate themselves from a hotel stay by offering unique amenities such as spa services and special vacation packages."
Alivia Bertolini Libby, who runs the Willoburke Boutique Inn Lodge with her husband in E. Burke is one of those small innkeepers who has felt the pain of the new hotel offering slashed rates.
Monday, she said, "The mom and pops simply cannot compete (with a corporation in receivership) we have mortgages/rent payments, operating costs that can't be deferred, real estate taxes that can't be bargained, therefore to stay in business, some might have to reduce their workforce. Our area cannot afford more loss of jobs."
She said if small businesses are adversely impacted, that will hurt the hotel's ability to be sold.
"My only hope is that the resort management comes to appreciate how their conduct impacts the greater Burke community. It appears to have forgotten that the purpose of EB-5 is to be an economic driver for the greater Burke area."
Looking Ahead
A new T-bar lift is being installed to replace the old Poma lift, a more than $1 million investment, and improvements to the resort's snowmaking system are well underway for the upcoming season.
"With the hotel, we want to get open as soon as humanly possible if nature does not provide us with the snow," said Mack. "With all the improvements, snowmaking, the guns we're going to have on the mountain, many of them portable, it's all just up to weather and climate. Just our snowmaking improvements alone are in the neighborhood of $500,000 and our T-bar project is $1 million plus."
Mack said, "We are still in a business that relies on the weather, we're still in a business that is reliant upon our ability to reach a global audience. We're in competition with other ski areas and with other beautiful parts of the world that attract tourists to come visit, but Burke is a really special place."
The proximity to Kingdom Trails and to Canada makes the hotel a critical new player in the tourism market in the NEK, and for the ski mountain, the 116 room hotel is a game changer, as people long said bed base could be for the small ski resort.
"It's exciting, we embrace it, and we embrace the change that comes with it," Sechler said. "We're all holding ourselves to higher standards and just delivering this experience now that we can all be proud of."
Mack said, "The people here have made this first year successful. We all accept that we're being asked to do a lot, and we're trying to figure it out and make it work. We've been given some guidance, but it's largely people from this community … We're the ones who love this place and are having to figure it out."
"We're excited about year two, we feel like it's the right place to be," said Mack. "We have some big goals this year."
http://www.caledonianrecord.com/news/burke-hotel-conference-center-mark--year-anniversary/article_daad4410-86de-5b55-abe5-8f15cb4f9092.html
Mentions
Litigation Cases
States
---
Securities Disclaimer
This website is for informational purposes only and does not constitute an offer or solicitation to sell shares or securities. Any such offer or solicitation will be made only by means of an investment's confidential Offering Memorandum and in accordance with the terms of all applicable securities and other laws. This website does not constitute or form part of, and should not be construed as, any offer for sale or subscription of, or any invitation to offer to buy or subscribe for, any securities, nor should it or any part of it form the basis of, or be relied on in any connection with, any contract or commitment whatsoever. EB5Projects.com LLC and its affiliates expressly disclaim any and all responsibility for any direct or consequential loss or damage of any kind whatsoever arising directly or indirectly from: (i) reliance on any information contained in the website, (ii) any error, omission or inaccuracy in any such information or (iii) any action resulting therefrom.