Political insiders cashed in on failed O'Hare project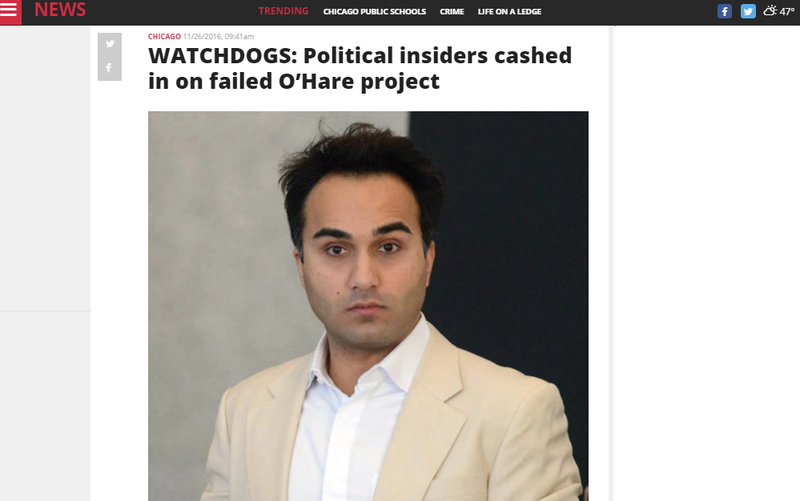 He was a twenty-something wannabe developer, the son of immigrants from India, and he dreamed of building a $900 million hotel and convention complex near O'Hare Airport.
He assembled a team of political heavyweights, including Illinois House Speaker Michael J. Madigan, and traveled to China to get investors.
Now, the land sits empty, and Anshoo Sethi awaits sentencing, possibly this week, after pleading guilty to wire fraud.
He's admitted his role in what federal authorities call a scheme to use fraudulent documents to raise $160 million from Chinese investors willing to bankroll his project in exchange for permanent United States residency under the U.S. government's much-maligned EB-5 visa program. The program grants residency to foreigners who invest in economic development projects.
Hoping to avoid prison, Sethi, 33, has offered to help federal agents investigate his clout-heavy advisers. But they're not interested, according to a court filing from Sethi's lawyer, former federal prosecutor Patrick Collins. Prosecutors have "even told the probation officer that, as far as follow-up with specific politicians involved in the project, the FBI 'did not and would not' be interviewing them," Collins wrote in a court filing Nov. 16.
But the feds say in court papers that Sethi should be sent to prison for at least six years, saying he "has not seriously cooperated . . .and failed to provide any particularly credible information" regarding misconduct by others.
Sethi has leveled an explosive accusation — that officials at the Illinois Finance Authority demanded $1 million when he sought funding through the state agency. Authority officials told investigators the money was to cover administrative costs.
While the feds say Sethi "was indisputably the CEO of this fraudulent operation," Collins doesn't see it that way.
"Anshoo's role in this offense was not that of a criminal mastermind but rather an ambitious young man who was hopelessly outplayed by unscrupulous third-party consultants and advisers, some of whom even admitted to the government . . . that they purposely lied to or misled Anshoo," Collins wrote.
"Anshoo was referred by the high-profile players to a number of seasoned advisers and lobbyists who soon found themselves on the project's payroll as consultants," he wrote. "Anshoo was no match for these players . . . Anshoo did not even have the sophistication to know that he was being played."
Sethi's dream came crashing down in February 2013, when the U.S. Securities and Exchange Commission filed a civil case accusing him of overstating the project's progress to the Chinese investors.
A year later, Sethi was criminally charged, a federal grand jury finding that his hotel project was a scheme to defraud those investors.
What's not in dispute: Sethi and his family did own the land. His lobbyists got City Hall to sign off on the project as they pushed city and state officials to help fund the hotels and convention center. And Sethi was involved in talks with companies to run the hotels.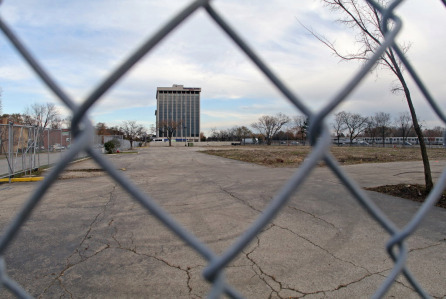 Looking east towards the empty lot at 8201 W. Higgins Rd. near O'Hare Airport where Anshoo Sethi wanted to put hotels and a convention center.
The son of a wealthy pharmacist, Sethi was a licensed pharmacy technician in 2003 when his family were partners in a $10 million deal to buy a 122-room hotel on 2.8 acres at 8201 W. Higgins Rd., next to a Hooters along the Kennedy Expressway.
A few years later, Sethi decided to knock down the hotel and replace it with three hotels and a convention center.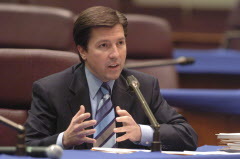 Attorney James Banks.
He hired one of Chicago's most politically connected zoning attorneys, James Banks, who got approval for the project from the City Council Zoning Committee which was then headed by his uncle, Ald. William Banks, a powerful member of the Cook County Democratic Party. The alderman — who later ended up working for Sethi — abstained from the January 2009 vote.
Four months later, Sethi hired Madigan's law firm, Madigan & Getzendanner, to seek a reduction in the property taxes by appealing the value put on the hotel and the land by the Cook County assessor's office and the Cook County Board of Review, agencies controlled by Madigan's fellow Democrats. Over the next four years, Madigan's firm saved Sethi and his family more than $645,000 in taxes as the family ended up tearing down the hotel to make way for the project.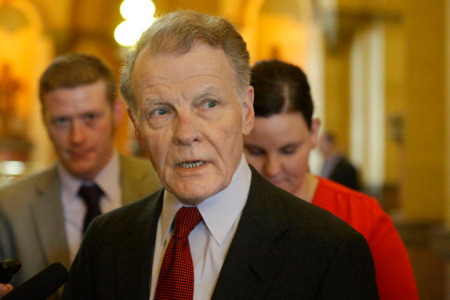 Illinois House Speaker Michael Madigan last week in Springfield.
Madigan partner Vincent Getzendanner says the firm dumped Sethi when the feds began investigating.
"We learned through a newspaper article that the Securities and Exchange Commission had brought serious charges against Mr. Sethi for certain alleged fraudulent activities in connection with the attempted development of the new hotels on site," Getzendanner says. "When we were unable to contact Mr. Sethi to discuss these allegations, on Feb. 14, 2013, we advised him by email and certified mail we would be terminating all further work."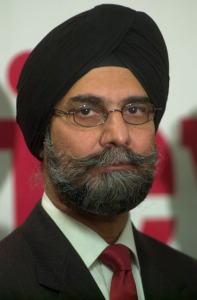 Rajinder Bedi in 2002.
After hiring Madigan's firm, Sethi landed a meeting in the summer of 2009 with the Illinois Finance Authority, seeking financing. The agency helps developers raise money by issuing tax-free bonds for economic development deals.
The meeting was arranged by Dan Shomon — a lobbyist who had run President Barack Obama's U.S. Senate campaign — at the request of Rajinder Bedi, who held state jobs under Govs. Rod Blagojevich and Pat Quinn. Under a grant of immunity from prosecution, Bedi testified about Blagojevich's attempt to sell an appointment to fill Obama's former Senate seat. Bedi says he doesn't recall his involvement with Sethi.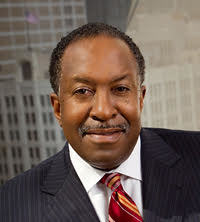 Albert Grace Jr., cofounder of Loop Capital Markets.
After meeting with the authority and its chairman, William A. Brandt Jr., a businessman and major fund-raiser for the Democratic National Committee, Sethi hired Loop Capital Markets, an investment bank founded by Albert Grace Jr.
Sethi also hired attorney Michael McClain, a Madigan loyalist who's one of the top lobbyists in the state capital. A former state legislator, McClain once served as Madigan's assistant majority leader.
Sethi and his father, Ravinder Sethi, formed a company that got approval from the U.S. Department of Homeland Security in June 2011 to participate in the EB-5 program. The program has come under criticism from two U.S. senators who say it should be reformed or eliminated amid allegations of fraud, abuse and concerns over the foreigners who got visas.
Sethi's EB-5 application included letters of recommendation from two Illinois congressmen, Dan Lipinski and Jerry Costello.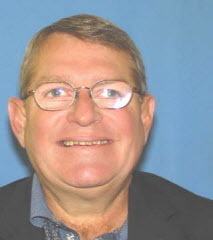 Lobbyist Michael McClain.
It also included a letter McClain got from the Illinois Department of Employment Security certifying Sethi's project was in an area of high unemployment. To do that, he linked several census tracts stretching from the Northwest Side to Maywood to show a high enough overall jobless rate so Sethi's investors only had to invest $500,000, instead of the standard $1 million, to get a visa.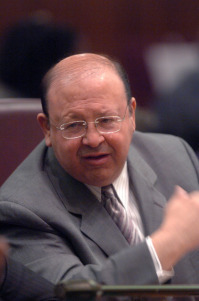 Former Ald. William Banks.
In a private-offering statement to investors in December 2011, Sethi said his team included William Banks, the retired alderman, as the project's attorney; Grace, to handle bond deals; and Carolyn Grisko, a campaign manager for Mayor Richard M. Daley, to handle marketing.
That same offering statement said Sethi had 15 years of experience in real estate — though, at the time, he was only 28 years old.
Sethi's offering also included the claims that would prove his undoing with the feds, including agreements with hotels that hadn't been finalized and claims that Sethi's team had secured $339 million in grants, tax credits and government bonds — money his team was still trying to secure when the SEC shut the project down.
With the offering and a letter from the governor, Sethi went to China, where he hired brokers to find investors. He raised about $145 million from 290 Chinese investors. Each also paid an administrative fee of $41,500 that went to the brokers.
Sethi's team continued talking with the state finance authority about borrowing money. Sometime in August 2012, authority officials asked for a $1 million fee before they would commit to the project, a demand state officials later said was designed to cover the agency's costs, according to court records.
City officials were still discussing tax breaks for the project when FBI agents interviewed Sethi on Feb. 6, 2013, at the South Loop townhouse where he lives with his parents.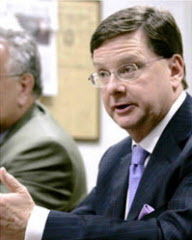 William Brandt Jr., former chairman of the Illinois Finance Authroity.
Two days later, the SEC filed the civil case against Sethi. And a grand jury began investigating, issuing subpoenas to the Illinois Finance Authority and its executive director, Christopher Meister. Last January, Brandt, who is no longer the authority's chairman, testified before the grand jury, records show.
Neither Brandt nor Meister could be reached for comment.
Sethi settled the SEC case in March 2014, agreeing to pay a $1 million fine, sell the land and refund the money he collected from foreign investors, including the administrative fees that went to the Chinese brokers who lined up investors.
Five months later, Sethi was indicted for fraud. In January, he pleaded guilty.
In asking U.S. District Judge John Z. Lee to keep Sethi out of prison, Sethi's lawyer says in court papers "there has likely been very little actual loss suffered by the investors."
Sethi has refunded $145 million to the Chinese investors, as well as some of the administrative fees, Collins says. And Sethi has filed suit in Cook County to recover the rest of the fees he paid the Chinese brokers.
The feds say the investors have lost about $10 million, some of which Sethi spent, including $15,000 for an astrologer in India, $110,000 for his girlfriend's cosmetic surgery business, and about $200,000 for his credit card debt.
Sethi's family no longer owns the hotel property. Friedman Properties bought it out of bankruptcy for $6.75 million — money that was used to settle the Sethi family's debts.
http://chicago.suntimes.com/news/watchdogs-political-insiders-cashed-in-on-failed-ohare-project/
Mentions
Litigation Cases
States
---
Securities Disclaimer
This website is for informational purposes only and does not constitute an offer or solicitation to sell shares or securities. Any such offer or solicitation will be made only by means of an investment's confidential Offering Memorandum and in accordance with the terms of all applicable securities and other laws. This website does not constitute or form part of, and should not be construed as, any offer for sale or subscription of, or any invitation to offer to buy or subscribe for, any securities, nor should it or any part of it form the basis of, or be relied on in any connection with, any contract or commitment whatsoever. EB5Projects.com LLC and its affiliates expressly disclaim any and all responsibility for any direct or consequential loss or damage of any kind whatsoever arising directly or indirectly from: (i) reliance on any information contained in the website, (ii) any error, omission or inaccuracy in any such information or (iii) any action resulting therefrom.