EB-5 Investors In Burke Project Sue Immigration Lawyer, State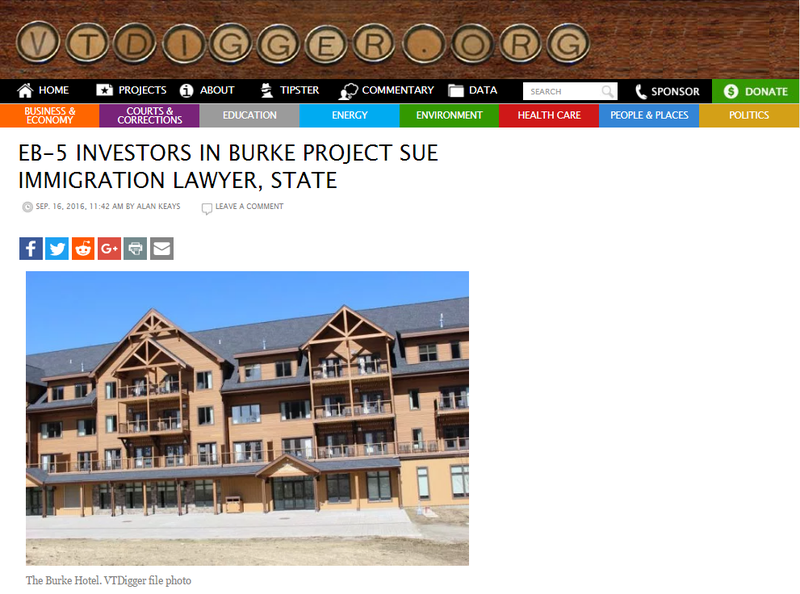 Two Chinese citizens allege a Vermont man collected a total of $20,000 to represent each of them after he pitched them investment proposals for Q Burke Resort, a ski area in the Northeast Kingdom.
However, that man, Charles Leamy of Jay, denies the claims, and disputes he worked for the developers of the resort.
The ski area is now enmeshed in fraud allegations brought by the state of Vermont and the U.S. Securities and Exchange Commission.
The brother and sister from China, Minggan Wei and Zhao Wei, say together they are out more than $1 million for the investment in exchange for permanent U.S.residency through the federal EB-5 immigration program.
Now, the two have filed a lawsuit in Chittenden Superior Court against a host of people, businesses and the Vermont Department of Financial Regulation, which they say contributed to their losses, including Leamy, the man who they say first pitched them the investment in Burke Mountain.
"Had (Minggan) Wei hired an agent to help him with this investment, the agent may have alerted Wei to the problems of this investment," Pietro Lynn, the Burlington attorney representing the Weis, wrote in the lawsuit. "But Leamy actively sought to prevent that discovery from being made."
Instead, Lynn wrote, Leamy told Wei that he could serve as the pair's immigration attorney.
"Leamy failed to disclose the conflict of interest that would arise by working for the (Jay) Peak Limited Partnership and also providing legal services to the Weis," the lawsuit states. "Instead of making this essential disclosure, Leamy charged the Weis a nonrefundable retainer for his so-called 'legal services.'"
Lynn could not be reached Thursday for comment.
Robert Kaplan, a Burlington attorney representing Leamy, declined comment Thursday. He did file a response to the lawsuit on behalf of his client, denying the allegations.
In that filing, Kaplan wrote that Leamy did not engage in "high pressure" tactics to encourage the Weis to invest. He added that his client committed no fraud. Kaplan also wrote that Leamy denied he was an employee of Q Burke or "any affiliated" entities.
Kaplan did state in the filing that Leamy did charge the Weis $20,000 for legal services related to immigration.
'THEIR FINAL VICTIMS'
The allegations against Leamy are included midway through the 42-page complaint that closely tracks other legal action involving the development projects in the Northeast Kingdom. Both the state of Vermont and the SEC brought civil fraud charges against the developers in April.
The portion of the lawsuit dealing with the allegations against Leamy is titled, "Even While Under The SEC's Watchful Eye, With The Days of the Scheme Rapidly Coming to an End, The Defendants Make the Weis Two of Their Final Victims."
The federal and state lawsuits filed in April allege Miami businessman Ariel Quiros, owner of Q Resorts, a holding company that includes Jay Peak, and William Stenger, at the time CEO and president of Jay Peak, misused $200 million in funding from foreign investors through the federal EB-5 visa program.
Investors in the program put up at least $500,000, plus an administrative fee. In exchange, they become eligible for U.S. residency if that investment creates 10 jobs.
Stenger and Quiros received $440 million in funds and fees from EB-5 investors for eight projects, with six of those at Jay Peak. The other projects included a proposed biomedical center in Newport and a resort hotel and athletic conference center in East Burke owned by Q Resorts.
It's the East Burke development that the Weis invested in.
In December 2015, just a few months before the state and federal lawsuits were filed, Minggan and Zhao Wei, both of whom had been studying in the United States, decided to invest in the EB-5 program in order to stay in the United States. Minggan Wei was a student at Northeastern University in Boston, thinking about what he would do following graduation. His sister, Zhao Wei, was living on the other side of the country, studying fine arts in San Francisco.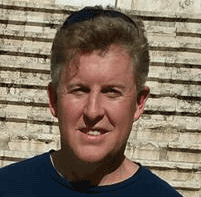 Chuck Leamy. Facebook picture
"The Weis were interested in becoming EB-5 investors, to invest in a project that would stimulate the American economy and also to receive green cards, to be able to remain permanently in the United States," the lawsuit states.
Minggan Wei was looking at the Jay Peak website and clicked on a link to find out more about EB-5 projects.
On Nov. 30, Lynn wrote, Wei called to get more information, and spoke with Leamy, an attorney who worked for Stenger and Quiros. In his response, Kaplan denied that Leamy worked for Stenger and Quiros.
Wei sent an email later that day seeking more information about the projects they discussed, and Leamy replied within 30 minutes.
"Leamy's email was the first of many that he sent to Wei in which he engaged in high-pressure tactics to encourage Wei to invest as soon as possible," Lynn wrote.
Leamy offered Wei the "opportunity" to invest in two projects, the biomedical center in Newport and the resort in East Burke, according to the lawsuit.
Leamy also spoke of "the strength" of prior investments with Jay Peak Limited Partnerships, telling him that Jay Peak and its EB-5 projects were "among the most successful in the U.S."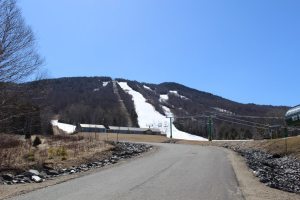 Burke Resort. VTDigger file photo
"Of course, Leamy failed to disclose that Quiros and Stenger had been stealing from the (Jay) Peak Limited Partnership since 2008 and that the (Jay) Peak Limited Partnerships were being investigated by the government and at imminent risk of having their assets frozen," Lynn wrote.
Kaplan, in his filing, denied that Leamy "had any knowledge" of those allegations.
On Dec. 1, the lawsuit states, Wei wrote again to Leamy seeking information on the investment process and less than 10 minutes later Leamy responded.
"In this email, Leamy discouraged Wei from hiring an immigration expert to help him," Lynn wrote.
About a week later, Wei traveled with his mother to Jay Peak Resort and met with Leamy and Stenger, who again talked of the "strength" the investment.
Three days later, on Dec. 10, Leamy and Stenger both emailed Wei to encourage him to invest, with Stenger agreeing to reduce the standard $50,000 administration fee to $20,000.
Within the next two days, both Minggan Wei and his sister, Zhao, emailed the documents, a subscription and escrow paperwork, signing up to invest.
On Dec. 18, Wei went back to Jay Peak to meet with Leamy.
"Wei signed a retainer agreement to retain Leamy as his immigration counsel and received executed copies of the subscription and escrow agreements back from Q Burke," the lawsuit states.
"Leamy required that the Weis pay him a nonrefundable $20,000 retainer for his legal services," according to the lawsuit. "The Weis paid the $20,000 to Leamy."
In total, according to the lawsuit, the Weis paid $1,060,000, including $500,000 each for the investment, $20,000 apiece in administration fees, and a combined $20,000 to retain Leamy for legal services associated with immigration.
Earlier this month, the hotel in East Burke opened to the public, but many of the resort's other amenities included in investment offering documents, such as mountain biking, tennis and aquatic centers, never materialized.
Prior to the Weis' making their investment in December 2015, the state Department of Financial Regulation in July 2015 reached an agreement with Stenger and Quiros allowing them to market the projects overseas and solicit investors like the Weis while the agency conducted an investigation of the Jay Peak Limited Partnerships.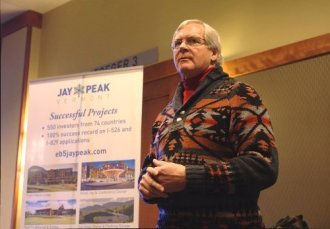 Bill Stenger, former CEO and president of Jay Peak. File photo by Nat Rudarakanchana/VTDigger
The state required that the Jay Peak developers put all new investor funds in escrow. Money was only to be released to pay for "bona fide" expenses for the building of the hotel and conference center, architecture fees, permits, and fixtures and furnishings.
In addition, Quiros and Stenger had to tell new and previous investors in the Q Burke project that federal regulators were scrutinizing the development.
"(Commissioner Susan) Donegan required Quiros and Stenger to disclose in the private placement memorandum that the Jay Peak projects are under an investigation by the SEC," Lynn wrote. " … however, Quiros, Stenger and Leamy failed to provide the Weis with the memorandum."
The Department of Financial Regulation has been named as a defendant in the Weis' lawsuit, in part, for allowing new investor to be put at risk in the Q Burke project before "an essential financial review" of the project was complete.
"Upon information and belief, the Vermont DFR made a calculated decision to put new investor money at risk," the lawsuit states, "in order to complete construction of the Q-Burke Resort, motivated by greed and a desire to receive increased state revenue through tourism and tax dollars."
Michael Pieciak, current DFR commissioner, referred questions on the lawsuit Thursday to Assistant Attorney General Kate T. Gallagher, who is representing the department.
Gallagher, reached late Thursday afternoon, would not comment on specific allegations raised in the lawsuit.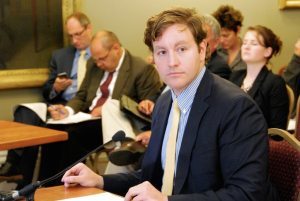 Department of Financial Regulation Commissioner Michael Pieciak. Photo by Elizabeth Hewitt/VTDigger
"At this point we are going to vigorously defend this litigation and we think that we have strong defenses," she said, declining further comment.
LEAMY'S JOBS
Leamy's LinkedIn page states he received his law degree in 1992 from Loyola University in New Orleans. That page also states he worked as an associate attorney with the firm Norton Rose Fulbright in Montreal from November 2007 to February 2013.
However, no additional workplaces since that time are included, and he lists himself as an immigration attorney.
Several public documents and online searches listed Leamy as counsel for Jay Peak. However, exactly when he held that position, or when, if ever, he was on the resort's payroll, is not known.
In March 2015, Leamy posted a comment to another person on his Facebook regarding his work.
"Still doing immigration, my dear," he wrote. "I am in house counsel for Jay Peak Resort in Vermont. Right now in Vietnam for work."
In April 2015, in another posting on his Facebook page, a person described Leamy, who appeared in a photo standing alongside Stenger, as the EB-5 counsel for Jay Peak Resort.
His position in December 2015 when the Weis made their investment is not clear. In a filing in October 2015 in his divorce case in Orleans County he is listed as a "solo practitioner," and in February of this year he is listed as "self-employed."
In that divorce case, which remains pending, a temporary order for "spousal maintenance and child support" calls for Leamy to pay $5,667 to his wife each month. The couple have one child together.
OTHER DEFENDANTS
The 15-count lawsuit names several defendants who had a role in the Burke Mountain resort project.
In addition to Stenger, they include Quiros; Raymond James & Associates, an investment management company; Joel Burstein, who is Quiros' former son-in-law and the former branch manager for Raymond James.
Also named as defendants are PeakCM of Winooski, the project's construction contractor; Gardner Kilcoyne Architects of Williston, the project's architects; and White + Burke Real Estate Investment of Burlington, the third party administrators who reviewed construction payments for the state.
Many of the parties have filed motions seeking to halt the litigation, at least temporarily, while earlier lawsuits over fraud allegations involving the developers, proceed, including the case brought by the SEC in Florida, and other class-action federal court litigation currently underway.
"In fact, a stay makes particular sense here because the existence and extent of any damage to the Weis is simply unknown at this point and cannot be known until the receiver has finished his work and distributed any available assets to investors," Gallagher, representing DFR, wrote in her motion.
No action has been taken on the motions. Judge Robert A. Mello has set a hearing for Sept. 23 in Burlington to hear arguments.
One defendant, William Stenger, did not respond at all to the lawsuit by the required deadline. Lynn has filed a motion asking the court to enter a judgment of default against Stenger, and schedule a hearing to determine a "fair value" for the claimed damages.
The judge has not ruled on that motion.
http://vtdigger.org/2016/09/16/eb-5-investors-burke-project-sue-immigration-lawyer-state/
Mentions
Litigation Cases
States
---
Securities Disclaimer
This website is for informational purposes only and does not constitute an offer or solicitation to sell shares or securities. Any such offer or solicitation will be made only by means of an investment's confidential Offering Memorandum and in accordance with the terms of all applicable securities and other laws. This website does not constitute or form part of, and should not be construed as, any offer for sale or subscription of, or any invitation to offer to buy or subscribe for, any securities, nor should it or any part of it form the basis of, or be relied on in any connection with, any contract or commitment whatsoever. EB5Projects.com LLC and its affiliates expressly disclaim any and all responsibility for any direct or consequential loss or damage of any kind whatsoever arising directly or indirectly from: (i) reliance on any information contained in the website, (ii) any error, omission or inaccuracy in any such information or (iii) any action resulting therefrom.