SEPTA Capital Budget hints at even more delays for SEPTA Key, shorter wait for real-time ETA technology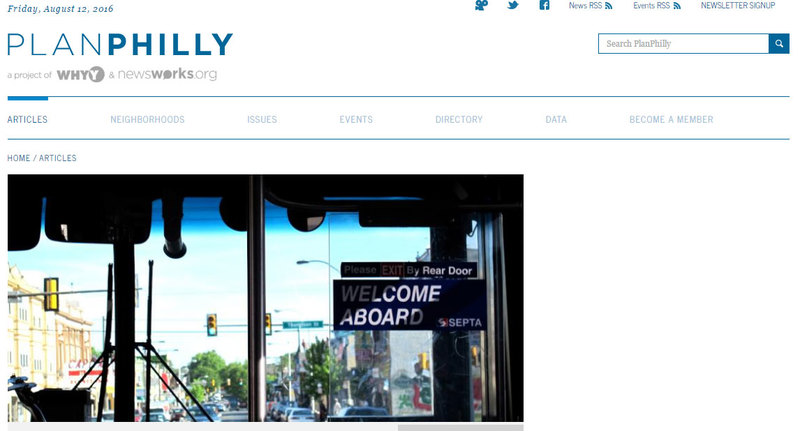 SEPTA released its proposed capital budget for Fiscal Year 2017* last week, which roughly sketches the transportation authority's construction, rehabilitation and vehicle purchase plans for the upcoming year. At 86 pages, it's about as long as The New Yorker, and like the famed magazine, more people want to read it than actually do.
Thankfully, PlanPhilly has read through this year's proposal, compared it to last year's approved budget, and distilled it all down to the good—or maybe not so good—stuff.
SEPTA's board will vote on the capital and operating budgets at its May meeting. Before that, the public can weigh in on the capital budget at one of SEPTA's two public hearings on May 2nd, and the operating budget at one of the handful of hearings in late April.
HIGHLIGHTS AND LOWLIGHTS
In addition the immediate year's spending proposals, SEPTA's capital budget includes 5-year and 12-year projections—the big builds and buys coming down the line.
Comparing FY 2017's 5-year budget to FY 2016's, we can see that spending on SEPTA Key has been pushed back a year, now set to wrap up in 2019. The project's total budget, which includes money already spent, also increased: from $227 million to $267 million.
This isn't as bad as it looks, says Rich Burnfield, SEPTA's deputy executive director.
First, the cost increase can be attributed to two factors: A change order to the SEPTA Key procurement contract late last year increased projected costs by $4.8 million. Second, SEPTA decided to add another feature to SEPTA Key, which will allow riders to use their Key cards to access Regional Rail stations when there isn't a ticket agent on duty. Right now, Regional Rail stations are only open during the morning rush and sit locked and empty the rest of the day, forcing riders to weather the elements as they wait for the train.
Burnfield emphasized that most of the actual work on SEPTA Key will be done before 2019 — that's just when SEPTA expects various contract payments to become due. Still, this reflects the reality that the new payment technology is taking longer to implement than previously expected.
That's the bad news. The good news: This year's budget estimates that "real time" ETA technology will arrive a year sooner. The project has two parts: new backend vehicle tracking technology that'll replace an old, radio frequency based system with GPS and cellular technology, and new audio, visual, mobile app and web platforms for disseminating that info.
Some of the new signs were installed before the papal visit last September, and the $32.5 million project is now slated to finish in 2019. The $34.7 million improved vehicle location system should be online across SEPTA modes by 2020. Burnfield said that the improved ETA information will first debut on SEPTA's buses.
Looking further ahead, Fallsers will have to wait a little bit longer before SEPTA gets around to modernizing East Falls station on the Manayunk/Norristown line. SEPTA set aside $19.5 million in last year's 5-year budget to begin design work on overhauling the station sometime in 2017. The start date has been pushed back to 2022.
YOU GOTTA GET MONEY TO SPEND MONEY
SEPTA expects to see quite a considerable bump in its construction budget next year, thanks to the passage of the Fixing America' Surface Transportation (FAST) Act last November.
SEPTA released its proposed capital budget for Fiscal Year 2017 last week, showing a $14.08 million increase in federal funding (from $196.79 million this fiscal year to $210.87 million), making up pretty much all of the overall budget's $14.09 million rise (from $534.54 million last year to $548.63 million this year).
Federal funds usually cover up to 80 percent of the total cost of a capital project, with the rest coming from state and local funds. SEPTA's new construction, major reconstruction projects, bus and vehicle purchases are all largely federally funded. Still, federal funds only make up 38 percent of this year's budget. State funds supply 60 percent and local funding another 2 percent. That may sound like southeastern Pennsylvania is getting a sweet deal from Harrisburg, but keep in mind that the region produces 37 percent of the Commonwealth's tax revenues.
For comparison, in SEPTA's operating budget, state funding supplies 48.9 percent of the $1.4 billion budget, passenger and other revenues make up 38.1 percent, local funding adds another 6.8 percent, and federal funds contributes just 5.8 percent.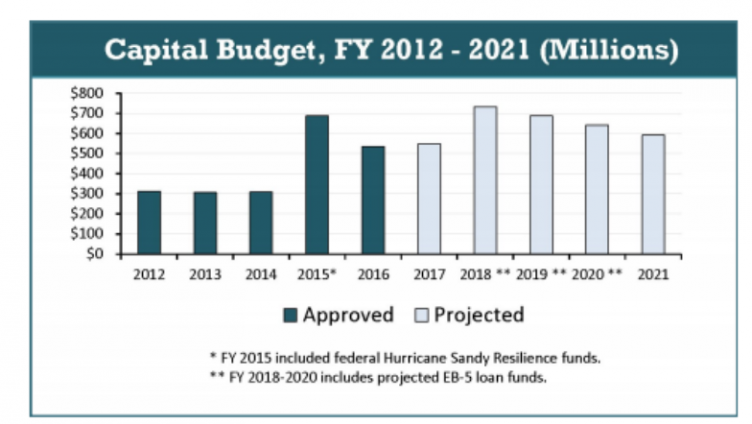 EB-5: ALIVE?
Turning again to SEPTA's 5-year projections, the budget gets a sizeable boost in 2018-2020, in the form of loans through a federal investment program, which the authority expects to receive then. SEPTA intends to use the money on substation and other infrastructure repairs — the kind of critical, yet boring, projects keeping the entire transportation system up and running that other transit agencies have skimped on. Burnfield noted that almost all of SEPTA's substations are long overdue for an overhaul: most date back to 1930, when Philadelphia's rail lines were first electrified.
The loans would be through the EB-5 program, the Employment Based Immigration – 5th preference program administered by United States Citizenship and Immigration Services. The program provides green cards to foreign nationals who invest at least $500,000 in job creating projects located in rural or high unemployment areas. EB-5 loans have also helped finance SEPTA Key, the Pennsylvania Convention Center, redevelopment of the Navy Yard, Comcast Center and the Interstate 95 – Pennsylvania Turnpike connection project. EB-5 loans tend to have extremely competitive interest rates: SEPTA secured $175 million for developing Key at an ultralow 1.75 percent.
The program has become extremely popular among builders and immigrant investors alike–it has hit its 10,000 visa cap the last two years, driven primarily by nouveau riche Chinese. If investment demand continues to outstrip visa supply, interest rates will likely rise as developers fight to woo foreign investors to back their projects. Combined with an expected rise in interest rates more generally, and SEPTA will likely pay higher in 2018 than it did in 2011.
But that's only if SEPTA is lucky, and the program's still around then. Unless Congress extends the program, it is set to expire September 30, 2016.
SEPTA wants to rehab its substations all in one go, which will save the agency time and money. If EB-5 goes away, Burnfield says SEPTA will issue bonds to cover the construction. SEPTA last issued bonds in 2011 to raise $215 million for the purchase of its Silverliner V railcars, and Burnfield says the authority has plenty of capacity to issue more if need be. Moody's rated those bonds A1 at issuance. Since then, SEPTA's financial standing has only improved, thanks to passage of Act 89 in 2013 and the FAST Act last year.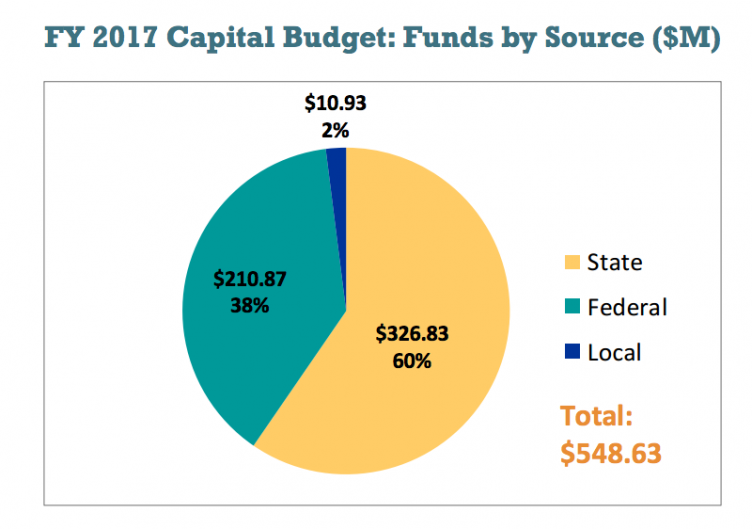 SEPTA'S SHOPPING LIST
So what else is SEPTA buying this year? Here's how SEPTA broke it down:
1. Vehicle Acquisitions and Overhauls: $168.0 Million (30.6 percent of total capital expenditures in FY 2017). Most of this money goes towards buying new buses ($60 million) and overhauling old vehicles of all types ($75 million) to extend their lifespan.
2. Financial Obligations: $99.7 million (18.2 percent). In addition to making payments on those EB-5 loans and Silverliner V bonds, this includes leases for Amtrak-owned rail lines and other real estate.
3. SEPTA Key: $77.1 million (14.1 percent).
4. Stations, Loops, and Parking Improvements: $43.8 million (8 percent). Reconstruction or rehabilitation of SEPTA stations and parking lots. Lots of these will make currently inaccessible stations more wheelchair and walker friendly. Levittown Station's rehab is still on track to wrap up by 2019, despite delays that led to SEPTA suing Tullytown Borough earlier this year. This past year, SEPTA has spent about half of the $4 million originally budgeted for the project.
5. Infrastructure Safety Renewal Program: $43.5 million (7.9 percent). This is the stuff the public and media rarely notice that literally keeps the trains running. It includes track replacement, substation renewal, equipment rehabilitation, maintenance facility repairs.
6. Bridge Program: $33 million (6 percent). SEPTA has spent a lot since Act 89 passed on rehabilitating their once-crumbling collection of bridges and viaducts. Before Act 89, SEPTA officials said they would be forced to start shutting down entire regional rail lines for fear of bridges collapsing. This year's budget expects spending on bridges to drop to $18.6 million in 2019, suggesting the worst is behind SEPTA.
7. Maintenance/Transportation Shops, Offices, and Roofs: $22.5 million (4.1 percent). This includes expansion of Frazer Rail Yard to accommodate bi-level coaches for busier regional rail lines. Those upgrades will cost $139 million over 4 years, with construction set to finish in 2020, the same year SEPTA plans to start purchasing the larger railcars.
8. Substations and Power Improvements: $21.3 million (3.9 percent). More of the important backend stuff, this time for keeping the juice flowing to SEPTA's fleet of trains and trolleys.
9. Communications, Signal Systems, and Technology Improvements: $18 million (3.3 percent). This includes real time information and various bits of infrastructure to keep trains from colliding.
10. Safety & Security: $16.5 million (3 percent): This is a mix of vehicle and facility upgrades and security improvements, including anti-terrorism and disaster response projects funded through the U.S. Department of Homeland Security.
11. Track and Right of Way Improvements: $3.8 million (0.7 percent): Track replacement, mainly.
12. Service Restoration: $1.4 million (0.3 percent). This goes towards restoring service to Wawa by extending the Elwyn regional rail line. It's not a lot this year, but the figure is set to increase dramatically next year as construction begins. If the project goes as planned, the extension should finish in 2020. After that, SEPTA hopes to continue extending the line to West Chester, which has already begun planning for that service restoration.
http://planphilly.com/articles/2016/04/08/septa-capital-budget-hints-at-even-more-delays-for-septa-key-shorter-wait-for-real-time-eta-technology
Mentions
States
---
Securities Disclaimer
This website is for informational purposes only and does not constitute an offer or solicitation to sell shares or securities. Any such offer or solicitation will be made only by means of an investment's confidential Offering Memorandum and in accordance with the terms of all applicable securities and other laws. This website does not constitute or form part of, and should not be construed as, any offer for sale or subscription of, or any invitation to offer to buy or subscribe for, any securities, nor should it or any part of it form the basis of, or be relied on in any connection with, any contract or commitment whatsoever. EB5Projects.com LLC and its affiliates expressly disclaim any and all responsibility for any direct or consequential loss or damage of any kind whatsoever arising directly or indirectly from: (i) reliance on any information contained in the website, (ii) any error, omission or inaccuracy in any such information or (iii) any action resulting therefrom.