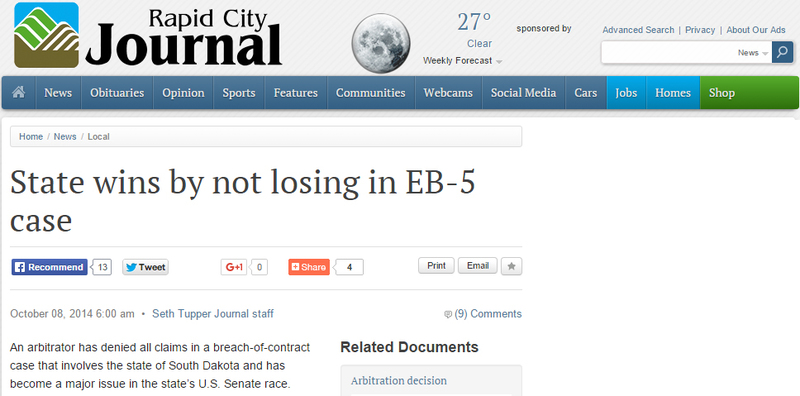 An arbitrator has denied all claims in a breach-of-contract case that involves the state of South Dakota and has become a major issue in the state's U.S. Senate race.
The South Dakota Board of Regents called the decision a victory. The board's Tuesday news release said it was "vindicated" by a decision "in favor" of the regents.
In fact, the case has no official winner. The retired California judge who served as the arbitrator in the case denied all claims, including the state's counter-claims.
"No determination is made at this juncture as to whether any party is a prevailing party in this matter," wrote arbitrator Robert A. Baines, who also included a stinging comment about how government parties to the case handled their supervisory duties.
The case centers on allegations that a state employee and a partner company violated an agreement with another company that was working to recruit foreign investors for economic-development projects. The minimum $500,000 investments were made via the federal government's EB-5 program in exchange for the possibility of permanent residency.
Though the case ended up in private arbitration, revelations contained in the case's early public court documents brought the Board of Regents and former Gov. Mike Rounds under fire for allegedly mishandling the state's immigrant-investor center. Rounds is the Republican nominee running for U.S. Senate in the Nov. 4 election.
Jack Warner, the regents executive director and CEO, defended the regents' use of the word "vindicated" in an interview with the Rapid City Journal.
"It's certainly vindication from any potential liability that the plaintiff is bringing against us," Warner said. "Much was made of the potential liability should the ruling go against us, so we feel vindicated from that."
In other words, state government will not have to pay any money damages after initially fearing "millions" in potential exposure. But the state still walks away injured by controversial revelations about a state employee and his superiors, and by nearly $500,000 in legal fees.
Trio of profit-seekers
Darley International, of California, brought the case against the South Dakota International Business Institute and also against the Hanul Professional Law Corp., which is located in California and South Korea.
The South Dakota International Business Institute is within the Northern State University School of Business in Aberdeen and is under the broader authority of the Board of Regents, which manages South Dakota's state universities.
According to the arbitrator's written decision, the case arose "primarily from the activities of three individuals, acting through various entities, attempting to profit from the federal EB-5 immigrant visa program."
Administration of the EB-5 program is farmed out to regional centers, which can be public or private entities.
South Dakota's regional center was created as a public entity at the South Dakota International Business Institute in 2004 with Joop (pronounced "yope") Bollen as director. The arbitration decision notes that funding for Bollen's position came from both Northern State University and the office of the governor.
Bollen met James Park of the Hanul law firm during an investor-recruiting trip to South Korea in 2004, and they hit it off. South Dakota's regional center, directed by Bollen, began using the Hanul firm to recruit foreign investors for projects in South Dakota.
During the first three years, the Hanul firm recruited hundreds of investors who poured $150 million into 12 projects. The arbitration decision says Hanul received a $50,000 legal and service fee paid by each investor. The decision does not continue with the math, but if each investor paid $500,000, that would mean there were 300 investors and Hanul collected $15 million in fees.
By 2007, the regional center's pool of Korean investors was drying up, and Bollen and Hanul wanted to expand recruitment efforts in China.
Enter Robert Stratmore, of Darley International, the third of the "three individuals" referred to in the arbitration decision. Stratmore convinced Bollen and Park that Darley International could snag investors in China, and they soon agreed to bring Darley in as a recruiter.
The partnership soured over concerns from Bollen and Park about Darley International's abilities as a recruiter, and because of other issues. Darley eventually demanded arbitration in 2008, claiming Hanul and the South Dakota International Business Institute had failed to provide Darley with adequate marketing materials for an investment project, had also failed to provide Darley any other projects to market, and had gone around Darley to deal directly with Darley's sub-agents in China. Hanul and the South Dakota International Business Institute made numerous counter-claims.
'Divided supervision'
The most controversial aspects of the case are the revelations contained in early court filings about the conduct of Joop Bollen.
In 2008, Bollen, while still running the state's EB-5 regional center as a state employee, created a private company. Then, still acting in his official duty as a state employee, he signed over the bulk of the state's role in the EB-5 program to his own private company.
When Bollen requested permission from the federal government to make the change, he did not reveal that the private company was his own corporation. Rather, says the arbitration decision, Bollen told the feds that the company would be controlled by Hanul Professional Law Corp. State officials, including Rounds and Warner, have since said they also had no immediate knowledge that the new company was Bollen's own creation.
Bollen put the transfer of EB-5 responsibility and other changes into effect without waiting for the federal government's approval, the arbitration decision says.
When Darley took legal action against the state in 2008, Bollen initially told no other state officials about it and tried to act as his own attorney, even though he is not a lawyer.
Despite those actions by Bollen, which occurred between 2007 and 2009, state government did not cut ties with Bollen's company until last year, after the state's EB-5 activities reportedly came under federal investigation.
The arbitration decision includes an unflattering assessment of state government's oversight of Bollen.
"He received administrative support through the School of Business," the decision says, "and although he reported to both the University and the Governor's Office, it appears that he operated without significant supervision from either."
Rounds has repeatedly disavowed responsibility for Bollen's actions and has stressed that Bollen was an employee of the Board of Regents. Rounds has also said he did not learn of any issues with the administration of EB-5 until October 2013. Recently, it has been reported that papers pertaining to the Darley arbitration were served on Rounds' office in 2009 and accepted by an assistant; it also has been reported that Rounds' brother, Dennis, was the state's head of risk management during the Rounds administration and was in charge of monitoring lawsuits. In the face of both of those revelations, former Gov. Rounds has continued to maintain that he did not know about issues with EB-5 until 2013.
The Associated Press reported Tuesday that Rounds said he "feels vindicated" by the arbitration decision.
"Today's decision proves what I've been saying all along — that everything my opponents have been saying about EB-5 are lies, innuendo, and nonsense misinformation," the AP quoted Rounds as saying in a news release.
Warner, who became the regents' top executive in 2009, declined to comment on Rounds' statements but acknowledged the supervision of Bollen was flawed.
"It probably supports the adage that someone who has multiple supervisors probably doesn't have any supervisors," Warner told the Rapid City Journal. "When you have divided supervision like that — though we have to say he was our employee, because he was employed by the Board of Regents, but clearly there was an ongoing accountability relationship with the Governor's Office of Economic Development at the same time — it probably restrained either party from supervising as tightly as we might have."
While the arbitration was in progress last year, a related scandal made news. Richard Benda, the former head of the Department of Tourism and State Development under Rounds, committed suicide last October. The state attorney general's office eventually revealed that it had been investigating Benda and planned to charge him with theft for diverting $550,000 of state grant money to pay for his own future salary with Bollen's company. The money was meant for Northern Beef Packers, a plant that attracted EB-5 investments before it went bankrupt and was sold.
http://rapidcityjournal.com/news/local/state-wins-by-not-losing-in-eb--case/article_5a9d3997-3e7e-5022-b1bd-53c124ca1aad.html
Mentions
Litigation Cases
States
---
Securities Disclaimer
This website is for informational purposes only and does not constitute an offer or solicitation to sell shares or securities. Any such offer or solicitation will be made only by means of an investment's confidential Offering Memorandum and in accordance with the terms of all applicable securities and other laws. This website does not constitute or form part of, and should not be construed as, any offer for sale or subscription of, or any invitation to offer to buy or subscribe for, any securities, nor should it or any part of it form the basis of, or be relied on in any connection with, any contract or commitment whatsoever. EB5Projects.com LLC and its affiliates expressly disclaim any and all responsibility for any direct or consequential loss or damage of any kind whatsoever arising directly or indirectly from: (i) reliance on any information contained in the website, (ii) any error, omission or inaccuracy in any such information or (iii) any action resulting therefrom.