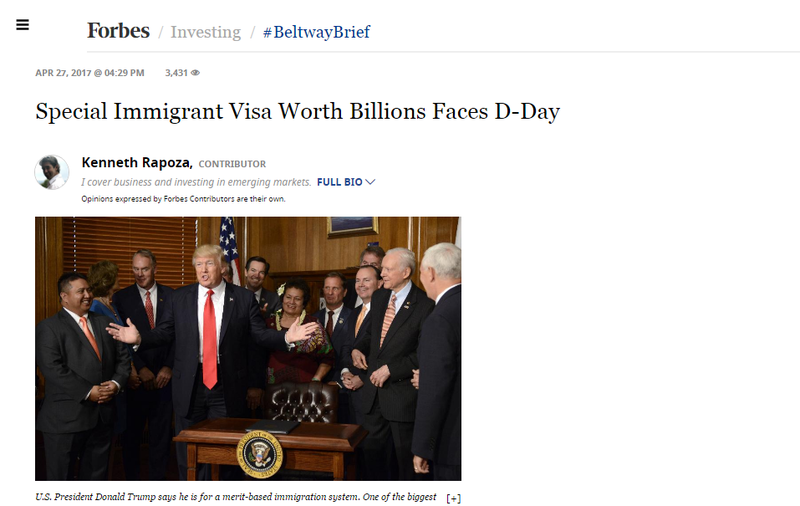 The EB-5 immigrant visa program has rebuilt the skylines of Manhattan and Miami. On April 28th, the program expires.
"I don't believe we are going to read any headline about Trump killing this immigration law," says Michael Halloran, CEO of NES Financial, a Washington DC-based EB-5 services firm helping hundreds of the so-called regional centers that house real estate development projects on the look out for foreign investors. EB-5 investors get a green card for themselves and their immediate family if they invest at least $500,000 in a development project. Their investment must lead to the creation of 10 jobs.
On Friday, legislators will decided whether to re-authorize the program until September as is, or extend it for another three to five years with new rules being tossed around by Senators like Chuck Grassley of Iowa.
The EB-5 is one of a handful of "best and brightest" visas that give immigrants a clear path to U.S. citizenship. Unlike border crossers and working class migrants who have overstayed their visas for years, EB-5 investors are rich and legal. That doesn't make them better, but it makes their visa easier and it provides an economic boost to the working class here, including those that are here illegally, or on refugee status.
"This category is merit based immigration," says Halloran. "You're bringing in people who have skin in the game in the U.S. economy. We need to stop this perpetual delay."
The visa was extended for another four months during President Obama's final weeks in office. Developers who have built entire business models on the EB-5 as a financing vehicle are waiting for changes to made, or for the rule to be extended for a longer period.
Chinese investors account for the majority of EB-5 visa holders.The EB-5 program is divided into two types: the Stand-Alone process and the more popular Regional Center process. In both cases, the immigrant investors must make a minimum investment of $1 million, or $500,000 if the project is located in a "Targeted Employment Area", usually an area in need of development. According to the U.S. Department of Commerce, more than 11,000 immigrant investors provided $5.8 billion in capital, roughly 35% of the total investment of $16.7 billion that went to 562 EB-5 related projects built in fiscal years 2012-13, the most recent year for the government study. These projects create 174,039 jobs.
Economic impact analyses for 134 projects shows that an estimated 169,759 jobs were expected to be created from total investment of $16.4 billion.
Commerce estimates that EB-5 projects generated more than the 10 jobs required, with an average of 16 jobs created for each of the immigrant investors who qualified for the visa.
California, New York, Florida, Texas and Alabama account for the bulk of all projects, with California being the biggest recipient of foreign funds. Despite that, some Senators want major changes. Others want to kill EB-5, saying the U.S. needs to get its priorities straight on immigration in favor of illegals and refugees.
Potential Changes & Political Hurdles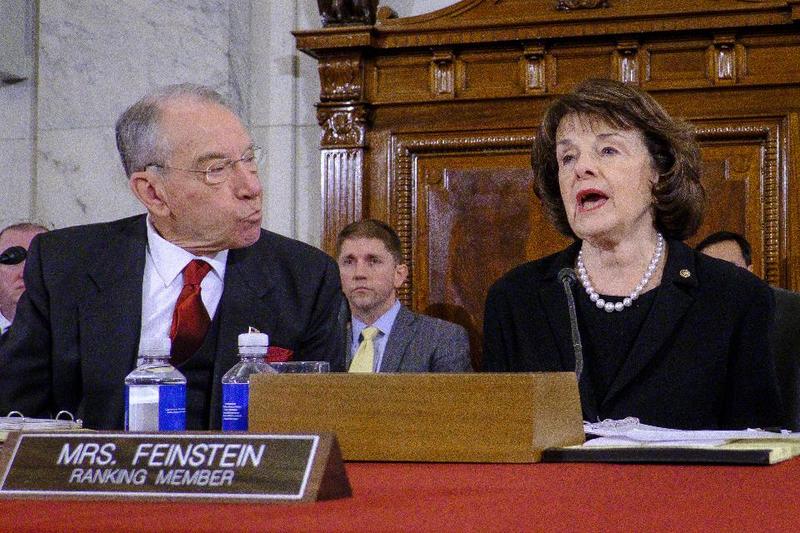 Senator Chuck Grassley with Senator Dianne Feinstein. Both think the EB-5 is ripe with fraud, but the California Democrat thinks its immoral to "sell citizenship" based on wealth while thousands of refugees and illegal immigrants are left with nothing.
Immigrant investors spent over $1.4 billion in 2012 on California development projects, ranging from mixed used real estate to small infrastructure. No state has more EB-5 visa recipients than California. Yet, in February, California Democrat Dianne Feinstein said that wasn't good enough. American needed to open its doors to others instead. She was quoted by NBC news saying EB-5 was "selling U.S. citizenship" while "millions wait in line for visas." EB-5 is a tiny portion of the U.S. immigration total.
The most powerful legislator on this issue, though, is Grassley. He also wants to see the program gutted. He is giving the industry a starting position of roughly $1.2 million as a minimum investment. The regional centers hate this proposal, saying it would turn off thousands of investors and stop projects currently on paper. The United States Citizenship and Immigration Service has proposed regulations for even higher minimums, now at $1.3 million. EB-5 will eventually be changed to fit these new guidelines. Friday's extension gives Grassley more time to negotiate with the industry. His former staffer, Kathy Nuebel-Kovarik, is a policy director now at USCIS, giving Grassley's proposals an upper hand.
But Grassley's rule changes, assuming they ultimately bring the minimum up to a more palpable $800 million as the market expects, are not a deal breaker.
Some of the proposals include setting aside visas for projects for infrastructure, distressed assets in non-target zones, and rural development. Chinese investors have tended to pump money into mixed used real estate in cities where they want to live. But investments into rural infrastructure, for instance, like dams and river ports, would not force those investors to live in those areas. They can live wherever the want. The problem for the developer of mixed use real estate, however, is that if more of the visas are required to focus on non-core cities and states, they will have a harder time convincing foreign buyers to move into a new Oklahoma City high rise.
Opponents of the visa like Feinstein point out a handful of fraud cases where small companies or individuals created real estate projects, lured immigrants on the EB-5, got their money and disappeared.
"People are using EB-5 as a mechanism to commit fraud just like they would use the banking system here to commit fraud. There is an emotional reaction against this program because it is an immigrant-based program," says Samar Ali, an attorney specializing in EB-5 cases at Bass, Berry & Sims in Nashville.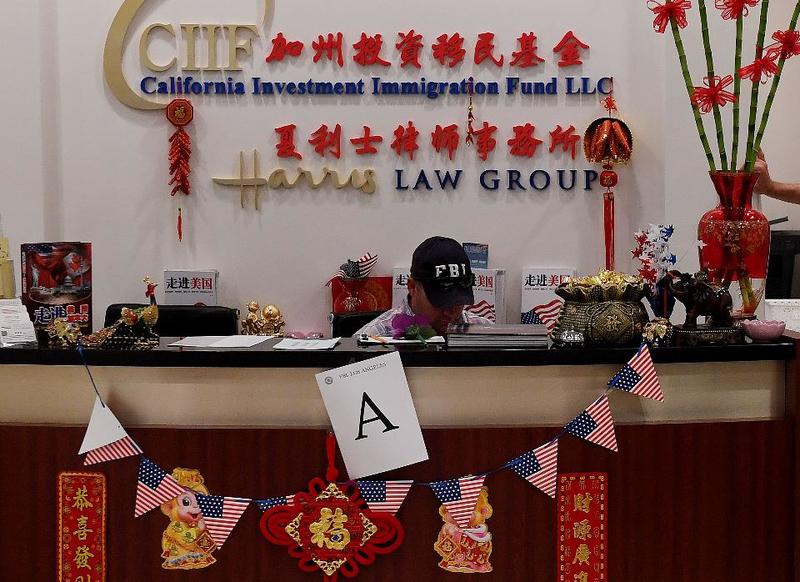 FBI agents inspect the offices of the California Investment Immigration Fund after serving search warrants in an investigation into an alleged $50 million high-end visa fraud scheme involving as many as 100 Chinese nationals in San Gabriel, California on April 5, 2017. The scheme allegedly involved the EB-5 visa program.
Trump says he is in favor of a merit-based immigration system, while Feinstein is laser focused on refugees. If open border Democrats lumped changes to the EB-5 visa program with a broader immigration reform bill down the road, it could face its D-day once more.
"I'm not so sure Trump meddles with it," says Roger Bernstein, an EB-5 project manager and owner of the EB-5 for Florida Regional Center. Bernstein said that the Trump family was involved in an EB-5 deal in New Jersey. Jared Kushner built the 50-story Trump Bay Street tower with Chinese investors looking for citizenship.
"These are wealthy immigrants sending their kids to private schools and are not a drain on public services, if that is a concern," says Bernstein. "But if Congress lumped EB-5 into a larger immigration reform bill that promotes amnesty for example, then for sure Trump would kill it."
https://www.forbes.com/sites/kenrapoza/2017/04/27/special-immigrant-visa-worth-billions-faces-d-day/#7a8021494852
Mentions
Litigation Cases
States
---
Securities Disclaimer
This website is for informational purposes only and does not constitute an offer or solicitation to sell shares or securities. Any such offer or solicitation will be made only by means of an investment's confidential Offering Memorandum and in accordance with the terms of all applicable securities and other laws. This website does not constitute or form part of, and should not be construed as, any offer for sale or subscription of, or any invitation to offer to buy or subscribe for, any securities, nor should it or any part of it form the basis of, or be relied on in any connection with, any contract or commitment whatsoever. EB5Projects.com LLC and its affiliates expressly disclaim any and all responsibility for any direct or consequential loss or damage of any kind whatsoever arising directly or indirectly from: (i) reliance on any information contained in the website, (ii) any error, omission or inaccuracy in any such information or (iii) any action resulting therefrom.