Federal and state authorities allege massive fraud in Northeast Kingdom development projects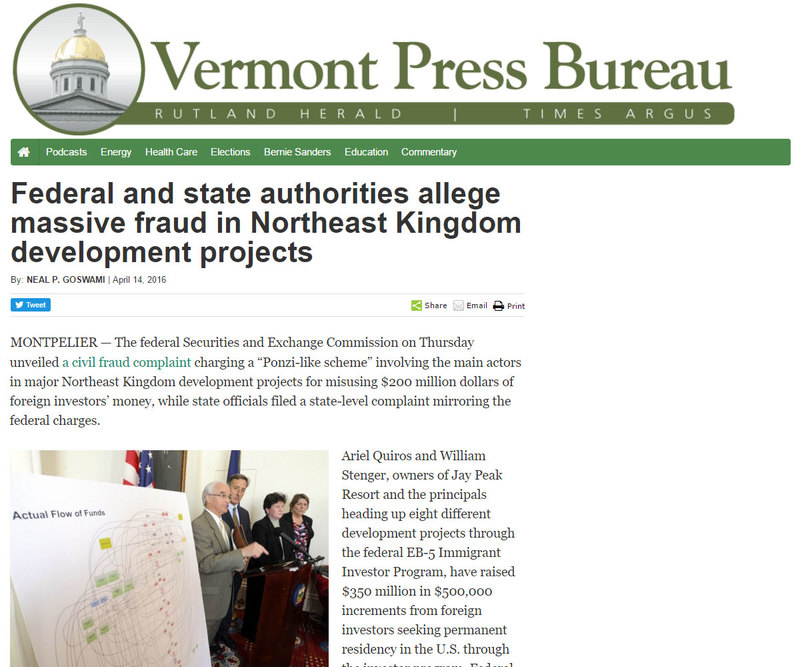 The federal Securities and Exchange Commission on Thursday unveiled a civil fraud complaint charging a "Ponzi-like scheme" involving the main actors in major Northeast Kingdom development projects for misusing $200 million dollars of foreign investors' money, while state officials filed a state-level complaint mirroring the federal charges.
Attorney General William Sorrell speaks at a State House news conference held to announce fraud charges against the developers of several EB-5 projects in the Northeast Kingdom.
Ariel Quiros and William Stenger, owners of Jay Peak Resort and the principals heading up eight different development projects through the federal EB-5 Immigrant Investor Program, have raised $350 million in $500,000 increments from foreign investors seeking permanent residency in the U.S. through the investor program. Federal and state officials on Thursday said $200 million of the money raised was misused, including $50 million by Quiros for his own personal benefit.
The eight ambitious EB-5 projects include improvements at Jay Peak and Q Burke Resorts and a biomedical research facility in Newport.
According to the state's civil complaint, filed in Washington County Superior Court on Thursday, the duo used various limited partnership companies to raise the funds. They then "treated the investor funds as an unrestricted pool of money that could be transferred between EB-5 projects indiscriminately and used for personal benefit." But, according to the complaint, commingling of investor funds was prohibited and the funding was supposed to be tied to specific EB-5 projects.
The state complaint also alleges that Quiros inappropriately used $50 million of investor funds, including $20 million to purchase Jay Peak and Burke Mountain resorts, millions of dollars to take out a line of credit to pay his personal income taxes and pay taxes for an unrelated company he owns and $2 million to purchase a luxury condominium in Trump Place in New York City.
"The fraud allegedly began on Day 1, when millions of investor funds intended for EB-5 projects at Jay Peak … were used instead to purchase Jay Peak Mountain way back in 2008," Gov. Peter Shumlin said at a State House news conference to announce the charges, which was also attended by Attorney General William Sorrell, Department of Financial Regulation Commissioner Susan Donegan and Agency of Commerce Secretary Patricia Moulton.
The SEC complaint filed in U.S. District Court in Miami where Quiros resides makes similar accusations. A federal judge has granted SEC's request to freeze Quiros' assets and appoint a federal receiver to oversee the assets and operations of Jay Peak and Q Burke Resorts. Both Stenger and Quiros are prohibited from any further involvement of the eight EB-5 projects they started while the litigation is pending.
"The alleged fraud ran the gamut from false statements to deceptive financial transactions to outright theft. As alleged in our complaint, the defendants diverted millions of EB-5 investor dollars to their own pockets, leaving little money for construction of the research facility investors were told would be built and thereby putting the investors' funds and their immigration petitions in jeopardy." — Andrew Ceresney, director of the SEC's Division of Enforcement
Sorrell said like the SEC case, the state's case involves civil allegations.
"The defendants, if found liable, will face no jail time. They could, however, face substantial financial penalties, restrictions on their future business activities and forfeiture of ill-gotten gains," Sorrell said. "Our top priorities, however, are protecting investors' interests, keeping businesses at the resorts operational, opening the Q Burke Hotel and Conference Center and otherwise ensuring that justice is served."
"At this point in time no state criminal prosecution is contemplated," he added.
But a federal criminal case may still be made, according to U.S. Attorney Eric Miller.
"We have been aware of the state and SEC civil enforcement efforts made public today. My office has been conducting, and continues to conduct, an investigation designed to determine whether or not there have been violations of federal criminal law in connection with EB-5 projects in the Northeast Kingdom," Miller said Thursday.
Despite not seeking a state-level criminal prosecution, Sorrell said he considers the allegations against Quiros and Stenger to be a major case of fraud.
"This is not a depiction of a simple bank robbery. Rather, this depicts what we allege to be a massive and complex fraudulent enterprise." — Vermont Attorney General William Sorrell
The federal receiver now controlling most of the EB-5 projects in question, Miami-based attorney Michael Goldberg, was not granted authority by the federal court in Miami to oversee Q Burke Resort. Sorrell said the state has not sought a state-level receiver, but if Goldberg is not permitted by the federal court to also oversee Q Burke, the state is ready "to seek such control for the federal receiver from the Washington Superior Court."
Shumlin declared it "a dark day" for the state, but said he has been in contact with Goldberg and expects operations at the resorts to continue.
"It is his intention, as much as possible, to maintain normal operations of the affected businesses and keep Vermonters working there. I'm grateful to those efforts, and therefore, we do not expect significant job losses as a result of today's actions," the governor said.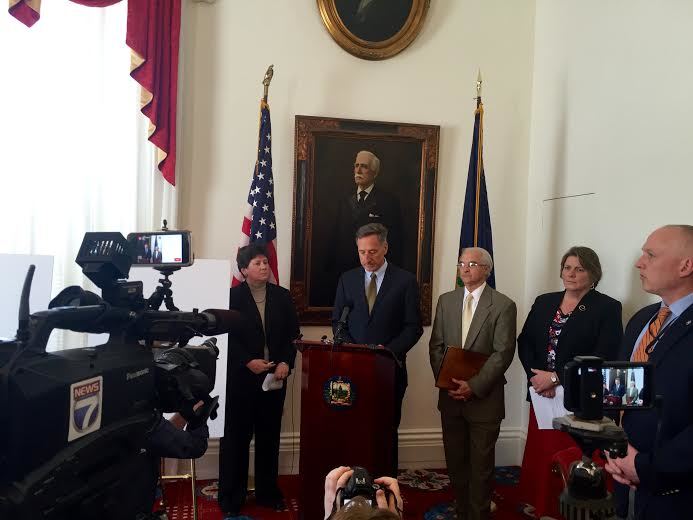 Gov. Peter Shumlin speaks at a news conference held to announce fraud charges against the developers behind several EB-5 development projects in the Northeast Kingdom.
Donegan said her department has been investigating the EB-5 projects for about a year, issuing 64 subpoenas and reviewing 300,000 documents. The initial review was sparked when Stenger and Quiros asked to raise more money from foreign investors for the biomedical research lab and the Q Burke Hotel, she said.
"We saw anomalies and unusual transactions that raised regulatory concerns about how all the investor money across all the projects … were transferred and accounted for by Mr. Stenger, Mr. Quiros and the limited partnerships, various partnerships and related entities," she said.
Donegan displayed two charts at the news conference to highlight the unusual transactions by Quiros and Stenger. The first showed how money from investors is supposed to flow to specific projects. But the second chart, which she dubbed the "spaghetti map," showed how the two used a host of accounts to transfer money between projects and for personal use.
"When an EB-5 investor sends their money it should go right into an escrow account and its kept there until certain conditions are met, when the money is then released into an operating account," she said. "As DFR pulled the pieces of the financial puzzle together, we saw something very different."
The department's review began to unravel the alleged fraud that allowed Quiros and Stenger to use investor funds "as a personal piggy bank," she said.
"We saw a complex web of financial accounts that allegedly facilitated the improper commingling and misuse and diversion of funds between EB-5 projects, related companies and personal accounts. DFR tracked over 100 accounts at 10 financial institutions involved in this scheme." — Department of Financial Regulation Commissioner Susan Donegan
Shumlin defended his administration's efforts to regulate EB-5 projects, noting that the alleged fraud began under former Gov. Jim Douglas. He said his administration shifted oversight of the projects to DFR in December 2014, which has more investigative authority than the Agency of Commerce. After the transfer of oversight authority the alleged fraud was uncovered, he said.
"We made the move when we did. You could certainly argue, I bet, that we all wish that previous governors had made that move, that I could have made it sooner. But we made it and these were the results," Shumlin said.
News of the fraud allegations Thursday followed on-the-ground action in the Northeast Kingdom Wednesday. The locks on the administrative offices at Q Burke Hotel and Conference Center were changed as Goldberg took control of the property.
"This is obviously a very difficult day for Vermont and for the many people, myself included, who are so invested in growing jobs and economic opportunity in the Northeast Kingdom, the part of the state that has lagged behind the rest of the state in job creation for as long as we can all remember," the governor said. "Most of all, this is a difficult day for the hundreds of employees — hundreds in the Northeast Kingdom — who rely on Jay Peak, Q Burke and the related projects to support their families, projects that appeared to hold so much promise."
It remains unclear if the foreign investors who put up $500,000 each will get their investments back.
"It's way to early to know how any funding or refunds might occur, but investors are encouraged to file the appropriate petitions and each one will be considered case-by-case," Moulton said.
It is unlikely, Moulton said, that the biomedical research lab, which has seen site preparation and a groundbreaking but no construction, and a redevelopment of downtown Newport, will be completed. Instead, "only a portion of the vision will become a reality," she said.
http://www.vermontpressbureau.com/2016/04/14/federal-and-state-authorities-allege-massive-fraud-in-northeast-kingdom-development-projects/
Mentions
Litigation Cases
States
---
Securities Disclaimer
This website is for informational purposes only and does not constitute an offer or solicitation to sell shares or securities. Any such offer or solicitation will be made only by means of an investment's confidential Offering Memorandum and in accordance with the terms of all applicable securities and other laws. This website does not constitute or form part of, and should not be construed as, any offer for sale or subscription of, or any invitation to offer to buy or subscribe for, any securities, nor should it or any part of it form the basis of, or be relied on in any connection with, any contract or commitment whatsoever. EB5Projects.com LLC and its affiliates expressly disclaim any and all responsibility for any direct or consequential loss or damage of any kind whatsoever arising directly or indirectly from: (i) reliance on any information contained in the website, (ii) any error, omission or inaccuracy in any such information or (iii) any action resulting therefrom.