After SEC Takedown, Vermont Pols Back Away From EB-5, Developers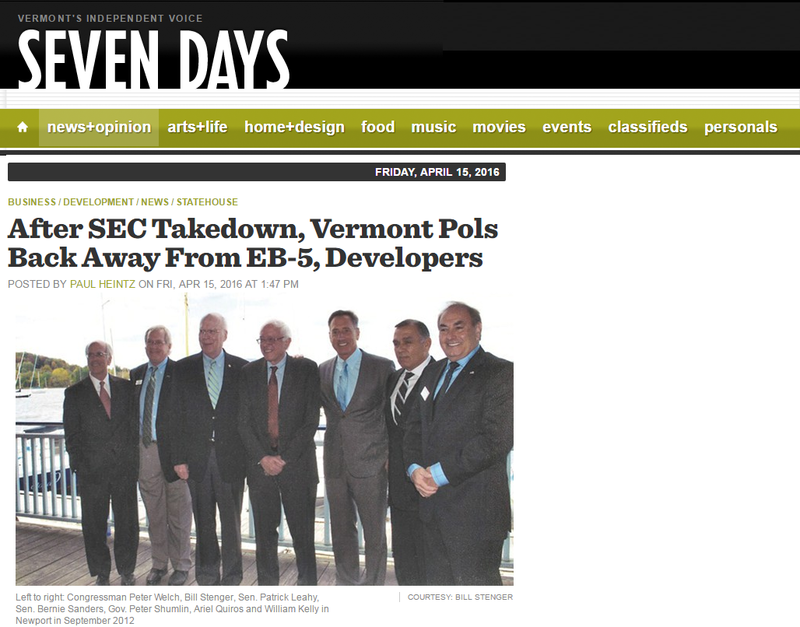 Reports of a Securities and Exchange Commission investigation had been circulating for months last July when Jay Peak Resort president Bill Stenger met with a reporter to insist that his $500 million economic development plan for Vermont's Northeast Kingdom was still on track.
Seated in a spare room at the Hotel Jay & Conference Center, Stenger slid a photograph across a table. Taken nearly three years earlier in nearby Newport, it featured Stenger, business partner Ariel Quiros and their lawyer, William Kelly, announcing their goal to bring 10,000 jobs to the rural region. Standing between the developers in the photo were the state's four most powerful politicians: Sen. Patrick Leahy (D-Vt.), Sen. Bernie Sanders (I-Vt.), Congressman Peter Welch (D-Vt.) and Gov. Peter Shumlin.
"There are going to be good days and bad days," Stenger said, calling the day the photo was taken a good one.
Thursday was a bad day for Stenger and Quiros, whom federal and state authorities accused that afternoon of conducting a "Ponzi-like" scheme to defraud foreign investors of millions of dollars.
It was also a bad day for the Vermont politicians who have enabled, promoted and defended the state's aggressive use of the federal EB-5 investor visa program for two decades. Democrats and Republicans alike reacted to the news with a mix of shock, anger, finger-pointing and silence. And while no evidence has yet surfaced implicating the pols, they seemed intent on distancing themselves Thursday from the developers they had long championed and the program they had long promoted.
"You know," Shumlin said Thursday when asked whether his administration should have conducted more rigorous oversight sooner, "You can quarterback this one all you want. All I can tell you is there had been no complaints about the projects — EB-5 generally, across the state, that I can recall — from any investors to any governor — me or prior ones — until the complaints that we started hearing about."
For years, Leahy styled himself as the godfather of the EB-5, which provides permanent residency to foreign nationals who invest at least $500,000 in qualified projects. In a January 2012 press release, his spokesman referred to him as "the leading champion of the EB-5 investor visa program in Congress for more than a decade." Vermont's senior senator has since called for reforms, even as he's argued that Congress should permanently authorize EB-5.
But Wednesday morning, mere hours before federal investigators raided Jay Peak and Q Burke Mountain Resort, Leahy's rhetoric took a sharp turn. At a hearing of the U.S. Senate Judiciary Committee, he said the EB-5 program needed "a blood transfusion, not a Band-Aid."
Leahy declined an interview request Thursday, but he said in a written statement soon after news of the charges broke that EB-5 was "in dire need of reform."
"Given the significant problems plaguing this program, I will continue to push for meaningful reform," its former champion said. "Without reform, I believe the time has come for the program to end."
Leahy's peers in Vermont's congressional delegation remained silent Thursday about the Northeast Kingdom collapse. Neither Sanders, who is running for the Democratic presidential nomination, nor Welch publicly commented on it. Both had participated in the September 2012 tour of Stenger's and Quiros' proposed projects, during which the photo of the men was taken.
For his part, Shumlin repeatedly noted at Thursday's Statehouse press conference that not only had EB-5 predated his time in office, but that Stenger's and Quiros' alleged fraud had begun "three years before I became governor." Shumlin, a Democrat, succeeded former Republican governor Jim Douglas in January 2011. The SEC says the scam began as early as June 2008, when the two bought Jay Peak using investor funds earmarked for other purposes.
Shumlin argued that his December 2014 decision to transfer state EB-5 oversight authority from the Agency of Commerce & Community Development to the Department of Financial Regulation prompted the investigation that led to the state's civil case. But by that time, the SEC had been investigating Stenger and Quiros for months — if not years. Shumlin said he was not responsible for the lax oversight regime that existed through most of his first four years in office.
"That is the system that was in place when I became governor," he said, adding later, "We all wish, I bet, that previous governors had made that move — that I could have made it sooner — but we made it, and these were the results: that it worked."
Asked whether the state should have played such a prominent role in promoting EB-5 projects through its Agency of Commerce, Shumlin again pointed to his predecessors, saying, "I, as governor, and former governors have promoted Vermont's EB-5 regional center with enthusiasm."
Reached Friday morning, Douglas took exception to the notion that it was he who was responsible, noting that Shumlin had "been taking gratuitous shots at me a lot lately."
"I guess I could do the same thing and say this is Pat Leahy's baby. It was created by the Congress in the 1990s. Pat's been a great champion," Douglas said of the man he ran against in 1992. "But I wouldn't try to do that."
Both Douglas and Shumlin accompanied Stenger to Asia in order to promote the state's EB-5 projects, but Douglas pointed out a difference between the two.
"The state paid for my ticket, unlike my successor," he said.
Indeed, Stenger and Quiros footed the bill in September 2013 when Shumlin, then-secretary of commerce Lawrence Miller and another ACCD employee spent eight days drumming up investors for the projects in China and Vietnam. As Seven Days reported in March 2014, Shumlin made a pit stop on his way home to hold a fundraiser at the billionaire environmentalist Tom Steyer's San Francisco abode. By then, Shumlin's former campaign manager and deputy chief of staff, Alex MacLean, had gone to work for Stenger and Quiros as a contract project manager; she later took a job with KSE Partners and severed her contract with the developers at the end of 2015.
Stenger and Quiros themselves have contributed handsomely to Shumlin's campaigns over the years — not to mention Leahy's, Douglas' and Welch's. The developers and the companies they control donated at least $12,000 to Shumlin's 2014 reelection bid, making them among the governor's most generous donors.
Shumlin denied Thursday that his relationships with Stenger and Quiros influenced state action or delayed the reforms he eventually made.
"I don't think there's anything that I could have done differently, previously, without knowing the facts," he said. "I think it's a testament to the fact that campaign contributions don't make a difference that I set up this structure that went in and found this out and brought us to where we are today."
Shumlin claimed he learned only last March that state regulators were concerned about the projects and only last September that charges might be brought. But there have been signs for years that something was amiss at Jay — and, more broadly, with the state's EB-5 oversight.
As far back as March 2012, a former close associate of the two developers, Douglas Hulme, sounded the alarm about the projects, as Seven Days reported at the time. In an email to hundreds of immigration attorneys, he wrote that his firm "no longer has confidence in the accuracy of representations made by Jay Peak, Inc., or in the financial status of and disclosures made by [it]."
The ACCD employee overseeing the state's EB-5 program at the time brushed off Hulme's complaint, along with concerns about an EB-5-funded senior housing project proposed by a company called DreamLife. A year later, the state canceled its agreement with DreamLife, accusing its principals of "material misrepresentations," as VTDigger.org reported at the time.
Over the next three years, VTDigger regularly documented troubles facing the Northeast Kingdom projects, including a 2014 investor revolt. Stenger and state officials often denied or downplayed the allegations and accused VTDigger of inaccuracy, such as when it broke the news in June 2015 that Jay was facing an active SEC investigation.
In June 2014, after flagging inconsistencies and apparent misrepresentations related to the developer's Korean partner, ACCD put a temporary hold on Stenger's and Quiros' ability to raise money for two of their projects. The next spring, in March 2015, Shumlin convened a meeting at Stenger's request to address the impasse.
"Sometimes you just have to get people around the table and stop talking on the phone and stop having your attorneys run the show," Stenger told Seven Days last summer.
Within a month, the state had partially relented. It allowed the developers to resume raising money, so long as the cash was held in escrow pending completion of a state financial review. Stenger said at the time that the meeting with Shumlin had helped, but he argued that the governor "hasn't done a single thing that's inappropriate."
"He was a governor being a governor — just saying, 'Look, folks, can we identify the issues and can we agree on a path to solve them?'" Stenger said.
Asked at the time what he made of the notion that Shumlin and his fellow politicians did the developers' bidding, Stenger rejected it.
"No ... I'm representing an enormous economic development project for the Northeast Kingdom," he said in the July 2015 interview. "It has nothing to do with the fact that I may have contributed to [Shumlin's] campaign or Jim Douglas' campaign or [former governor] Dick Snelling's campaign or [former governor] Howard Dean's campaign, all of which I did. It's because there are hundreds of jobs on the line and those things are important."
http://www.sevendaysvt.com/OffMessage/archives/2016/04/15/after-sec-bust-vermont-pols-back-away-from-eb-5-developers
Mentions
Litigation Cases
States
---
Securities Disclaimer
This website is for informational purposes only and does not constitute an offer or solicitation to sell shares or securities. Any such offer or solicitation will be made only by means of an investment's confidential Offering Memorandum and in accordance with the terms of all applicable securities and other laws. This website does not constitute or form part of, and should not be construed as, any offer for sale or subscription of, or any invitation to offer to buy or subscribe for, any securities, nor should it or any part of it form the basis of, or be relied on in any connection with, any contract or commitment whatsoever. EB5Projects.com LLC and its affiliates expressly disclaim any and all responsibility for any direct or consequential loss or damage of any kind whatsoever arising directly or indirectly from: (i) reliance on any information contained in the website, (ii) any error, omission or inaccuracy in any such information or (iii) any action resulting therefrom.