Lawyer: Ex-Jay Peak owner penned self-serving letter before fraudulent sale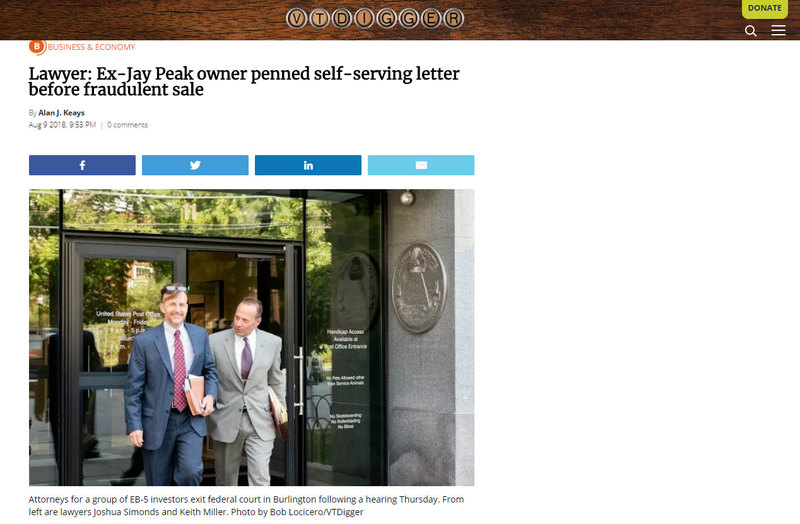 Attorneys for a group of EB-5 investors exit federal court in Burlington following a hearing Thursday. From left are lawyers Joshua Simonds and Keith Miller.
An attorney pressing a lawsuit against a Canadian company that formerly owned Jay Peak says a document the firm claims exonerates them in the alleged fraudulent sale of the resort a decade ago is nothing more than a "protect our ass" letter.
Keith Miller, representing a group of EB-5 investors, brought the lawsuit more than a year ago on their behalf against Saint-Sauveur Valley Resorts Inc. (SSVR).
The complaint alleges that company "knowingly" and "improperly" accepted $15 million in EB-5 funds from Miami businessman Ariel Quiros as payment for Jay Peak in 2008.
The EB-5 program essentially promised green cards to foreign investors whose money was to be used to create jobs in economically depressed areas.
At a hearing Thursday in federal court in Burlington on a motion by SSVR to throw out the lawsuit, a great deal of the debate centered on one document — a letter the company sent to a financial firm Quiros used to help carry out the purchase of the ski area in June 2008.
In that letter, the company warns the financial services firm that money raised for EB-5 funded projects at the ski area "may not be used in any manner, including as collateral or a guarantee, to fund the purchase of the Jay Peak Resort."
And, according to federal and state regulators, that's just what happened.
"If I may say so, your honor, " Miller said in court Thursday to Judge Christina Reiss, "we call that a, 'Protect our ass letter.'"
The attorney added that SSVR, then known as Mont Saint-Sauveur International Inc. (MSSI), knew all along that Quiros would be using those funds to pay for the resort.
"Yes, they wrote a letter," Miller said of the Canadian company. "It looks like a self-serving letter to prevent the inevitable."
Laurence May, an attorney for SSVR, contended in court that the letter shows the company trying to prevent wrongdoing, not perpetrate, or facilitate it.
He called the allegation "pretty rich" that the company wrote the letter as part of a ruse "to cover our behind."
May added, "It's far more plausible to say we would have never written a letter at all if we were in cahoots with Quiros."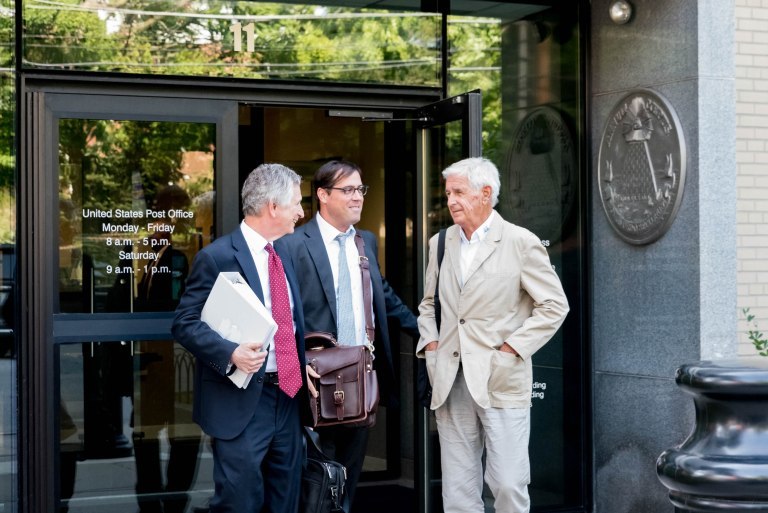 From left, attorneys Laurence May and David Pocius walk out of federal court in Burlington on Thursday along with Louis Dufour of Saint-Sauveur Valley Resorts Inc. of Quebec, former owner of Jay Peak.
Both sides repeatedly referenced a civil lawsuit brought by the U.S. Securities and Exchange Commission against Quiros in April 2016 that describes his purchase of Jay Peak in 2008 as what one of the attorneys termed "ground-zero" of a "Ponzi-like" fraud scheme.
In June 2008, the SEC filing states, Quiros negotiated a stock transfer, with MSSI moving the assets of Jay Peak to his company, Q Resorts. That transfer occurred within hours of Quiros' purchase of the resort.
According to that filing, the Miami businessman had earlier asked MSSI to open brokerage accounts for the Tram Haus Lodge and Hotel Jay projects at the financial services firm Raymond James.
Attorneys for MSSI, at the time of the bank transfers, sent to Raymond James, and copied to Quiros and Bill Stenger, the ski resort's manager at the time. The letter said that money for those EB-5-funded projects "may not be used in any manner" to pay for Jay Peak, according to the SEC filing.
May, SSVR's attorney, said in court Thursday that the SEC filing shows his client acting to prevent any fraud from occurring.
"It goes on to basically say that our client is somewhat of a Boy Scout here," May added. "The SEC basically exonerates our client. It says that our client did the right thing."
He said the real argument from the plaintiffs appears to be, "You guys are liable because you never should have a done deal with Quiros."
Joshua Simonds, Miller's co-counsel, had a much different take.
He said the letter "doesn't pass the straight-face test," adding, "The pre-closing transfer of the funds is what the suspicious nature of it is."
Also, Simonds said, the letter contradicts an earlier argument raised in the case by SSVR that it didn't have a "fiduciary duty" over the funds.
"If they don't have a fiduciary duty why are they sending a letter scolding Quiros not to use that money for other purposes," he said. "They are acting like they have fiduciary duty."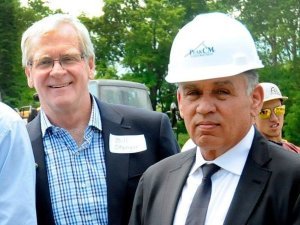 Bill Stenger, left, and Ariel Quiros at a ribbon cutting.
The SEC filing, as well as a separate one brought by state regulators in Vermont, alleged Quiros and his then business partner, Stenger, misused $200 million of the more than $350 million they raised through the federal EB-5 immigrant investor program.
The money was raised to finance massive upgrades at the ski resort and in later years to pay for developments in other Northeast Kingdom communities.
Over an eight-year span before the federal and state regulators leveled the civil lawsuits against the two developers in April 2016, about 800 EB-5 investors were defrauded in the scheme.
In the SEC case, federal regulators say the "Ponzi-like" scheme began when investor money, which was supposed to be held in escrow for two hotel projects, was used by Quiros to buy Jay Peak Resort from Saint-Sauveur Valley Resorts.
That money was to be used for Tram House Lodge, known as Phase 1, and Hotel Jay, Phase II.
However, Quiros used it to buy the resort instead, federal regulators said in their filing.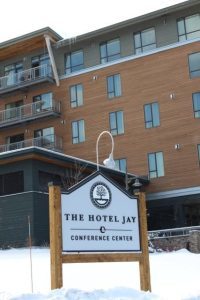 EB-5 investors put $75 million into the Hotel Jay projects.
After that, the two developers needed to pitch new projects and attract more investors, with that additional funding covering the backfill costs for the first two phases of development: Tram House and Hotel Jay.
The SEC says the "Ponzi-like" scheme kept moving forward with several more projects, before eventually grinding to halt with the filing of the enforcement actions by regulators in April 2016.
The plaintiffs suing Saint-Sauveur are EB-5 investors who put money into those two phases of developments and say they were not aware that their money had been used to buy the resort instead.
The plaintiffs who filed suit against Saint-Sauveur included EB-5 investors Tony Sutton, Glyn Moser and Patrick Tawil. They all said at the time they believed they were investing in the first construction projects at Jay Peak.
Instead, their funds went to buy the resort for Quiros.
Michael Goldberg, a court-appointed receiver now overseeing Jay Peak and representing the interest of the entities that the investors had put money into at the resort, has since replaced those investors as the lead plaintiff in the case.
He did not attend the hearing Thursday.
Quiros has also since settled his case with the SEC for $81 million, and Raymond James has agreed to pay $150 million to resolve claims with Goldberg. In each case, neither Quiros nor Raymond James admitted any wrongdoing.
As part of his settlement, Quiros has agreed to surrender his interest in Jay Peak.
In court Thursday, May, the lawyer representing SSVR, said it didn't seem fair that the lawsuit is seeking the return of the money the company received from the sale of Jay Peak from Quiros and at the same time Goldberg has the property.
SVVR, in a court filing seeking to dismiss the case, contends that the lawsuit is seeking an "unconscionable windfall" at the Canadian company's expense, by getting both the property and seeking the return of the money that was paid for it.
Judge Reiss later raised that point with Miller, the attorney for the investors and now the receiver.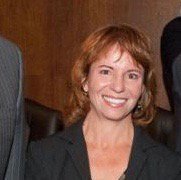 U.S. District Court Judge Christina Reiss.
"You have Jay Peak," the judge said to him, adding that now he wants the money for the resort's purchase back. "Doesn't that result in a windfall for you? … Tell me why that's not a windfall."
Miller responded that in an affidavit Goldberg wrote that even after all the settlements and sales of assets associated with the case there would still be "deficiencies" for "innocent investors" who put money into EB-5 projects headed by Stenger and Quiros.
"So what are we doing here?" Miller asked. "We're trying to collect money that SSVR gave to Mr. Quiros, unequivocally took back, and put it back in their pocket, and still hold."
Reiss said as the hearing came to a close that she would take the matter under advisement and issue a written decision.
"You certainly have given me plenty to think about," the judge said.
https://vtdigger.org/2018/08/09/lawyer-ex-jay-peak-owner-penned-self-serving-letter-before-fraudulent-sale/
Mentions
Litigation Cases
States
---
Securities Disclaimer
This website is for informational purposes only and does not constitute an offer or solicitation to sell shares or securities. Any such offer or solicitation will be made only by means of an investment's confidential Offering Memorandum and in accordance with the terms of all applicable securities and other laws. This website does not constitute or form part of, and should not be construed as, any offer for sale or subscription of, or any invitation to offer to buy or subscribe for, any securities, nor should it or any part of it form the basis of, or be relied on in any connection with, any contract or commitment whatsoever. EB5Projects.com LLC and its affiliates expressly disclaim any and all responsibility for any direct or consequential loss or damage of any kind whatsoever arising directly or indirectly from: (i) reliance on any information contained in the website, (ii) any error, omission or inaccuracy in any such information or (iii) any action resulting therefrom.