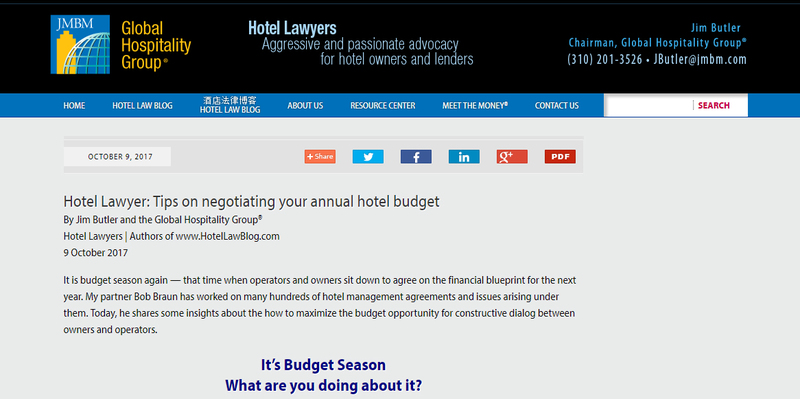 It is budget season again — that time when operators and owners sit down to agree on the financial blueprint for the next year. My partner Bob Braun has worked on many hundreds of hotel management agreements and issues arising under them. Today, he shares some insights about the how to maximize the budget opportunity for constructive dialog between owners and operators.
It's hard to overstate the importance of a budget in the relationship between a hotel manager and owner. The budget is the way that a manager describes, in black and white, how it plans to operate the owner's property; it is the document that translates operating standards into action, and how the owner can expect to profit from the manager's efforts. It is also an important opportunity to be sure that the operator is giving due consideration to the owner's financial expectations and/or exit strategies.
Many of the larger independent management companies present a budget with little opportunity for dialog. In significant part, they diminish the direct impact of asset and property management teams. This means people sitting in an office 3,000 miles away make key budget decisions for properties that they have not seen or on markets they have not visited, based on STR reports and raw data. Generally, one would think that the property-level asset management team would be the best to guide the budget process because of their hands-on knowledge – not the corporate budgeting team.
Budget challenges owners face
Unless owners have a wealth of operating experience or hire experienced asset managers, they will likely be at a severe disadvantage when they review budgets. Consider typical challenges of the budget timing and process:
Managers typically deliver budgets to owners in early- to mid-November, which leaves only 45 to 60 days before the beginning of the new fiscal year. While an owner may be able to analyze and comment on the budget and propose changes, the process itself is lengthy and makes it difficult to complete in a timely manner. Operators have scheduling conflicts during that busy period, and typically take two to three weeks, or more, to prepare a response for the owner's review.

Managers work on budgets almost year-round, and larger management companies have staffs that are dedicated solely to creating budgets. They have developed expertise in creating a budget that owners can only match by expending the necessary time and expertise, which takes a commitment that many owners don't understand; after all, didn't they already engage a manager for its expertise?

No matter the level of owner approval rights – which range from what might be complete control to very limited influence – managers run the budget process and establish the assumptions underlying the budget, making it difficult to make changes. Leveling the playing field requires owners to engage asset managers to conduct a "shadow" budgeting process.

The budget for any single year will impact budgets for years to come. While budgets are generally "zero-based," a budget for any given year is more realistically derived from the budget for the prior year, and budgets ultimately contain a variety of "legacy" items. While the old budget should, reasonably, provide a setting for the new budget, a variety of factors should (but often don't) get adequate consideration, including new labor agreements or laws, renovations and their implications, new supply, addition of new product internally (such as restaurants or bars), and outside influences, such as changes in the convention market and other drivers for the hotel market.

Operators rarely provide great detail on the most significant cost to owners – labor expenses – and therefore do not give owners the opportunity to identify potential savings. Similarly, operators often give greater weight to occupancy than rate, which may actually reduce the profitability of a hotel.
Owners should be proactive in the budget process
Because budgets are provided so late in the year, and with so little time to review, owners should do more than simply wait for them to be delivered. Owners should take steps not only to be ready for to review and comment on the budget promptly, but to become more involved in the entire budget process.
So what should the owner do? First, treat the budget process like the manager does – as a continuing, proactive process, not a reactive exercise. Start considering how the budget should be shaped long before the manager delivers its proposal. Owners should consider providing objectives to the operator at the start of budget process as a way of expediting the process. In others words, provide the operator with a standard that ownership will accept in advance.
Some good questions for owners to ask
Owners should look at the hotel and its results for the current year , and consider some key issues:
What worked at the hotel? Where did the hotel stand out, whether it be in occupancy, achieving a high room rate, managing expenses, food and beverage or meeting revenue, and so on? New operator policies on staffing, new brand standards that can add hundreds of thousands of dollars to hotel operating costs.
Just as importantly – perhaps more importantly – what didn't work? Was occupancy unreasonably high? Was the hotel unable to compete with its peers on rate? Did the hotel derive meaningful revenue from its restaurants, spa or other facilities? Are there new marketable products that need to be added to the hotel, such as F&B outlets or conferences centers? Should some facilities be leased or operated by third parties, like parking and restaurant operations?
Remember that revenue per available room, the most common yardstick for a hotel's profitability, only tells part of the story. Is the hotel catering to the right mix of clients in order to meet and exceed budgets and owners' financial expectations?
Does the current budget actually reflect current operations – how closely did the budget's forecast expenditures and revenues match results? This simple question may lead an owner to give greater, or lesser, weight to a manager's assumptions. Asset managers often meet with owners and operators monthly to cover payroll, costs and revenue assumptions. Analyzing those trends currently gives owners an advantage over waiting until budget time to evaluate operator performance.
Did the manager propose revisions to the current budget? Did the manager revise the budget without approval? Has the manager (or brand, if the hotel is under a franchise) proposed or implemented changes to its programs? Managers and brands regularly revise centralized services, shared services, marketing programs, personnel, compensation and benefit programs and so on. All of these changes will need to be incorporated into a budget, and an owner should consider their impact early. Owners should also question whether there are changes planned for the coming year to make sure the manager incorporates those into the budget.
Are there changes that the owner wants to implement in the coming year? Should there be changes to staffing, revenue management, programming or operations?
Having addressed these issues early, an owner is in a position to approach the manager early in the budget process to make the manager aware of the issues that need to be addressed in the budget or, at a minimum, to respond promptly and effectively to the manager's proposal.
Finally, the owner should require the manager to meet with the owner and its representatives to discuss the budget. Simply submitting comments is unlikely to be enough to effect real change; there needs to be interaction between the owner and manager.
Conclusion
While some owners have the resources to take these steps, most owners do not, and should consider engaging advisors, including experienced asset managers, to assist in the process. In addition, while a manager's failure to meet budget projections is rarely a breach of a management agreement, the budget process is a key element to the manager's performance; where issues exist with a manager's performance, legal counsel should be consulted to ensure that all of the owner's alternatives are considered.
At the same time, waiting until receiving the budget is a practice doomed to failure. Using a golf analogy, the reason that golfers keep score on every hole is so they can clearly understand their performance long before the game is finished and can make adjustments after every hole. Likewise and owner needs to evaluate his operator's performance weekly and monthly. They should not wait until budget time to see whether the operator has passed or failed.
The JMBM Global Hospitality Group works hand in hand with owners and their asset managers and other advisors during the budget process. We work to craft management agreements that ensure that the budgets are meaningful in content and delivered in time to allow for true analysis. After the management agreement is completed, we assist in analyzing the performance and responsiveness of managers to protect owners on an ongoing basis.
https://hotellaw.jmbm.com/hotel-budget-tips.html
Mentions
States
---
Securities Disclaimer
This website is for informational purposes only and does not constitute an offer or solicitation to sell shares or securities. Any such offer or solicitation will be made only by means of an investment's confidential Offering Memorandum and in accordance with the terms of all applicable securities and other laws. This website does not constitute or form part of, and should not be construed as, any offer for sale or subscription of, or any invitation to offer to buy or subscribe for, any securities, nor should it or any part of it form the basis of, or be relied on in any connection with, any contract or commitment whatsoever. EB5Projects.com LLC and its affiliates expressly disclaim any and all responsibility for any direct or consequential loss or damage of any kind whatsoever arising directly or indirectly from: (i) reliance on any information contained in the website, (ii) any error, omission or inaccuracy in any such information or (iii) any action resulting therefrom.