SEC Charges Immigration Attorney With Defrauding EB-5 Investors: Enforcement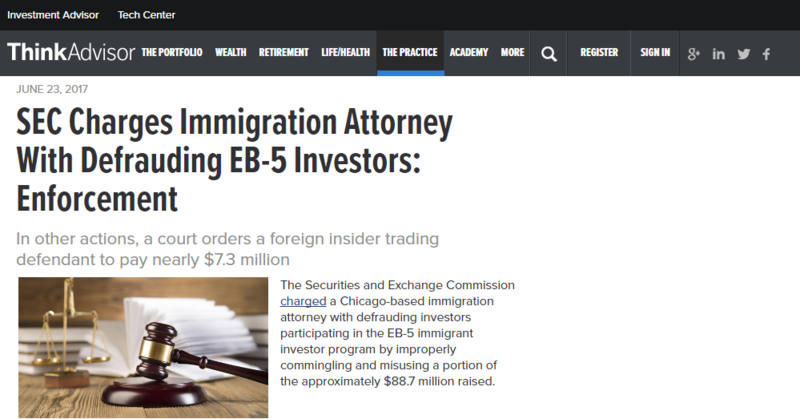 The Securities and Exchange Commission charged a Chicago-based immigration attorney with defrauding investors participating in the EB-5 immigrant investor program by improperly commingling and misusing a portion of the approximately $88.7 million raised.
The SEC alleges that Seyed Taher Kameli and his companies, Chicagoland Foreign Investment Group LLC and American Enterprise Pioneers Inc., falsely claimed to at least 226 foreign investors that each of their $500,000 investments would be used to help construct a specific senior living project in the Chicago area or Florida and create at least 10 permanent full-time jobs within that project. This would qualify each investor for a potential path to permanent U.S. residency through the EB-5 program.
According to the SEC's complaint, rather than use investor funds solely for the senior living project for which an investor was solicited, Kameli diverted millions of dollars to fund other projects and to make unrelated payments, which was contrary to representations to investors and the requirements of the EB-5 Program. Kameli also spent a significant portion of investor proceeds for his own benefit, for his brother's benefit, and for the benefit of companies he owns.
The SEC's complaint seeks a temporary restraining order and preliminary, permanent and conduct-based injunctions as well as disgorgement of ill-gotten gains plus prejudgment interest, and penalties. The SEC is also seeking a court-ordered asset freeze and appointment of a receiver over certain of the companies involved in the alleged fraud.
Foreign Insider Trading Defendant to Pay Nearly $7.3 Million
The SEC has obtained a default judgment against a foreign defendant charged with insider trading that orders him to pay approximately $7.3 million.
The court's final judgment orders Yu-Cheng Lin, also known as Believe Lin, to pay disgorgement of approximately $1.8 million, prejudgment interest of approximately $44,000, and a civil penalty of approximately $5.4 million. The court's entry of judgment resolves this litigation in its entirety.
The court had previously issued an arrest warrant for Lin after the judge found him in contempt of two previously issued orders by dissipating assets and refusing to repatriate funds.
In an emergency action, the SEC alleged that Lin traded on material inside information ahead of quarterly earnings announcements on May 5, Aug. 4 and November 3, 2016, by Ubiquiti Networks Inc., a California-headquartered company where Lin had worked from approximately March 2011 until June 2015. Lin allegedly did so by purchasing Ubiquiti common stock, call options and contracts-for-difference in brokerage accounts located in the United States and overseas. On April 3, 2017, the SEC filed an amended complaint alleging that Lin directed or controlled trading by a 34-year-old woman residing in Taipei, Taiwan, who was a close associate of Lin and traded Ubiquiti securities in 2014 while Lin was working for the company.
Additional Charges Announced in Case Involving Pre-released ADRs
The SEC announced additional charges in an enforcement investigation involving the improper handling of American Depositary Receipts (ADRs) by a Wall Street firm's securities lending desk.
The SEC's order finds supervisory failures by Anthony Portelli, a former managing director and head of operations at broker-dealer ITG Inc. Portelli supervised ITG's securities lending operations and was responsible for the firm's compliance with "pre-release agreements" for ADR transactions. ADRs are U.S. securities that represent foreign shares of a foreign company. Before obtaining a "pre-released ADR" to lend to a customer, brokers like ITG must own, or determine that a customer owns, the number of foreign shares that corresponds to the number of shares the ADR represents.
Under Portelli's watch, personnel on ITG's securities lending desk failed to take reasonable steps to determine whether the proper amounts of foreign shares were owned and held by ITG's customers. This failure opened up the possibility that the ADRs could be used improperly for short selling or dividend arbitrage.
Portelli has agreed to settle the charges without admitting or denying the SEC's findings and pay a $100,000 penalty. He also is prohibited from acting in a supervisory capacity for at least 18 months.
Earlier this year, ITG agreed to pay more than $24 million to settle the SEC's case against the firm.
SEC Files Fraud Charges Against Stock Promoters in Market Manipulation Scheme
The Securities and Exchange Commission charged a New Jersey-based group of stock promoters with fraud involving the manipulation and artificial inflation of the share price of a microcap company. The scheme grossed more than $1 million.
The SEC alleges that James M. Farinella, and his purported consulting firm Integrated Capital Partners Inc. (ICP), controlled virtually the entire public float of stock in microcap issuer Pazoo Inc. Farinella paid Equity Awareness Group (EAG) to promote Pazoo and to engage in matched trading to create the appearance of an active market for Pazoo stock and boost the stock price. The SEC further alleges that Anthony Amado, an owner of EAG, and Carlo Palomino, an EAG employee, carried out the scheme, enabling Farinella to dump Pazoo shares for over $1 million.
The SEC's complaint seeks permanent injunctions, disgorgement of ill-gotten gains along with prejudgment interest, penalties and penny stock bars.
In a parallel action, the U.S. Attorney's Office for the District of New Jersey today announced criminal charges against Farinella.
SEC Obtains Judgment Against Attorney Who Defrauded Escrow Clients
The SEC obtained a partial judgment against Christopher K. Brenner, an attorney licensed to practice in Colorado and Texas.
The SEC charged Brenner and his co-defendant, Jay Mac Rust, with fraud for making undisclosed risky investments and in some instances outright stealing money they obtained in escrow accounts from small business owners seeking commercial loans.
The partial judgment orders that disgorgement, prejudgment interest and a civil money penalty be imposed, and defers the determination of the amounts of such relief until a later date. Brenner also has consented to the entry of an SEC order, based on the court's entry of judgment, permanently suspending him from appearing and practicing before the SEC as an attorney.
The order prohibits Brenner from representing clients in SEC matters, including investigations, litigation or exams, and from advising clients about SEC filing obligations or content. Brenner consented to the judgment and order and neither admitted nor denied the allegations in the complaint or the findings in the order.
The SEC's litigation against Rust continues.
SEC Charges CEO and Attorney With Scheme To Disguise Nature Of Company Financing
The SEC announced charges involving a scheme to disguise the nature of a public company's financing amid financial difficulties, and a corresponding manipulation of the price of the company's stock perpetrated by an individual previously barred from serving as an officer or director.
According to the SEC's complaint, filed in federal court in Manhattan, Arista Power began to experience difficulty raising long-term capital for its operations beginning in 2012.
On the recommendation of William A. Schmitz, Arista's CEO; Michael T. Hughes, Arista counsel; and Peter Kolokouris, an Arista "consultant" who settled fraud charges with the SEC in the 1990s, Arista raised approximately $1 million through private sales of Arista stock owned by Kolokouris' family.
According to the SEC, in 2012, Schmitz and Hughes helped the Kolokouris family sell their stock to private investors, with the proceeds then used to provide desperately needed financing for the company, but in the guise of a fictitious loan from a purportedly independent third party, which was in fact controlled by Kolokouris.
In order to effectuate the stock sales, the complaint alleges that Kolokouris manipulated Arista stock, which inflated the public market price and thereby misled the private investors to believe that they were acquiring the Kolokouris' family stock at a discount. The complaint further alleges that Arista falsely and misleadingly stated in numerous public filings with the SEC – beginning with a Sept. 10, 2012 Form 8-K – that the financing came from a line of credit with a third-party lender.
Kolokouris, Schmitz and Hughes created internal Arista documentation designed to give the false appearance that Arista's disclosures were consistent with internal corporate records. Lastly, the SEC alleges that Kolokouris and various Kolokouris family members violated Regulation M by purchasing shares while engaged in a distribution of Arista stock.
Schmitz has agreed to settle the SEC's fraud charges, without admitting or denying liability, and has agreed to a three-year officer and director bar, a three-year penny stock bar, and to pay a penalty of $80,000. The settlement is subject to court approval.
http://www.thinkadvisor.com/2017/06/23/sec-charges-immigration-attorney-with-defrauding-e
Mentions
Litigation Cases
States
---
Securities Disclaimer
This website is for informational purposes only and does not constitute an offer or solicitation to sell shares or securities. Any such offer or solicitation will be made only by means of an investment's confidential Offering Memorandum and in accordance with the terms of all applicable securities and other laws. This website does not constitute or form part of, and should not be construed as, any offer for sale or subscription of, or any invitation to offer to buy or subscribe for, any securities, nor should it or any part of it form the basis of, or be relied on in any connection with, any contract or commitment whatsoever. EB5Projects.com LLC and its affiliates expressly disclaim any and all responsibility for any direct or consequential loss or damage of any kind whatsoever arising directly or indirectly from: (i) reliance on any information contained in the website, (ii) any error, omission or inaccuracy in any such information or (iii) any action resulting therefrom.