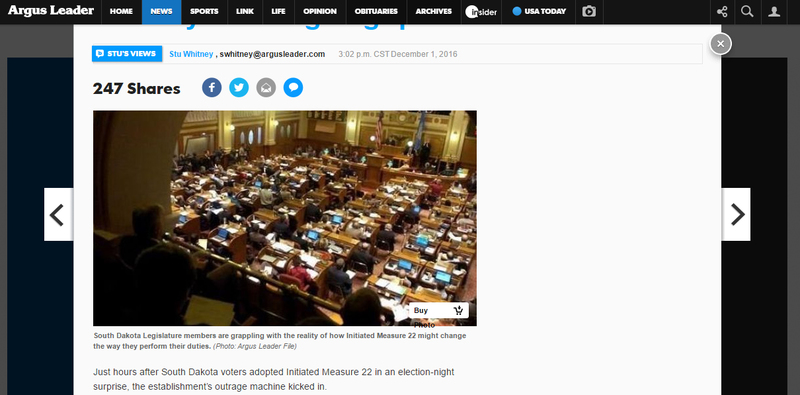 South Dakota Legislature members are grappling with the reality of how Initiated Measure 22 might change the way they perform their duties.
Just hours after South Dakota voters adopted Initiated Measure 22 in an election-night surprise, the establishment's outrage machine kicked in.
An overdue effort to revise lobbying and campaign finance laws while establishing a state ethics commission was portrayed as an uppity annoyance for powerful people in Pierre.
Gov. Dennis Daugaard derided IM 22 as a "mess," bemoaning the public financing of political campaigns. Tony Venhuizen, Daugaard's chief of staff, said the measure was "very badly drafted and vague," with lobbying restrictions that could cause legislators and other officials to leave their posts.
State senator Blake Curd, under scrutiny in the past for conflicts of interest, lashed out at "activists from out of state" who had swindled South Dakota voters with a hidden agenda.
So nefarious are the new laws that Curd and a group of fellow Republican lawmakers joined a conservative activist group in a lawsuit seeking to have the 34-page document dismissed as unconstitutional.
The will of the voters, who passed the measure with 52 percent of nearly 350,000 ballots cast, was deemed secondary to the inconvenience felt by a ruling party that stubbornly adheres to the state axiom of doing things "the way we've always done them."
The very notion of prohibiting elected officials from accepting gifts of more than $100 annually from lobbying groups was treated as a punch line in state GOP talking points.
Never mind that South Dakota was the only state in the union without such restrictions and one of only eight without an ethics commission, leading the Pulitzer Prize-winning Center for Public Integrity to give the Mount Rushmore State a national rank of 47th in deterring government corruption.
Never mind that scandals such as EB-5 and Gear Up offer disturbing examples of lack of transparency and accountability, leaving lawsuits and tragedy in their wake. Secrecy surrounding the removal of top state finance official Jason Dilges from his position only reinforces the perception that open government is shuttered quickly when things get uncomfortable.
Were South Dakota citizens really "hoodwinked" into voting for IM 22, as some have suggested? Or did they take a hard look at business as usual in Pierre and decide that change is not necessarily a dirty word?
"People are appalled at some of the things that have happened," says Rick Weiland, the 2014 Democratic U.S. Senate candidate who helped spearhead the measure through his Take It Back organization. "When you don't have checks and balances, you leave yourself open to corruption. Most of these new laws reflect a national standard, but they're tough to swallow for those who are used to doing things a certain way."
Gift restrictions for state officials and staff members have sparked confusion, with much legislative wailing about whether attending certain events or accepting contributions will lead to violations of the lobbying law.
Part of the ethics commission's role will be to provide clarity and logistical flexibility when interpreting those guidelines, just as nearby states streamlined their ground rules.
Nebraska's monthly gift limit of $50 includes among its exceptions "breakfast, luncheon, dinner, or other refreshments consisting of food and beverage provided for immediate consumption," keeping the time-honored legislative tradition of free meals intact.
Colorado has a more stringent gift restriction of $50 a year but allows for complimentary food and beverages consumed at scheduled events at which a public official serves as speaker.
The idea is to be realistic while sending a message that the days of unfettered influence are over. If anything, the vehemence with which lobbying groups such as Americans for Prosperity and the Family Heritage Alliance have raged against IM 22 shows that the vision is valid.
Americans for Prosperity, backed by the Koch Brothers, waged an aggressive battle against the law's campaign finance component, which limits how much PACs, political parties and individuals can give to candidates while also making the process more transparent.
Ben Lee, the group's state director, spoke during the campaign of a "chilling effect" in which advocacy groups become less powerful because donors are concerned about their involvement being made public. Shockingly, South Dakota voters didn't respond well to an impassioned plea about keeping agenda-driven fat cats shrouded in secrecy.
The public financing of IM 22, in which registered voters can obtain two $50 "democracy credits" to give to candidates of their choosing, is the most radical part of the measure and one that opponents felt sure would spell its demise.
But outrage over lack of transparency was such that voters approved a maximum $12 million expenditure each two-year election cycle to support the credits program, with voluntary participation likely to keep it from reaching its full cost threshold.
Leadership from the five-member ethics commission, which can include no more than two members from the same political party, will be needed to help shape what can best be described as a work in progress on state elections.
Since the deadline for Daugaard to appoint commissioners is Jan. 31, there should less feet-dragging and more brainstorming as legislators prepare for what should be another eventful session in Pierre.
"If there's a genuine concern and opportunity to improve what IM 22 does, we'll work with the legislature and governor's office to make those improvements," says Weiland. "But to throw the whole thing out would really be a slap in the face to the voters."
He added that attempts to eradicate the law or perform "death by 1,000 cuts" will be referred back to voters, similar to what happened with the state minimum wage law Weiland helped push through as a ballot measure in 2014.
When state legislators voted to exempt workers under age 18 from the required wage, Democrats gathered petitions to refer the law on last month's ballot and saw that referral succeed with 71 percent of the vote.
The message from voters was simple: We meant what we said.
There is no doubt that IM 22 presents challenges as a sprawling set of laws with provisions that must be sharpened. Yet it still passed. That's not a testament to outside influence or voter ignorance but rather a sign that recent scandals have eroded trust in state government.
That problem could have been addressed by state legislators with meaningful ethics reform, but it didn't happen. So here we are, with IM 22 offering yet another anger-fueled edict in a year of political surprises.
Even more intriguing is the reaction of the state's Republican establishment to this development.
When citizens express concern about government transparency and the response is to question their intelligence for passing a law that addresses it, what does that make the people in charge of running our state?
Misinformed, to put it mildly.
http://www.argusleader.com/story/news/columnists/stu-whitney/2016/12/01/initiated-measure-22-south-dakota-campaign-finance-ethics-law-koch-brothers-stu-whitney/94727306/
Mentions
Litigation Cases
States
Subscribe for News
Site Digest
---
Securities Disclaimer
This website is for informational purposes only and does not constitute an offer or solicitation to sell shares or securities. Any such offer or solicitation will be made only by means of an investment's confidential Offering Memorandum and in accordance with the terms of all applicable securities and other laws. This website does not constitute or form part of, and should not be construed as, any offer for sale or subscription of, or any invitation to offer to buy or subscribe for, any securities, nor should it or any part of it form the basis of, or be relied on in any connection with, any contract or commitment whatsoever. EB5Projects.com LLC and its affiliates expressly disclaim any and all responsibility for any direct or consequential loss or damage of any kind whatsoever arising directly or indirectly from: (i) reliance on any information contained in the website, (ii) any error, omission or inaccuracy in any such information or (iii) any action resulting therefrom.