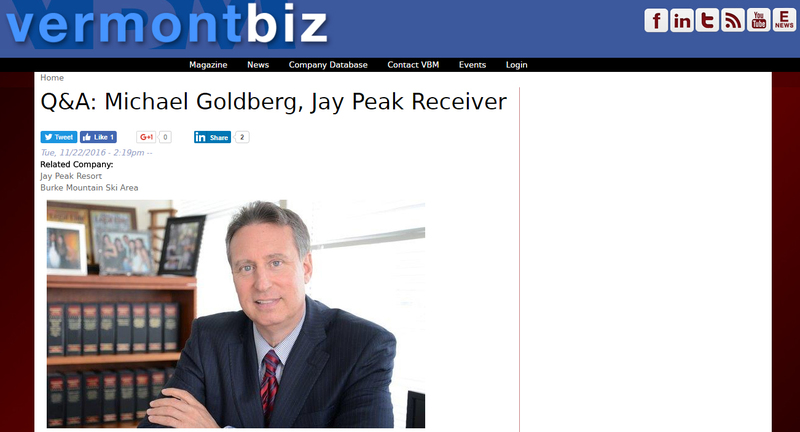 Michael Goldberg is the court-appointed receiver for the EB-5 assets at Jay Peak, Burke Mountain and AnC Bio in Newport.
Michael Goldberg is the court-appointed receiver overseeing the assets of the EB-5 program run by Ariel Quiros of Miami and his partner, Jay Peak President William Stenger. On April 12, at the request of the Securities and Exchange Commission, the US District Court in Miami appointed Goldberg receiver. The SEC alleged in its 81-page civil complaint that investors in various EB-5 projects had been defrauded, with $200 million of the more than $440 million raised diverted for other purposes.
On Monday, District Judge Darrin Gayles issued a preliminary injunction against Quiros, freezing his assets (see sidebar).
The EB-5 program grants permanent resident status to foreigners who make investments that create or preserve 10 permanent U.S. jobs.
Goldberg is a partner in the Fort Lauderdale law firm of Akerman LLP, where he is co-chair of Akerman's Fraud & Recovery Practice Group.
What is the status of the Jay Peak and Burke Mountain resorts?
Goldberg: The Jay has been operating business as usual since the receivership started. Obviously, initially we had some cash constraints and we got hit with a very large repair to our tram for $5 million.
And if you know how the ski resorts operate, when you come into off season they typically operate at losses and then they come into the ski season and make their money. When we took over … there was not enough money built up in the account so we had to subsidize operations through the summer. But we actually
put together a budget back in April and the amount we've had to subsidize has been significantly less. The Jay Peak Resort has been performing better than we thought it would. That also includes the $5 million obligation that we had to fix the tram. Overall, I'm pleasantly surprised at Jay Peak's operations.
Where did you come up with $5 million to fix the tram?
Goldberg: I had it from some other accounts I had some money in, other accounts we were able to seize when we took over the case.
Are the resorts constrained in terms of the number of workers they can hire for the ski season?
Goldberg: We are fully staffed and off season we're typically about 500 employees. And in season we'll go up to somewhere between 1,200 and 1,300 employees. But no, we have no constraints. In fact, we had job fairs recently and we're hiring.
In terms of the money owed, such as back taxes, how are you taking care of that?
Goldberg: First we have bills that are pre-receivership versus post-receivership. We've paid every post- receivership bill in full when it became due. We owe taxes of about $2.4 million, about $2 million on Jay Peak ($400,000 at Burke) and I'm getting money at the end of this month (November) and we will pay those taxes in full within the next month.
And pre-receivership debts?
Goldberg: We have two types of pre-receivership debts. The first debts are sums owed to contractors. Not with respect to Jay so much but with respect to the Burke, with respect to the AnC Bio matter and with respect to one Jay Peak project called Stateside.
We owe approximately $7 million on the contractors' claim and we expect to make a payment of … roughly 40 percent within the next couple of months. (Approximately) $3.5 million of that is Burke, about $2 million of that is Stateside, and about $1.5 is about AnC Bio.
Is that the final payment?
Goldberg: No. Those will be paid in full. This will be an initial payment. The balance may be paid when they're (Jay and Burke) sold. But this is to try to get some cash for the contractors.
The second type of claims we have are trade vendor claims from prior to the receivership. We expect to also make a payment to them, initial payment to start paying them down. As we develop cash in season, we will expect to pay some towards that and the balance will be paid at closing (sale) as well.
What happens to the Green Card investors?
Goldberg: We have eight projects. The first project was the Jay Peak hotel suites. We had 35 investors, 35 had their I-526 (EB-5) petitions approved and 34 of those have had their 829s (Green Card) approved.
The second phase we had 149 investors, 139 have gotten their unconditional Green Cards and we're still working on 10 of them.
The third (phase) we have 65 investors and 58 of them have gotten their Green Cards.
Phase four we had 90 investors and so far to date 68 have gotten their Green Cards.
The Burke hotel we don't anticipate there being a problem because we've created the jobs and we think everyone should get their Green Cards.
The Stateside, which is the cottages and everything at Jay Peak, those are in partial completion. We need to complete those. We expect many people will get their Green Cards but we have to complete to produce the remaining jobs.
The worse one we have is AnC Bio right now where we only have (created) enough jobs for about 30 investors out of the 168.
We are also working on attempting to get some relief through Congress. There's a proposal … to allow us to put in restructuring plans and everything to try to get relief to the investors. Not just us (but) anywhere in the country where there is EB-5 fraud.
In addition to the Green Cards, what is being done to return the money to EB-5 investors?
Goldberg: When we eventually sell Jay Peak, the court will have to determine the proper distribution but the investors will share the net proceeds. When we sell Burke, those investors will share the net proceeds.
On top of that, we have some lawsuits pending where we expect to recover a bunch of money to supplement that.
What's the process for selling the EB-5-related assets?
Goldberg: This will be an auction shopped throughout the world. We expect to have people looking at in Europe and other parts of the world as well as throughout the United States.
Do you have an auction date in mind?
Goldberg: No. Because right now the preliminary injunction is not yet issued in the case. (The court in Miami issued a preliminary injunction on Nov. 21). So I'm in a little bit of a status quo position until I can do it. But once the judge, or if the judge, issues the PI which we are hopeful and expect he will do then I will ask the court permission to start a sales process.
When the SEC files its lawsuit, the first thing they get is a temporary restraining order … which restrains Quiros and the other defendant … basically freezes their asset.
The next step is the second level of that, which you ask the judge to convert the TRO to a preliminary injunction.
Those hearings took place back in April and May … and we're waiting on the judge to issue his ruling (on the preliminary injunction). He's indicated it should be forthcoming soon.
When the judge issues his decision on the preliminary injunction … typically the battle of the case is won or lost at the preliminary injunction hearing.
It doesn't mean that there are not times when a preliminary is entered and a permanent is not but most of the times I'd say it is.
http://www.vermontbiz.com/news/november/qa-michael-goldberg-jay-peak-receiver
Mentions
Litigation Cases
States
---
Securities Disclaimer
This website is for informational purposes only and does not constitute an offer or solicitation to sell shares or securities. Any such offer or solicitation will be made only by means of an investment's confidential Offering Memorandum and in accordance with the terms of all applicable securities and other laws. This website does not constitute or form part of, and should not be construed as, any offer for sale or subscription of, or any invitation to offer to buy or subscribe for, any securities, nor should it or any part of it form the basis of, or be relied on in any connection with, any contract or commitment whatsoever. EB5Projects.com LLC and its affiliates expressly disclaim any and all responsibility for any direct or consequential loss or damage of any kind whatsoever arising directly or indirectly from: (i) reliance on any information contained in the website, (ii) any error, omission or inaccuracy in any such information or (iii) any action resulting therefrom.