District 4 Senate hopefuls discuss wide range of topics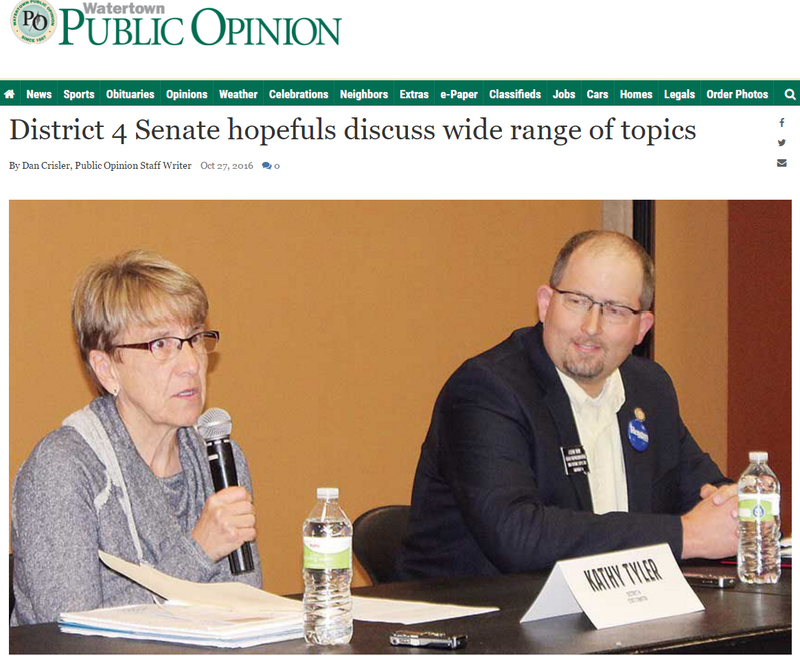 As District 4 Sen. Jim Peterson prepares to retire from the South Dakota Senate, experienced legislators John Wiik and Kathy Tyler faced off on multiple topics at the candidate forum held Wednesday evening at Lake Area Technical Institute.
Discussing a range of issues on the minds of South Dakotans, the question and answer session between Democratic candidate Tyler, a former member of the S.D. House of Representatives, and Republican Rep. Wiik turned somewhat contentious at times, especially as the two candidates squared off on how to address possible corruption in the state government.
In the wake of the EB-5 visa and Gear Up embezzlement scandals over the past few years, there have been calls for the state legislature to create an ethics commission to keep government process transparent.
As a member of the House of Representatives, Wiik said he voted against the establishment of such a panel when it came up for a vote, believing that ethics commissions may be even more corrupt than the bodies they are meant to oversee.
"Ethics commissions in other states have found ways to do incredibly unethical things because we've given a group additional power," Wiik said. "I believe the South Dakota Legislature is doing a pretty decent job of watching over its members. We had a couple of incidents where people pushed the boundaries and everything was handled."
Despite expressing faith in the legislature's abilities to police itself, Wiik acknowledged that there was room for improvement in its delayed response to the EB-5 scandal. The legislature's citizen legislature structure and schedule may have played a role in the delayed response, according to Wiik.
"It's one of the problems when our legislature meets for only 40 days of the year," Wiik said. "We need to figure out (how to respond better), but I don't think a new commission is the answer."
Maintaining she still has scars from the EB-5 affair during her legislative tenure in 2013 and 2014, Tyler said the legislative committees that operate in the legislative offseason are to blame for letting the EB-5 program get out of hand.
"They fell down on the job," Tyler said. "Whether it was because of political pressure, I don't know. But somewhere, somehow there needs to be a bipartisan group of people with subpoena powers and a legal background that can work with this type of situation."
Wiik took Tyler's comments as a shot at the Government Operations and Audit Committee (GOAC), which was chaired by former representative and current Sen. Larry Tidemann, R-Brookings.
"I cannot blame GOAC for this," Wiik said. "There was nobody interested in open and honest government than Larry Tidemann. He looked into (EB-5), he dug deep, and he did what he could with the resources he had available. I cannot let that attack on a very good man and a very good committee stand."
Tyler shot back, "And that's the key: Resources available. GOAC did not have the resources available to thoroughly dig into the EB-5 situation."
Both candidates did manage to find some common ground on education, especially with their defense of the one-half cent sales tax increase targeted toward raising public school teaching salaries. Both candidates would not be in favor of repealing the tax.
Wiik said that Main Street Fairness Act that was proposed in the U.S. Congress in 2010 taxing online retailers would slowly repeal the in-state sales tax increase, if the Congress ever acts on the bill.
"If that (act) should ever pass the U.S. Congress, that half-penny sales tax would go away on its own, incrementalized as the money comes in to replace the money the half-penny is raising," Wiik said. "I think for every $20 million in additional money that comes in from Internet-based sales, our half-penny tax will go away at one-tenth of a penny at a time."
Both candidates also agreed somewhat that the Legislature could do more to answer the calls from the counties as counties such as Codington look for additional funds to replace or modernize their aging jails, many of which are overcrowded.
Acknowledging the role the 2013 criminal justice reform bill played in the overcrowding — as the legislation required low-level felony offenders to serve their sentences at county jails rather than the South Dakota State Penitentiary — Tyler said the unfunded mandates imposed by the state cause difficulty for the counties.
"There are mandates everything from the federal to the state level that say, 'You will do this, but I'm not going to help you pay for it.' I think that's hard on counties such as Codington and the tax burden (it places)," Tyler said. "I don't think it's fair to them."
Tyler wishes to see the state support the counties each time a mandate is imposed.
"We do have to solve the problem of county and township funding," Wiik added. "We have to come up with funding sources for the counties and the government that is closest to the people. The cities are doing well with the penny and the two penny sales tax, but the counties are hurting.
"I'm not saying I'm going to offer to build or pay for the jail," Wiik said, drawing chuckles. "But we should definitely be involved in helping the counties pay for any mandates we put on them."
The two candidates also took positions on another county issue when it comes to the rapid proposal and development of concentrated animal feeding operations. With some CAFOs, such as the proposed dairy CAFO between Waverly and Watertown, seeking locations close to towns and cities, Tyler said with the setback laws changed last year, she would like to see two things.
"First of all, the Department of Environment and Natural Resources really needs to be a whole lot more concerned with the environment and the (watershed)," Tyler said.
Living only a half-mile away from a hog farm, Tyler said the DENR "need to start being concerned with odor and air pollution."
"I know what's coming out of that hog farm, and it's not clean air," Tyler said. "Counties have to decide what to do. We got to watch that environment."
Wiik largely concurred with Tyler's proposals, saying that he would continue his work as vice chairman on the River Basin and Water Management task force to improve water quality impacted by CAFOs.
Likewise, both candidates also said disputes between county residents energy developers, such as wind farms, also need to be addressed by the Legislature. In the wake of the rejected wind farm development near the Lake Cochrane recreation spot in eastern Deuel County by the county zoning board last week, Tyler said better communication is needed between developers and affected residents.
"I think it's one of those things where we have to look at where the wind power farms are going to be and look at that very carefully," Tyler said. "It's just like anything else big: Put them where people want them."
In disputes such as the Lake Cochrane one, Wiik said the government should act a mediator between two disputing parties. Wiik proved to be a strong supporter of wind power in his remarks.
"Government is there to solve disputes between people who can't get along," Wiik said. "That's what we need to do. Work together with people. Find people who want wind power and embrace it. The rest of the world is mandating it. We may as well profit from it."
District 4 voters — which included rural Codington and Brookings county residents as well as the entire counties of Grant and Deuel — will have the opportunity to vote for one of the two candidates either on Nov. 8 or through the early voting period currently occurring until the late afternoon of Nov. 7.
http://www.thepublicopinion.com/news/local_news/district-senate-hopefuls-discuss-wide-range-of-topics/article_79db4fcc-9c5f-11e6-9b4b-8b79e89caa7b.html
Mentions
Litigation Cases
States
Subscribe for News
Site Digest
---
Securities Disclaimer
This website is for informational purposes only and does not constitute an offer or solicitation to sell shares or securities. Any such offer or solicitation will be made only by means of an investment's confidential Offering Memorandum and in accordance with the terms of all applicable securities and other laws. This website does not constitute or form part of, and should not be construed as, any offer for sale or subscription of, or any invitation to offer to buy or subscribe for, any securities, nor should it or any part of it form the basis of, or be relied on in any connection with, any contract or commitment whatsoever. EB5Projects.com LLC and its affiliates expressly disclaim any and all responsibility for any direct or consequential loss or damage of any kind whatsoever arising directly or indirectly from: (i) reliance on any information contained in the website, (ii) any error, omission or inaccuracy in any such information or (iii) any action resulting therefrom.