Jay Peak Receiver Hires Attorney To Lobby Congress For EB-5 Changes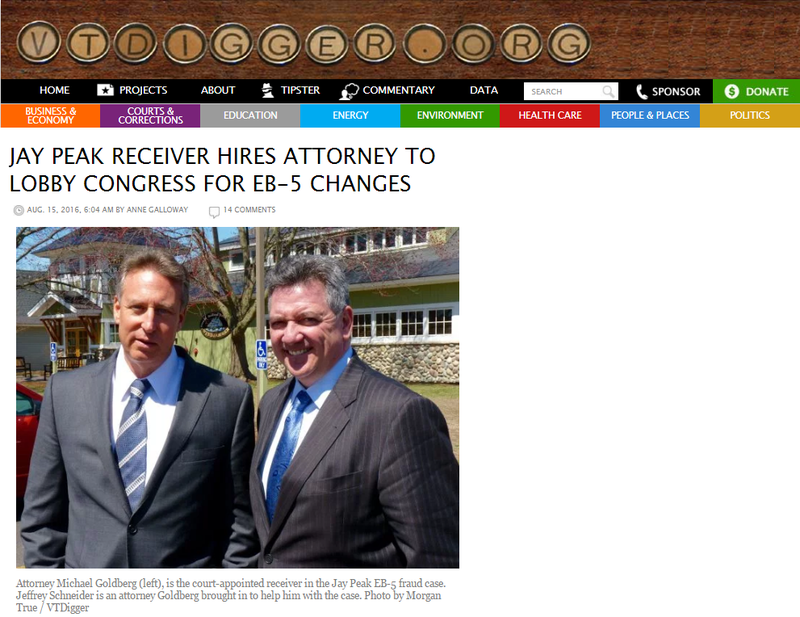 The receiver for Jay Peak Resort says he is hiring a Washington attorney to lobby Congress. Michael Goldberg, the court-appointed receiver for the Securities and Exchange Commission, wants to change federal EB-5 laws in an effort to obtain permanent green cards for defrauded investors in Jay Peak projects.
The EB-5 program is set to expire at the end of September and while several members of Congress have threatened to eliminate the program, others including Sen. Patrick Leahy, D-Vt., have said they want to revamp EB-5 and create more safeguards against fraud.
Goldberg says the immigration status of Jay Peak investors has been jeopardized through no fault of their own, and he has pressed federal immigration officials to provide relief to the victims of the fraud. That attempt failed.
Now he hopes to make changes in the federal statute that would allow the defrauded investors to obtain permanent residency, according to an interim report he filed earlier this month with the Miami federal court. The report was made available to the public on Friday.
The SEC accuses Bill Stenger, the CEO and president of the ski area, and Miami businessman Ariel Quiros of misusing $200 million in EB-5 funds. The developers used $350 million in a "Ponzi-like" scheme that involved seven separate construction projects, not including Burke Hotel. Miami federal court Judge Darrin Gayles has not yet issued a ruling on the SEC's request for a preliminary injunction.
The immigration status of 700 investors, Goldberg says, is now in jeopardy because of the alleged fraud perpetrated by the developers of Jay Peak.
About 400 immigrant investors in the Jay Peak projects have conditional visas, but have not yet obtained permanent residency in the United States through the EB-5 visa program. In order to receive permanent green cards, the immigrants have to show that 10 jobs were created as a result of their investment. A few investors in the projects do not have conditional or permanent green cards.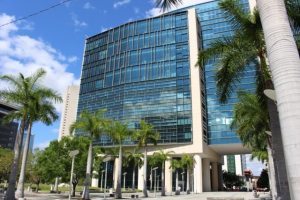 Another 300 investors have already received permanent green cards, but Goldberg says their immigration status could also be in jeopardy. The U.S. Customs and Immigration Service can, for up to five years from the date a permanent green card is issued to EB-5 investors, revoke permanent residency. Goldberg says correspondence from USCIS indicates the feds are questioning the improper transfer of money among the Jay Peak entities and whether investors' investments have resulted in the requisite job creation.
At the time the Jay Peak ski area and related companies were seized by the SEC on April 12, the Stateside condo project was incomplete and a proposed biomedical facility in Newport was deemed by the federal regulators to be "nearly a complete fraud."
As a result of the alleged fraud, hundreds of jobs that were to be created through the construction of Stateside and AnC Bio may not materialize and the immigration status of investors in the Jay Peak projects is in limbo.
Goldberg had hoped to talk with the U.S. Customs and Immigration Service about using an exemption in the law for extraordinary circumstances to provide relief to investors, but the federal agency was "unresponsive." Goldberg and the Vermont Regional Center also attempted to show job creation from other projects could be counted toward the Stateside and AnC Bio projects.
The receiver says his only option now is to pursue a change in federal statute. In the interim report filed with the Miami court, Goldberg also suggests he may hire an immigration attorney to sue the federal government on behalf of investors.
In the first few months of the receivership, Goldberg reports to the court that he has focused on securing and maintaining the properties held by the receivership, including Jay Peak, Burke Mountain, AnC Bio, a razed block in Newport, and a project at the Newport Airport. He has traced the use of immigrant investor funds and responded to inquiries from investors and creditors.
In the coming months, Goldberg says, he will operate and maintain the facilities until he can determine the best way to dispose of the properties for investors that enables them to obtain permanent green cards and gives them the "highest possible return on their investment." Goldberg will also develop a claims process.
In addition, the receiver says he will investigate and sue third parties that are liable for defrauding investors and seek to recover investor funds.
$4.6 MILLION MISUSED AT BURKE
In the interim report, Goldberg says that less than a week after he was appointed by the court to take over Jay Peak and related companies, he discovered that Quiros and Stenger had "unlawfully pledged, transferred and comingled" investor money in Q Burke with other entities.
On April 22, he asked the court to extend the SEC receivership to the Q Burke companies and the resort in the Northeast Kingdom.
Goldberg alleges that Quiros leveraged $7 million from Jay Peak investors to purchase Burke Mountain, "effectively comingling funds from the original Jay Peak projects."
A hotel under construction at Burke could not be completed because of funding shortfalls — even though Quiros and Stenger had collected funds from immigrant investors for the Burke Hotel, Goldberg writes.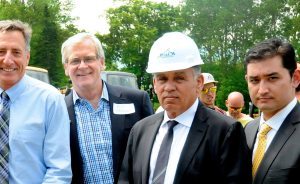 Goldberg says he discovered that Quiros and Stenger had improperly transferred $4.6 million from an investor account for the Q Burke Limited Partnership to Jay Construction Management, a Quiros company, and Northeast Contract Services, a company owned by Bill Kelly, a close affiliate of Quiros who is also based in Miami. The money was used to pay for expenses that were not associated with Q Burke Limited Partnership, Goldberg writes.
In all, Stenger and Quiros raised $60.5 million from 121 investors; it cost $66 million to build the hotel and conference center.
The Vermont Department of Financial Regulation instituted financial controls in the spring of 2015 that prevented Quiros from transferring money from other partnership accounts to pay for construction of the hotel.
"It is believed that the institution of the controls prevented Quiros from illegally diverting money from AnC Bio and other partnerships into the Q Burke partnership," Goldberg writes. "Thus, Quiros was no longer able to steal the funds necessary to pay all of the contractors who built the Q Burke Hotel."
About $3.6 million is still owed to contractors who built the hotel. Goldberg says he hopes to pay the contractors "some money if and when he has sufficient liquidity, but at the very latest from the proceeds of the sale of Q Burke."
SEIZURE OF QUIROS, KELLY COMPANIES
Goldberg describes for the first time how his firm, Akerman LLP, seized Ariel Quiros' downtown Miami office on April 13 — the day he was appointed by the court to manage the receivership. Goldberg's staff was in the middle of seizing computers and changing the locks when Quiros arrived on the scene. Quiros was required to turn over his corporate credit cards and office keys and was allowed to take copies of documents from the office.
Quiros operated a number of entities from the Miami office that have been named in the SEC's fraud investigation, including GSI, GSI of Dade County, Jay Construction Management, Q Burke and AnC Bio. He kept records, including bank information, for Jay Peak at his fourth floor office space at 111 NE 1st St.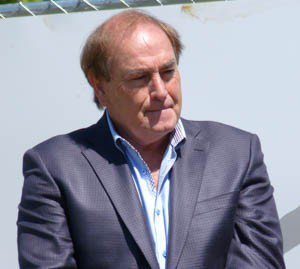 Goldberg suspended GSI's operations and has given Quiros supervised access to documents and personal items at the office. In addition, the receiver seized a warehouse in Opa-Locka owned by the Miami businessman, which was used to store vehicles.
Bank accounts were also seized as part of a freeze on Quiros' assets. One of the accounts at Citibank held $17 million in cash for Q Resorts and Jay Construction Management. Quiros, at the time of the SEC action, had drawn down $14.5 million on a line of credit on the account. Goldberg pressed Citibank for the release of $1.8 million and is negotiating a settlement with the bank for additional monies from the account.
Other bank accounts that have been subpoenaed include Merrill Lynch, HSBC Bank USA, JP Morgan Chase Bank and People's United Bank.
At the time the receivership went into effect, Goldberg also seized documents from Bill Kelly, Quiros longtime "counsel." Kelly operated a company called North East Contract Services out of his home in Miami, which the SEC alleges siphoned money from the Burke and AnC Bio projects.
In addition, the receiver was given oversight of a razed block in the city of Newport that was owned by Quiros. The block was demolished by Stenger in March 2015 at a cost of $2.8 million. The property was to be redeveloped as a mixed use retail and residential shopping complex. Stenger had hoped to use EB-5 money to build the Renaissance block, but the Vermont Regional Center did not approve the project. Goldberg is in the process of obtaining an appraisal for the property and will pursue a sale of the city block with the court's approval.
The Newport Airport expansion also comes under Goldberg's purview. In July, the receiver terminated a contract for expanding the runway at the airport and is in talks with the state of Vermont about purchasing the hangar built by Quiros and his son, Ary Quiros.
$5.1 MILLION OWED TO JAY PEAK VENDORS
Goldberg told the court that the receivership of Jay Peak Resort, which happened right at the end of ski season in April, couldn't have happened at a worse time "from a cash flow perspective."
He describes the financial situation as "dire."
In the off-season from May to December, Goldberg anticipates that Jay Peak will lose $6.5 million, and there is no cash reserve to cover the cost. The cash flow shortfall was compounded, Goldberg says, by deferred maintenance and other costs. The aerial tram needed $4.9 million in repairs and $5.1 million is owed to vendors. While the receivership has paid for goods and services in a timely way since the seizure of the resort, past due amounts are still owed and cannot be paid until the cash flow for the resort improves, Goldberg writes.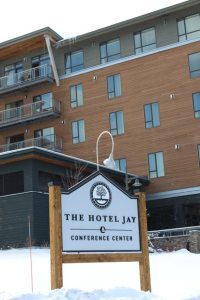 Since Leisure Hotels LLC, "a preeminent resort management" company, was hired to restructure operations at the Jay Peak and Burke ski resorts, financial controls have been enhanced and savings have been achieved, Goldberg says. The EB-5 development department at Jay Peak, for example, was disbanded, saving $100,000 a year. Leisure is negotiating with telecom companies to monetize Jay Peak's cell tower. Goldberg anticipates making $2 million from the sale.
Material weaknesses were found in the payroll department at Jay Peak, he says, and in several areas at Burke. Leisure instituted new processes and reporting to prevent loss of assets or disruption of operations. Burke's financial controls were severely lacking; all senior management was terminated and the resort's operations "were completely reorganized." To save money, back office functions, such as accounting, human resources, information technology have been consolidated for the two resorts and can be "easily unwound" if either of the resorts is sold, Goldberg says.
Leisure has worked with vendors who are owed money on past due accounts payable, he writes.
Six employees from Leisure have been hired to oversee operations at Burke and Jay. In exchange, the company is taking a 2.5 percent management fee from all gross receipts. At a minimum, Leisure is to receive $45,000 a month in fees, plus $9,000 a month for accounting services.
Goldberg and his firm, Akerman LLP, have not been paid and have asked the court to defer payment until the resorts are on firmer financial footing.
http://vtdigger.org/2016/08/15/jay-peak-receiver-hires-attorney-lobby-congress-eb-5-changes/
Mentions
Litigation Cases
States
---
Securities Disclaimer
This website is for informational purposes only and does not constitute an offer or solicitation to sell shares or securities. Any such offer or solicitation will be made only by means of an investment's confidential Offering Memorandum and in accordance with the terms of all applicable securities and other laws. This website does not constitute or form part of, and should not be construed as, any offer for sale or subscription of, or any invitation to offer to buy or subscribe for, any securities, nor should it or any part of it form the basis of, or be relied on in any connection with, any contract or commitment whatsoever. EB5Projects.com LLC and its affiliates expressly disclaim any and all responsibility for any direct or consequential loss or damage of any kind whatsoever arising directly or indirectly from: (i) reliance on any information contained in the website, (ii) any error, omission or inaccuracy in any such information or (iii) any action resulting therefrom.