Part-owner of Highlands gold mine sued by Chinese investors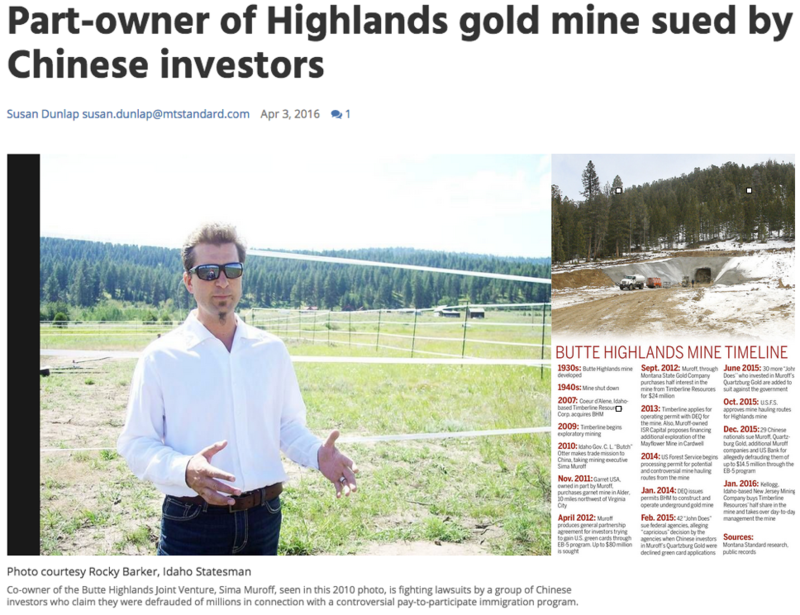 The co-owner of Butte Highlands Joint Venture, a developing underground gold mine 15 miles south of Butte, is fighting lawsuits by a group of Chinese investors who claim they were defrauded of millions in connection with a controversial pay-to-participate immigration program.
Two lawsuits by a total of 29 Chinese nationals name Sima Muroff and three of his Idaho-based companies — Quartzburg Gold, LP, Idaho State Regional Center LLC and ISR Capital LLC — along with US Bank. The suits, filed in federal court in Utah last December, claim that Muroff, the three Idaho companies and the bank defrauded them of at least $14.5 million through an immigration program called EB-5.
The EB-5 program allows foreign nationals to gain American citizenship in exchange for significant, high-risk financial investment in the U.S. The American ventures must produce 10 permanent, full-time jobs for American workers.
According to a Quartzburg Gold confidential private offering memorandum dated June 2012 to the Chinese investors, the company sought to raise about $52 million to go toward four Idaho-based gold mine projects, and an additional $25.9 million "for ... one or more … additional projects." Those projects included Garnet USA, a garnet mine located in Alder, 10 miles northwest of Virginia City, for drilling, retooling the mill and construction of a plant.
Muroff, through another of his companies — Montana State Gold Company —bought a half share into the BHJV in September 2012 for $24 million, according to a 2012 Montana Mining Report. Montana State Gold Company, which despite the name is based in Boise, Idaho, was expected to fund the remaining exploration and development of the mine until production commenced, the report states.
Calls to Idaho State Regional Center and ISR Capital, which have the same phone number, were not returned. A phone number for Muroff was answered by a recording saying the number did not accept calls.
The two lawsuits state that the 29 Chinese nationals deposited at least $500,000 each with a US Bank agent as an investment in Quartzburg Gold, also based at the same address as MSGC — 1112 W. Main Street, Ste. 101, Boise, Idaho — in exchange for the ability to apply for a U.S. green card.
According to both lawsuits, filed in the U.S. District court of Utah, the U.S. Citizenship and Immigration Service, the federal agency charged with overseeing the EB-5 program, did not approve the would-be immigrants' petitions for a green card. The agency cited deficiencies with the Quartzburg project, stating that the project did not comply with the EB-5 program. But US Bank released the money to Quartzburg, instead of giving it back to the 29 Chinese nationals, the lawsuits state.
Muroff also bought the garnet mine in Alder under the name Garnet USA in a joint venture with GMA Garnet Group, a Perth, Australia-based company, in November 2011. Muroff — through another of his Idaho-based companies, Idaho State Regional Center — closed a $225 million joint venture with GMA Garnet Group in 2014, according to a news release.
In 2013 ISR Capital, another of Muroff's Idaho-based companies, proposed financing exploration of the long-dormant Mayflower Mine, once owned by William Clark and the Anaconda Copper Mining Company, according to Montana Department of Environmental Quality. Located south of Cardwell on the Jefferson River in Jefferson County, Mayflower is owned by Brimstone Mining, Inc. According to public records, Muroff is the president of Brimstone Mining.
Although Brimstone's website states it is looking for a development partner for the historic high-grade gold-silver underground mine, the phone number on the website has been disconnected. The permit is still active, according to MDEQ.
Another potential project listed in the offering memorandum is called Montana Recon Gold Project and Program, described as encompassing exploration and analysis of 32 potential mining sites in Montana.
In an emailed message sent from Muroff's lawyer, Kris Ormseth at Stoel Rives LLP in Boise, to Muroff, dated November 11, 2014, Ormseth states that Quartzburg Gold was initially going to invest the EB-5 investors' money into five Idaho-based projects. But those Idaho-based projects were replaced with the Highlands and Mayflower projects, according to the email.
Ormseth's email also states that the money from the Chinese investors was a loan to Quartzburg Gold and the investors could only get the money back if the projects proved successful.
Calls to the law firm representing the 29 Chinese litigants were not returned. A lawyer representing Muroff and Muroff's Idaho companies declined to comment. A call to US Bank's lawyer was not returned.
New Highlands partnership forms
New Jersey Mining Company, a Kellogg, Idaho-based mine and milling company, bought half of BHJV in January, making it Muroff's new partner. The founder of New Jersey Mining created a new tailings system that is touted as environmentally friendly, and the company won an environmental award from Idaho Department of Environmental Quality in 2014. (See accompanying story.)
Grant Brackebusch, vice president of New Jersey Mining, said he doesn't have concerns over being partnered with Muroff, despite the allegations made through the lawsuits. Brackebusch said he and the other principals in his company, president John Swallow and chief executive officer Del Steiner, were aware of the lawsuits before entering into the business partnership.
"We had some idea. We thought the mine is a good asset. The mine is what attracted us," Brackebusch said.
Steiner said no EB-5 money was used to finance BHJV.
When informed that the Standard had obtained public documents indicating Muroff did use EB-5 money to invest in BHJV, Steiner said via email: "I have no way of knowing where the money Sima's company put into any work he did came from, but it didn't constitute any of the original development. The most current work has gone into permitting and related for production. Remember NJMC is only dealing with a one-half interest in the property acquired from Timberline Resources, (who was) the original owner. In relation to that half interest and the main development, I don't believe any EB-5 money was involved."
Steiner also told the Standard that he passes no judgment on the allegations against Muroff, but added that he intends to protect New Jersey Mining's interests.
"It's my intent to build an absolute firewall between Sima and New Jersey Mining Company so we can function and there is no liability for New Jersey (Mining Company)," Steiner said.
A third lawsuit
In a separate lawsuit, 41 Chinese nationals and one Hong Kong resident filed suit in U.S. District Court in the District of Columbia against U.S.C.I.S., Department of Homeland Security and the directors of both agencies, Leon Rodriguez, director of U.S.C.I.S. and Jeh Johnson, director of Department of Homeland Security, plus Nicholas Colucci, director of the EB-5 program. That lawsuit was filed in February 2015.
The 42 Asian litigants are listed as "John Doe."
By June 2015, more "John Does" were added to the suit to create a total of 72 Asians suing American federal agencies.
Although Muroff and his Idaho-based companies are not named in that suit, he and Quartzburg Gold are at the heart of it.
Because the plaintiffs are listed as "John Doe" there is no way to tell if these 72 Asian litigants include the 29 Chinese nationals who filed suit against Muroff, his companies and US Bank in December of last year, but the narrative behind the complaint is essentially the same.
In the suit against the federal agencies, the Chinese nationals allege that their efforts to obtain a green card through the EB-5 program were denied capriciously. The plaintiffs in this suit also state that they made a high-risk investment of $500,000 each into Quartzburg Gold, LP in 2012.
The lawsuit against the government states that Quartzburg Gold, "is using the funds indirectly to finance development and operation of mining businesses in Idaho and Montana as job-creating enterprises."
The 72 Asians claim that the federal agencies and their directors have deprived the Asians of lawful pursuit of immigration benefits and have violated the Immigration and Nationality Act and the Administrative Procedure Act. The 72 Asian litigants want their ability to apply for a U.S. green card to be reinstated by the federal government.
A call to the lawyer at the Washington, D.C. firm representing the 72 litigants was not returned. The lawyer at the Chattanooga, Tenn., firm representing the 72 litigants declined to comment. A spokesperson for U.S.C.I.S. said the agency cannot comment on pending litigation.
A program under fire
The EB-5 program is not without its critics. One criticism is simply the amount — a $500,000 investment into an American project in a rural area with high unemployment — such as Butte — can enable foreign nationals' permanent entry to the U.S.
"If you're going to sell citizenship, shouldn't we charge a lot more?" Executive director for Washington, D.C.-based political think tank Center for Immigration Studies, Mark Krikorian told the Standard. "If you're going to be a prostitute, at least charge a lot of money."
Another aspect to the program is that, according to the Center for Immigration Studies' senior fellow David North, who blogs about EB-5, the Chinese are the predominant group taking advantage of the program.
"This program is available worldwide but about 85 percent are from China," North said. "Being rich in China isn't a bowl of cherries."
Another criticism is a lack of oversight, making it easy for fraudulent activity.
"It's a very awkward way of investing in America," North said.
A program that gives hope to some
The EB-5 program is not new. Congress created it in 1992 as a way to stimulate the economy. Though the program has been around for nearly a quarter of a century, it only began to gain steam in 2007. Some say it got traction because banks became strict about lending due to the economic crash in the late 2000s. But North says the program grew exponentially because the Obama administration began to promote it heavily.
"The general tenor of this administration is very pro-immigration. Here's a migrant group (the Chinese) that has money. The administration has gone to great lengths to make it (the EB-5 program) attractive," North said.
There were only 11 regional centers, which are economic entities that enable the foreign investment, in 2007. Currently, there are 796, according to Colucci in testimony he provided to Congress about the program in February.
Overall, Colucci estimates that at least 35,000 jobs for U.S. workers have been created and $8.7 billion has been invested in the U.S. through the EB-5 program since October 2012.
Critics of the program call it selling American citizenship and say the program is run unethically.
Krikorian called the program, "a parody of lying in a government program."
"The way it's run, it's a complete scam," Krikorian said.
Proponents of the program disagree. Washington state-based immigration lawyer Shahzad Qadri, who has helped 40-plus regional centers across the country, said that most involved in the program are honest but that it has had "a few bad apples that've been heavily publicized."
Qadri said there are hundreds of regional centers around the country. "Only three or four high-profile developers committed fraud," he said.
Qadri also pointed out that the program provides entrepreneurs with the ability to obtain capital who might not be able to gain it from traditional lending institutions. He cited clean energy as one industry example where an entrepreneur might have trouble acquiring traditional loans.
"It's allowing entrepreneurs to be innovative, take the risk and invest capital they couldn't get," Qadri said.
The regional centers can be privately owned or publicly owned. Muroff owns Idaho State Regional Center, which not only helps foreign investors through EB-5 for projects throughout Idaho, but also for 38 counties in Montana, including Butte-Silver Bow, Jefferson and Madison counties. (See accompanying information.)
Another aspect of the program are the jobs for American workers it creates. The investments the foreign nationals make have to either generate or preserve 10 permanent full-time jobs for qualified U.S. workers. "EB" stands for "employment based."
Krikorian said that this part of the program is also run unethically because regional centers will sometimes hire a business partner and count that person as one of the 10 permanent, full-time employees. Other jobs created have also been questionable, he said.
It has been estimated that the Butte Highlands mine will generate about 50 jobs.
Muroff, Idaho governor went to China
Gov. C.L. "Butch" Otter, R-Idaho, encouraged the EB-5 program through his Project 60 initiative, launched in 2008.
Otter made a trade mission to China in 2010 and Muroff traveled with him, according to a story written at the time by an Idaho Statesman reporter, Rocky Barker, who went to China with the group.
Calls from the Standard to Otter's office were redirected to Otter appointee Megan Ronk, director of Idaho Department of Commerce. Ronk said Otter has a long history of encouraging foreign trade. Before he entered politics, Otter worked for J.R. Simplot Company, an international agricultural business. Otter ensured people around the world eat Idaho potatoes when they order McDonald's French fries.
Whether Muroff met the Chinese nationals who would later sue him for fraud while on that 2010 trade mission with Otter is not known. Otter is not named in either of the lawsuits against Muroff.
But critics of the EB-5 program cite trade missions such as Otter's 2010 trip as potentially unethical, because, they say, a state official's mere presence in front of would-be foreign investors could give the impression that the regional centers are a government entity or are backed by the state or federal government, when most are private companies.
"Would a Chinese businessman understand and accept the difference and distinction (between public and private groups)?" Krikorian said.
Qadri said the Chinese people are quite savvy about the program and most Chinese know a lot more about the EB-5 program than many Americans do.
"China's a very sophisticated market. Most Chinese know more about this than locals do," Qadri said.
Can the program be reformed?
Colucci requested that Congress pass a number of reforms for the program in his written testimony to the House Committee on the Judiciary hearing held in February. One such reform is the ability to prohibit people who have criminal violations or have engaged in fraud to be associated with the regional centers. Currently, there is no avenue for his agency to prevent that.
Qadri also said he would like to see some reform. He said the program needs to be "tweaked."
Krikorian said one of the side effects of the program is that now the regional centers are banding together to lobby the federal government.
"Their (the regional centers') existence now depends on this program continuing. They're willing to do what it takes to put pressure on congressmen. This regional center approach created a lobby to perpetuate this scam program," Krikorian said.
Muroff's future role
Although Muroff is still a 50 percent owner in BHJV, both Brackebusch and Steiner indicated Muroff would be, "a lot less active," in BHJV going forward.
Brackebusch said Muroff is handing over the operational reins to New Jersey Mining, which has more experience in mining.
"Sima has a number of other mining interests worldwide," Steiner said. "But taking Butte Highlands mine to the next stage is not on his dance card."
http://mtstandard.com/natural-resources/part-owner-of-highlands-gold-mine-sued-by-chinese-investors/article_d35b1c42-fd99-5157-999a-3803c4fc9ff8.html
Mentions
States
---
Securities Disclaimer
This website is for informational purposes only and does not constitute an offer or solicitation to sell shares or securities. Any such offer or solicitation will be made only by means of an investment's confidential Offering Memorandum and in accordance with the terms of all applicable securities and other laws. This website does not constitute or form part of, and should not be construed as, any offer for sale or subscription of, or any invitation to offer to buy or subscribe for, any securities, nor should it or any part of it form the basis of, or be relied on in any connection with, any contract or commitment whatsoever. EB5Projects.com LLC and its affiliates expressly disclaim any and all responsibility for any direct or consequential loss or damage of any kind whatsoever arising directly or indirectly from: (i) reliance on any information contained in the website, (ii) any error, omission or inaccuracy in any such information or (iii) any action resulting therefrom.