Q Burke contractor threatens to walk off job blames state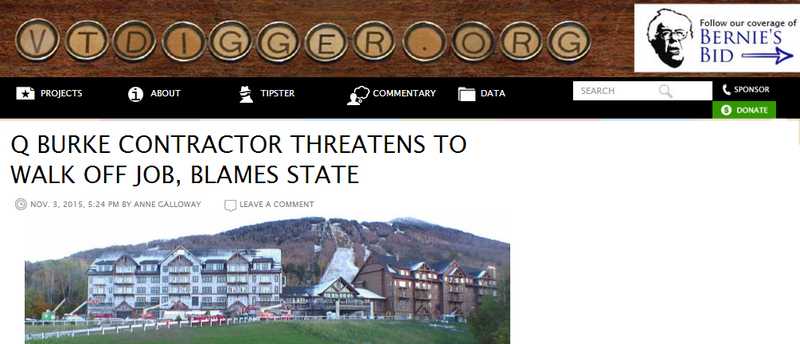 The general contractor for an EB-5 funded hotel and conference center development at Q Burke Resort says the state is holding up payments for completed work.
The general contractor in charge of building a resort hotel in the Northeast Kingdom said he's caught in the crossfire between the project's developers and state regulators, resulting in payment delays that might force him to abandon the $120 million project.
Jerry Davis, president of PeakCM, the construction firm managing the 180,000-square-foot development at Q Burke Resort, blames the state.
"I'm at my breaking point," Davis says. "I'm thinking of stopping the job. It's delayed the hotel because when subs don't get paid they slow down.
"Ninety percent of the issue is caused by the state's inability to manage the (payment) approvals," Davis says. "We don't want to shut it down. All we want to do is finish the project under budget and on schedule."
Work on the Q Burke Hotel and Conference Center was on time and on budget until July, Davis says, when the Department of Financial Regulation began requiring state approval of construction costs for the ski resort in the Northeast Kingdom town of East Burke.
PeakCM is waiting for DFR to approve more than $500,000 in old invoices that are past due. In addition, Davis is owed $3.5 million for construction work for September, which was just billed. PeakCM received a check for August work in mid-October. Davis said his contract with the developers calls for being paid within 30 days of billing.
A shutdown would affect as many as 90 companies and subcontractors associated with the construction and the layoff of hundreds of workers who work on and off site would be inevitable, Davis says.
Even a temporary shutdown could kill the Q Burke project, he said.
"When you shut a project, they [the subs] scatter," Davis said. "It's like opening a rabbit pen."
At the very least, the opening of the hotel, conference center and sports center will be postponed, according to Bill Stenger, CEO of Jay Peak Resort and developer of Q Burke. The resort expansion was set for a Dec. 11 opening until "the delays by DFR put this date at risk," Stenger said.
"This significant delay of the payment for the July work did cause Q Burke, PeakCM and the subcontractors substantial distress," Stenger said.
The Q Burke project is part of a $545 million development initiative funded through the federal EB-5 Visa program that allows foreign nationals to invest $500,000 (plus $50,000 in administrative fees) in exchange for a green card and eventual permanent residency. In Vermont, the immigrant investor program is run by the Vermont EB-5 Regional Center, which is part of the Agency of Commerce and Community Development.
Stenger and his partner, Ariel Quiros, have raised more than $500 million in immigrant investor funds to expand two resorts — Jay Peak Resort and Q Burke — and for AnC Bio Vermont, a planned biotech plant in Newport.
The Securities and Exchange Commission began an investigation of the Jay Peak projects 22 months ago. The federal agency has subpoenaed the developers and state officials.
Susan Donegan, commissioner of the Department of Financial Regulation, and Patricia Moulton, secretary of the Agency of Commerce and Community Development, declined to comment on Davis' concerns. Moulton referred questions to the Attorney General's Office, which also declined comment.
In communications obtained by VTDigger through a public records request, Donegan says that the delayed payments to PeakCM are the result of the developers "unresponsiveness" to requests for information from DFR. Donegan wants "a clear understanding of the monies that have moved through Q Burke account and what the balance is." She goes on to say, "Let me explain." The next portion of the email is redacted.
Donegan and DFR staff raise additional questions in 429 pages of communications about the developers' use of funds for the project and communications with immigrant investors. In September, DFR sent subpoenas to Mark Scribner, an attorney for Primmer Piper Eggleston Cramer, which represents eight principals associated with Jay Peak, Q Burke and AnC Bio Vermont.
Davis criticizes DFR for doing "more work to protect foreign investors than they are to help the businesses, taxpayers and workers in the state."
PeakCM has effectively been carrying the cost of construction for Q Burke because of the state's slow approval process, Davis says.
"My fear is we get it substantially completed, and then everybody sits on the money, and the subs and myself, we're sitting on $4 million to $5 million bills due," Davis said.
Davis says he has twice threatened a work stoppage at Q Burke in the past three months, and this time he might have to pull the plug if he can't get reassurances from the state soon. In recent weeks, he has paid subcontractors out of his own pocket "because they weren't going to make their payroll."
The department did not finalize arrangements with a third-party administrator for invoice approvals until late August and by then payments were already behind, Stenger says. Q Burke provided the state with "a very organized and very detailed accounting of every expense paid to the construction companies since the beginning of construction," and White + Burke, the real estate firm hired to review the work, was "very impressed" at walk-throughs of the project held in August and September, Davis says.
Still, approvals from DFR were slow and invoices from July remain unpaid. The delays have disrupted the work flow and orders for materials, fixtures and furnishings have been put on hold, Stenger says.
Late payments to subcontractors have also hurt the project's budget, Davis says, because he has no choice but to impose a 12 percent late fee on Stenger and Quiros in order to cover the cost of the delays. Late fees will drive up the cost of the project by $100,000, Davis says.
Peak CM is also the contractor for the AnC Bio project. Earthmoving and utility work has been underway at the biotech plant in Newport since a groundbreaking in May.
Davis is worried AnC Bio will also be delayed. He is supposed to get the go-ahead on the project any day now. "I have an entire staff on that project," Davis said. "If it doesn't go, it's a huge hit for me."
Davis says it's very difficult to ask subcontractors to take on a new job with the same developers when "they aren't getting paid on one project, why would they go to AnC? Normally, I have an answer. This time I don't."
DFR HAS 'SERIOUS CONCERNS' ABOUT JAY PEAK'S 'REPRESENTATIONS'
The state regional center suspended AnC Bio Vermont and the Q Burke expansion in August 2014 when Stenger and Quiros failed to provide adequate financial records to the Agency of Commerce and Community Development. The suspension prohibited the developers from marketing the projects to new investors.
The agency, which does not have regulatory authority to enforce state securities laws, asked DFR to take over the financial review of the two projects in January.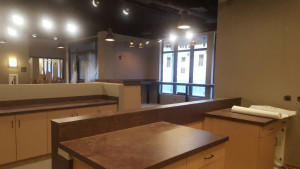 The interior of the hotel and conference center development at Q Burke Resort
In March, DFR "partially approved" AnC Bio, allowing the developers to solicit more funds for the project and begin construction even though the developers have not released financial documents that would enable DFR to conduct a full financial review.
Stenger and Quiros then pressed the department to review Q Burke. Last spring the resort expansion was also "partially cleared," after Gov. Peter Shumlin, Donegan and Patricia Moulton, the secretary of the Agency of Commerce and Community Development, met with the developers.
The developers recommenced construction of the hotel and conference center, which had been halted in 2014. Once the developers met certain conditions in July, they also had permission to solicit more investors.
The developers need to attract, or "subscribe," 196 investors to fully fund Q Burke. As of August, Q Burke had secured investments from 45 immigrants, or about $25 million, and the developers extended the subscription deadline from July 13 to Dec. 31 to attract more investors, documents show.
Under conditions imposed by DFR, Stenger and Quiros were required to ask the original investors to sign new agreements. The developers also had to disclose to new investors that the Jay Peak projects are under review by the SEC.
By October, 38 new immigrants seeking green cards had invested about $20 million in Q Burke.
The developers must hold the new money in a separate escrow account, and the funds can only be released after a third-party administrator signs off on construction expenditures. Ultimate authority for payment approvals rests with Donegan at DFR.
As of Sept. 9, the Q Burke brokerage account had insufficient funds to cover the July requisition payment for construction work to PeakCM, according to documents from DFR. It's not clear how many new investors had subscribed at that juncture.
Stenger said in an email to VTDigger that "escrowed funds for payment was never an issue and all needed funds were in the bank waiting to be authorized for release by DFR."
Lawyers for the developers and DFR also dispute the conditions for release of funds, documents show.
Donegan writes in a heavily redacted email on Sept. 9 that DFR had not received "an explanation as to how certain funds have been released," and the July construction expenses will not be approved until the new investor money has been "properly" documented.
At the heart of the conflict is Donegan's "serious concern" about the way the developers have represented the facts of the Q Burke project, "especially since DFR and ACCD received repeated assurances from you and the Principals that the project was abiding by all conditions and restrictions."
"By the end of the week, I ask you to send me a full written explanation as to the raising and disbursement of the ______ capital," Donegan writes. "In addition to providing the answer concerning the investor funds prior to July 15, 2015, the deliverables listed above must also be produced before I will consider any expense payments."
Stenger told VTDigger he has given DFR "a vast amount of Q Burke payment information and do so each month to provide the construction flow and completion schedule and payment plans."
The department, he says, will not allow the limited partnership "to release any funds for marketing of the opening of the hotel, or any funds to pay for employees who are to open and operate the hotel."
"Without these, DFR knows that the Limited Partnership and the investors will suffer significant damage from non occupancy," Stenger said. "Solely because of DFR restrictions on the use of funds placed in the bank by investors, the local contractors are not being paid for the work they have done, and the investors are not being allowed to open the hotel with advertising or employees. All of this is done without any explanation of reasons to the project managers."
PEAKCM IN THE MIDDLE
PeakCM, meanwhile, is caught in the crossfire between DFR and the Jay Peak developers, Davis says.
"They're arguing 'we got it right,' 'no you didn't,'" he said. "We're just like 'pay me.'"
At the end of September, Davis flew to Florida to meet with Stenger and Quiros about shutting the job down, and he was told it was all going to be worked out.
"Everything was going to be peachy," Davis said. "I should have stopped it then."
The uncertainty, Davis says, is exacerbated by a lack of communication from the state. Davis has tried to get answers from DFR to no avail.
"We don't hear anything," Davis said. "It goes into a black hole."
Frustrated, he sent a letter to Gov. Peter Shumlin, who has been a major supporter of Jay Peak's EB-5 development projects. He hasn't heard anything from the governor's office, and Scott Coriell, Shumlin's spokesman, did not respond to VTDigger's request for comment.
"The lack of communication and effort to process this stuff in a timely fashion has been really disappointing to me," Davis says.
The Q Burke project has been hampered by delays for several years. Construction was originally set for April 2013, but Quiros and Stenger asked Davis to stand by, and in October that year said the project would be on hold until 2014 when the developers hoped to have raised more investor funds for the project.
A groundbreaking for Q Burke was held on June 2, 2014, but the project, which was partially constructed by fall, was delayed again not long after the Agency of Commerce and Community Development suspended the MOU for the project.
Davis says he paid 15 staff about $700,000 for preconstruction work in 2013 and 2014 because he has a two-week window to mobilize the project once the developers give the go-ahead. The cost of the delay and staff time was built into an agreement between the developers and PeakCM before construction started again this year.
The July payment of more than $300,000 owed to PeakCM includes $177,000 for a payment toward the fees for the 2014 delay, plus money that was earmarked for design fees ($22,000) and $130,000 for furniture and fit-up equipment for the hotel.
Construction delays have also hampered the completion of the Stateside townhouses at Jay Peak Resort in July. People familiar with the project say subcontractors walked off the job because of lack of payment.
Stenger told the Caledonian Record that Stateside, managed by DEW construction, was ahead of schedule.
In an email to VTDigger on Saturday, Stenger said that there are no cash flow problems associated with Stateside and that construction of the townhouses has resumed.state
https://vtdigger.org/2015/11/03/q-burke-contractor-threatens-to-walk-off-job-blames-state/
Mentions
States
---
Securities Disclaimer
This website is for informational purposes only and does not constitute an offer or solicitation to sell shares or securities. Any such offer or solicitation will be made only by means of an investment's confidential Offering Memorandum and in accordance with the terms of all applicable securities and other laws. This website does not constitute or form part of, and should not be construed as, any offer for sale or subscription of, or any invitation to offer to buy or subscribe for, any securities, nor should it or any part of it form the basis of, or be relied on in any connection with, any contract or commitment whatsoever. EB5Projects.com LLC and its affiliates expressly disclaim any and all responsibility for any direct or consequential loss or damage of any kind whatsoever arising directly or indirectly from: (i) reliance on any information contained in the website, (ii) any error, omission or inaccuracy in any such information or (iii) any action resulting therefrom.