Secret FBI statements from ex-Gov. Shumlin, other state leaders in EB-5 case may be revealed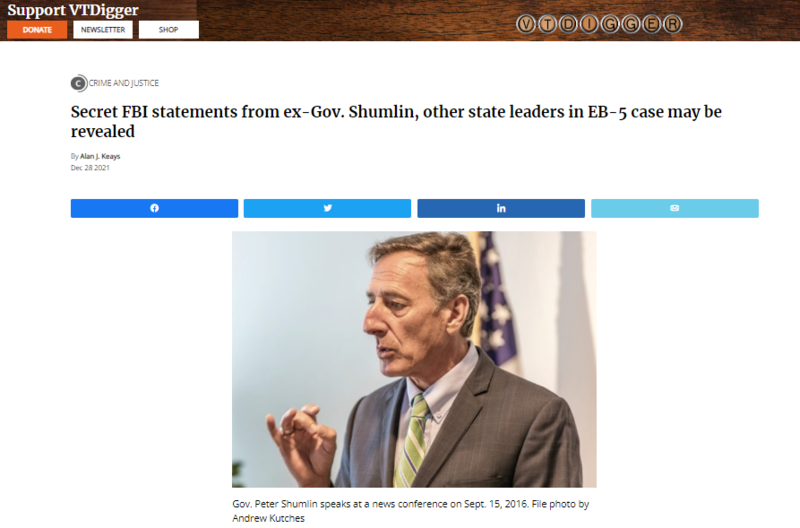 BURLINGTON — A federal judge appears willing to reverse part of an earlier ruling that kept secret the FBI statements made by former Gov. Peter Shumlin and other high-ranking state officials in the largest fraud case in Vermont history.
Judge Geoffrey Crawford last month endorsed a protective order at the request of federal prosecutors. That order blocked the documents from being provided to attorney Russell Barr of Barr Law Firm in Stowe, who is representing bilked foreign investors suing the state.
After listening to arguments from Barr on Tuesday in federal court in Burlington about why the documents should be turned over to him and his clients, Crawford said he was willing to do just that, provided federal prosecutors had no earlier agreements with those witnesses to keep them off-limits.
Assistant U.S. Attorney Paul Van de Graaf said during the hearing that he did not believe that such agreements existed, though he needed to double-check before saying so definitively.
Barr sought those records from the legal team representing Bill Stenger, Jay Peak's former CEO and president, in a criminal case brought in connection with a failed $110 million project to build a biomedical research facility in Newport.
Barr, on behalf of foreign EB-5 investors, filed a civil lawsuit in 2017 against the state of Vermont and state officials and employees responsible for the oversight and monitoring of a series of EB-5-financed projects headed by Ariel Quiros, Jay Peak's former owner, and Stenger, including the AnC Bio development in Newport.
Should Crawford reverse his earlier ruling, it would send Barr back to state court, where his lawsuit against the state is pending. However, the protective order in the federal criminal case would no longer be a barrier preventing those FBI statements from being turned over to Barr.
Assistant Attorney General David Groff, who is representing the state in that civil lawsuit, said during Tuesday's hearing that he agreed that the release of the FBI statements by state employees and officials was a matter for the state court.
Barr told Crawford on Tuesday that for "nearly half a decade" he had been seeking discovery materials from the Vermont attorney general's office through his state civil lawsuit but often ran into roadblocks.
Groff said the attorney general's office has already provided about 50,000 documents to Barr in that case on a rolling basis. Groff said his office still would need to review if there were any other reasons that the documents related to the FBI statements should remain secret.
As the hearing drew to a close, Crawford struck an optimistic tone in the legal dispute that had become increasingly heated in recent filings.
"We whittled down the divide quite a bit," the judge said.
Stenger, Quiros and William Kelly, a key adviser to Quiros, have all pleaded guilty to federal crimes in connection with the collapsed project they headed to build the biomedical research facility in Newport known as AnC Bio Vermont.
All three are now awaiting sentencing expected to take place early next year.
Despite raising more than $80 million from more than 160 foreign investors seeking permanent U.S. residency through the federal EB-5 visa program, the AnC Bio Vermont project barely got started.
The failure crushed investors' hopes of legally living in the United States and left them out at least $500,000 each, which they had put into the development that was later termed by federal regulators "nearly a complete fraud."
Barr, on behalf of foreign EB-5 investors, claims the state and the administration of then-Gov. Shumlin not only failed to prevent the developers from committing fraud, but also perpetuated the fraud by allowing investors to continue to pour money into projects while knowing that the fraud was occurring.
The Vermont attorney general's office, representing the state in that lawsuit, has battled to prevent Barr from getting documents that he claims can prove the state's culpability in the fraud.
Recently, Barr, through a subpoena from the state lawsuit, sought to get those documents from Stenger's legal team, which had received them from federal prosecutors as part of the criminal case against their client.
The Tuesday hearing kicked off with Van de Graaf stating that the federal prosecutors had sought a "blanket" protective order to facilitate the process of turning over the more than 3 million pages of discovery materials to Stenger's defense team.
Rather than going over each document to make a case-by-case decision on which document or piece of information should remain confidential, Van de Graaf said the "blanket" agreement with Stenger's defense team streamlined that process.
The protective agreement he had reached with Stenger's lawyers prevented them from providing copies of the material to other parties, including the press.
But, Van de Graaf said Tuesday, he later learned that Stenger's attorneys had allowed others to view the documents, including Barr.
Brooks McArthur, one of Stenger's lawyers, said during the hearing that the defense team had shown documents to witnesses and others to verify the statements contained in them.
"We complied with the letter of the protective order," McArthur said.
That protective agreement with the federal prosecutors was later amended to prevent the defense team from showing those documents to third parties.
Barr said at the hearing that he saw about a handful of the FBI statements, and it made him realize that he was not getting all the material he wanted from the Vermont attorney general's office.
Crawford, at one point, asked Barr why he did not act earlier to interject himself into the federal criminal case. The judge referred to a status conference that was held in Stenger's criminal case just days before Barr obtained the subpoena seeking the documents and wondered why Barr did not raise his concerns over access to records at that point.
"It would have been a ticket to the dance," Crawford said.
Barr said Van de Graaf told him the documents and information would come out during Stenger's trial or at a later hearing that had been set after Stenger entered a plea deal. At that hearing, the extent of Stenger's culpability in the fraud was to be at issue, with high-ranking state officials and employees expected to testify.
However, that hearing eventually was nixed.
Barr, in the hearing Tuesday, contended that federal prosecutors lacked any good cause to keep the FBI statements and other materials they provided to Stenger's team hidden.
Barr said keeping those documents secret only added to the harm to the foreign investors as they seek justice through the state lawsuit.
Van de Graaf countered that the legal standard for determining good cause is not cast in stone.
"The metrics for 'good cause' are a flexible concept," he said.
The prosecutor added that Barr should have filed to intervene in the federal case before pressing ahead with seeking to obtain the documents from Stenger's defense team.
"Right now," Van de Graaf said, "the Barr firm is not a party to this case."
Van de Graaf said the criminal investigation included about 220 interviews, with about 20 of those involving current or former state officials or employees.
Interviews with state witnesses, the prosecutor said, were later provided to the Vermont attorney general's office. And, he said, since the protective agreement is between the federal government and Stenger's defense team, those witness statements fall outside of it.
Crawford said that could create a "carve out" for those documents from the protective agreement that he endorsed last month at the federal prosecutor's request.
The judge gave Van de Graaf until the end of January to file a written brief informing him if the prosecution had any other agreements with those witnesses that could prevent their statements from being released.
Barr, in an email after the hearing late Tuesday afternoon, said he was optimistic that he would be able to obtain the FBI statements in the state court case.
"We see today's court hearing as progress for the defrauded investors to get to the truth of this massive fraud," he wrote.
Barr added that he also learned at Tuesday's hearing about the federal prosecutor sharing the FBI interview statements of state officials with the Vermont attorney general's office.
"There is now no reasonable basis to withhold this evidence from the victims," Barr wrote.
https://vtdigger.org/2021/12/28/secret-fbi-statements-from-ex-gov-shumlin-other-state-leaders-in-eb-5-case-may-be-revealed/
---
Securities Disclaimer
This website is for informational purposes only and does not constitute an offer or solicitation to sell shares or securities. Any such offer or solicitation will be made only by means of an investment's confidential Offering Memorandum and in accordance with the terms of all applicable securities and other laws. This website does not constitute or form part of, and should not be construed as, any offer for sale or subscription of, or any invitation to offer to buy or subscribe for, any securities, nor should it or any part of it form the basis of, or be relied on in any connection with, any contract or commitment whatsoever. EB5Projects.com LLC and its affiliates expressly disclaim any and all responsibility for any direct or consequential loss or damage of any kind whatsoever arising directly or indirectly from: (i) reliance on any information contained in the website, (ii) any error, omission or inaccuracy in any such information or (iii) any action resulting therefrom.