State responds to what it knew and when in Jay Peak fraud case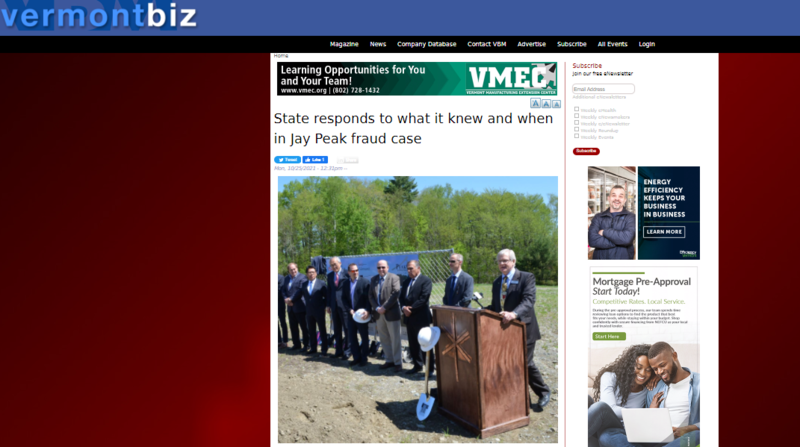 The State of Vermont continues to battle with lawyers representing either EB-5 investors or criminal defendants over whether authorities were immediately transparent to the general public after learning about the multi-million fraud perpetuated in the Northeast Kingdom by Ariel Quiros, William Stenger and friends.
Financial Regulation Commissioner Michael Pieciak said he rejects the separate feet-dragging claims made recently by Stenger's criminal defense team and by a Stowe law firm that has filed a couple of civil lawsuits on behalf of defrauded investors.
Both sets of lawyers have maintained Vermont officials kept the public in the dark while trying to ensure most of the EB-5 construction work was completed.
Pieciak said he also disputes other claims that the state's lack of transparency hurt potential investors and Vermonters. He said there is no proof. He said the state went public in mid-April 2016 as soon as it could without possibly hurting a federal criminal investigation.
Pieciak said the extra time was critical for authorities attempting to recover investment money.
The investors maintain the state officials from then-Governor Peter Shumlin on down knew about the Ponzi scheme for more than a year but opted to do nothing to avert the massive and complex fraud. Authorities believe the swindle actually started in 2008, two years before Shumlin took office.
The Vermont Attorney General's Office now says it believes lawyers for some defrauded investors are making filings in at least one civil lawsuit "to harass current and former state employees by alleging that they participated in the Jay Peak fraud and implying they are criminals."
The filing by Assistant Attorney General David Goff, and signed by three colleagues, Bill Griffin, Kate Gallagher and Philip Back, said it is "a transparent attempt to salvage what remains of a meritless lawsuit against the State of Vermont and its employees."
Griffin, who was Vermont's longstanding chief assistant attorney general, is named as a defendant in at least one class action lawsuit for his EB-5 actions.
The motion by Goff is designed to block in state court the use of recently unsealed records from the federal prosecution of Stenger and others.
Goff notes the 4-year-old civil lawsuit has been amended 6 times and it had one trip to the Vermont Supreme Court.
Goff asked in his latest filing that the 7th attempt to amend the case in Vermont Superior Court in Hyde Park be denied.
Stowe lawyers Russell Barr and Chandler Matson, who filed the lawsuit, reject the claim.
Facing the Judge
Stenger, 73, of Newport, Quiros, 65, of Key Biscayne, FL, and William Kelly, 72, of Weston, FL, have all have admitted their guilt in separate plea agreements with the US Attorney's Office in Vermont.
The three businessmen are expected to be sentenced early next year in connection with the fraudulent investment scheme for new development in the NEK, including an 85,000-square-foot biomedical research facility on the outskirts of Newport City.
Prosecutors say they plan to seek more than 8 years in prison for Quiros. They say the former owner of Jay Peak was the mastermind of the fraud.
Stenger, who has lived the last half of his life in Newport, could face up to 5 years. Stenger, the former president of Jay Peak, was the face of the Bio project and also was pitching a new commercial building on Main Street. Only a hole in the ground exists today at the old Spates block next to the state courthouse.
Kelly, a self-employed consultant and friend to Quiros, could receive up to 3 years, according to his plea bargain.
A fourth defendant, Jong Weon Choi, also known as Alex Choi of South Korea, remains on the run, federal authorities have said.
Choi was convicted in South Korea for financial fraud in 2016 in connection with AnC Bio Korea, which the proposed Vermont venture was tailored after, officials said.
Burlington lawyers David Williams and Brooks McArthur, Stenger's criminal defense team, have maintained their client was hoodwinked by Quiros and Kelly. McArthur has called them career con men and fraudsters.
Federal prosecutors in a 99-page sentencing brief filed on September 20 said Stenger was actually a key figure throughout the scheme and took several steps to further the scam.
McArthur and Williams filed a 35-page motion to unseal records, including FBI and IRS reports, in order to prepare for Stenger's sentencing.
The government agreed to make the documents public and the two sides subsequently filed a stipulation that the prosecution has dropped its claims about Stenger's conduct before 2011. The prosecution also agreed to change claims it made on why financial audits never happened in 2012.
Otherwise much of the 99 pages will be considered by Chief Federal Judge Geoffrey W. Crawford.
Who Knew What When?
Pieciak, who is a lawyer, said he believes the legal brief and stipulation absolves the state of the claims made by Stenger's defense lawyers.
Pieciak said he thinks the civil lawsuit filed by Barr and Matson, on behalf of defrauded investors, has been discredited by the recent filing by the Vermont Attorney General's Office.
Barr took exception to the claim on Sunday.
"The now available documents (that certain state officials hoped would never get out) proves that these state actors directly harmed trusting people. These State officials knew about the fraud, they briefed the then-governor on the extensive nature of the fraud. Yet the then-governor and unelected state officials (with the unequivocal knowledge of the Ponzi-scheme) made a decision to take people's money to finish the State's projects. Period," Barr said in an email to Vermont Business Magazine.
"They did this for their own agendas, and these unelected state officials have ruined people's lives, they have hidden this from all of us and have also undermined the reputation of our State. They need to be held accountable for the damage done to these people," Barr said.
Barr also noted that even when Doug Hulme, a CPA working with Jay, blew the whistle in February 2012 on some issues, the state failed to pull the plug on the projects.
Williams and McArthur, who are preparing for the federal sentencing of Stenger, still have their own concerns.
"Contrary to Commissioner Pieciak's suggestion, Mr Stenger's agreement not to contest the prosecution's sentencing memo has no bearing on the state's responsibility for giving the green light to the AnC Bio project in March 2015 and the Burke project in July 2015," Williams said.
"Vermont's Department of Financial Regulation knew in April 2015 that Ariel Quiros was running a Ponzi scheme," Williams told Vermont Business Magazine.
AnC Bio in Newport and Q Burke at Burke Mountain Resort near St Johnsbury were the last of eight EB-5 ventures targeted in the Northeast Kingdom. The other six were centered at Jay Peak and were part of a Northeast Kingdom Economic Development Initiative.
EB-5 is a federal program that enables immigrants to invest $500,000 in US-based projects in exchange for a so-called "Green Card" that would allow permanent residence in the United States if a certain number of jobs were created.
Both Barr and Williams also point to a 2015 DFR PowerPoint presentation about EB-5 that supports the belief that the state fully understood there was fraud.
The document is labeled "Immigration Impact to Investors" and marked as a "Confidential" report, but became public in federal court.
The final line of the chart notes "Immigration Status Likely Negated."
The project overview reported 364 investors would all be likely denied U.S. Immigration status. The chart showed rejections for all 147 investors for AnC Bio in Newport, all 83 investors for the Q Burke Mountain Resort and all 134 investors in the Jay Peak Hotel Suites.
Pieciak said over the weekend that there were eventually 224 versions of the multi-page PowerPoint and that the line in question was eventually changed to "likely impacted."
The State Starts To Dig
Pieciak, who returned to Vermont to accept the post of Deputy Commissioner for DFR in February 2014, said he soon found himself taking a long look at the EB-5 projects for Jay Peak and the Northeast Kingdom. He said following a meeting with Jay Peak lawyers on January 28, 2015, he believed he saw three red flags that needed to be checked in detail.
The following day the state reached out to the US Securities and Exchange Commission in Miami, where Quiros was based, to learn what it knew about his projects and asked for records. The SEC agreed on February 24, 2015 to provide the records.
Two weeks later the SEC asked Vermont's Department of Financial Regulation for its investigative files.
Then-Governor Shumlin, Commissioner Susan Donegan and Commerce Secretary Patricia Moulton met with the Jay Peak principals March 27, 2015. The following day Donegan gave the green light to AnC Bio Vermont with a financial review condition, records show.
David Cassetty, who was DFR's general counsel in April 2015, gave his own stinging indictment of the EB-5 project in the NEK.
"Every project appears to be involved in an array of deceptive practices. Every single additional penny of investor money that moves through the projects will invariably be lost for good. New investors most certainly will not be issued visas as the SEC will act long before the two-year job creation period ends," Cassetty wrote in a one page memo April 13, 2015.
"The fact that Burke is being built does not trump DFR's legal job of protecting investors and the State of Vermont, given all we know. Basically, the principals are the problem, and we have no reason to believe that they are behaving differently on Q Burke than they have on all the other projects," Cassetty said.
Pieciak was part of a Vermont team that went to the SEC regional offices in Miami on May 3, 2015 to review legal depositions from witnesses.
Pieciak made a criminal referral to the FBI in Burlington on June 1, 2015, records show.
A 4-page summary by FBI Special Agent Ryan Redel said DFR was investigating certain EB-5 transactions relating to Jay Peak, AnC Bio in Newport, and the Q-Burke projects. There were at least 9 possible legal problems, Redel said in a report.
"Evidence points to possible violations of securities registration and exemption non-compliance, material misstatements and omissions, conflicts of interest, self-dealing, unjust enrichment, misuse of investor funds, breach of fiduciary duty, breach of contract, and tax liability," Redel wrote.
"DFR has identified accounting irregularities, contractual inconsistencies and significant conflicts of interest," he said. Redel's report noted the SEC Miami office was investigating "the entirety of the Jay Peak Universe."
The memo noted the AnC Bio Vermont project had raised about $73.5 million from foreign investors The principals for the project were Stenger, Quiros and his son Ary Quiros, the owner of Q Burke Mountain, the FBI said.
DFR also had concerns with a conflict of interest in the purchase of real estate at 172 Bogner Drive, the site for the bio lab, the FBI said.
Ariel Quiros was negotiating with himself for the transactions "and this fact was not adequately disclosed in the November 30, 2012 Private Placement Memorandum (PPM) to investors," the FBI said.
The initial FBI report opening the case goes on to outline other possible problems about construction, documentation about the project and payment to contractors. The report noted there were also concerns about the business plan and additional non-disclosures to the PPM, the FBI said.
The complaint was discussed with the US Attorney's Office and prosecutors "advised they were interested in prosecuting the case," Redel wrote on June 16, 2015.
The State Comes Clean
The first real public acknowledgment by state officials came 10 months later.
Vermont officials at the time, including Governor Shumlin, Attorney General William Sorrell, DFR Commissioner Donegan and Secretary of Commerce Moulton, held a news conference in Montpelier the afternoon of April 14, 2016 to outline the elaborate fraud, which had begun in 2008.
They also announced a civil lawsuit the state was filing against Quiros and Stenger in Vermont Superior Court in Montpelier.
The state officials unveiled what would become known as the "Spaghetti map" – a large white board showing strands to display where investment money was redirected or diverted to various accounts.
The Vermont lawsuit and news conference corresponded with the unsealing of an 81-page federal complaint filed by the SEC in Miami that same day.
During the news conference, Shumlin and Donegan admitted the state in recent months had allowed investor funds to be spent on the Q Burke property even after Vermont leaders had uncovered strong evidence of fraud, Vermont Public Radio reported.
VPR noted Donegan and Shumlin said they did so to preserve the attractiveness for future EB-5 investors.
Pieciak says authorities now believe that the money intended for Q Burke ended up mostly with the project. He said he has since provided an affidavit for investors.
The FBI investigation did not bear fruit until a federal grand jury returned a 33-page federal indictment May 21, 2019 – four years after Pieciak filed the state's complaint.
Pieciak, who eventually was elevated by Shumlin to DFR Commissioner in July 2016, said it can be tricky when to go public.
"In broad terms, we started our investigation in 2015 due to suspicions that were raised in preliminary dealings with Jay Peak, but we were not yet ready to prove those suspicions in a court of law until we had traced all the funds," Pieciak said.
"That was delayed by, among other things, Mr Stenger's efforts to cover up the fraud. We also had to coordinate with federal authorities to minimize the potential negative fallout of shutting down Jay Peak."
Barr and Williams still maintain the public had a right to know the truth at the time the fraud was being perpetuated.
Until the prosecution and defense came to an agreement on October 4, it looked like several key Vermont leaders would be required to take the witness stand as part of a planned two-week fact-finding hearing to help the US Probation Office in its pre-sentencing report.
Among those confirmed in court records as having been subpoenaed were Donegan, Pieciak, and Cassetty from DFR and Moulton from Commerce and Community Development.
Shumlin's former chief of staff Liz Miller, and Shumlin's former legal counsel Sarah London, who is now chief assistant attorney general for Vermont, also got subpoenaed, records show.
It was unclear if other key state officials had subpoenas issued, but not served.
Pieciak said he believes the state took the right steps.
"It was our Department's meticulous investigation that subpoenaed and analyzed 150 bank accounts, 130,000 pages of financial statements and over 100,000 financial transactions, which uncovered the full extent of the Jay Peak fraud. It took time to do this right," he said.

https://vermontbiz.com/news/2021/october/25/state-responds-what-it-knew-and-when-jay-peak-fraud-case
---
Securities Disclaimer
This website is for informational purposes only and does not constitute an offer or solicitation to sell shares or securities. Any such offer or solicitation will be made only by means of an investment's confidential Offering Memorandum and in accordance with the terms of all applicable securities and other laws. This website does not constitute or form part of, and should not be construed as, any offer for sale or subscription of, or any invitation to offer to buy or subscribe for, any securities, nor should it or any part of it form the basis of, or be relied on in any connection with, any contract or commitment whatsoever. EB5Projects.com LLC and its affiliates expressly disclaim any and all responsibility for any direct or consequential loss or damage of any kind whatsoever arising directly or indirectly from: (i) reliance on any information contained in the website, (ii) any error, omission or inaccuracy in any such information or (iii) any action resulting therefrom.