In Newport, EB-5 scandal lingers with dashed hopes and a 'whopping great hole'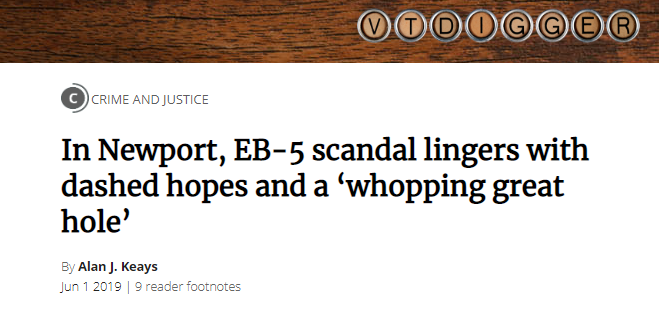 St. Mary's Catholic Church, built in 1875, looks out over western Newport. Photo by Mike Dougherty/VTDigger
NEWPORT — Brenda's Homestyle Cookin' sits a half block from where Vermont's top federal prosecutor stood last week and announced that criminal charges had been filed against local developers Ariel Quiros and Bill Stenger.
Jessica Kennison purchased the restaurant in 2014 as the two developers, applauded by national, state and local political leaders, talked of grand economic plans for this northern Vermont city on Lake Memphremagog close to the Canadian border.
"I think there were a lot of false promises," Kennison said this week, standing over the restaurant's grill, flipping an omelette.
"It's not just me as a business owner," she added, "but a lot of people in town had their hopes up for something big coming in."
The "something big" included a series of developments Quiros and Stenger planned for the Northeast Kingdom, fueled by foreign investors seeking green cards to live in America, plunking down $500,000 each on projects that promised to create hundreds of jobs.
Instead, the big news came last week when U.S. Attorney Christina Nolan held a press conference just a short walk from Kenninson's restaurant and announced a multi-count federal indictment had been brought against Quiros, Stenger and two of their associates.
The federal prosecutor made that announcement of the site of one of those failed projects, now a big hole in the ground in downtown Newport.
The charges allege not only were those promises of thousands of high-paying jobs coming to town false, they were criminal.
A proposed biomedical facility proposed by Quiros and Stenger for the former Bogner plant on Lake Road on the outskirts of town was deemed three years earlier "nearly a complete fraud" by the Securities and Exchange Commission.
According to court records, Stenger and Quiros misused $200 million of the roughly $450 million they raised from overseas investors through the EB-5 immigrant investor program.
But until last week, no charges had been filed.
An old factory building on that large lot sits empty, with high, unmowed grass encroaching on the long dirt driveway leading to the site where stem cell and organ-replacement research years earlier had been slated to be up and running by now.
'The hole' in downtown Newport, where a Stenger-Quiros development was planned but never built, in May 2019. Photo by Mike Dougherty/VTDigger
Another of the developers' projects has left a large hole in the city's downtown after Main Street buildings, known as the Spates Block, were razed for an office and retail project that stalled once state and federal authorities put the brakes on the development in April 2016.
That project had been termed by the developers, the Renaissance Block.
It was at the highly visible downtown site, now surrounded by metal fencing to protect people from going down to it and green fabric to shield the eyesore from the passersby.
It was here at ground zero where Nolan spoke to reporters about the charges against the developers.
Most of the criminal allegations outlined by Nolan stemmed from the proposed $110 million biomedical facility, known as AnC Bio Vermont, with the developers facing criminal counts including wire fraud, money laundering and making false statements to the federal government about the project.
Many in Newport wondered whether criminal charges would ever be brought in the case, especially after more than three years had already passed since federal and state regulators brought civil lawsuits against Quiros, a Miami businessman, and Stenger, a resident of Newport and local hero to many
Kennison purchased the restaurant five years ago, hoping to capitalize on the economic boom the hundreds of high-paying jobs those now-failed projects were predicted to bring to town and the entire Northeast Kingdom region.
"I have lost business by nothing happening there," she said, directing a spatula up the street to the now vacant lot.
The 36-year-old Newport native said she has been able to hang on over the years, but it hasn't been easy. On this day she's behind the grill, cooking for the late breakfast crowd.
"I think it helps I'm from Newport, I know a lot of people," Kennison said. "All the people that come in, we treat them like our family. That definitely helps."
The Newport properties at the center of the scandal are currently under the control of a receivership headed by Michael Goldberg, who was put in place when the SEC brought its civil investor fraud lawsuit against Quiros and Stenger more than three years ago.
Newport Mayor Paul Monette said the municipality has no plans to purchase the properties, noting that if the city took ownership, no tax revenue would come in.
The site on Bogner Drive in Newport where AnC Bio Vermont was planned but never built. Photo by Mike Dougherty/VTDigger
"Hopefully, when the time comes, he'll focus on selling this piece of property," the mayor said of Goldberg, specifically referring to the downtown site, adding, "The taxes are fully paid on it."
Monette said he felt "duped" by Stenger. He recalled a number of meetings he was in along with Stenger when the projects for Newport were discussed years ago.
"We, basically, were sold a bad bill of goods is what happened," the mayor said.
He also pointed a finger of blame at the state, saying it was responsible for providing oversight of the Newport projects through the state-run EB-5 regional center.
"All the oversight that we had was the zoning aspect of it," Monette said of the city's role.
The mayor said there have been "conversations" about what to do next with the downtown property.
"I've met with a couple people," Monette added, "but I can't say anything."
Across Main Street from the failed Renaissance Block, another business that hoped to prosper from the new developments is the Northeast Kingdom Tasting Center.
Eleanor Leger, owner of Eden Specialty Ciders, housed in the tasting center building, said she moved into the site five years ago, and like others, saw it as an opportunity to be close to the proposed new development.
Leger said she shared the disappointment many felt more than three years ago with the collapse of the Renaissance Block project.
When talking about the criminal charges leveled in the case last week, Leger had strong words for Quiros.
"I hope he's brought to justice, and I do think it's a crime," she said of Quiros' actions.
As for Stenger, Leger was more measured.
"I'm interested to hear his side of the story," she said.
Despite prosecutors alleging his complicity in the fraud, Stenger had maintained his innocence, claiming he was left in the dark by his business partners.
Also in the tasting center building, Jocelyn Bourassa, co-owner of Jocelyn and Cinta's Bake Shop, said the business moved five years ago from the Spates Block when it was knocked down, to its current home.
And, like others, she'd looked forward to the economic spin-off the new developments would bring.
"Everybody was super-excited," she recalled of that time.
As for dashed hopes and the newly filed criminal charges, Bourassa, like Leger, would like to see Quiors serve time behind bars, but with Stenger, she said, she's keeping an open mind.
"I think everybody locally knows Bill Stenger, and knows he was a really hard worker," she said, adding, "He would say, 'Hi," to anybody."
However, she added, "At the same time I think a lot of people have been hurt by what happened."
Both Leger and Bourassa said relying on walk-in customers alone in downtown Newport would make it hard for their businesses to survive on their own. They each use the site as a point of distribution, sending their products out the back door to other markets, restaurants and retailers.
"We couldn't make it just on the foot traffic," Bourassa said.
U.S. Attorney for Vermont Christina Nolan announces the federal criminal charges against the developers of the AnC Bio Vermont project. Photo by Mike Dougherty/VTDigger
Several doors away on Main Street, across from the once-proposed Renaissance Block, Steve Breault, owner of Newport Natural Market & Cafe, remains hopeful that something positive will rise from the razed site — visible from his store's front window.
He talked of the need in the city's downtown for covered parking and vocational training opportunities for youth in the region as potential uses for the empty property.
Breault said he has followed the scandal over the years, but said he doesn't know enough details to determine if the actions of the developers were criminal.
But, he said, for those deemed responsible, prison time would be warranted.
"I think if you're guilty, of course," Breault said.
In settling a civil lawsuit brought by state regulators in Vermont, Stenger last year agreed to pay $100,000, in installments over four years, to the city of Newport, which will be administered by the state Agency of Commerce and Community Development.
The funds, like the ones the state will receive from the proceeds of an estimated $2 million in properties Quiros agreed to turn over as part of the settlement of the civil case brought against him by state regulators, will also be earmarked for economic development in Newport.
Pam Ladds, a retired Newport resident who serves on some local boards and volunteers for area economic development initiatives, said area residents have been watching closely the events unfold that led to the criminal charges last week.
Another view of 'the hole' " in downtown Newport, where a development was planned but never built, in May 2019. Photo by Mike Dougherty/VTDigger
"We're all glued to the court case; it's about us," she said. "And it's about Vermont, because clearly there was knowledge and involvement and willful blindness on the part of the politicians."
At least some investors agree, and attorney Russell Barr of Stowe had filed a lawsuit on behalf of them against past and current state officials, claiming at best they were negligent, and at worst, complicit in the fraudulent scheme.
A state judge threw that case out of court, and Barr has since appealed to the Vermont Supreme Court where it remains pending.
Ladds felt the failed dreams have had a lasting effect on morale in Newport, which has struggled financially for years.
"It raised hopes, and this is important," she said. "You are promised the earth, and there is nothing. Why would we ever believe you again?
"People are moving beyond it now, but we still have this whopping great hole."
Asked about Stenger, Ladds talked about the loyal supporters he has in the community, adding that he knows a lot of people, assisted many community groups over the years, and friends everyone on Facebook.
Newport Mayor Paul Monette. File photo by Glenn Russell/VTDigger
"Then, she added, "there's the piece where clearly he knew something at some point along the way."
Newport resident Diane Peel has long raised red flags about the AnC Bio Vermont project proposed for the city.
This week, Peel recalled a public meeting held many years ago where Stenger was pitching the initiative to local officials after she came up with a paper documenting concerns with the project.
When she rose to speak at that meeting and questioned the viability of the project, Peel remembered Stenger didn't address her concerns.
"He just looked at me and said, 'I know about your paper,'" Peel recalled. "He looked really angry."
She said it highlighted a time in the Newport when nobody in the city wanted to believe that the proposed plans were too good to be true.
"There was one day when I walked down the streets of Newport and someone had put up signs in all the windows of the stores, 'Thank you Bill Stenger for all you've done for Newport,' " she remembered them reading. "It was like hero worship."
https://vtdigger.org/2019/06/01/newport-scandal-lingers-dashed-hopes-whopping-great-hole/
---
Securities Disclaimer
This website is for informational purposes only and does not constitute an offer or solicitation to sell shares or securities. Any such offer or solicitation will be made only by means of an investment's confidential Offering Memorandum and in accordance with the terms of all applicable securities and other laws. This website does not constitute or form part of, and should not be construed as, any offer for sale or subscription of, or any invitation to offer to buy or subscribe for, any securities, nor should it or any part of it form the basis of, or be relied on in any connection with, any contract or commitment whatsoever. EB5Projects.com LLC and its affiliates expressly disclaim any and all responsibility for any direct or consequential loss or damage of any kind whatsoever arising directly or indirectly from: (i) reliance on any information contained in the website, (ii) any error, omission or inaccuracy in any such information or (iii) any action resulting therefrom.