Receiver plans to sell Jay Peak by next summer, hits brake on Burke sale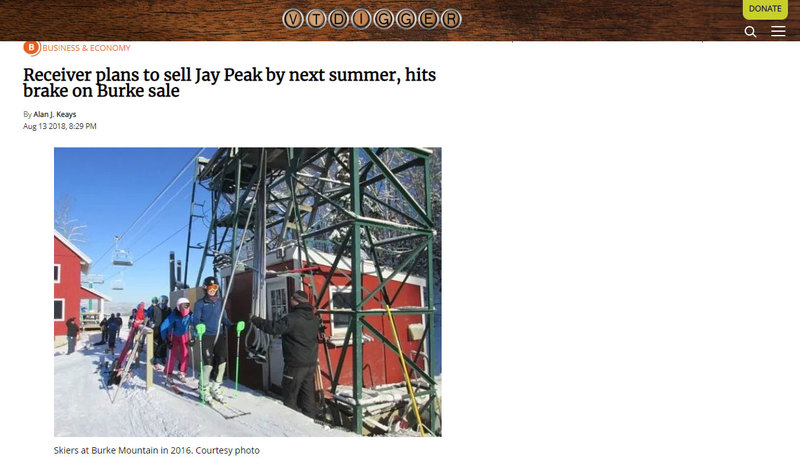 Skiers at Burke Mountain in 2016.
Jay Peak is expected to be in the hands of a new owner next summer while the sale of Burke Mountain is now indefinitely on hold.
That's according to Michael Goldberg, the court-appointed receiver overseeing the two Northeast Kingdom ski resorts at the center of a massive EB-5 scandal that has been playing out for the past several years in the northern mountains of Vermont.
Burke Mountain's sale is on hold, Goldberg said, as it continues to lose money and has failed to generate the required jobs needed for EB-5 immigrant investors to obtain the U.S. residency they hoped for when they each put $500,000 into building a hotel there.
In February this year, Goldberg told VTDigger he planned to market the two ski resorts, Burke and Jay Peak, together as early as this May with the expectation of selling both by this ski season. But he has said little in recent months about the resorts, or why they had yet to hit the market.
However, Goldberg late last week filed his latest report on the status of the resorts, essentially a state of the state on his receivership and accompanying efforts to recoup money for the more than 800 defrauded foreign investors.
In addition to the information about the sale of the resorts, the filing also takes a look back at the previous ski season at the resorts and looks ahead at a another possible roadblock for EB-5 investors seeking permanent U.S. residency.
The report was filed in federal court in Miami because that's where Ariel Quiros, the former owner of Jay Peak and Burke Mountain, resides.
According to separate lawsuits brought in April 2016 by state and federal regulators, Quiros and his former business partner Bill Stenger, the former CEO of Jay Peak, misused $200 million of more than $350 million they raised from EB-5 investors.
Regulators said Quiros alone "looted" more than $50 million for himself for personal expenses, including buying a luxury condo in New York City.
Both Quiros and Stenger have since reached settlements — neither denying nor admitting fault — with the U.S. Securities and Exchange Commission and state regulators in the cases.
As part of Quiros' $81 million settlement with the SEC reached last year, he agreed to turn over his interests in both Jay Peak and Burke Mountain. Stenger's SEC settlement involved him paying a $75,000 penalty to the federal government.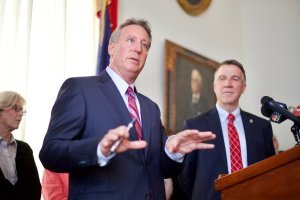 Michael Goldberg, the court-appointed receiver in the EB-5 fraud case, speaks at a Statehouse news conference Thursday.
Goldberg wrote in his latest filing that much of the property title work associated with putting Jay Peak up for sale is now complete. He added that he expects the sale of Jay Peak and its hotel complexes, condos and water park to be finished by sometime next year, after this season ski.
But, before putting Burke and its 116-room hotel and conference center on the market, the receiver wrote he is "considering additional construction to increase job creation."
The receiver doesn't say what that "additional construction" may be, or how it would be paid for. The filing also does not specifically say by how many jobs the Burke project fell short.
Goldberg did not return phone and email messages Monday seeking comment.
More than 130 EB-5 investors put in a total of $67 million into the Burke project. For an investment of at least $500,000 in a qualified project, an EB-investor becomes eligible for permanent U.S. residency if that investment can be tied to the creation of 10 jobs.
"Originally," the receiver wrote in his recent filing of Burke, "it was intended that this project would consist of a hotel and conference center, an aquatic center, a tennis center and a mountain bike facility."
Goldberg added, "However, as of the commencement of the receivership, only the hotel and conference center were completed."
As for the resort to Burke's north, Jay Peak, the receiver is moving forward with its sale.
Goldberg wrote he has negotiated an agreement with a "prominent investment banker" who specializes in sales transaction involving ski resorts to represent the receivership in the marketing of Jay Peak.
Goldberg wrote that he expects to file a motion with the court soon seeking approval to "engage" that banker's services. The receiver added that he expects several potential buyers to visit Jay Peak throughout the fall and winter to see the resort in action.
At the end of the "diligence phase," Goldberg wrote, interested buyers will submit offers. The banker and receiver will then review those offers to narrow them down before submitting the "best possible offer" to Judge Darrin Gayles, who is presiding over the receivership, for final approval.
"The Receiver is hopeful that this process can be completed in the summer of 2019," Goldberg wrote.
The receiver wrote that he anticipates all the Jay Peak investors will share in its sale. "Although the Jay Peak Resort was built in phases, in reality, it is a single resort. It has common accounting, marketing, management and operations," he wrote.
"It is impossible to separate the financial performance of one phase from another as, in many cases, the assets are physically combined," Goldberg added. "Moreover, no single phase owns the mountain and its improvements (i.e.… ski lifts, tram, etc…), without which, they are essentially worthless."
He wrote that in his opinion the "most equitable way" to split up the proceeds of the sale is on a "pro-rata basis," with each investor receiving an equal percentage of the sale proceeds. How much the resort will fetch on the market remains unknown.
'Vaporized day traffic'
According to Goldberg, both Jay Peak and Burke got off to earlier starts to the last ski season than the previous year, thanks to cold weather and significant snowfall in mid-November.
But that good start was followed by a difficult middle of the ski season.
At Jay Peak, Goldberg said, during the expected lucrative Christmas holiday week "unprecedented cold and wind landed in the Northeast Kingdom " and "vaporized day traffic" at the resort.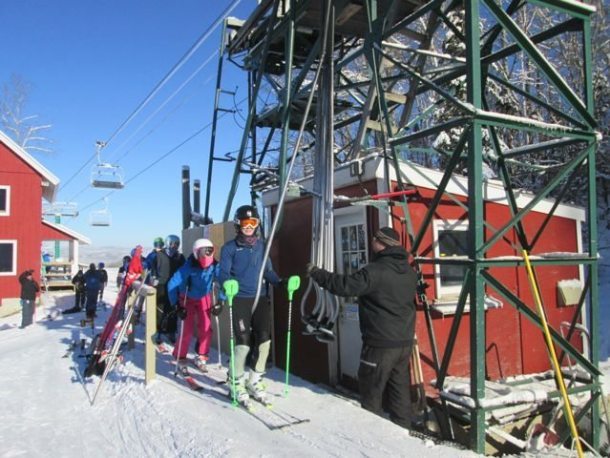 The cold weather continued into the first week of January, he said.
"These two weeks resulted in Jay Peak falling behind budget by more than $1 million dollars by the end of January," Goldberg wrote.
Warm temperatures and rain also slowed business during the President's Week holiday in February, putting the resort nearly $2 million off revenue projections.
That prompted Jay Peak to cut back on expenses, including a 12 percent reduction in labor and a cut of about $250,000 for marketing, the report stated.
Business picked up in late winter and early spring, according to Goldberg, resulting in the resort finishing a "very challenging" season nearly $1.25 million ahead of "budgeted topline revenue."
The written report does not specifically say how much the resort made over the last ski season. The previous ski season, the first under his receivership, the resort reported a $9 million profit.
The report from the Goldberg's first season overseeing the resorts also stated that Burke lost about $2 million in the 2016-17 ski season. The latest filing from Goldberg does not provide such a final figure for Burke from this past season.
The same weather factors that hurt Jay Peak this past ski season did the same as Burke, Goldberg wrote.
According to his filing, paid skier visits were down 6 percent from the previous year at Burke.
Goldberg added that while the resort "experienced year-over-year growth across each month of the winter season," total resort revenue came in short of budget for the period but beat prior year results.
Both Steven Wright, Jay Peak's general manager, and Kevin Mack, Burke's director of resort services, referred questions Monday on the sale of the resorts and specific financial figures to Goldberg.
More trouble ahead?
Last month, the U.S. Citizenship and Immigration Services issued a scathing report terminating the state-run EB-5 Regional Center.
The report cited the center's lax oversight of the Jay Peak projects, which included permitting "material misrepresentation" to be made to USCIS regarding those developments.
At that time, Goldberg declined to say what effect the termination of the state-run regional center would have on EB-5 investors still pursuing their green cards.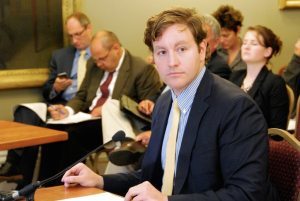 Department of Financial Regulation Commissioner Michael Pieciak.
"I'm not going to speculate right now because it's far from over," Goldberg said then, noting that he supported the state of Vermont's plan to contest the decision.
The state had argued against terminating the center, telling USCIS it made more sense to allow for the center to "wind down" its operation rather than shutter its doors.
The state contended the slower approach would permit the center to continue to assist remaining investors in EB-5 projects in obtaining their green cards while at the same time not taking on any new developments.
The state-run center not only oversaw the Jay Peak projects, but others that were unrelated and run by separate developers, including ones at Mount Snow in Dover and the Trapp Family Lodge in Stowe.
Michael Pieciak, commissioner of the state Department of Financial Regulation, said last month that at skate is the ability of about 200 EB-5 investors to obtain their green cards.
The state had contended that center isn't officially terminated until all of its appeals have been exhausted, and the immigration process for those investors should continue unaffected.
The USCIS policy manual on the matter states that the issuing of a such a termination notice is a "material change," that would require many investors to file new immigration petitions at a different regional center.
That would put those investors back to the end of the line of those already seeking USCIS approval, a move that could result in years of delays.
"The Receiver believes that USCIS's position that the termination of a regional center constitutes a 'material change' is incorrect," Goldberg wrote in his filing.
He added that over the course of tenure as Jay Peak receiver, the receivership has spent "tens of millions of dollars" to finish projects at Jay Peak and Burke to help create the required number of jobs for investors to meet the EB-5 requirements.
"Despite being fully aware of the Receiver's expenditure of millions of dollars to complete construction in an effort to create the requisite jobs, USCIS's decision to terminate the Regional Center may negate a great deal of this effort," Goldberg wrote.
"The Receiver and his professionals are diligently working on a strategy to protect the investors with pending I-526 petitions," he said of the EB-5 investor petition. "The Receiver will announce such future strategies shortly."
EB-5 Visa, EB5 Visa, EB5 Investments
Mentions
Litigation Cases
States
---
Securities Disclaimer
This website is for informational purposes only and does not constitute an offer or solicitation to sell shares or securities. Any such offer or solicitation will be made only by means of an investment's confidential Offering Memorandum and in accordance with the terms of all applicable securities and other laws. This website does not constitute or form part of, and should not be construed as, any offer for sale or subscription of, or any invitation to offer to buy or subscribe for, any securities, nor should it or any part of it form the basis of, or be relied on in any connection with, any contract or commitment whatsoever. EB5Projects.com LLC and its affiliates expressly disclaim any and all responsibility for any direct or consequential loss or damage of any kind whatsoever arising directly or indirectly from: (i) reliance on any information contained in the website, (ii) any error, omission or inaccuracy in any such information or (iii) any action resulting therefrom.